Enjoy Oxford Fresh this Winter
Enjoy our how-to guide to eating local in Oxford during the winter.
Shop for Local Food this Winter
Do you ever wonder how you can incorporate more local food into your diet in the winter?
Maybe it all seemed like fun and games during the warmer months when apples were falling off trees like rain from the sky or strawberries were popping up from the ground in all their juicy glory but now that things have turned cold, you're finding it a bit tougher?
We get it! We even sympathize! BUT- worry not all you lovers of local. This winter, crack open the beer (local of course) and celebrate because there are SO many ways to enjoy local food in Oxford. Check it out by category:
Fruit & Veggie Fix
The What: winter greens (lettuce, spinach etc.), carrots, leeks, peppers, potatoes, apples
The Where: Binnendyk Orchards, Nith Valley Organics, Bentum Family Farms at Inside U Health or the Woodstock Fairgrounds Farmers Market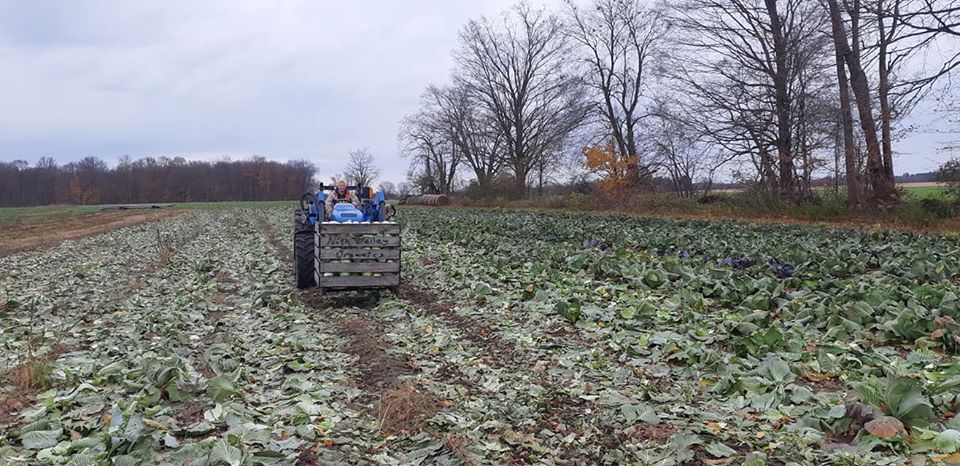 This time of year, we're swapping out sweeter, lighter fruits for hearty veg and deliciously tasty apples.
At Binnendyk Orchards in Tillsonburg, you can shop a variety of delicious apples grown on-site. From varieties that are great for straight-up biting into to ones for your holiday baking, they've got you covered.
Fancy getting your greens? Check out Nith Valley Organics in Plattsville to get your fill. Open all year round, this organic farm is a must-stop in Oxford (check them out in this recent LCBO video alongside a few others in this article). From amazing heads of cabbage to arugula, spinach, beets and more, you'll find what's in season at Nith Valley Organics.
In the Woodstock area, you'll love the bags of greens from Bentum Family Farm. Pick them up at the Woodstock Farmers Market on Saturdays or Inside U Health on Wednesdays. Additionally, try their winter carrots, red peppers and more abound! Keep those vitamins and flavours flowing.
Even with all these fresh veggies, we know missing fruit is the elephant in the room. Thankfully, Oxford farmers prepare for this sweet drought by freezing berries in the summer months to last all winter long. If you'd like to grab some frozen fresh berries, contact Berrylicious Fruit Farms, Thames River Melons or Sheldon Berries to grab some!
More Wheys to Love Cheese
The What: Cheese inspired by all different countries around the world. Think everything from farmhouse Goudas and Appenzeller Swiss to Spanish Manchego and Havarti
The Where: Gunn's Hill Artisan Cheese, Mountainoak Cheese, Bright Cheese and Butter, Red Dragon Dairy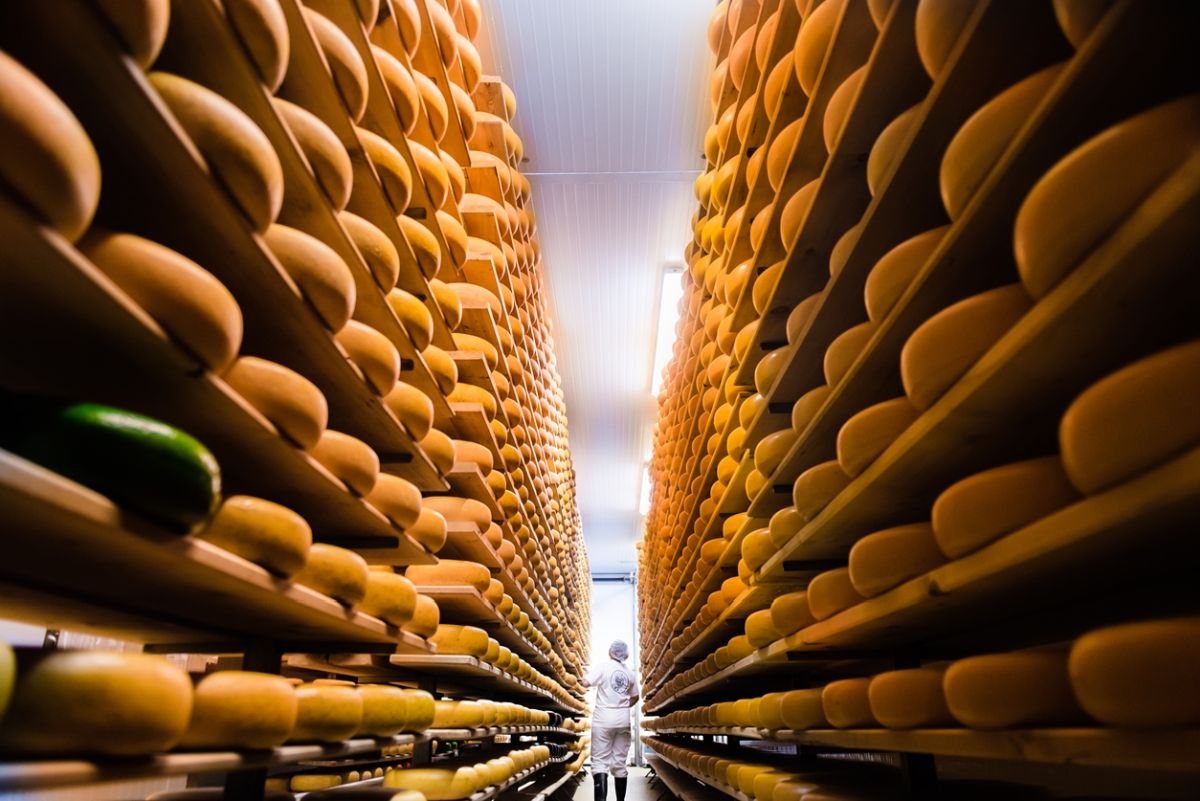 Of course, we can't talk about local food in Canada's Dairy Capital without mentioning our amazing cheese scene. The cheesemakers in Oxford (you can find them on the Oxford County Cheese Trail) pump out wheel after wheel of artisan cheese all year long that will have you salivating.
For straight-up, no-nonsense Gouda, head to Mountainoak Cheese where they craft 18 different varieties of it! We're huge fans of pretty much all the flavours but to try a couple of our favs pick up their GOLD, celery or wild nettle Gouda.
In addition to their tasty gouda, Mountainoak makes curds (plain and black pepper) and three types of Quark which can be substituted for your morning yogurt!
Crafted in-house using milk from their dairy farm, Mountainoak has won some pretty amazing awards over the years at The Royal Winter Fair, British Empire Cheese Awards and more.
Just around the corner, Bright Cheese and Butter is known for its sharp, aged cheddars but they do so much more than that! They also make an oh-so-nutty asiago, sizzlin' hot Havarti, Monterey jack and more.
Located inside an 1800s cheese factory in rural Oxford, it's a great place to stop and make your cheese run. We recommend emailing in advance to place your order for curbside pickup.
On the outskirts of Woodstock on a beautiful country road, Gunn's Hill Artisan Cheese crafts Swiss-inspired cheeses using milk from the family dairy herd. We're suckers for their Handeck cheese which is crafted just as they would in the Swiss mountains and their Oxford Harvest Cheese named for the beautiful county we live in!
In Salford, Ellis and Sion Morris craft amazing sheep's milk cheeses that will make you think you're sitting in a Spanish tapas bar if you just close your eyes for a sec. Their pecorino cheese is out-of-this-world delicious and doesn't even get us started on their famous smoked feta.
Pop into their brand new cheese factory to check out their cheeses as well as a selection of local groceries, fresh curds, baked goods, lamb meat and some groceries from the UK where the owner, Ellis Morris, is from!
Carnivorous Hearts
The What: Chicken, beef, pork, even bison!
The Where: Check out our list of Oxford meat producers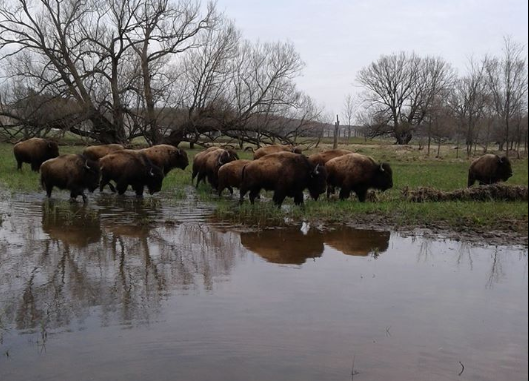 We haven't forgotten about all you meat eaters either! In Oxford, we have a huge selection of meats to add to your plate. From heritage varieties of chicken, beef, pork and lamb to longhorn beef and even BISON, there truly is something new to try around every corner.
Visit scenic farms on backcountry roads and artisanal butchers and farmers' markets to find the perfect cut and hear the story behind your plate. For a full list of producers and meat suppliers check out the meat section on our Oxford Fresh page.
That Sweet Nectar
The What: Honey and Maple Syrup
The Where: Oxford Honey and Jakeman's Maple Farm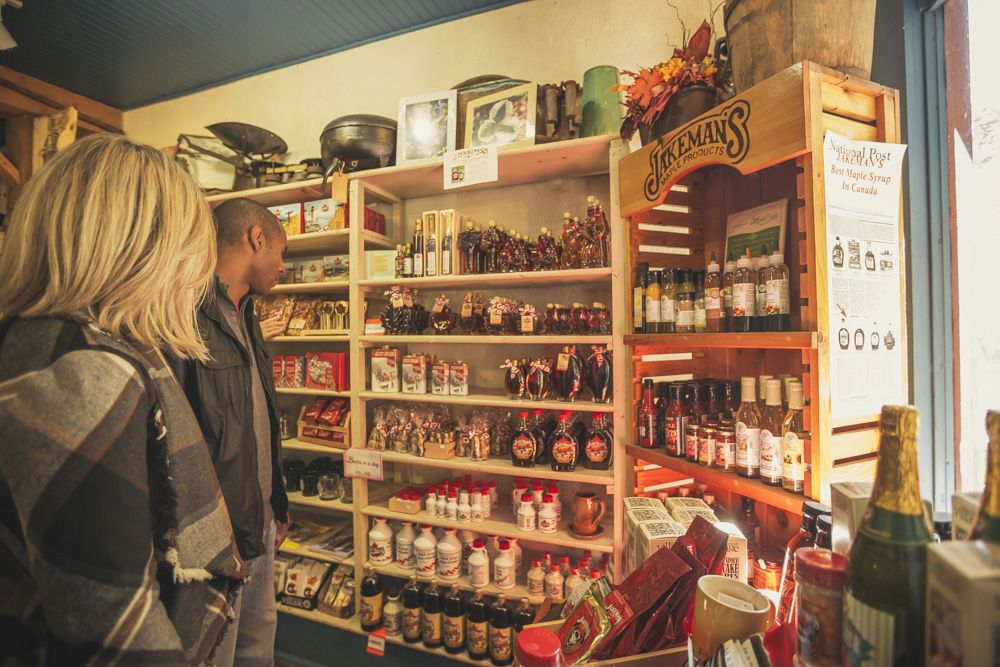 Natural sweeteners? They're the bees' knees! At Oxford Honey in Burgessville, you can shop a variety of delicious honey straight from the hive.
Choose from unpasteurized liquid honey or naturally creamed honey and even shop a variety of other bee-related products like honeycombs, pure beeswax candles, hand creams and lip balms and for those feeling adventurous, even your beekeeping supplies!
If maple syrup is more your thing, no worries! Get that lovingly tapped Canadian goodness at Jakeman's Maple Farm in rural Oxford.
This family-run maple syrup operation is in its fourth generation and they've got it down to an art. Not only can you pick up syrup but maple coffee, maple sugar (hello holiday baking), maple cookies and their signature blueberry ice wine maple syrup.
Grains Galore
The What: stone-ground flours, hot cereals, whole kernels, seeds, spelt, oats, rye, flax, millet, rice, barley, corn
The Where: Oak Manor Farms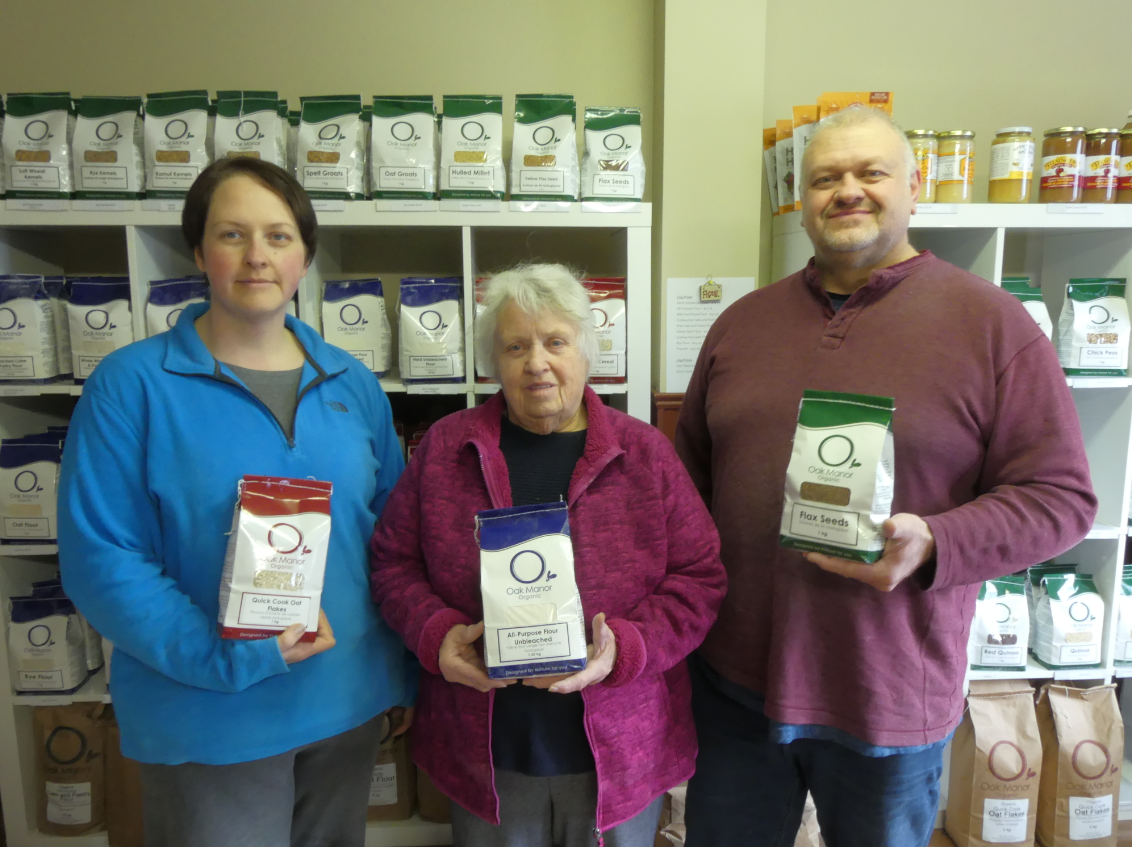 This time of year, we crave those warm and hearty cereals and fresh holiday baking. Nothing goes with our favourite soups other than fresh-baked crusty bread and nothing goes with those Hallmark movies like a big bowl of popcorn.
The good news? No sorry. The GREAT news? You can get all of the ingredients for those things at Oak Manor Farms where they specialize in organic, stone-ground flours and more. Pop into their adorable little farm shop just outside of Tavistock to get the goods. You won't regret it!
Brews for the Crew
The What: craft beer, locally-roasted coffee, tasty teas, glass bottle milk
The Where: Upper Thames Brewing Company, Early Bird Coffee, Nerd Teas, Blue Cow Delivery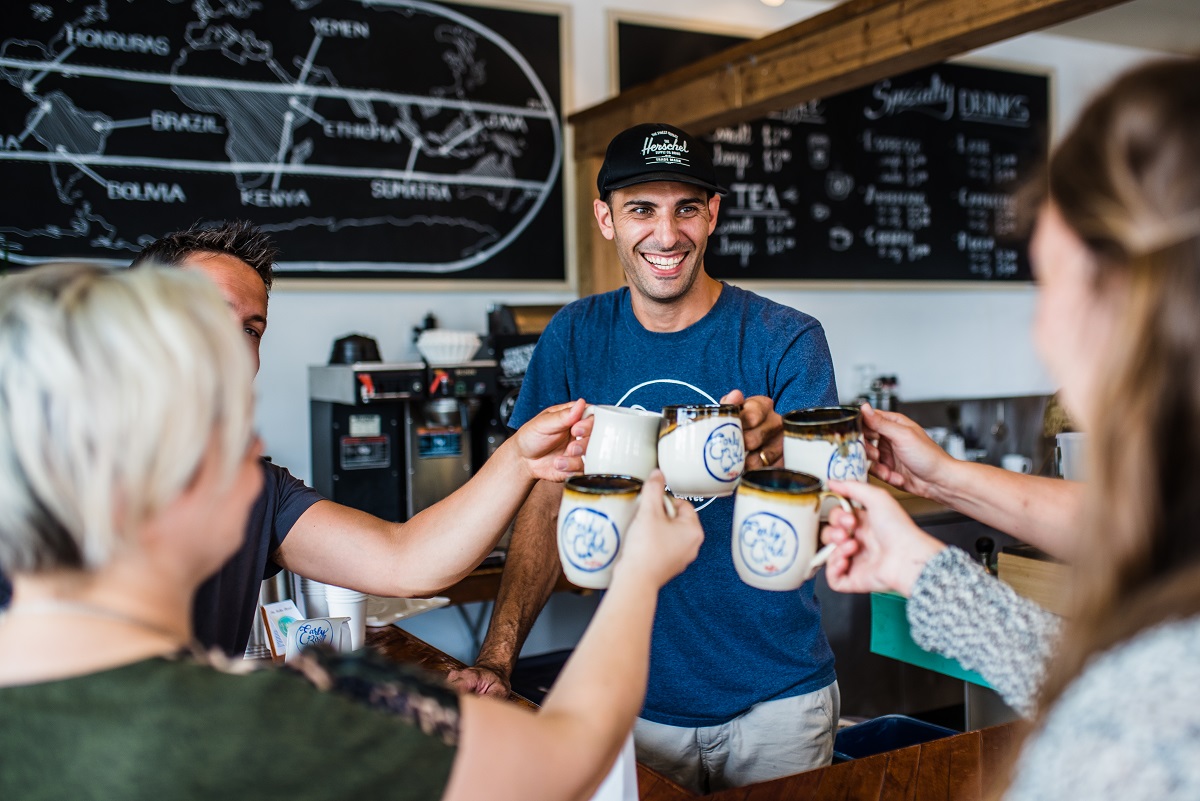 Whatever you're drinking, we've got it. Celebrate the holiday with a round of craft beer. Kick off your morning with a hot coffee. Grab a cold bottle of milk or chill out with a comforting cup of tea. In Oxford we have those bases covered.
For your caffeine fix, head into Early Bird Coffee or Nerd Teas in Woodstock. At Early Bird, Elio Caporicci roasts premium beans in-house for amazing roasts in dark, medium and light but this time of year, we love their festive roast.
If tea is more your thing, the folks at Nerd Teas have a great selection of loose leaf tea worth checking out. Get a hot cuppa to go or bring some home with you.
Looking for a celebration drink? Woohoo! Ring in the winter with a cold pint of craft beer from Upper Thames Brewing Company on-site at the brewery or their sister location, The Brickhouse Brewpub.
They have some great flagship brews always available (try the Timberbeast Brown Ale!) as well as some wonderful seasonal brews including their Mocha Latte Porter which uses coffee from Early Bird and chocolate from Habitual Chocolate.
Towards Tillsonburg, Ramblin' Road Brewery Farm is an awesome place to visit with delicious brews crafted on site (may we recommend their Pure BRED red ale?) and The Roost restaurant complete with all sorts of local goodness.
Blue Cow Delivery is based out of Greener Pastures Eco Farms and delivers cold milk and other local goods across the county. Check them out at the Saturday Woodstock Fairgrounds Farmers Market to pick up your glass bottle.
Psst! Looking for hot chocolate? Check the next section.
Sweet Tooth
The What: Chocolate of course!
The Where: Habitual Chocolate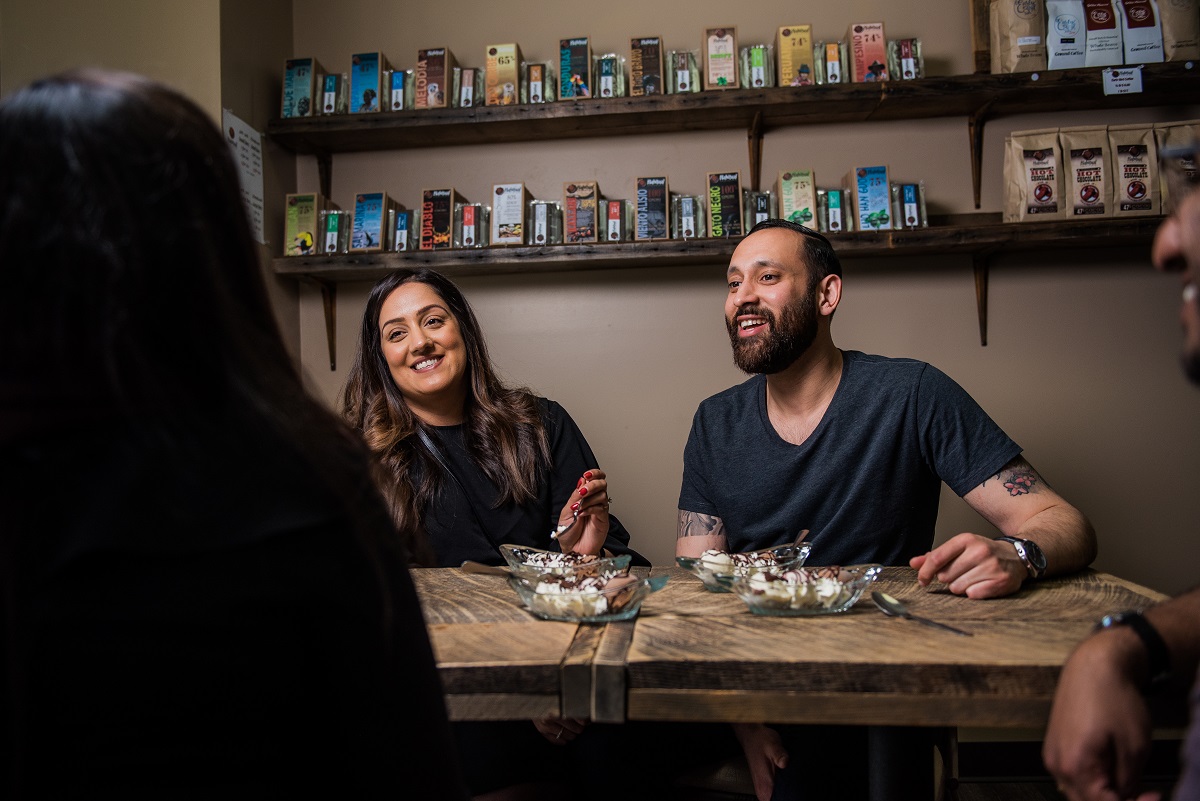 At Habitual Chocolate in Woodstock, Philippe Lehner crafts artisan chocolate from bean to bar in house. That means that the taste of each bar is influenced by the growing conditions of the beans that he uses.
Similar to wine, this allows you to taste the unique terroir that differs in each bar depending on where the beans were grown. It's seriously tasty and will bring even those who don't like dark chocolate, a true appreciation for it.
Fancy some holiday treats? Philippe makes an AWESOME hot chocolate or mocha that you can get in bags to make at home or as a hot to-go drink. He also makes dipped fruit (year-round) and fondue kits in the winter!
To Market, We Go!
The What: a mixture of local goods
The Where: The Woodstock Fairgrounds Farmers Market (Saturdays only), Your Farm Market (Beachville Road Location only), Turner's Farm Market, Thames River Melons (Thursdays only)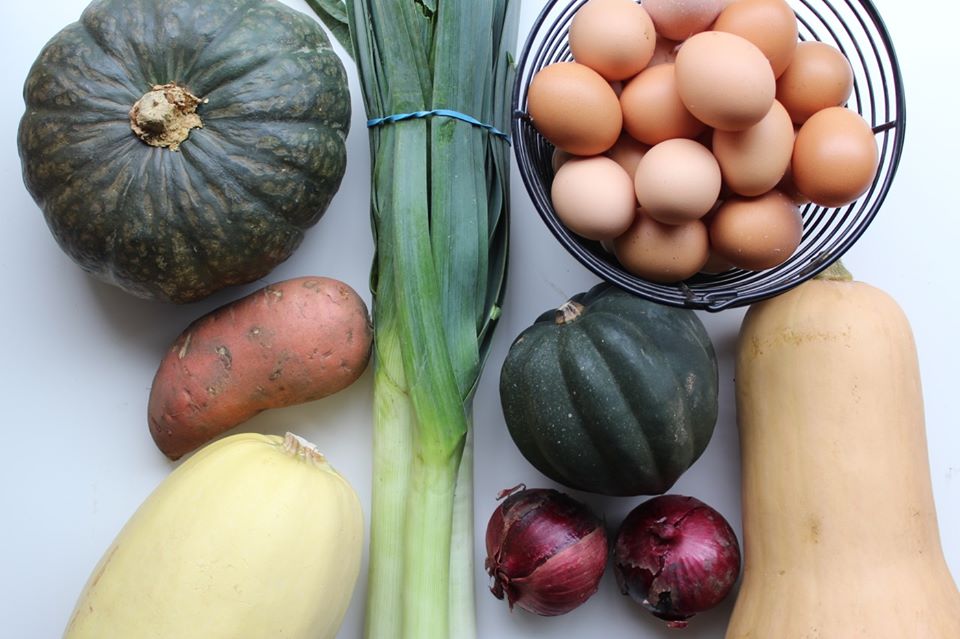 Variety is the spice of life! If you're looking to grab a bunch of local goods for dinner tonight, hit up one of our seasonal markets that offer up everything from fresh fruit and veg to preserves, baked goods and more. You won't regret it!
The Woodstock Fairgrounds Farmers Market is Oxford's only year-round market featuring many of those farmers highlighted above. You'll find everything from meat and coffee to fresh veg and baked goods. Please note Turners, YFM and Thames River Melons all wrap up their seasons around Christmas so be sure to check online for current hours before heading out!
Pickled and Preserved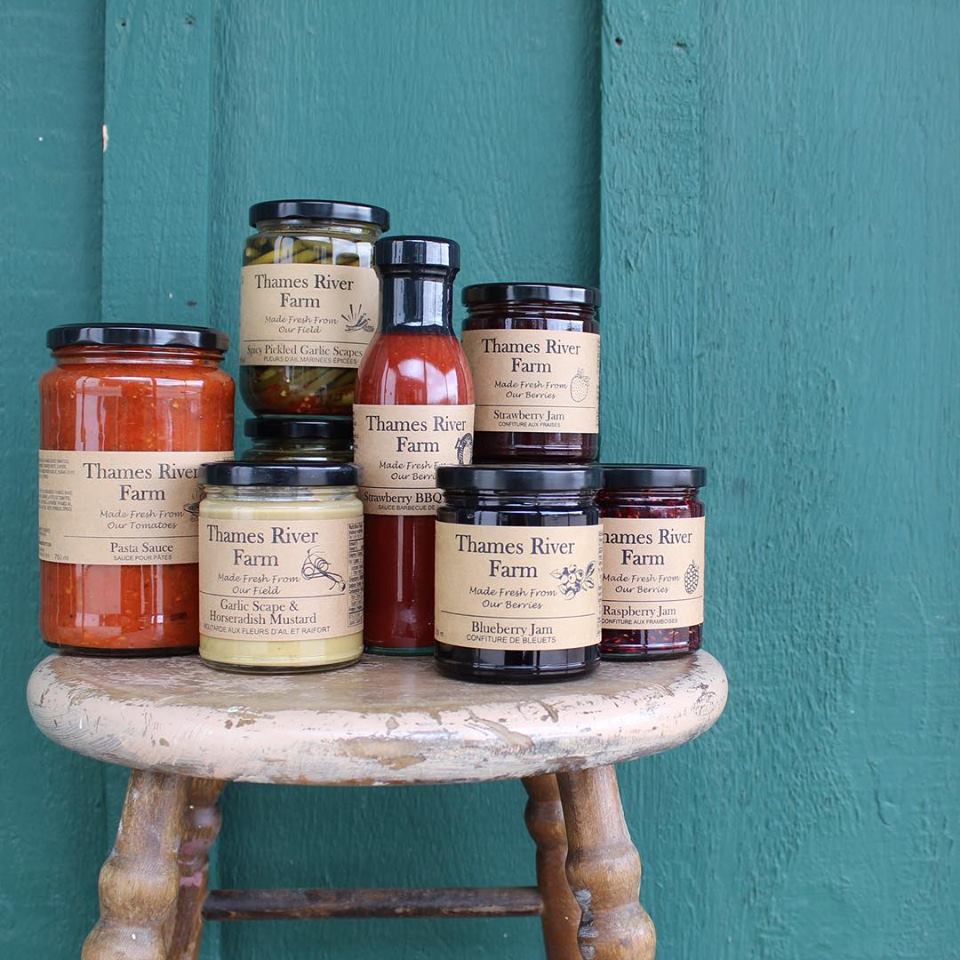 That's still not enough? Okay, okay there's more. If you're anything like us, you love pickled and preserved things to add a little summer to your winter. Check out this blog all about the best pickled and preserved items in Oxford.