Millennium Trail System - 6km or less
The Millennium Trail System includes trails developed by the City of Woodstock, Woodstock Rotary Club, Woodstock Lions Club and Youth Start and is maintained by the City.
Discover the Millenium Trail System
The trail follows the banks of the Thames River, through mixed hardwood and softwood forests, marshland and some retired agricultural areas, some of which are slated for reforestation.
Hikers may spot the occasional deer, beaver, blue heron and other interesting wildlife. Blackberries may be ripe for the picking. Though the trails are not connected, they are in close proximity to each other.
Length: Rotary: 5.9 km, Lions: 1.72 km, Youth Start: 1.40km (loops)
Difficulty: Easy
Facilities: Parking, outdoor toilets, benches
Trail Uses: Hiking, cycling, cross-country skiing, birding, snowshoeing (No Motorized Vehicles)
Primary Surface: Gravel
Access Locations:
Rotary Trail: North on Hwy 59. Immediately after crossing the bridge over the tracks and Thames River, turn left onto Tecumseh St. (Oxford Rd. 48). The trail entrance is on the right.
The Roth Park Trail starts on the other side of Tecumseh St., across from the Rotary Trail. Another entrance is on the east side of the 11th Line, ½ km north of Hwy 2.
Lions Trail: Take Hwy 2 (Dundas St.) to the west end of Woodstock. The trail entrance is on the north side of Hwy 2, 200 metres west of the railway bridge. Another entrance is at Bexley and Hunter streets, at the railway overpass
Youth Start Trail: Take Hwy 2 (Dundas St.) to the west end of Woodstock. The trail entrance is on the south side of Hwy 2, 60 metres east of the railway bridge.
Open: All year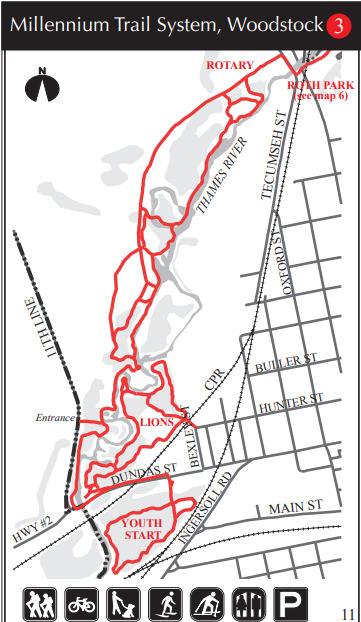 How can I help keep Oxford County beautiful and healthy?
Bring along your favourite reusable water bottle. Leave all places in a better state than when you arrived. Give wildlife space; even if animals do not run away from you, they may be protecting young. Provide adequate space for flora and fauna. Take in the changing terrain, stay on the path and avoid them during wet/muddy periods. If the parking lot is full at the trail you're visiting, consider coming back at a different time or choosing a different trail to avoid overuse. Finally, take only photos and leave only footprints. If you'd like to give back, you can consider
purchasing a tree
.
What other trails are nearby? What trails are over 5km?
Nearby trails in and around Woodstock include the Roth Trail, Hickson Trail, Sliver Trail and the Herbert Milnes Trail. If you're looking for a trail 5km or over, we have: Wildwood Trail (25km), Avon Trail (19km), Hickson Trail (9km), Roth Park (12km), Sliver Trail (5.25km), The Carroll Trail (5km) or the Trans-Canada Trail (17km). To learn more about these trails, check out our
Trails and Hiking Page
.
How far is this trail system from downtown Woodstock?
Not too far at all. It's about a 5-minute drive from the main access point.
Where can I grab a bite nearby?