Experience Level: Moderate to advanced ride
Route Surface: Paved
Length: 52 KM
Route Description:
Taking the quiet country back road out of Thamesford, ride onto Cobble Hills Road. On one of the most scenic roads in the County, enjoy wide sweeping views interspersed with dense forest lining the way. Low traffic volumes continue all the way around this loop, including the turn towards Lakeside riding along Oxford Road 92/25.
On a nice day take a detour and visit the community of Lakeside popular for swimming and birding. This delightful ride continues back towards the start on 31st Line and 17th Line, before ending in Thamesford, where there are a number of places to get refreshments.
Route Option and Notes:
Caution crossing 19th Line, heavy traffic. Shorten the loop to 40 km by turning east County Road 84, towards Kintore.
Starting Optins and Notes:
North Park: 221 George St., Thamesford. Parking, Washrooms available at entrance to ball diamond at the North East corner of the park
Stay social: @TourismOxford #RideOxford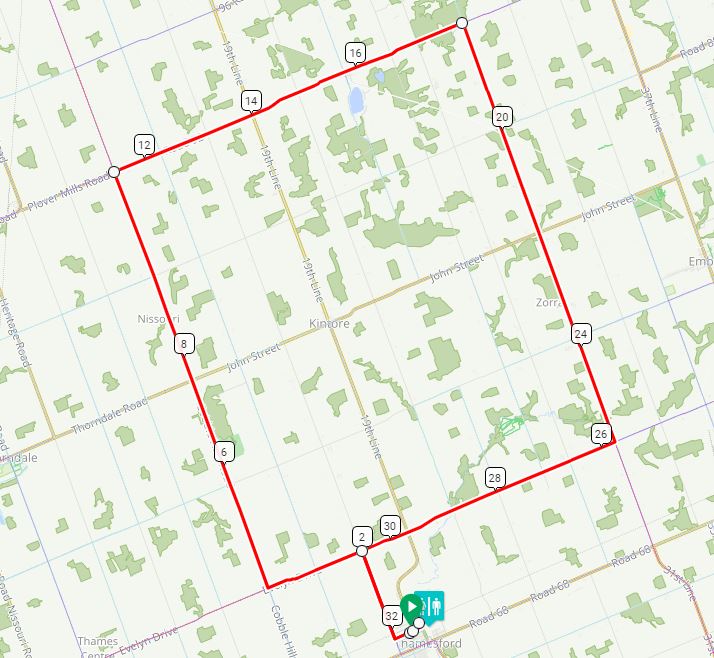 View This Route Onine: https://ridewithgps.com/routes/33819939
Disclaimer By using this route map, cyclists demonstrate they have read and understood the safety rules and disclaimer. It is a suggested route only. The suggested route does not have formal bike lanes and all cyclists ride at their own risk. Road conditions and traffic levels may vary from time of map printing or posting. Caution and common sense must be used when sharing the road with motor vehicles. Cyclists must comply with the Ontario Highway Traffic Act, R.S.O. 1990, C.H-8 as amended. Oxford County does not assume any liability whatsoever for cyclists travelling upon a suggested route. Oxford County is not responsible for any loss, costs or expenses incurred by cyclists while travelling upon suggested routes
Contact Information
Office Hours: Mon - Fri - 9am - 3pm
Map