Oxford County North - 90 km
Experience Level: Advanced, long-distance road riding
Route Surface: Paved
Length: 90KM
Route Description:
For road riding enthusiasts this ride provides a good opportunity to cover some distance on well paved, quiet country roads, touring across the northern part of Oxford County. Starting from the town of Ingersoll, 31st Line is a delightful 20 km run past scenic farms and agricultural lands. Enjoy more of the same on this relatively flat route all the way into Tavistock, a perfect half way rest stop for home cooking at Quehl's Restaurant. Sky-high views abound riding south east along 16th line and onto Oxford Road 33 where vehicles are expecting to see cyclists with Share the Road signs along the way. Pedal into Woodstock for a look around. Before the last 13 km either sprint or cruise along Beachville Road, into Ingersoll and the end of the ride.
Route Option and Notes: (Please be aware during Covid 19 the public washrooms may be unavailable and operating hours of stops may change)
Shorten route to 45 km by turning at 12 km onto Road 78, via Embro.
Starting Points and Notes:
Pittock Conservation Area, 725138 Pittock Park Rd, Woodstock: Free Admission (Open late April –Mid October) for day use. Parking, Washrooms, Picnic
Downtown Woodstock (pay & display) 21 Light St., Woodstock: Restrooms entrance at front of City Hall (500 Dundas Street, Mon-Sat)
Downtown Tavistock Queens Park, 198 Woodstock St. S., Tavistock: Parking, Washrooms:
Stay social & share your ride: @TourismOxford #RideOxford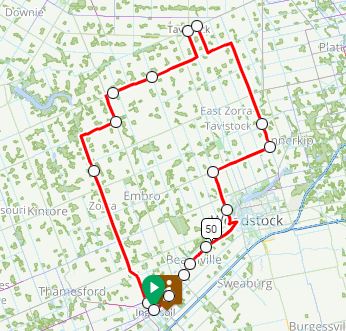 View This Route Online: https://ridewithgps.com/routes/33821037
Disclaimer By using this route map, cyclists demonstrate they have read and understood the safety rules and disclaimer. It is a suggested route only. The suggested route does not have formal bike lanes and all cyclists ride at their own risk. Road conditions and traffic levels may vary from time of map printing or posting. Caution and common sense must be used when sharing the road with motor vehicles. Cyclists must comply with the Ontario Highway Traffic Act, R.S.O. 1990, C.H-8 as amended. Oxford County does not assume any liability whatsoever for cyclists travelling upon a suggested route. Oxford County is not responsible for any loss, costs or expenses incurred by cyclists while travelling upon suggested routes
Contact Information
Office Hours: Mon - Fri, 9 am - 3 pm
Map