Discover Big Cheese Days with Friends
On Saturdays in May, The Oxford County Cheese Trail is rolling out all the stops with extra special meals, deals and experiences that you won't want to miss. It's a grate opportunity to grab your best buds and make a day of it! Want to know the best spots for a friends' getawhey? Say no more!
Big Cheese Days with Friends
This itinerary maps out a route you can follow with friends this year, any Saturday in May that will ensure an absolutely brielliant time. Now read on or skip ahead!
Stop 1: Tour a Gouda Factory
Suggested Time: 11 am
Where: Mountainoak Cheese, 3165 Huron Rd. New Hamburg, ON. (View Map)
Notes: Mountainoak is running tours from 10 am - 4 pm. They are $15 and include some delicious cheese samples.
Drive Time to Next Stop: 15 mins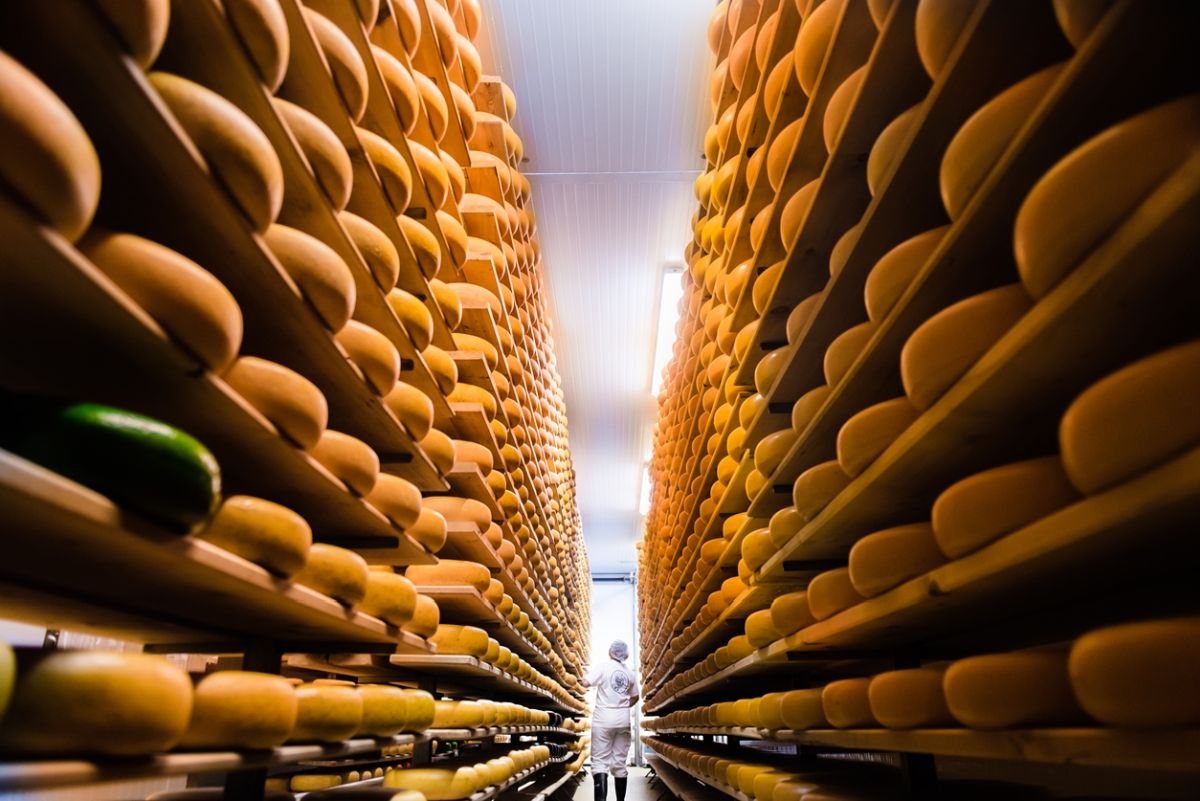 Kick-off your day with a tour of Mountainoak Cheese, an award-winning Gouda factory nestled onto a quiet rural property.
Using milk from their own dairy cows, Mountainoak makes almost 20 different varieties of gouda in flavours like Black Truffle, Wild Nettle and their award-winning Farmstead GOLD Gouda.
Also made on-site? Fresh curds (YUM.) and quark, a soft cheese similar to yogurt that can be used in baking or eaten by the bowl.
This tour will teach you a bit about the cheesemaking process and of course, include some samples along the way. Snap a pic in the aging room together as a group and Bob's your uncle!
Have some wiggle room in the schedule? Bright Cheese and Butter is just a short 15 mins from Mountainoak Cheese and is offering samples of their cheese on Saturdays in May!
Stop 2: Enjoy a Picnic with Alpacas + Goat Milk Ice Cream Samples
Suggested Time: 12:30 pm (MUST BE BOOKED IN ADVANCE)
Where: Udderly Ridiculous Farm Life, 906200 Township Rd. 12, Bright, ON. (View Map)
Notes: Udderly Ridiculous Farm Life offers a number of hands-on experiences including alpaca picnics, goat recess and cuddles and their signature Taste of Farm Life experience. All must be booked in advance through their website. For Big Cheese Days, they're also offering samples of their goat milk ice cream.
Drive Time to Next Stop: 12 mins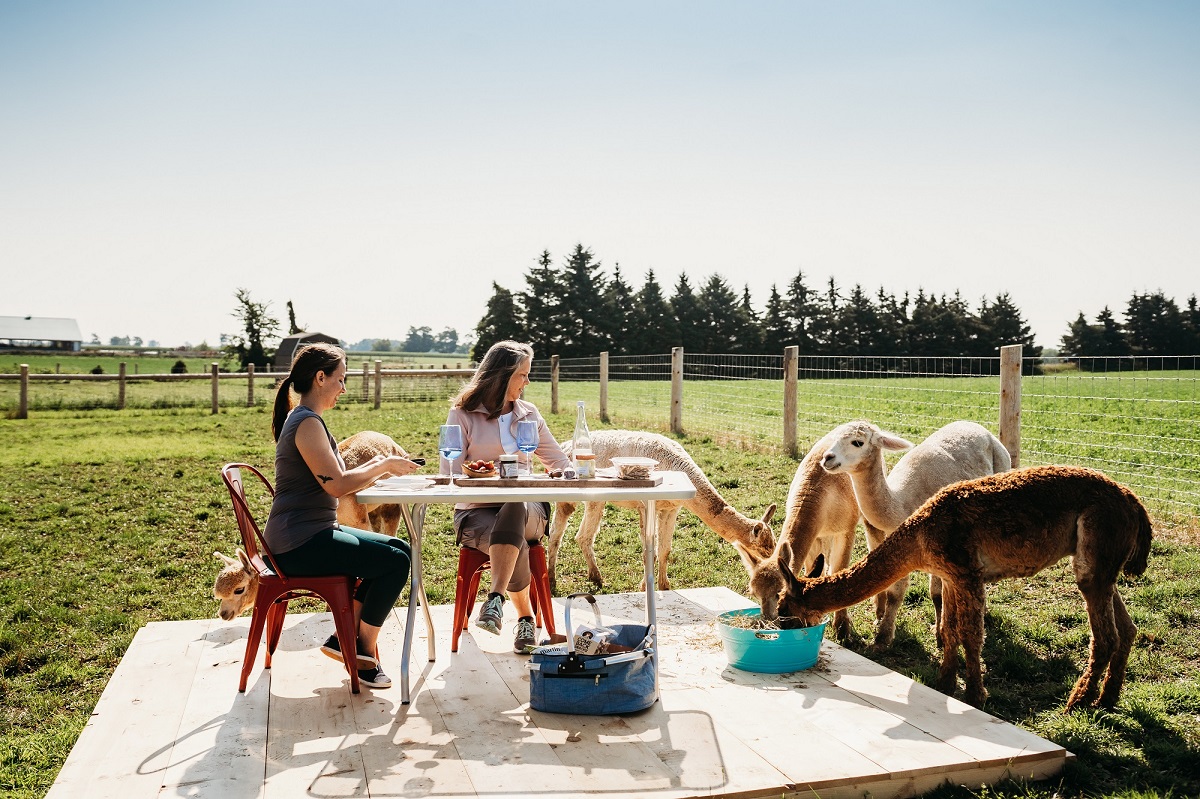 Next stop: Udderly Ridiculous Farm Life for a lunch date with friends you won't forget.
You can book Udderly Ridiculous Farm Life's Alpaca Picnics in advance for 12:30 pm on Saturdays in May. You'll get set up on a table in the alpaca paddock with a lovely basket of Ontario-made treats to enjoy as you make new friends with some loveable farm animals.
As you munch, the alpacas will too! They'll be enjoying their meals and may even wander over to say hello.
When you're finished, pop into the farm store to shop a number of goat and alpaca-related goods like goat milk ice cream, alpaca wool socks and of course, Udderly Ridiculous's award-winning goat milk ice cream! For Big Cheese Days, enjoy samples of their goat milk ice cream. With flavours ranging from coffee and craft brew to dark chocolate and red wine, you're definitely going to want to try this gourmet goodie.
Stop 3: Spring Picnic Packs
Where: Thames River Melons Pick-Your-Own-Patch and Farm Market, 775530 Blanford Rd. Innerkip, ON. (View Map)
Suggested Time: 2 pm
Notes: Thames River Melons is open and offering Spring Picnic Packs between 9 am and 5 pm.
Drive Time to Next Stop: 15 mins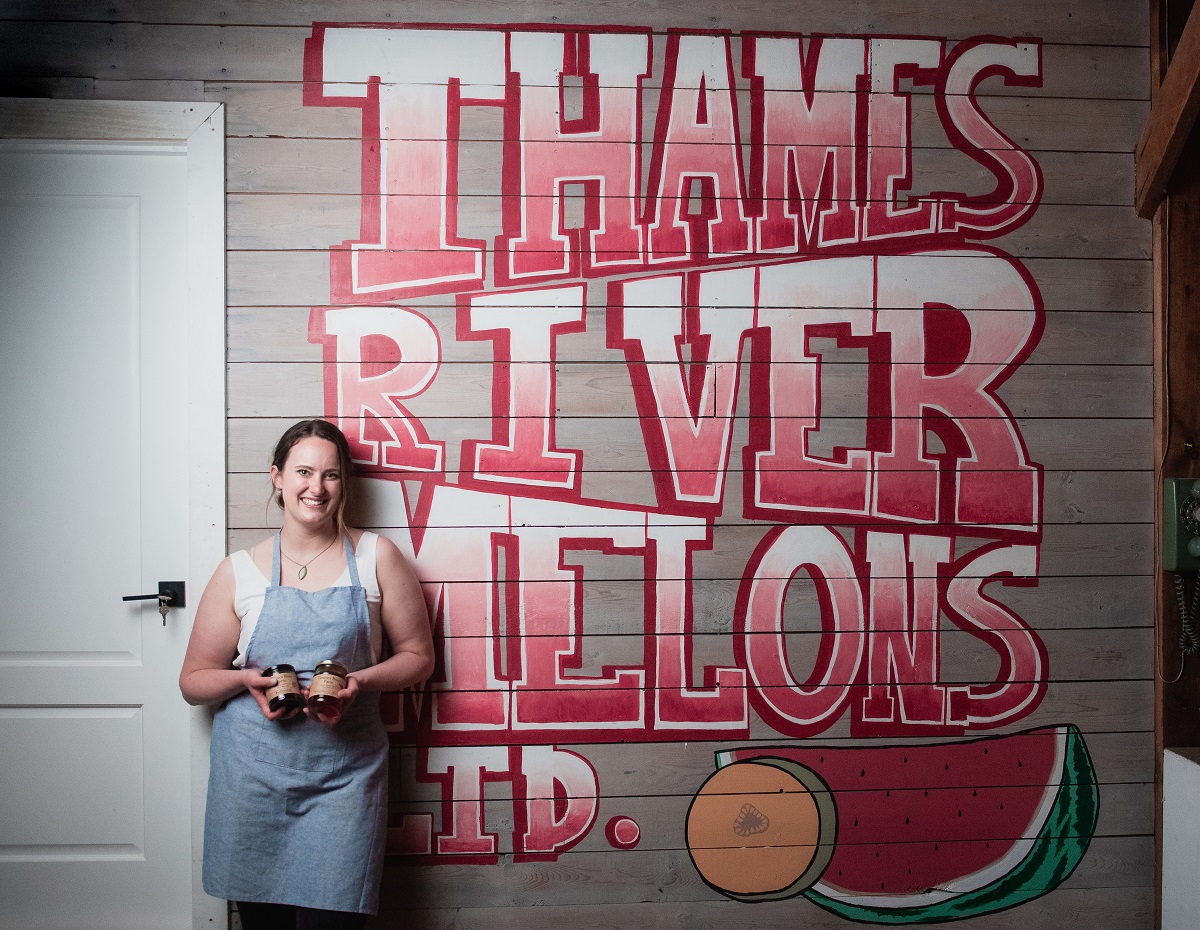 We hope you're aren't too full yet because just a short drive away, Thames River Melons is selling a curated pack of their picnic favourites.
For Big Cheese Days, Thames River Melons is offering a mix of farm fresh pickles, cheese, charcuterie meats, farm kitchen baked goods, and other farm preserves plus a mas on jar of homemade berry sweet tea. Order in advance for a quick pick-up, or snag one on-site.
Stop 4: Brie Ice Cream!
Suggested Time: 2:45 pm
Where: Habitual Chocolate, 389 Dundas St. Woodstock, ON. (View Map)
Note: Habitual Chocolate is open 10am-5pm
Drive Time to Next Stop: 8 mins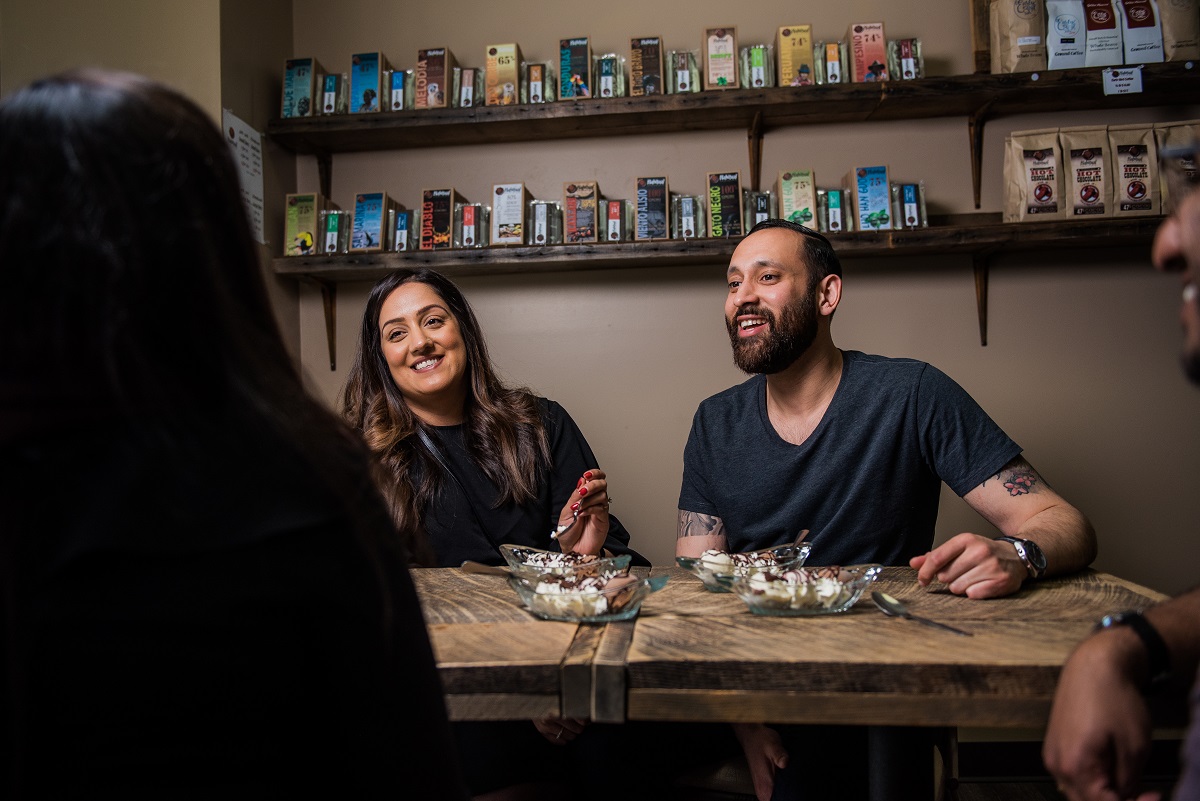 Alright, alright, we know you've had ice cream once already today but it's Big Cheese Days! Like Christmas, anything goes!
Habitual Chocolate is located in downtown Woodstock and makes Canada's largest selection of bean-to-bar chocolate as well as amazing small-batch ice cream. For Big Cheese Days, they're creating a brie ice cream that will knock your socks off. Party salty, part sweet, this is a taste you won't find elsewhere so jump on it! Make it un-brie-lievable and add on their local berry compote topping for a small fee.
Stop 5: Pints, Prosciutto, and Pizza
Where: Upper Thames Brewing Company, 225 Bysham Park Dr. #9, Woodstock, ON. (View Map)
Suggested Time: 3:15pm
Note: Upper Thames is open 11 am-7 pm.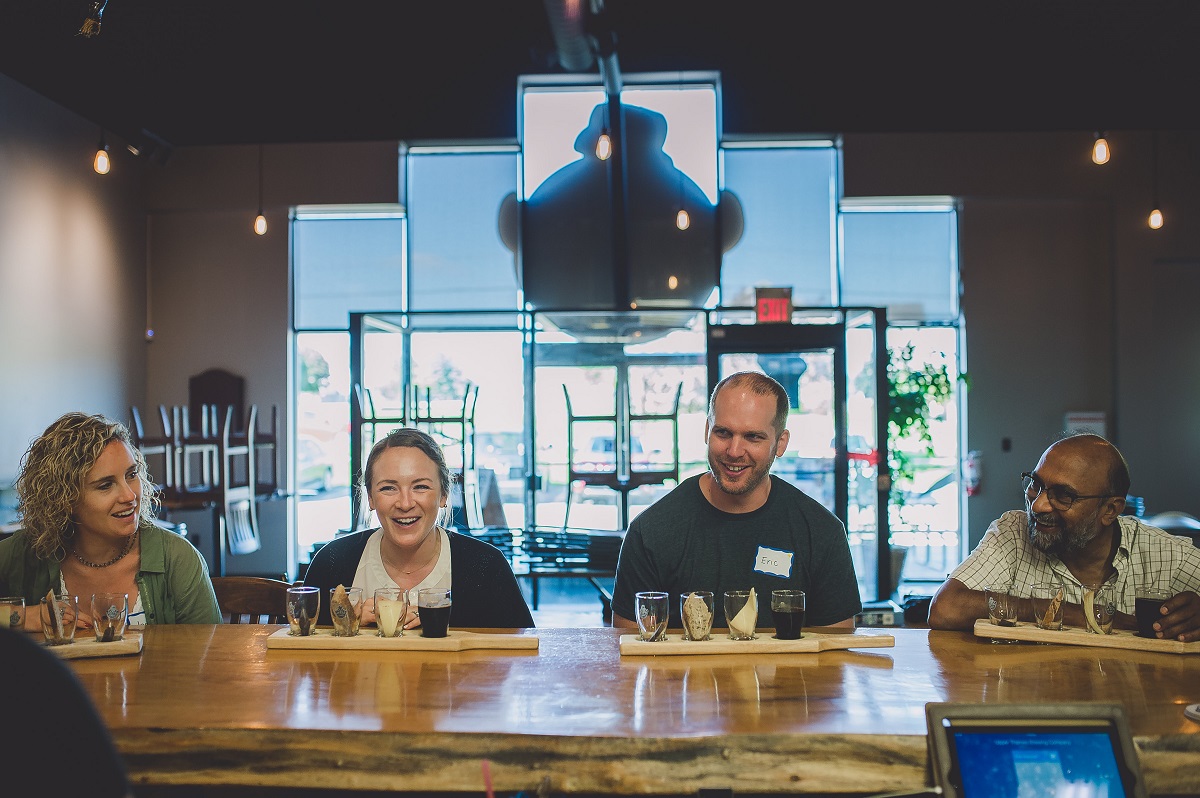 Upper Thames Brewing Company is the perfect spot to enjoy your day with your friends and wind down together in a relaxed atmosphere. During Big Cheese Days, grab a 20oz Pint and their Proscuitto & Brigid's Brie Pizza for only $20.
Try one of Upper Thames Brewing Company's craft beers made in-house as you kick back each Saturday in May. We love their Timberbeast Brown Ale but the nice thing about Upper Thames is that they always have some new seasonal brews to try in addition to their signature flagships.
See You Soon
We can't wait to see you out for Big Cheese Days! Be sure to use the hashtag #TryTheTrail and enjoy! Have questions? Please feel free to email us anytime.
We want to stay the night. Where should we stay?
Along the Cheese Trail, The Elm Hurst Inn is a legendairy place to stay. Book their Oxford County Cheese Trail package and you'll receive a beautiful local cheeseboard to your room as well as a bottle of Ontario wine and some chocolates made nearby. You can also check out their pyjama party package if you're looking for a throwback slumber party with your friends! Looking for a different kind of accommodation? No problem. Check out our accommodation page.
I'd like to check out another cheese factory. Are there any other tours happening?
You bet! Gunn's Hill Artisan Cheese is offering $10 tours at 10 am and 1 pm on Saturdays in May.
We want MORE cheese. Where should we go for dinner?
Look at you! That's amazing. Charles Dickens Pub in Woodstock is offering a 100-mile cheese board and wine combo in addition to their always stellar lineup of pub favs. Brickhouse Brewpub has some wonderful cheesy dishes like their Braised Beef Poutine, SixThirtyNine is offering an award-winning cheese board and Vodkow Sour using vodka made with cow milk lactose. In Ingersoll, Louie's Pizza and Pasta is really stepping up their game with Gunn's Hill Poutine, Cacio e Pepe, The Big Louie, GArlic Pizza, and Complimentary deep-fried cheese curds when you purchase 2 entrees and check-in through Great Taste of Ontario!
I'm still overwhelmed by the info. Can you help me plan my trip?
Absolutely! We're in the office Monday-Friday between 8 am and 4 pm.
Send us an email
and try to give us a week's notice before your trip if possible.