6 delightful ways to enjoy a picnic in Oxford County
They say life is a picnic and never is that more true than in the summer.
Summer presents the perfect time to layout the gingham in the grass, kick off your shoes and enjoy delicious al fresco dining in the heart of rural Ontario. From curated baskets enjoyed in a blueberry patch to picnics among farm animals, we can guarantee these aren't your grandma's picnics (although, she's welcome to come along of course).
Read on!
Please note: These picnics become available as summer progresses. It's always best to call ahead to see if available and in some cases, advanced booking online is required.
1. Picnics in the Patch
Where: Berrylicious Fruit Farm, 425533 Substation Road Woodstock, ON. (View Map)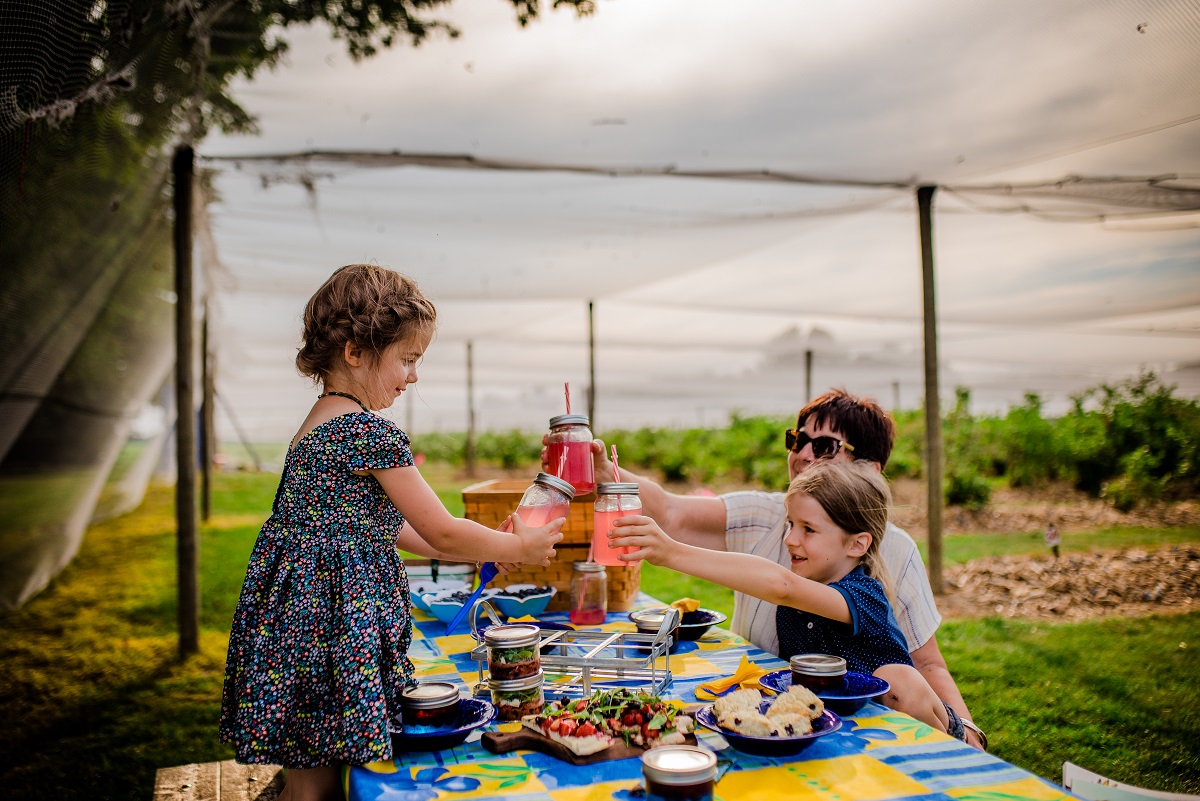 Leave your picnic basket at home! The folks at Berrylicious Fruit Farm have everything you need to enjoy an afternoon or evening in the blueberry patch. It's the perfect outing for families, couples and buds alike and a great way to reconnect outdoors.
Each Picnics in the Patch experience starts with time spent picking a gallon (3.78L) of your own blueberries to enjoy and bring home with you.
The farmers will show you proper picking techniques as well as teach you a little bit about the various varieties of blueberries (spoiler alert: they grow SEVEN). Kids can enjoy a pollinator scavenger hunt as well! Next you'll settle down at your own picnic to enjoy one of four baskets.
Depending on what you're looking for, Berrylicious has the perfect basket for everyone. Choose from the following:
Snacks in the Patch : a cheeseboard from cheese made down the road at Gunn's Hill Artisan Cheese as well as a delightful drink and crackers
Couples (or buds!) Basket: a berry flatbread, mason jar salad, refreshing drink and raspberry or blueberry shortcake for dessert
The Family Picnic in the Patch : four sandwiches (choose from pb&j, ham & cheese or egg salad), 4 layered jello mason jars with floating blueberries, four refreshing drinks and Berrylicious Fruit Farm's signature jelly roll for dessert as well as a variety of unplugged games for the kids
Dessert in the Patch Basket: four cool, refreshing beverages and the aforementioned signature jelly roll
You can book your spot now!
2. Delivery Alert
Where: Victoria Park, Tavistock, ON. (View Map) with a stop at Thames River Melons, 775530 Blandford Rd. Innerkip, ON. (View Map)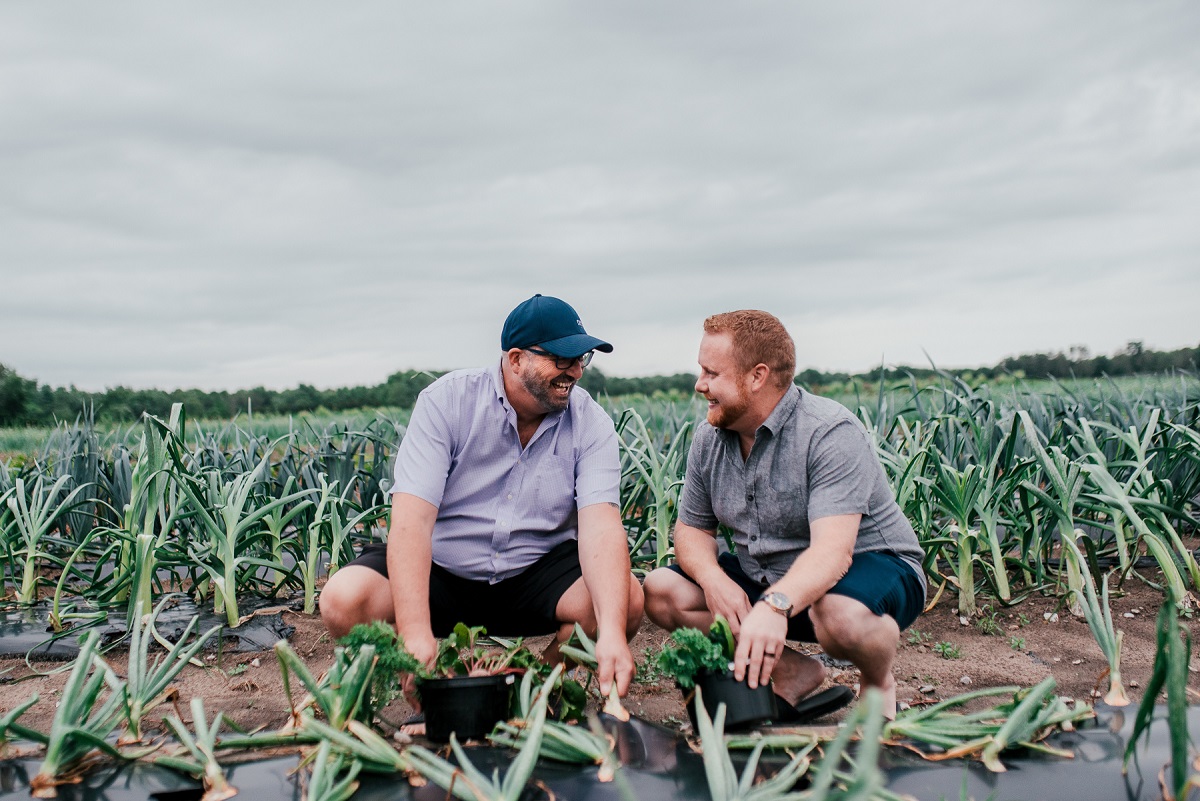 Don't feel like packing a picnic? No problem! Point your wheels towards our backroads. First stop? Thames River Melons to pick-your-own everything (seriously, pick your own berries, beans, tomatoes, beets, sunflowers…even dig-your-own potatoes!).
Pop into their on-farm market to grab a few delicious condiments, fresh melons and more as well! On weekends, don't be shy. The folks at Thames River Melons will be all set up with the fro-yo too.
Afterwards, head to Queen's Park in Tavistock. Once you're there, scan one of the QR codes on the signs for Quehl's Restaurant and have lunch or dinner delivered right to you in the park!
Known for their old-school comfort food, you'll find the perfect meal on their menu to fuel you up for a game of frisbee or a competitive card game. Between your fresh veggies and fruits and the awesome menu at Quehl's- you're all set!
3. Rise & Grind
Where: Embro Conservation Area, 843968 Embro Rd. 84 (View Map) with stops at Sheldon Berries, 276347 27th Line Lakeside, ON. (View Map) and Kintore Coffee, 117 Huron St. Embro, ON. (View Map)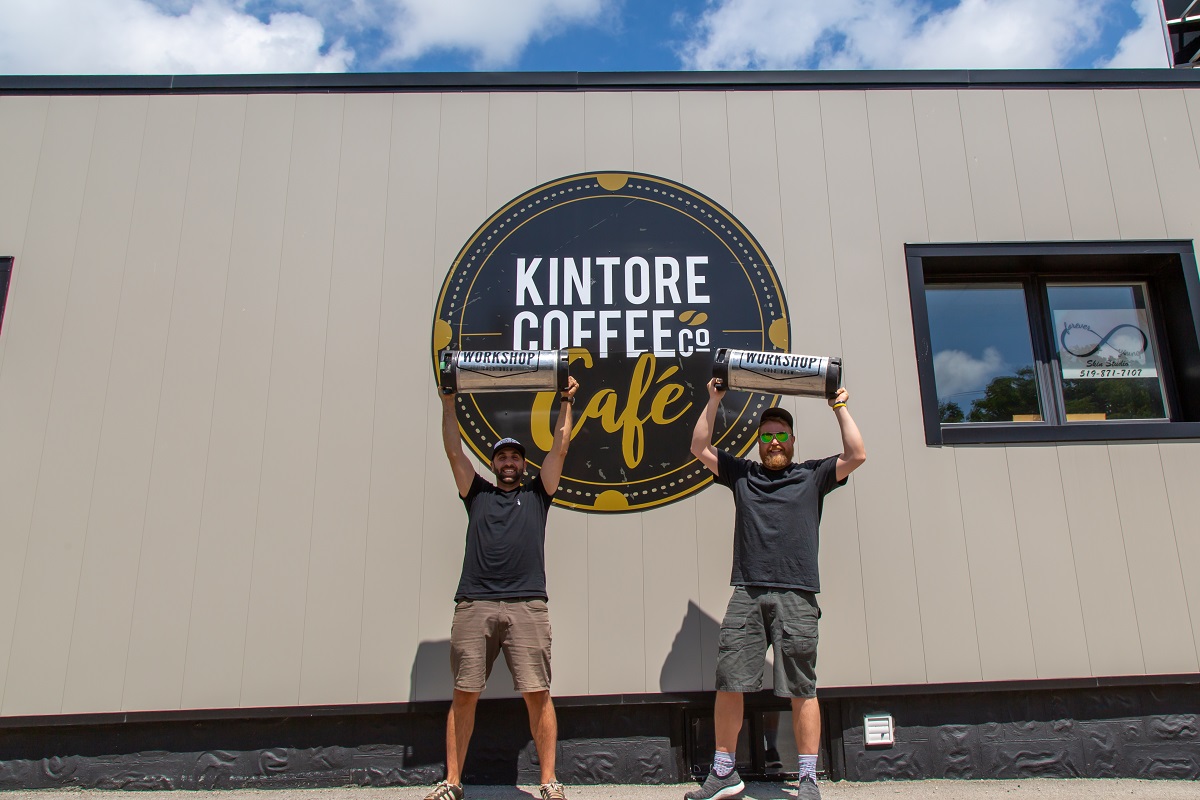 Before the heat rolls in, start your day at Sheldon Berries in Lakeside. This farm offers up a beautiful selection of pick-your-own berries to add to your picnic.
Next, coffee lovers will rejoice at Kintore Coffee in Embro. This cozy café is the perfect spot to stock up for your picnic. May we recommend a cold brew shandy? Made with nitro cold brew and lemonade (sounds quirky, tastes delicious), it'll put that pep in your step for the rest of the day.
Grab a few baked goods or sandwiches for good measure while you're there too and browse a number of other awesome local goods like jewelry, clothing and dried soups. Want to enjoy that cold brew later at the picnic? Consider grabbing a six pack!
Finally, head to Embro Pond Conservation Area where you can set up a picnic and enjoy Mother Nature. With picnic shelters available and short hikes along several different loops, it's a great way to soak up every last drop of summer.
4. A Picnic that Really Stacks Up
Where: Hayes Maple Syrup Creperie at Bre's Fresh Market, 224276 Ostrander Rd. Tillsonburg, ON. (View Map)
When: Stay tuned for 2022 summer dates!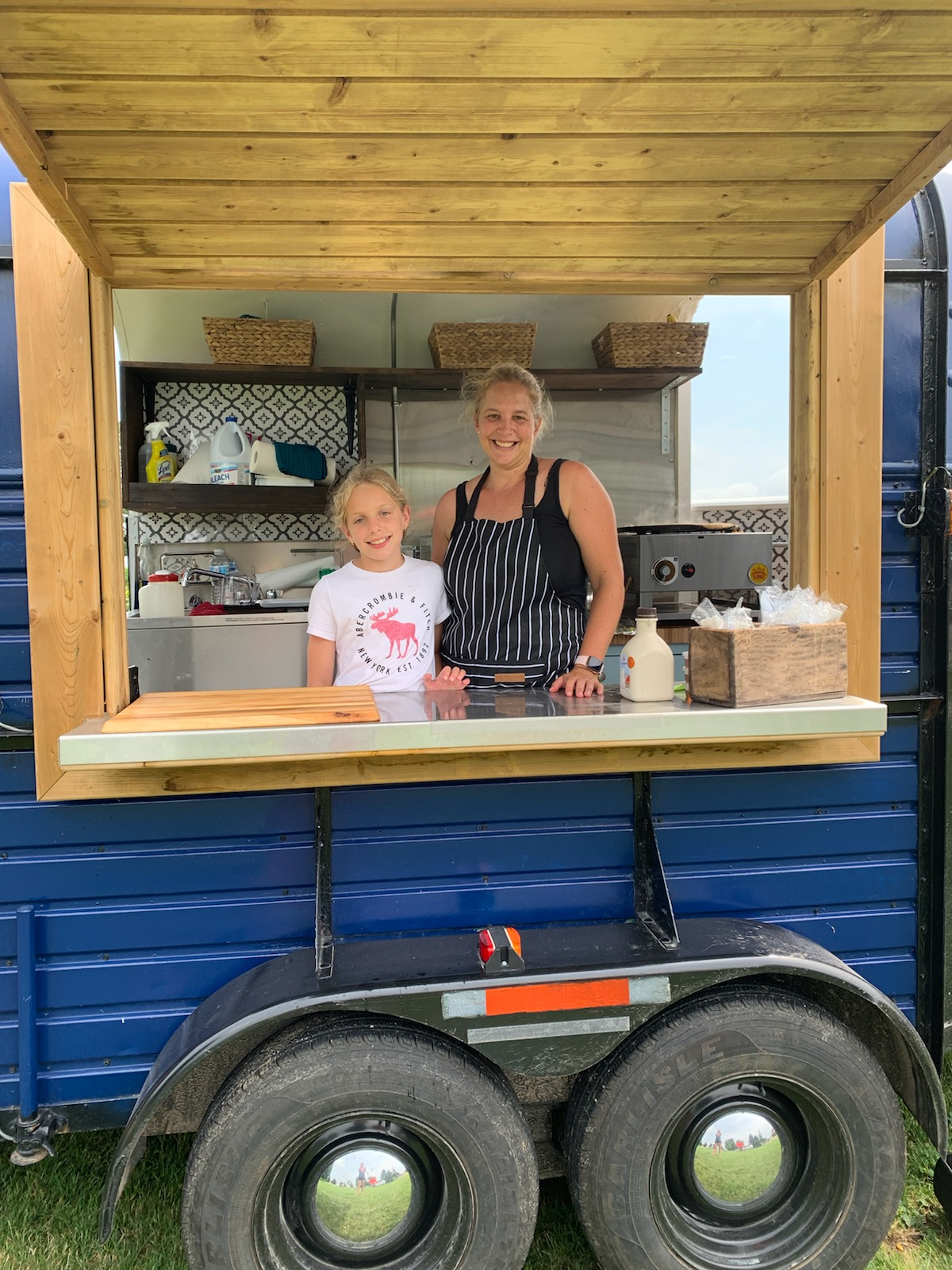 Discover all the delicious tastes of summer tucked inside a warm, delicious crepe and drizzled with locally-tapped maple syrup.
During the summer, Hayes Maple Syrup's uber-cool crepe trailer will be serving up their famous crepes at Bre's Fresh Market in Tillsonburg using local produce on Saturdays beginning July 8. A hidden gem and local fav, this is a must-visit for foodies when it happens.
Just lay out the blanket or grab a picnic table and enjoy chilling out with your crew. Afterwards, head inside the market to grab local produce (including Bre's famous sweet corn), baked goods, cheese, meats and other tasty food grown by the folks at Bre's and neighbouring farms.
5. Alpaca Picnic
Udderly Ridiculous Farm Life, 906200 Township Rd. 12 Bright, ON. (View Map)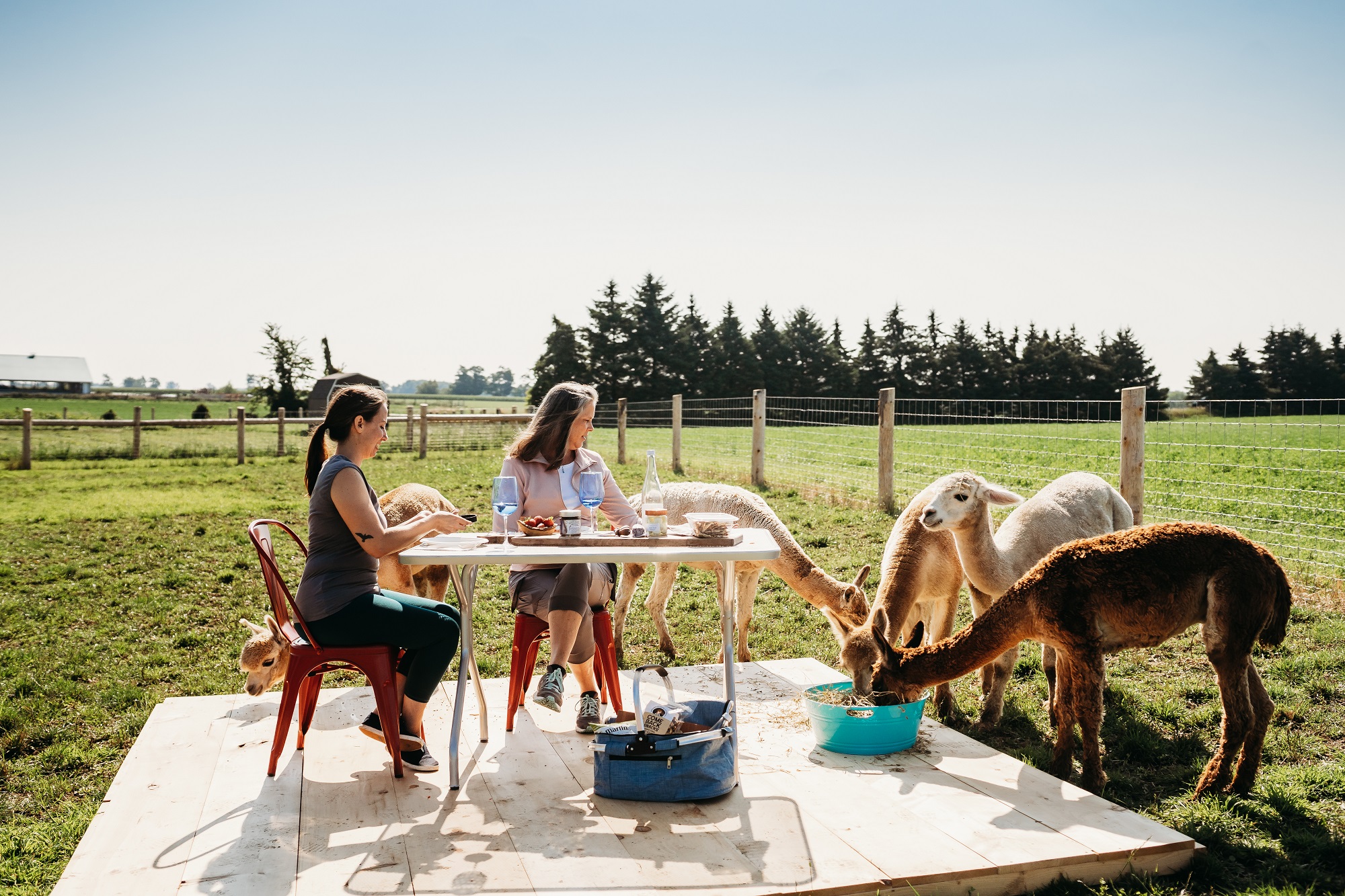 Talk about a picnic you'll never forget! In the Alpaca Picnic Experience, you'll enjoy a 60-minute encounter with the zany alpacas at Udderly Ridiculous Farm Life. Enjoy a deliciously-curated picnic basket filled with Ontario-made goodness on a spread out blanket in the pasture or at a picnic table.
From goat's milk cheese and refreshing drinks to chips, crackers and of course, goat's milk ice cream, you'll love the spread. As you eat, enjoy a look out across the hay field as the alpacas graze or come to greet you. Check out their farm life experiences!
6. On-Farm Picnic
Where: Greener Pastures Eco Farm, 774766 Oxford Rd. 14, Woodstock, ON.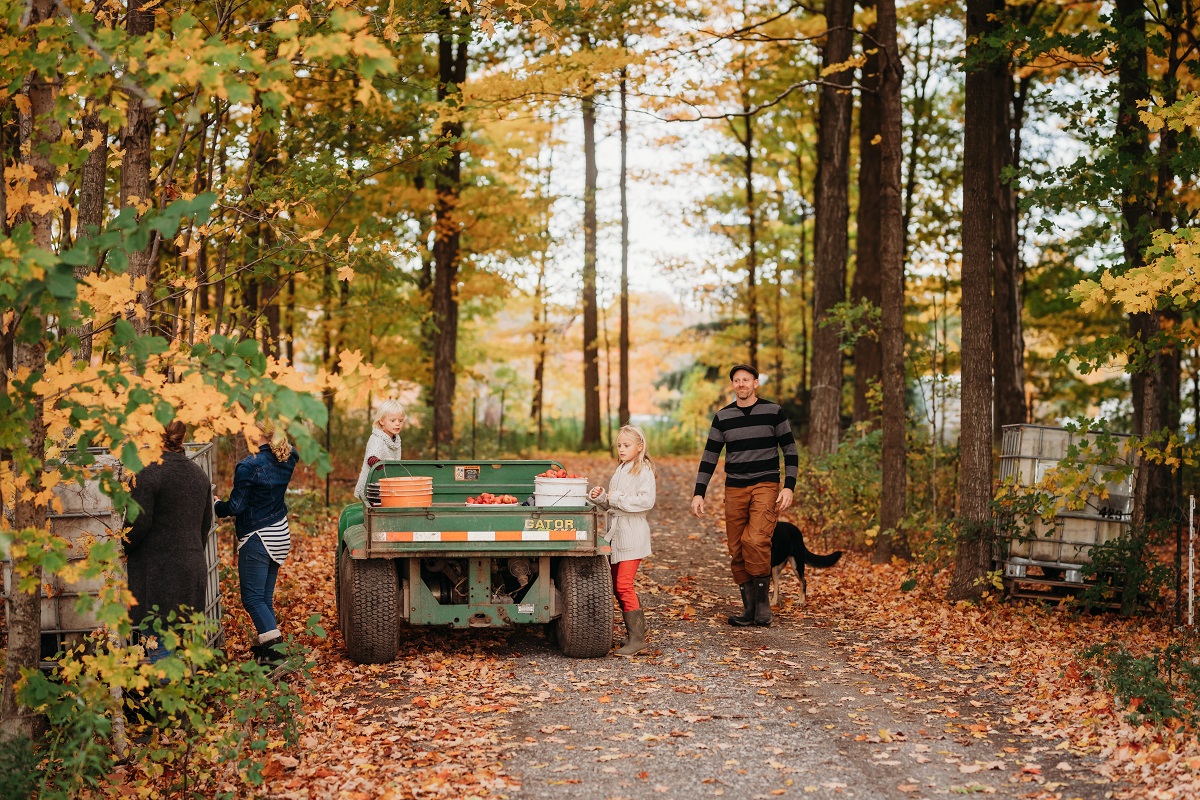 Discover the flavours of region with an on-farm picnic at Greener Pastures Eco Farm. They'll set you up with a picnic basket full of delicious treats from their farm shop as well as a blanket or if you'd like, grab a seat at their picnic tables that overlook the cow pasture. With lots of choices to curate what goes into your basket, you'll love the different options available.
If you'd like to really up your picnic game, call ahead to book a guided farm tour ($20 upgrade). You'll get to meet beautiful belted galloway cows, heritage pigs, rabbits and chickens. You'll also learn about how this farm does things a bit differently and about their ecological practices!
There you have it! Six excellent ways to enjoy a delicious, never-boring picnic in this summer in Oxford County. Want help planning your visit? Feel free to email us at tourism@oxfordcounty.ca and we'll create an itinerary with you.
Trip Ideas
Berrylicious Fruit Farm is the story of two farmers who believed in connecting people to their food through...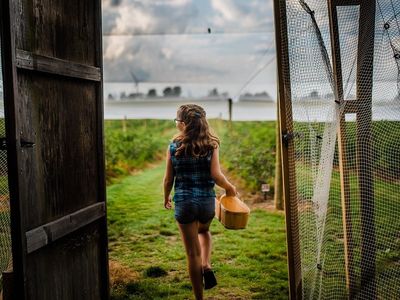 This summer, skip the crowds in favour of the wide-open spaces and chances to get outside in Oxford County....