The Wine Cellar & Cheese Shop: Come for the cheese, stay for the passion
Discover Delicious Cheese, Wine and Lots of Passion at The Wine Cellar and Cheese Shop in Ingersoll
For Annelies Pike, growing up on a dairy farm meant that good cheese was a staple around the family dinner table. With a keen early interest in the world of food, Annelies always knew that if she were to open a foodie bizz one day, it would have to incorporate cheese.
Fast forward to November 2016, Annelies took over a ferment-on-premises wine cellar and put in her own cheese shop on site as well. Are we surprised? Definitely not. Are we happy about it? You bet your bottom dollar.
The Wine Cellar and Cheese Shop is situated on Thames Street, the main drag of Ingersoll. Located in the heart of Oxford County, aka Canada's Dairy Capital, Annelies is able to enjoy the high-quality food produced by her neighbours and offer up unique tastes to her community.
Want to know more? No worries! Keep reading or skip ahead by what you're interested in.
First, let's talk vino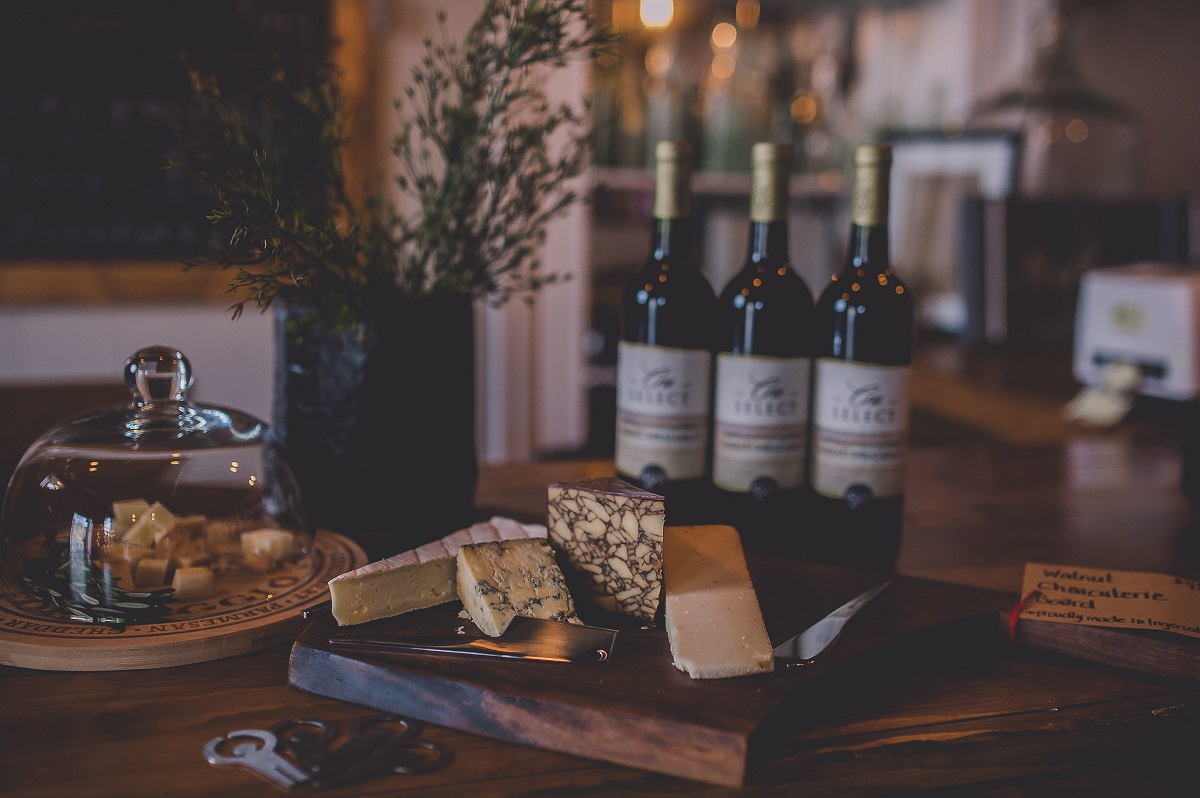 In our books, wine and cheese should go down in the Couples Hall of Fame for dynamic duos alongside Meagan and Harry or PB & J. At The Wine Cellar Ingersoll, you'll become your own vintner.
At your first appointment, you'll select the variety of wine you'd like to create, add your yeast and head out the door- easy as pie! While you're gone (approximately 4-8 weeks), the folks at The Wine Cellar and Cheese Shop will help your wine ferment to your desired level of dryness, stabilize it and clear it of agents.
Finally, they'll run it through a state-of-the-art filtering machine to make sure your wine is sediment-free.
Next, you'll return to the shop to bottle! Annelies and her small staff will show you the ropes on sanitizing and bottling as well as give you the inside scoop on storing and aging your wine. The best part? Once you've drunk all of your wine (look at you go!) you can bring those bottles back and start again.
The Big Cheese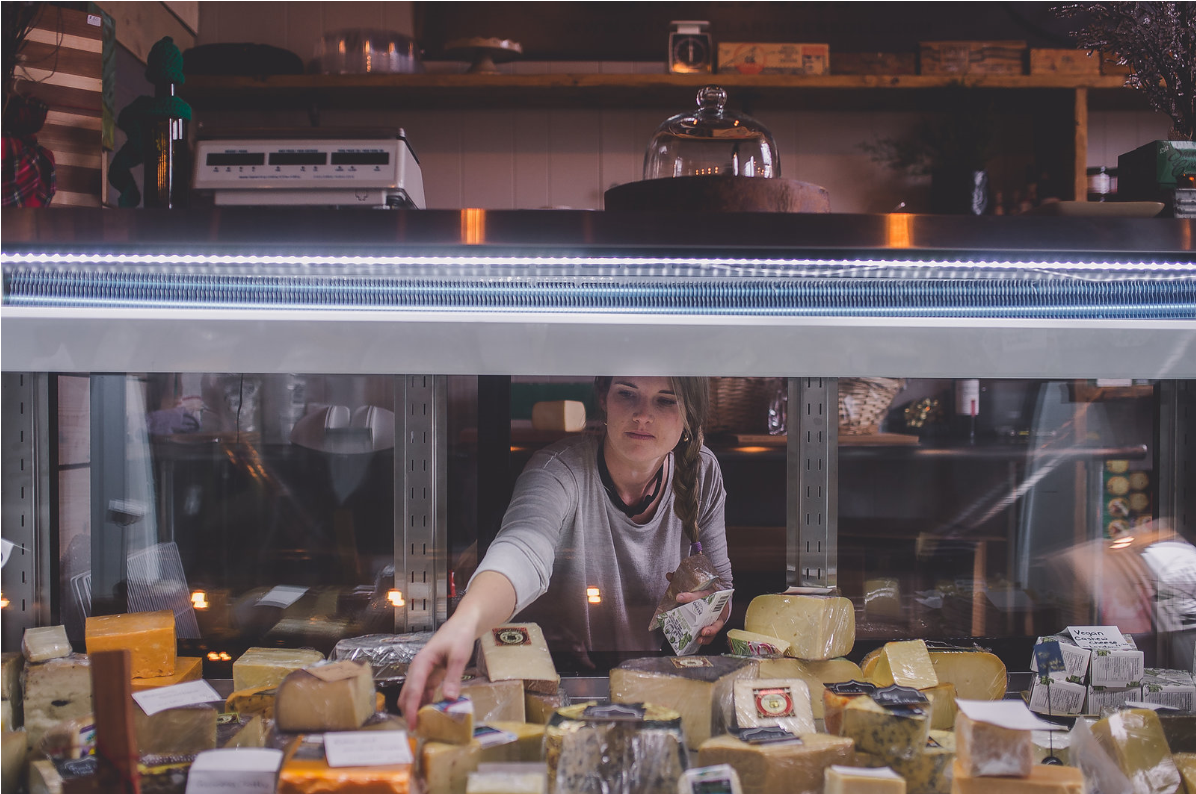 Of course, we couldn't just leave you hanging when it comes to cheese. The Wine Cellar and Cheese Shop stands apart from other cheese shops because they cut their wedges directly from the wheel or "the motherlode". This allows them to serve up the freshest product possible.
It's not just about how they serve that cheese though, it's what kind of cheese. Being in the Dairy Capital, there is plenty of award-winning, local cheese to choose from and because of that Annelies is able to offer up everything from extra aged Goudas to swiss-inspired cheeses, specialty soft cheeses like quark (it's similar to yogurt), sheep's milk cheeses, fresh curds and a whole lot more.
In addition to the local finds, Annelies carries a number of other cheeses perfect for all those turophiles (cheese lovers) out there.
Carrying cheeses from other parts of Ontario but also international cheeses is a key attraction to the shop. We're talking ooey gooey, oh-so-creamy bries from France, cheddars bathed in stout from Ireland and so much more. Ready to pair those up for one spectacular cheese board? Read on!
Also in house, The Wine Cellar and Cheese Shop carries a number of additional foodie treats to round out any cheese board! You can find everything from Ontario condiments like artisan jams and mustards to gourmet crackers and local charcuterie. Want to really sprinkle in some wow-factor?
They also carry a number of fun cheese accessories like fondue sets and raclettes.
One of our favourite things that The Wine Cellar and Cheese Shop does is their Cheese of the Month Club. Each month, the team curates a box of four artisan cheeses brought in exclusively for the club with tasting notes and pairing suggestions. Available in a tidy box for pickup or local delivery, you can order directly from their website.
Come for the cheese, stay for the passion
Perhaps the best part of a visit to The Wine Cellar and Cheese Shop is the love shown for the food. The folks on site know the stories behind their cheeses, are passionate when talking about their local businesses and love collaboration.
So while you may come for the cheese (and believe us, it's worth the hike), you'll return for the passion.
Does the Wine Cellar & Cheese Shop offer wine by the bottle to purchase?
As much as they'd love to, a ferment-on-premise operation is only permitted to sell wine by the batch (Why buy one when you can get 30!)?
Is all of the cheese local?
The Wine Cellar & Cheese Shop proudly carries as many local cheeses and artisan products as they can! Their first focus is Ontario and then Canada—there are so many great cheeses! They also love to share our passion for extraordinary cheeses from around the world. You're sure to find something you love!
Do they have readily-made cheese and charcuterie plates available?
They do make extras from time to time, but if you'd like a delicious snack to nosh on while you explore beautiful Oxford County, they can do so in a day's notice. Please call the shop and they will accommodate as much as possible!
Does the Wine Cellar & Cheese Shop offer tastings?
They are happy to provide you with a taste of their cheeses before you purchase to ensure you love them as much as theydo! They are not legally permitted to allow tastings of their vino, however, they fully back their product and will ensure you are happy with your craft wine when you come to bottle!