11 Best Ontario Winter Getaways
This winter, create a DIY winter getaway in Oxford County. We have 12 of the best Ontario winter getaways so read on. Ready to go? These are all bookable for 2022! Located in Southwestern, Ontario between the cities of London and Waterloo, it's an easy 90-minute drive from Toronto and a great place to get off the beaten path.
Our Round-Up of the Best Ontario Winter Getaways
Discover new experience-based travel, luxurious packages and ways to enjoy one of the most beautiful seasons of them all in Ontario. Already know what kind of trip you're looking for? Skip ahead by your interest.
Where is Oxford County?
Before we dive into delightful packages and experiences, we thought we should let you know where Oxford County is (it's only polite, right?).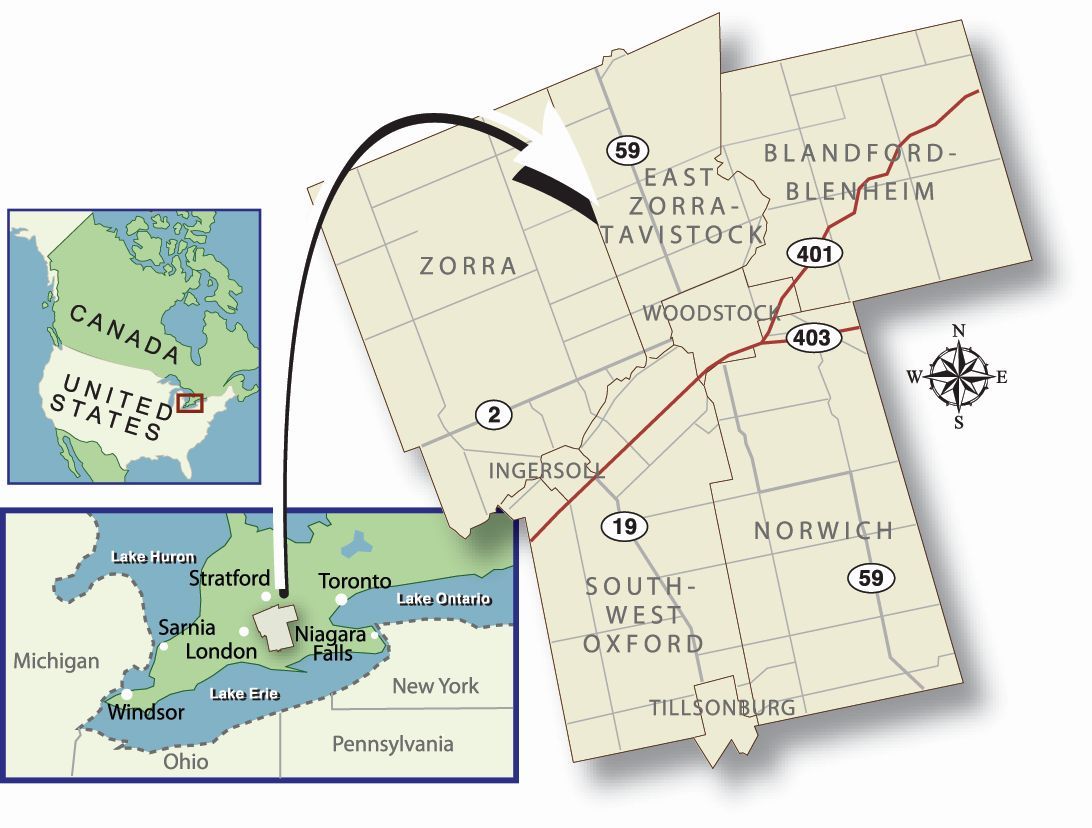 Oxford County is located where Highways 401 & 403 meet. Our major hubs include Woodstock, Ingersoll and Tillsonburg. It's just a 90-minute drive from downtown Toronto and two hours from border crossings at Bu­ffalo, Detroit and Sarnia.
Hotel and Spa Packages
Feel like cozying up for a little relaxation this winter? These packages make for the best Ontario winter getaways. Combine delicious food, spa time and great stays in inns and bed and breakfasts with charm. Then, round out your trip with some of the other things on this list or just chill out in your room!
1. The Elm Hurst Inn and Spa
Where: The Elm Hurst Inn & Spa, 415 Harris St. Ingersoll, ON. (View Map)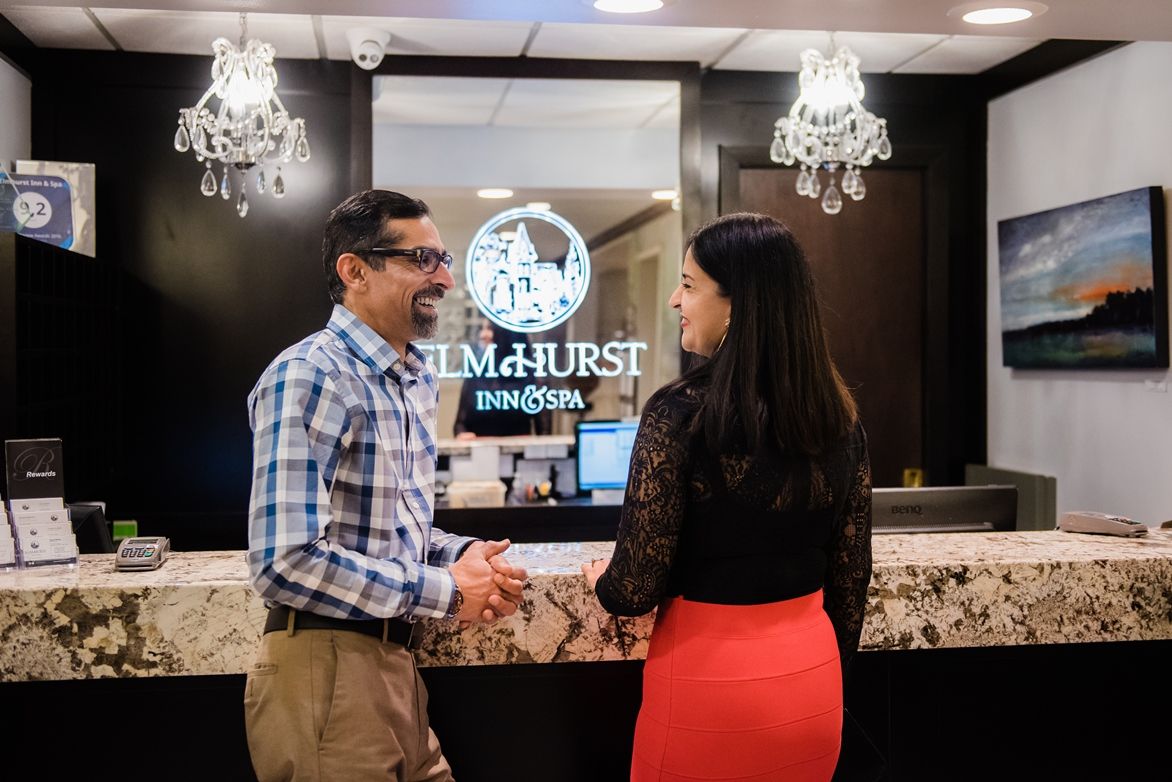 The Elm Hurst Inn is a member of Ontario's Finest Accommodations. Built in 1872 by local cheesemaker, James Harris, this mansion-turned-inn combines historic charm with new world elegance. Discover their spa, dine in the Mansion restaurant on-site, take a walk on 30 acres of property and relax in luxury.
The Savour & Refresh Package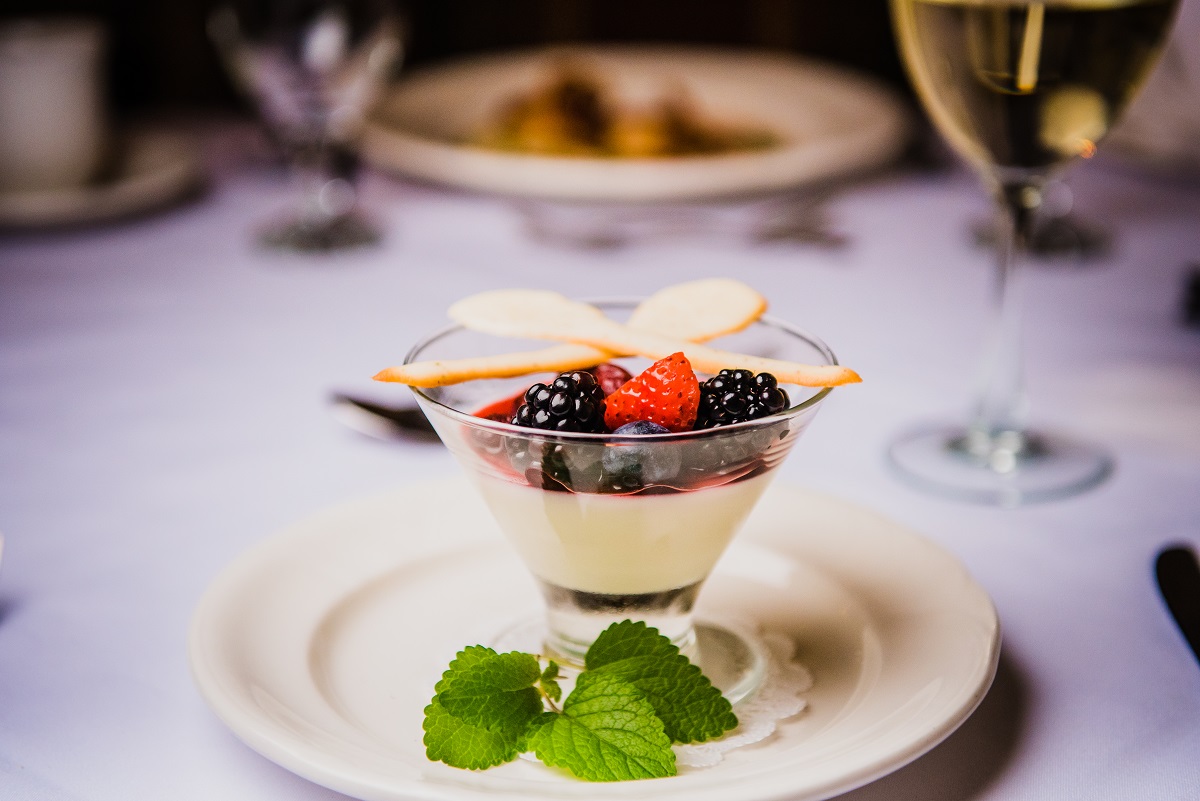 The Elm Hurst Inn's Savour and Refresh Package is perfect for those who really need a break from the hustle and bustle. Combining relaxation with a gourmet getaway, it's a win-win.
This package includes one night's accommodation in an inn room, an elegant dinner for two featuring the Chef's Select three-course dinner and a $60 spa credit per person to be used toward the treatment of your choice.
Finally, you'll enjoy a complimentary breakfast for each person in the Mansion Restaurant the next day.
The Oxford County Cheese Trail Package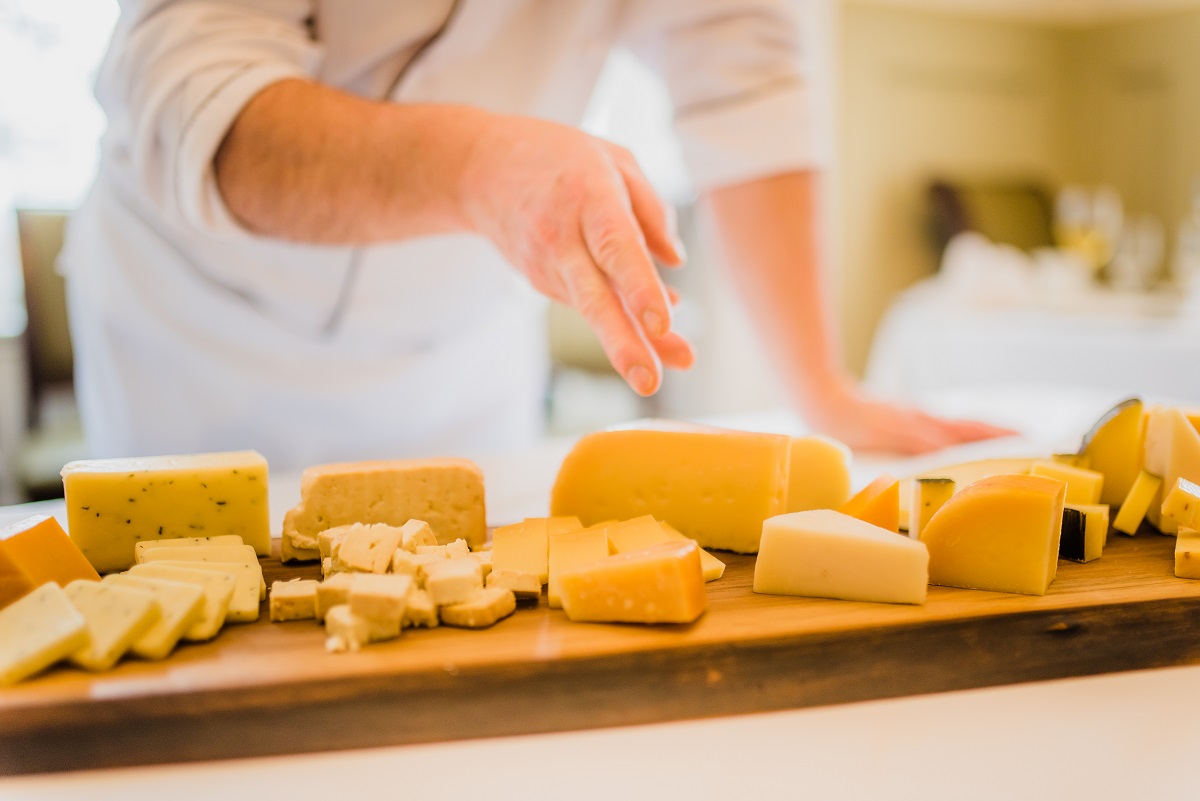 The Oxford County Cheese Trail Package is a nod to the Elm Hurst Inn's beginnings. Once the home of cheesemaker James Harris, the Elm Hurst Inn was also home to a legendairy cheese.
Back in the late 1800s James and three other local cheesemakers worked to create a 7300lb wheel of cheese on the property of the Elm Hurst Inn which went on to the New York State Fair and the World Fair in England! You can learn more about that story on site.
The Oxford County Cheese Trail Package celebrates that cheesy story. This package includes one night's accommodation in a Deluxe Inn Room and complimentary breakfast for each person in the Mansion Restaurant.
To make things extra special, you'll receive a bottle of chilled sparkling wine from a local winery, a selection of gourmet chocolates and a cheese and cracker tray featuring the county's local cheesemakers all delivered to your room.
Want to know more about the Cheese Trail? Skip ahead.
2. Terra Nova Therapy, Spa & Cafe
Where: Terra Nova Therapy, Spa & Cafe, 596145 Oxford 59, Woodstock, ON. (View Map)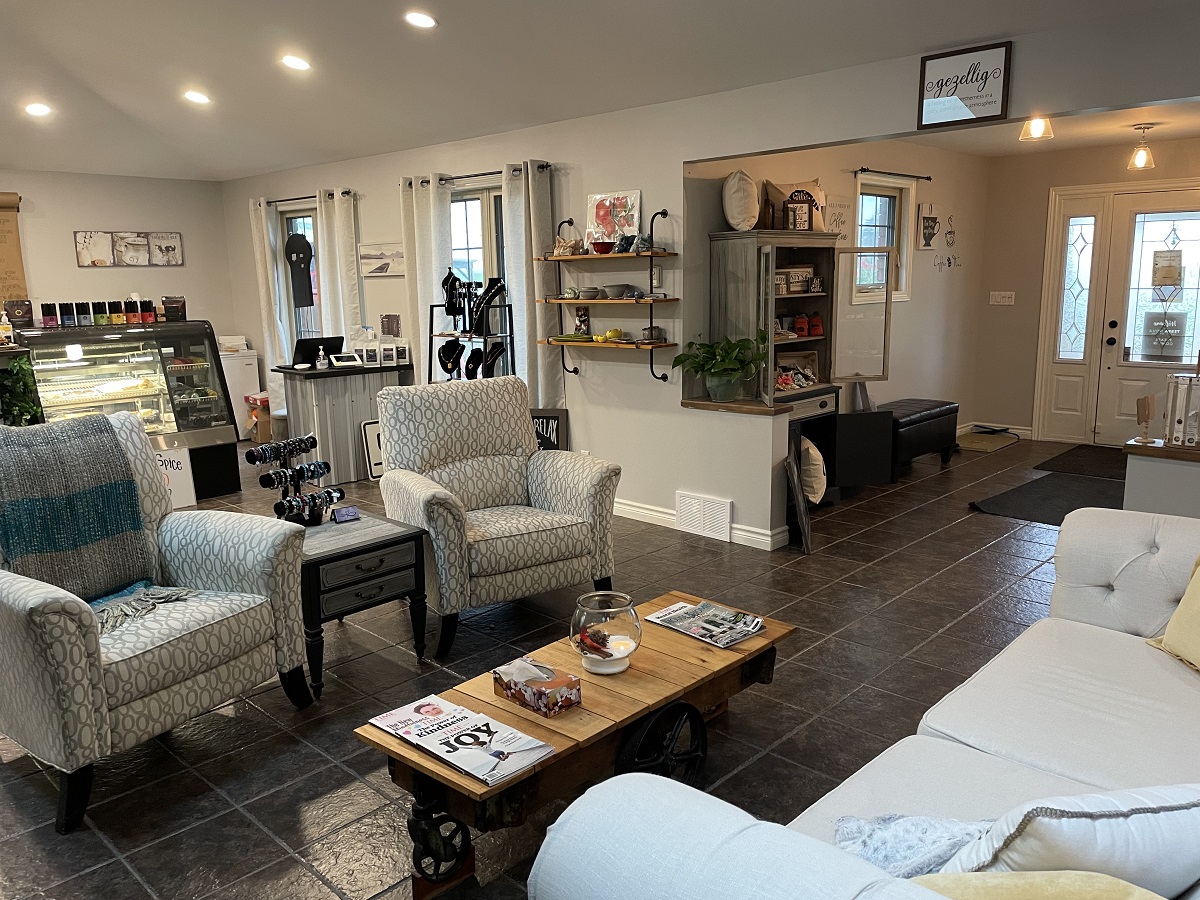 Terra Nova Therapy, Spa & Café isn't accommodation but it's a wonderful spot to begin (or end) your winter getaway in Oxford. This spa/café offers up everything from massage therapy and facial treatments to mani-pedis, a sauna and cold plunge, a café full of local baked goods and specialty drinks and plenty of space to just chill out.
The Sauna and High Tea Package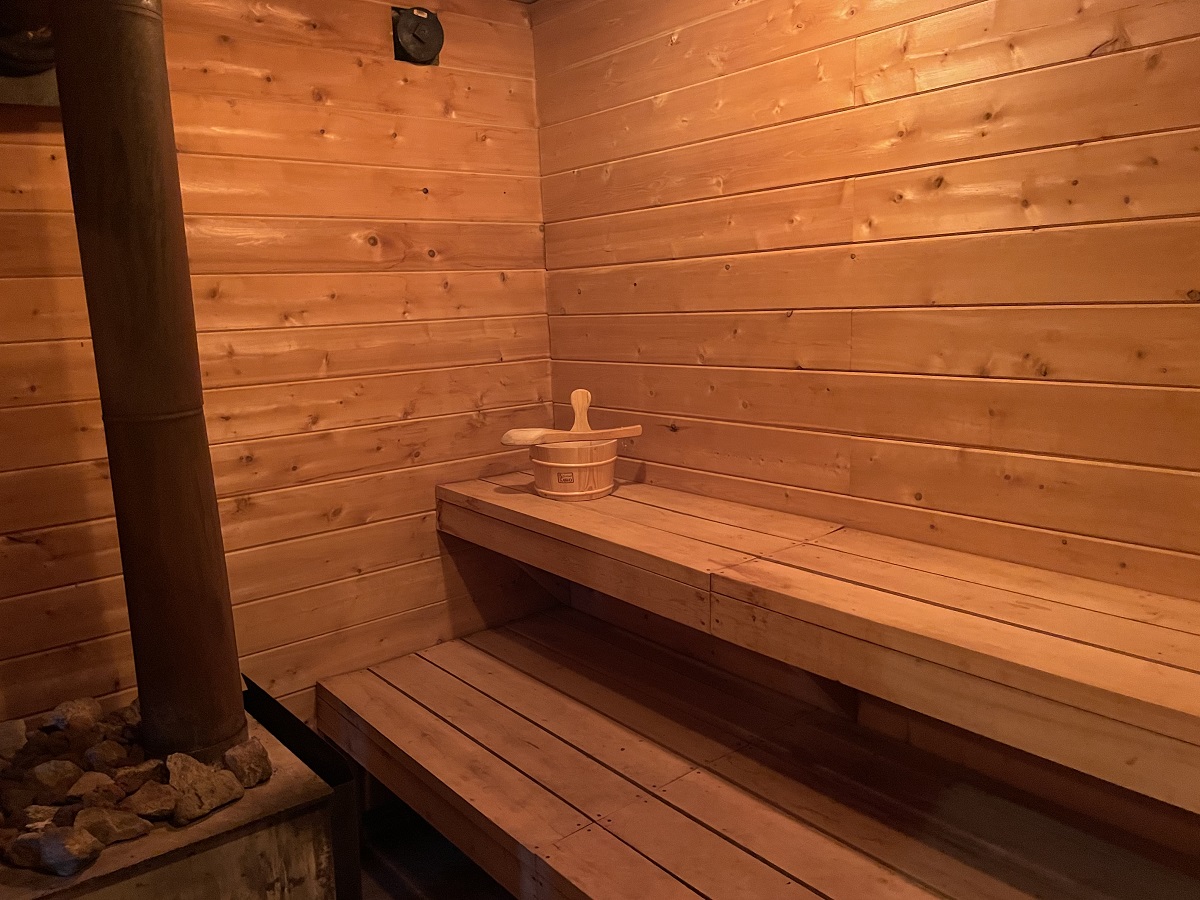 We love winding down a getaway with time well spent in a sauna. This package from Terra Nova is a three-hour experience where you'll have access to the on-site sauna and cold plunge bucket. Right outside, you can hang out with a book by the bonfire or cozy up inside in a robe in front of the fireplace there.
Afterwards, head into the café for a high tea! This includes a three-tiered tray of finger sandwiches, freshly baked scones with Devon cream and preserves, a selection of small squares, tarts and shortbread, and of course, tea.
Ah, feel that? Next stop, relaxation station. Population? You.
You can book this package now by calling 226-796-9181.
Bookable Experiences
Book yourself into a one-of-a-kind experience in Oxford County for 2022 or grab a gift card for somebody on your list! In our eyes, these unique experiences are the reason we can safely call this list the best Ontario winter getaways.
3. Tree to Table
Where: Ottercreek Woodworks, Tillsonburg, ON.
Discover the roots of the forest with woodworker David Schonberger in this multi-award-winning experience. You'll start your morning around the fire before heading out on a guided forest walk.
After a refreshing start to the day, head to the cozy woodshop where you'll select your piece of sustainably-harvest lumber and get to work crafting your charcuterie board.
Finally, finish up the day with a local feast featuring charcuterie from local farmers, artisan cheese from the area's award-winning cheesemakers, preserves, pickles, freshly-baked bread and more. With surprise after surprise, this experience is a must.
4. Soap & Solace Experience
Where: Wild Comfort Body Care, 445300 Gunn's Hill Road, Woodstock, ON. (View Map)
Wind down and get in touch with your creative side with soap maker Danielle Paluska of Wild Comfort Body Care. Danielle will walk you through the steps as you create your batch of soap from a few simple ingredients.
Watch as the natural colours and scent you choose can change the soap into your own. You'll dive a little bit into the science of soapmaking before really exploring your creativity.
In the end, cut and take your batch home to age. Then bring it back out in a few weeks and relive the experience each time you wash your hands!
5. Roasting Lab
Where: Early Bird Coffee, 815 Julianna Dr. Woodstock, ON. (View Map)
Love coffee? Us too. There's nothing like it to warm you up mid-winter!
In 2022, join Elio Caporrici of Early Bird Coffee as he takes you through a tasting flight of their coffee. You'll learn about the roasting process as you sip and enjoy some local baked goods.
Next, you'll select your preferred roast as a group and enjoy watching Elio roast it in front of you. Finally, bag up your roast to take home with you to enjoy!
To book your spot in this experience call, 519-532-3127.
6. Udderly Ridiculous Experiences
Where: Udderly Ridiculous Farm Life, 906200 Township Rd. 12, Bright, ON. (View Map)
A suite of fun and zany experiences awaits at Udderly Ridiculous Farm Life, a working farm and home of an award-winning goat milk ice cream. You're sure to find your sense of humour, meet some adorable friends and remember not to take life too seriously.
Whether you're walking an alpaca, having a snuggle with a goat or discovering all of the above as well as delicious flavours and other surprises along the way in a signature Taste of Farm Life Experience, it's definitely going to be a blast and this is just the start of what they offer!
From short experiences to ones that last a few hours, there are loads of ways to round out your trip at Udderly Ridiculous.
7. Grand Experiences Outdoor Adventure Company
Where: Grand Experiences Outdoor Adventure Company, Throughout Oxford County, Norfolk County and Brant County
Love to get outside? Have somebody on your list who does? Help them make the most of an Ontario Getaway by booking them in for an experience or grabbing a gift card for Grand Experiences Outdoor Adventure Company.
Whether you want to go for a winter hike through a forgotten forest and enjoy a chilli cookout, kayak or white water raft along a beautiful river or perhaps plan your next cycling trip, Grand Experiences has you covered. You can grab giftcards online as well.
8. Chef's Table
Where: SixThirtyNine, 639 Peel St. Woodstock, ON. (View Map)
Dine in the kitchen as Chef Eric Boyar and his team at SixThirtyNine craft your meal! You'll eat right in the action and watch as your dish comes together.
Chat with the chef, enjoy a few special tastes along the way and eat something truly spectacular at this farm-to-table, FeastON certified restaurant. You'll love the modern twists on old classics and the way the menu rotates with each season so your meal is made with the freshest ingredients possible from as close by as possible.
Grab a Gift Card
Not ready to commit to a date yet? No worries. Several of our local experience partners offer up gift cards including all of the ones above as well as Thames River Melons' Harvest Brunch Experience and Makkink's Flower Farm Cut-Your-Own Bouquet Experience.
Explore the Oxford County Cheese Trail
"What the heck is a Cheese Trail?" you ask? Well, in a word, it's delicious. In a few more words, The Oxford County Cheese Trail is a self-guided tour of 24 stops featuring cheese, dairy and related offerings for visitors to experience.
Visit cheese makers, restaurants, local food producers, museums, artisans and boutiques for a pleasant afternoon, day or weekend in Oxford.
If you're thinking a Cheese Trail adventure is a possibility for 2022, it's a grate idea to start planning now. Our advice, pick a hub (Ingersoll, Woodstock or Rural) and explore from there.
9. Ingersoll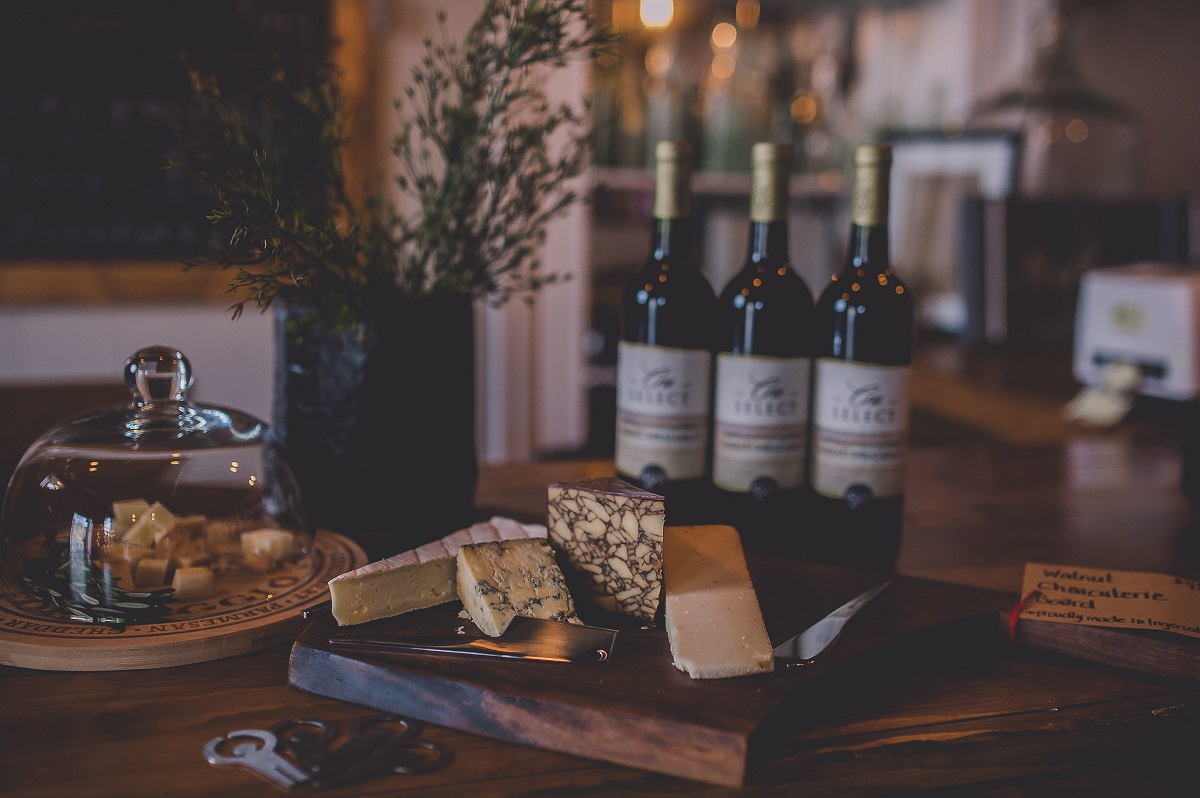 Visitors to Ingersoll will love exploring the heritage of Oxford's cheesy past at the Ingersoll Cheese Museum before heading into the downtown to discover boutique shopping at Patina's Gifts of Art & Craft.
Next, dive into a delightful latte and baked good at The Olde Bakery Café and follow it up with a trip to the Ingersoll Wine Cellar & Cheese Shop where you can shop for cheese accessories like raclettes and fondue pots, Ontario-made condiments and lots of cheese, both local and international.
Finally, wind up your day with a hearty dinner at Louie's Pizza & Pasta or with a meal at The Elm Hurst Inn where you may want to cozy up with their Cheese Trail package.
Nearby: Red Dragon Dairy in Salford is just ten minutes away by car and makes some really wonderful sheep milk cheeses. They also sell other local goods like coffee and chocolate as well as some specialty items like curry sauce and juice concentrate from the UK.
10. Woodstock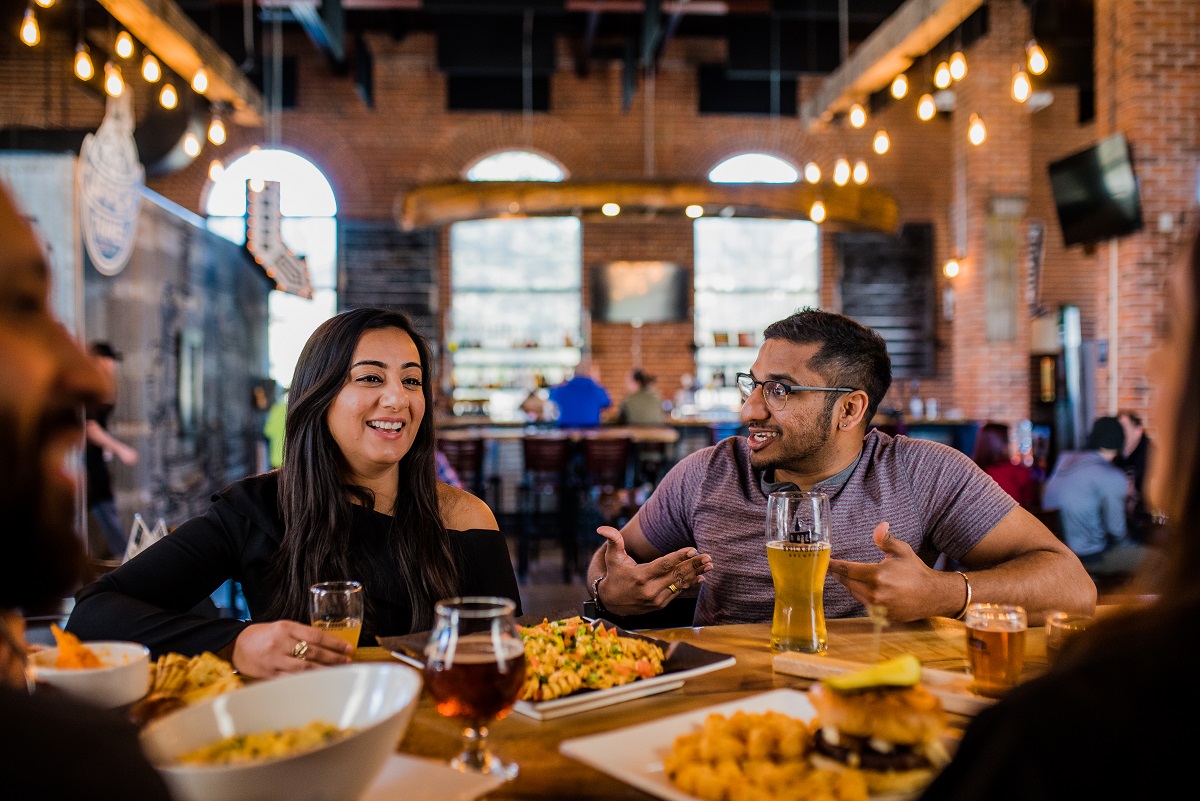 In Woodstock, discover a little slice of foodie heaven. Craft brew lovers will enjoy Upper Thames Brewing Company for their house-made craft beer as well as their sister location, The Brickhouse Brewpub for a drool-worthy menu of pub food.
Know a chocoholic? Downtown Woodstock is home to Habitual Chocolate who specializes in bean to bar chocolate. In the winter, we also definitely recommend checking out their decadent hot chocolate and dipped fruits.
Cozying up for a great meal is easy in Woodstock as well. Craving pub food? Discover Charles Dickens Pub in the heart of downtown for amazing British classics like cottage pie and beef Yorkshire pudding as well as Cheese Trail classics like their Gunn's Hill Brigid's Brie and Mountainoak Chicken Fajita Salad.
If you prefer a little fine dining, SixThirtyNine is a great option. This farm-to-table restaurant seats about 30 people and is definitely a hot commodity. With a menu that changes about 4-5 times a year, past favourites have included their Gunn's Hill Arancini Balls and their house-made cavatelli pasta.
End your food-filled day with a stay at Chateau la Motte Guest House in Woodstock's historic district. This home once belonged to inventor Thomas Carbide-Wilson and is a great spot to rest your head for the night.
Want to stock up on cheese before you leave? YFM, right across the road from SixThirtyNine, sells cheese from all the cheesemakers on the trail and then some. Pop in to get your fill of local goodness from coffee and rootbeer to baked goods, produce, salad dressings and more.
Nearby: Just outside of Woodstock, you'll find Gunn's Hill Artisan Cheese who specializes in Swiss-inspired cheeses. Grab some delicious cheese from the shop and check out the cheesemaking process through their viewing window. Just down the road, Wild Comfort Body Care makes and sells simple skincare products made with natural ingredients and a whole lot of love. This small farm shop is packed with goodness you'll love perusing.
11. Rural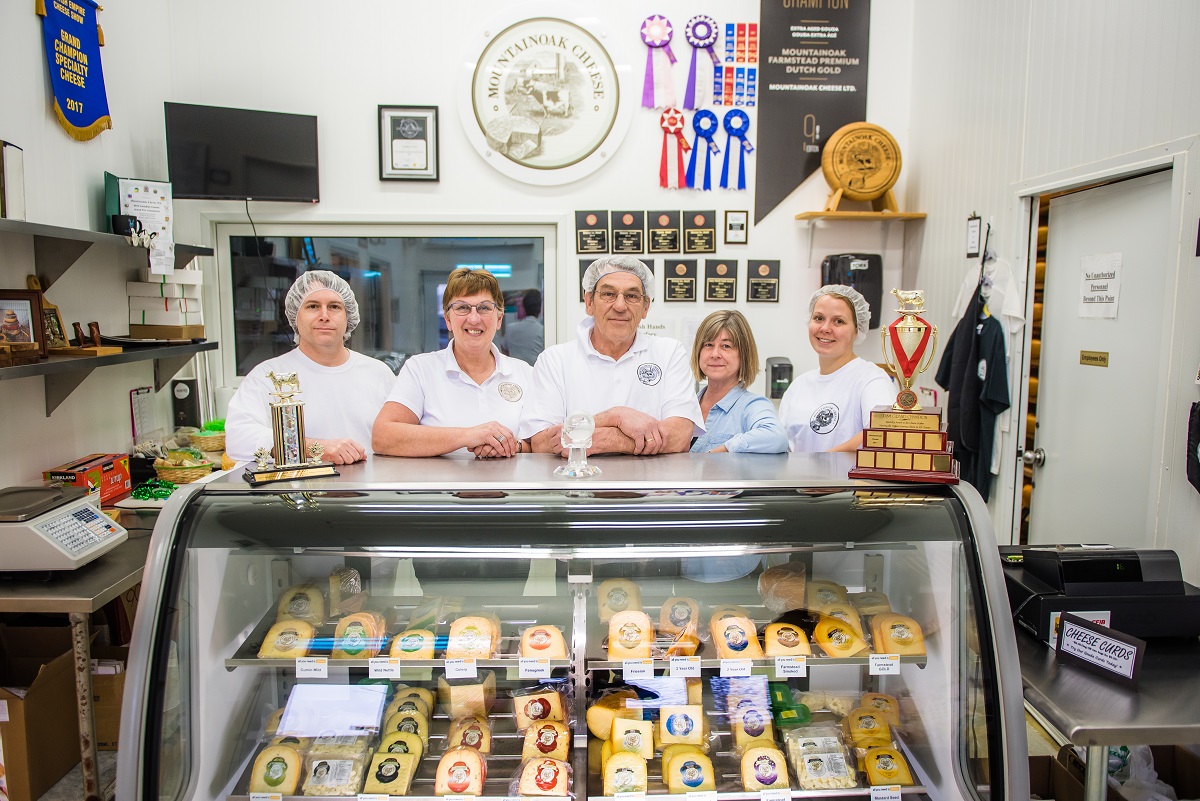 Want to explore the countryside of rural Ontario? Say no more! Cheese trail stops abound on Oxford's scenic back roads.
Consider starting the day at Mountainoak Cheese to pick up some award-winning gouda or quark (a soft, yogurt-like cheese) before heading to Bright Cheese and Butter, Oxford's oldest cheese factory, on your way to Udderly Ridiculous Farm Life. This zany, working farm is home to a knock-your-socks-off goat milk ice cream and loads of bookable experiences (mentioned in the section before this one).
Not too far away, Thames River Melons is a great spot to grab some farm-grown produce, delicious preserves and baked goods and pick-your-own vegetables when in season.
Just ten minutes from Woodstock and Ingersoll, Jakeman's Maple Farm has the vibes of an old general store and is packed to the nines with delicious maple syrup and its byproducts. Think everything from maple popcorn and cotton candy to ice wine maple syrup and maple cranberry brie toppers. Yum!
In Tillsonburg, Coyle's Country Store has been a destination for well over one hundred years. Shop for a huge array of confectionery products, their famous roasted nuts, fresh-made fudge and home décor. Then, just around the corner, The Urban Wheel is a local food and artisan market. Discover loads of locally-crafted cheeses, some local produce, Dutch specialty items like croquettes and a big variety of artisan products ranging everything from jewelry and pottery to waste-free items.
Let us help you plan!
Not sure where to start? No worries. We can help you create a custom itinerary! Just email us at tourism@oxfordcounty.ca!
Your Winter Getaway Awaits
We can't wait to see you. Now is the best time to start planning and booking for next year so get cracking! From one-of-a-kind experiences to spa packages and cozy stays, you're sure to love Oxford in the winter.
How far in advance should I plan?
If you're looking ahead to 2022, we say there's no time like the present! The experiences and packages mentioned above are all bookable now but many experiences fill up quickly so it's best to act fast to avoid disappointment.
What day should I come?
There's something to do no matter when you come, but it's important to note that many businesses close their doors on Sundays and Mondays. On the other hand, Thursdays-Saturdays are popping and Tuesday-Wednesday offers a nice in-between.
I'm going to stay a little longer and want to discover more restaurants. Where can I do that?