Take a Walk on the Historical Side
It's easy to walk through downtown Woodstock and get distracted by delicious smells and quaint shops but its history is equally fascinating. If you've ever wanted to know how buildings originally started out as, how long they have been there, and how many owners had owned a particular building then it's time to try a historic walk.
Oxford Historical Society Guided Walks are a great way to learn the background about historic buildings in the downtown area. Taking approximately two hours, these walks start at the Woodstock Museum and end at the Courthouse. Learn about the rich and diverse history of each buildings and gain a new eye for the downtown.
The tour starts with the Woodstock Museum which was build in 1853 as the first Town Hall. It was modelled after the town hall of Woodstock, England. In 1890, a famous trial was held here for a murder that was committed near Princeton. The Court House was still under construction. In 1968 after city council moved to the new city hall, the building was preserved as the Woodstock Museum, a National Historic Site. Several changes and restorations of resulted in the museum we know today.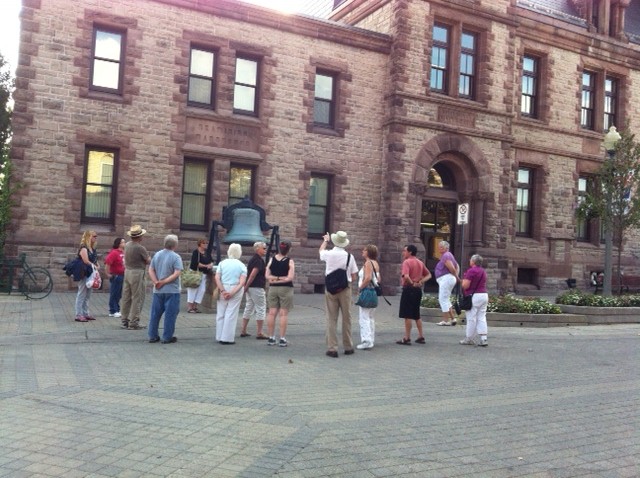 Next, move to the Market Building which was built in 1895 by architect W.B Ford. Some interesting features of this building are the twin towers and the fountain at the front door. One of the earlier occupants of the Market Building was the Town Police, until their move in 1985. To find out more on this remarkable building and its residents, you'll just have to take the tour!

From the Market Building visitors head to City Hall. Originally the building was built in 1901 to house the Post Office and converted to City Hall in 1968. Make sure you look up at the exterior of the building to see the decorative trim and of course, the corner tower with the four clocks. Next to the side entrance of the building is the fire bell mounted on a platform. This bell was originally in the tower of the Perry St. Fire Hall. On your tour, ask what they would ring the bell for- you'll be surprised!

These are just three of several stops one can make along the tour. More surprises, historical stories and exciting buildings await you.