From Tree to Table: A build-your-own board experience
Craft Your Own Artisan Charcuterie Board at Ottercreek Woodworks
Discover the Forest and Your Creative Side with a Tree to Table Experience
Tucked away in rural Oxford, woodworker David Schonberger has huge respect for the forest and the wood that is found in the heart of the Carolinian Life Zone. As the creator of Ottercreek Woodworks, David creates a vast array of charcuterie boards in his workshop using local, sustainably harvested wood.
While the time and energy that goes into each board are clear from the finished product, Ottercreek Woodworks is now opening its doors to offer an exclusive experience to visitors wishing to deepen their reverence for the forest while at the same time crafting a beautiful live-edge charcuterie board with the woodworker himself.
Tackling nature deficit disorder head-on, David's Tree to Table Experience offers guests the opportunity to unplug and reconnect with Mother Nature...plus sends them home with a killer board. Winning both Culinary Experience of the Year for the entire province AND tourism experience of the year in Ontario's Southwest, this year-old experience is already making waves and you shouldn't miss out!
Ready to book? Reserve your spot.
The day begins on a lush rural property where you'll be greeted warmly by David as he introduces himself in relation to this part of Ontario and his family-run business.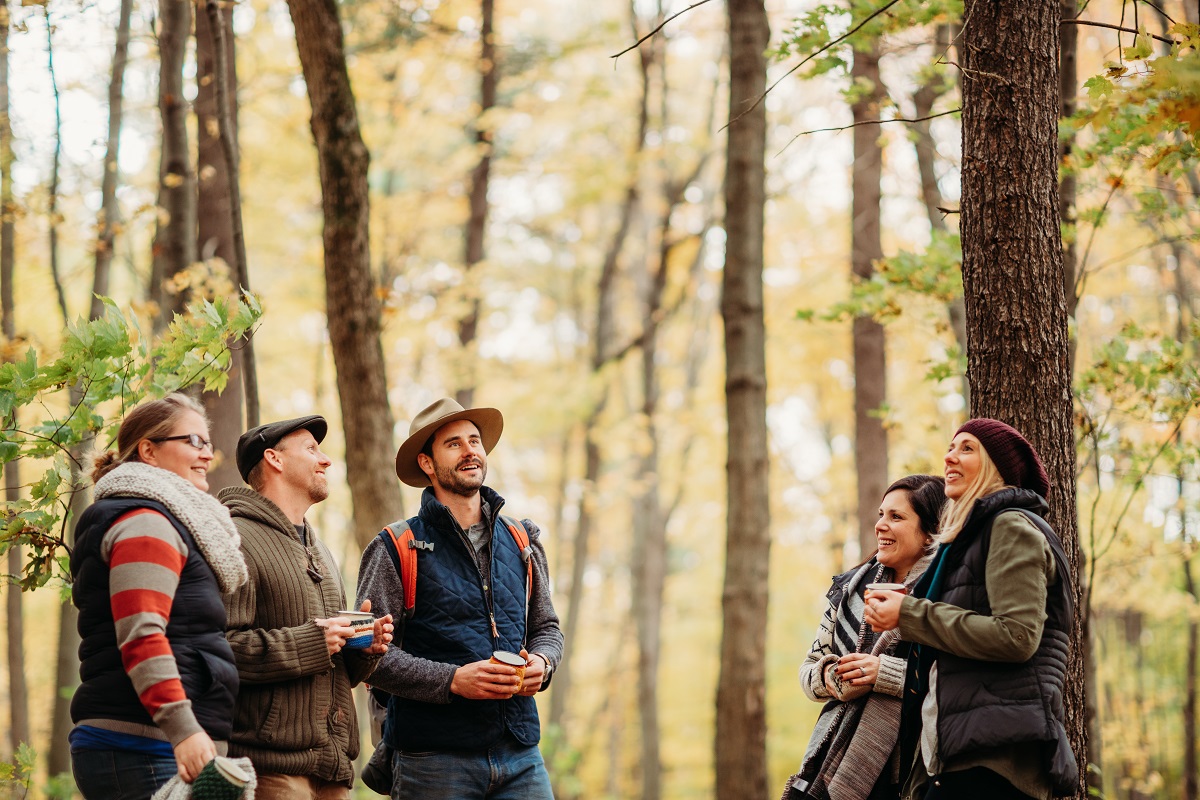 After getting to know each other, the forest calls! David will help you discover the Carolinian ecosystem and reverence for wood. Learn about the changes witnessed in this forest and how David sources his wood sustainably as he shows you the imperfections that set his boards apart from the rest.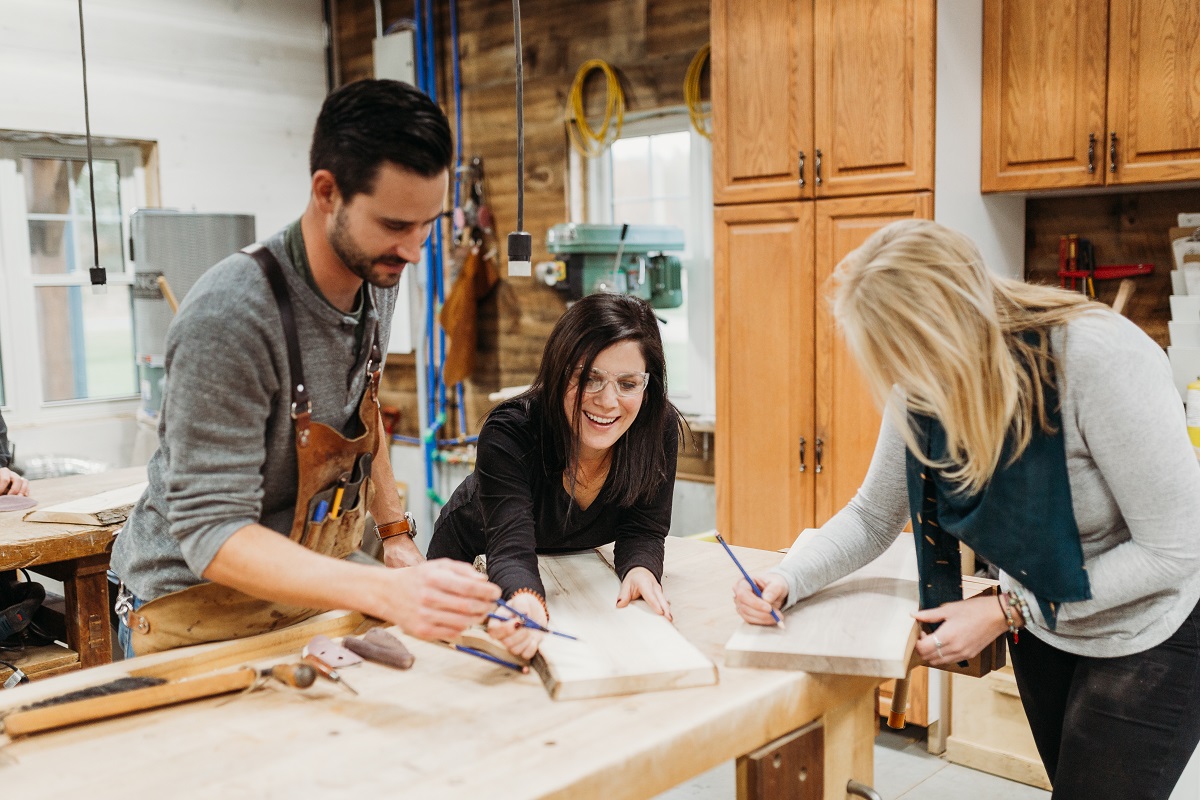 Heading inside to a warm woodshop and heaping piles of handcrafted boards, you'll have the opportunity to select the raw wood you'll craft your board from. Making note of colour, grain patterns and rare oddities, you'll have a chance to select from smooth, classic woods to downright quirky.
Once you've picked the perfect piece, David's wife and local artist Michelle will help you draw your board on the raw wood taking shape, bark and grain patterns all into consideration.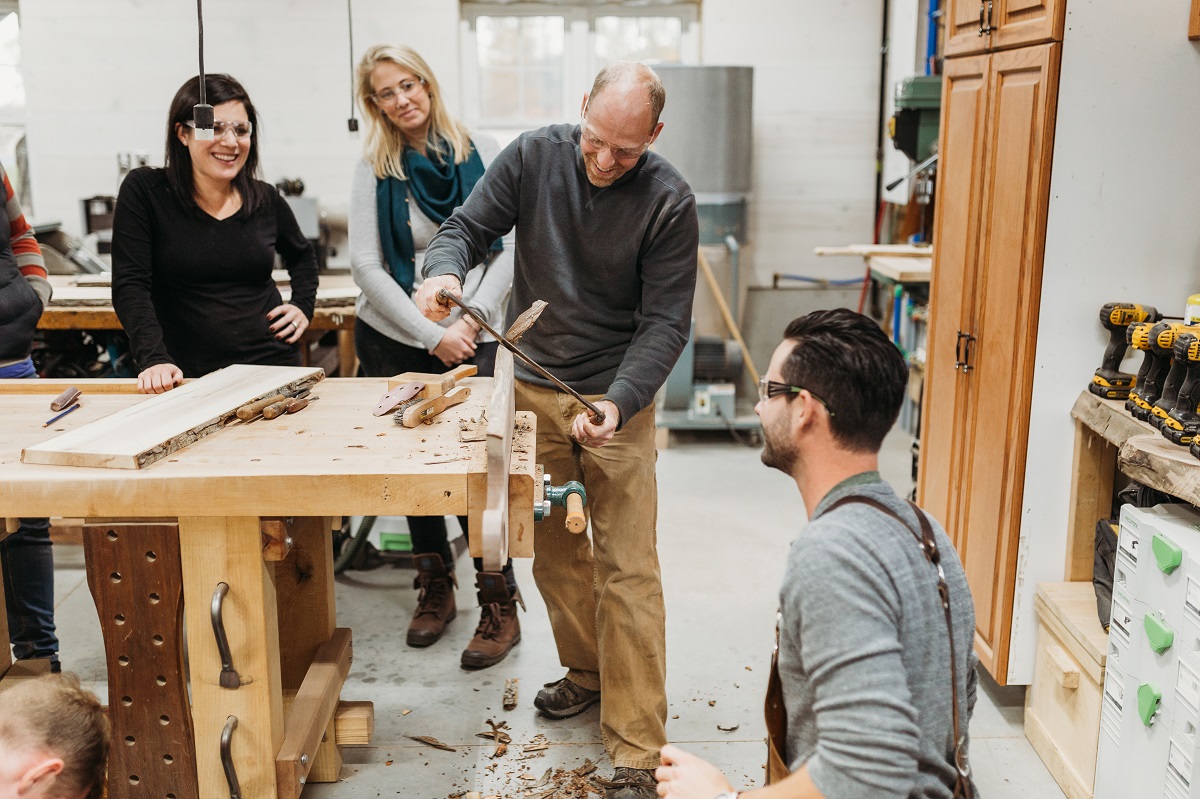 Once the board is cut, David will guide you through the nitty-gritty of creating your board. With 20 steps total, you'll have a chance to get your hands on a variety of tools (including David's grandfather's tools) and truly experience the detail and care that goes into crafting each board.
Watch the woodchips fly as you sand, cut, drill and shape with David's guidance every step of the way.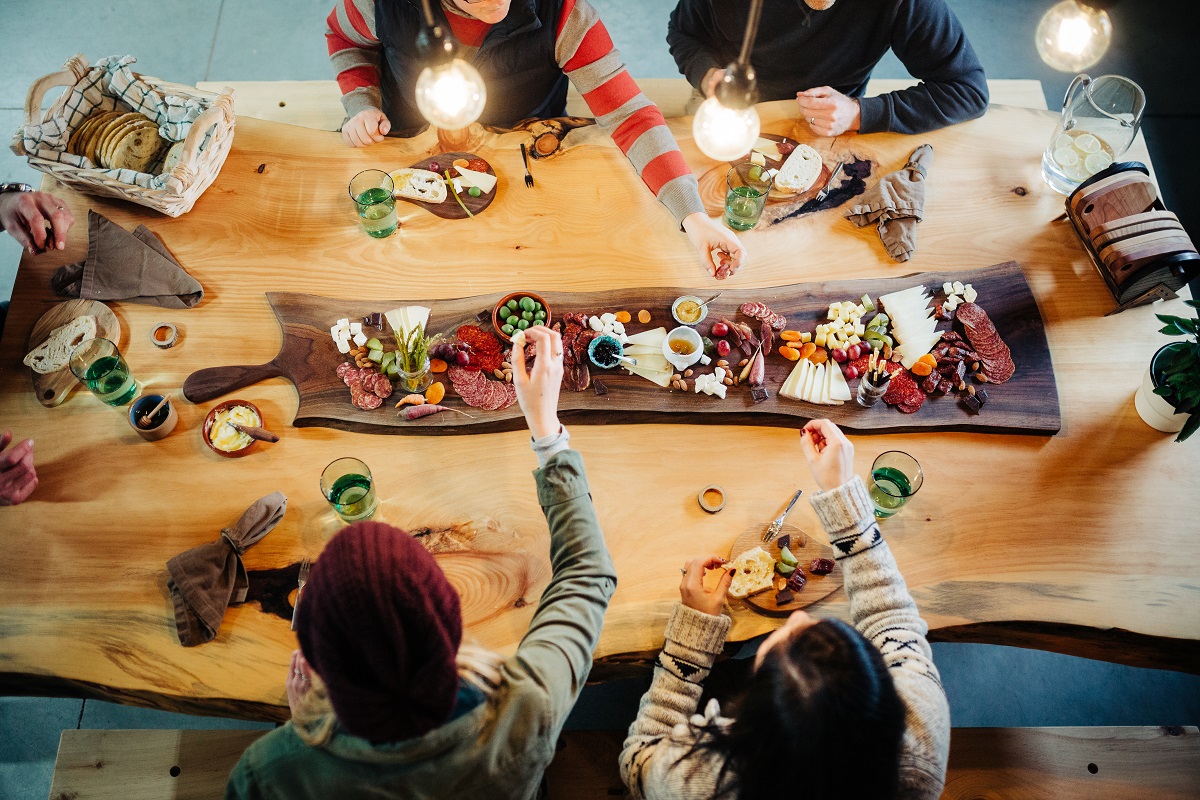 Before finishing off the board, a feast awaits. Following Dave and Michelle, the group will come upon a beautiful charcuterie board lunch atop a table made by (well, you guessed it) David. Served on a gigantic Feasting Board and smaller wood plates, the spread is filled with local treats from smoked meats by Greener Pastures Eco Farm down the road to pickled preserves, garlic mustards, Gunn's Hill cheese, out-of-this-world bread and even homemade butter. How's that for hitting pause?
Unfortunately, every great day must come to a close and from there it's time to head back to the workshop to finish your charcuterie board. The final step of oiling your board takes it from 'cool' to 'WOW!' in just a few minutes.
Watch the colours pop as your board soaks in the oil and you add your own custom tag to your board. Heading home, you'll feel inspired to get back to the forest and reconnect with Mother Nature in the very near future once more.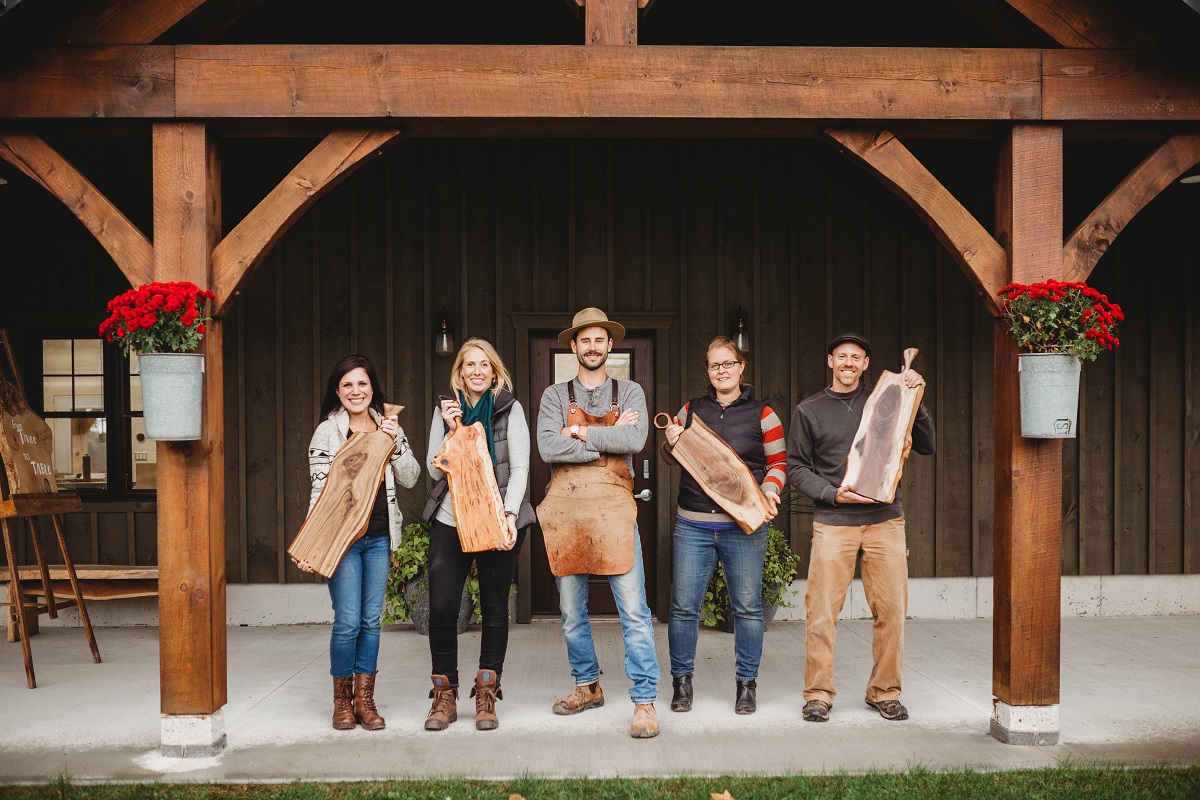 If you'd like to sign up for this one-of-a-kind experience, head over to OttercreekWoodworks.com . You can sign up for a pre-determined date or book for your bubble with lots of available options.
How many people can book into an experience?
The experience must have a minimum of 3 people and a maximum of 6 people to run. Have a group larger than six? Send Ottercreek Woodworks
an email
to see what can be arranged for you!
My partner and I would like to share a board. Can we just make one?
Yes, that option is available. Please see our booking page for details on pricing.
How long is the experience?
This is a full-day experience that runs from 9:30 am to about 4 pm. We recommend not booking anything too soon after your experience in case it runs a bit long as is sometimes the case.
My child would really like to take part. Can I bring them?
Guests must be 16 years or older to participate in this experience.