Crime and Punishment: Exploring Historic Courthouse Square in Woodstock
Local historians, ghost hunters and storytellers alike will love exploring historical Courthouse Square in Woodstock. Home of the Oxford County Courthouse as well as the former city gaol (jail), this treasure trove of historic buildings holds stories of building community growth, spooky murder trials and so much more. Read on for just a few of the interesting tales and histories.
---
County of Oxford Courthouse
415 Hunter Street, Woodstock (View Map)
Still the County of Oxford Courthouse today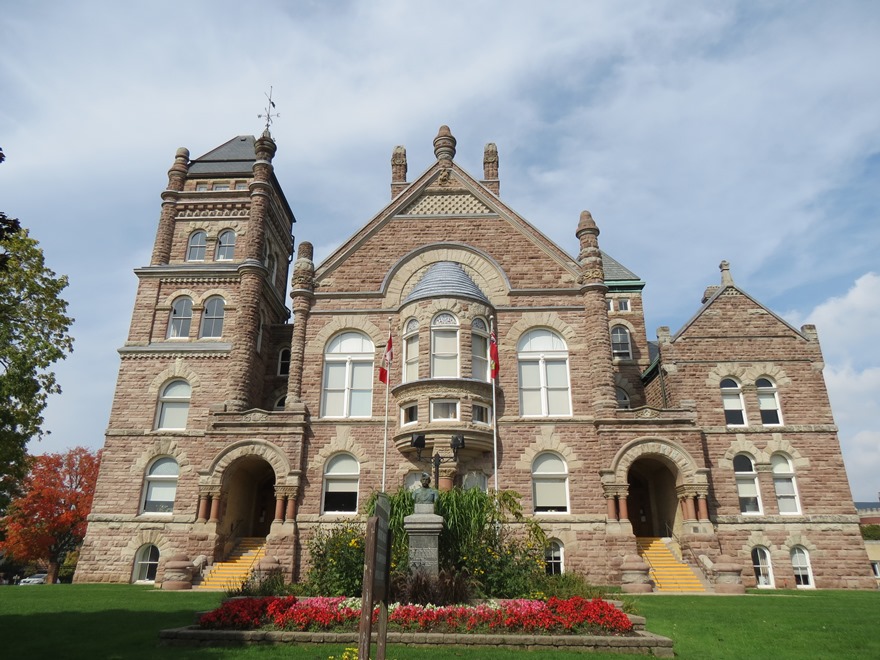 ---
The Architecture
Built in the 1880s and highly influenced by the Romanesque Revival style, The Oxford County Courthouse has been a landmark of monumental proportions in the county ever since. It's stately exterior and red brick was the genius of RT Brooks who designed the courthouse. However, in 1890, Brooks was fired and a new firm hired in his place. Thankfully Brooks' dream was carried out in full and much ornamentation was added. On your visit, see if you can spot:
The grotesques: While they look like monkeys, these badboys were common, particularly on gothic churches. Different from gargoyles that have water spouts, many believe they were used to ward off evil spirits. We think they're pretty cool.
The sunflowers: At the top of the courthouse, look out for beautiful sunflowers. Can you spot them?
Tile mosaic: A quick hop up the front steps will lead you to a landing with a beautiful tile mosaic. The glass tiles allow light into the chambers below. This mosaic was only discovered when a member of cleaning staff spilled chemicals on the front step! What a happy accident.

---
The Lawn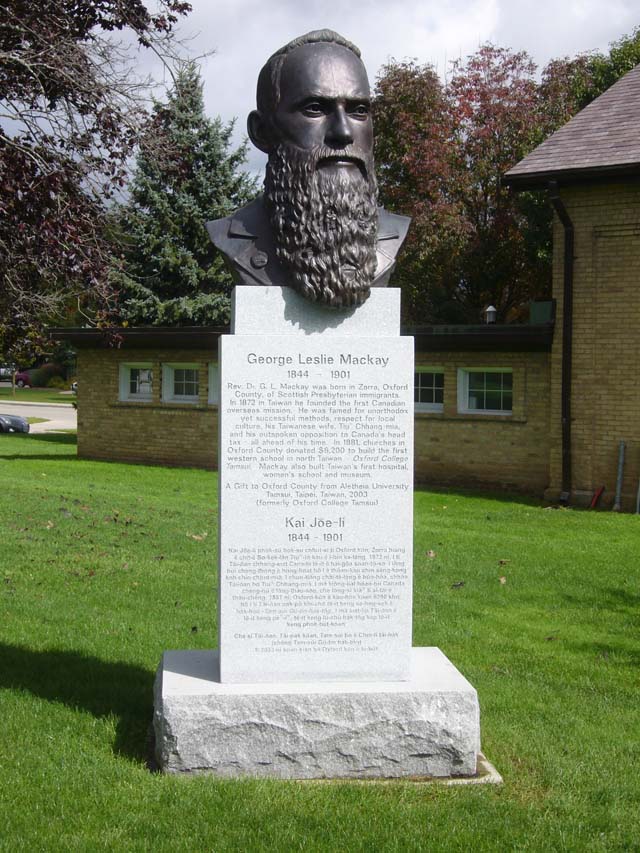 Settling in on the lawn by the courthouse is a great way to waste time or enjoy your lunch. Check out the various statues there, all with their own unique stories.
Cannons: Two muzzle-loading cannons sit proudly on the lawn, dated 1842 and 1843. These were acquired by the county in 1900 by County Council and Honourable James Sutherland, the federal member of parliament for Oxford. The Department of Militia declared them obsolete in 1900 and were looking for new homes for the cannons. While they are not a part of our local history, they definitely add to the aesthetic of Courthouse Square.
Monument to the Oxford Rifles: Erected for two fallen soldiers of the Boer War, this bust of Colonel Sergent Leonard was constructed and unveiled in 1904. Today, it still stands to recognize the achievements of the Oxford Rifles, a branch of The Royal Canadian Regiment. Learn more about the Oxford Rifles at Woodstock Museum.
MacKay statue: Follow the story of George MacKay who is famous for his missionary work in Taiwan. Look closely and you'll see his story woven into his famous black beard in various carvings across the statue.
---
The Former Woodstock Gaol
410 Buller St. Woodstock (View Map)
The current Oxford County Public Health building
The Building
What is now the Oxford County Building of Public Health was once a gaol which can be seen in the watch tower, high yard walls and other architectural features. Wander the hallways where guards and wardens alike would have strolled. Built in 1854, this building is also in the Italian Romanesque style, making it quite statuesque with a great deal of natural light indoors.
---
The Death Mask
Murderer Thomas Cooke was hanged in 1862 after killing his second wife. As Woodstock's first public hangee, 3400 people showed up to see his execution. Because of his immense size, his head was decapitated from the hanging. Shortly after, a death mask was made (a cast of his face) and hung on the north side of the jail to discourage others from criminal activity. The mask is still there today and rumour has it that his ghost (or rather, his floating head) still haunts the courthouse. How's that for shivers up your spine?
Book a Historical Walk
If you loved hearing this story, The Oxford Historical Society has plenty more! Email tourism@oxfordcounty.ca and we'll set one up for you.