How to Pick Your Own: the ins and outs of picking-your-own berries this summer
Let's face it. While hitting up your local farmers market is incredibly rewarding (and tasty!) there's just something satisfying about getting the juiciest strawberries, raspberries and more right off the branch.
That farm fresh taste simply cannot be beat. Top that off with the fact that it's an incredibly relaxing way to spend time in the gorgeous summer weather and what could be better?
The Best Ways to Pick-Your-Own
Picking your own berries is also a great way to teach wee ones about the local food system and save some money too! If you've never had the opportunity to pick your own berries, worry not!
We have some great tips on how to do it. Shake off those nerves and get into that field after reading this quick run down.
Already know how? Check out our blog on where to pick-your-own this summer in Oxford or download our checklist for what to bring when picking your own.
Don't feel like reading this whole thing? No worries. Just skip ahead:
1. General Picking Habits
Different berries mean different picking habits. In general, you want to be gentle on the plant. Fruit that resists being pulled off the branch is usually not ready to be picked.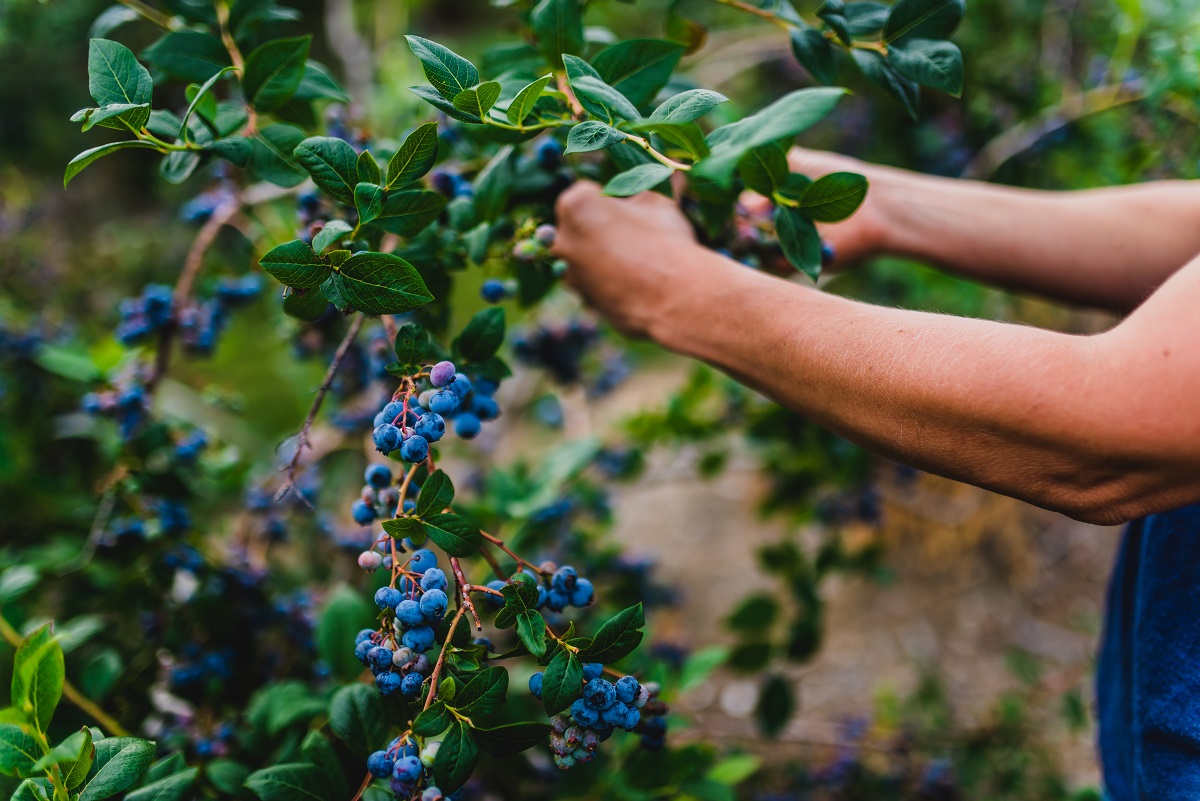 How amazing do these blueberries look? Be sure to grab the deep blue ones, not the pink ones!
Strawberries: Grab the stem right above the berry with your index finger and thumb. Gently twist and pull the berry into the palm of your hands and place in your picking container.
You want to look for berries that are bright red and ready to be picked as strawberries do not continue to ripen afterwards.

Blueberries: Blueberries grow in bunches. Cupping a bunch in your hand, gently tap blueberries with your thumb.
Once they are ready to pick, they should fall right off and roll into your palm. Make sure you're going for berries that are blue all the way around. Those with any red or green (be sure to check the bottoms!) are not ready to be picked yet.

Raspberries: Raspberry branches are a bit prickly so wearing a gardening glove on your non-dominant hand is a good idea! Simply grab the branch with your gloved hand and then use your index finger and thumb to gently tug the fruit. It should come off easily if it's ripe for the picking.
Be sure to look for fruit that is deep red and juicy looking.
2. Call Ahead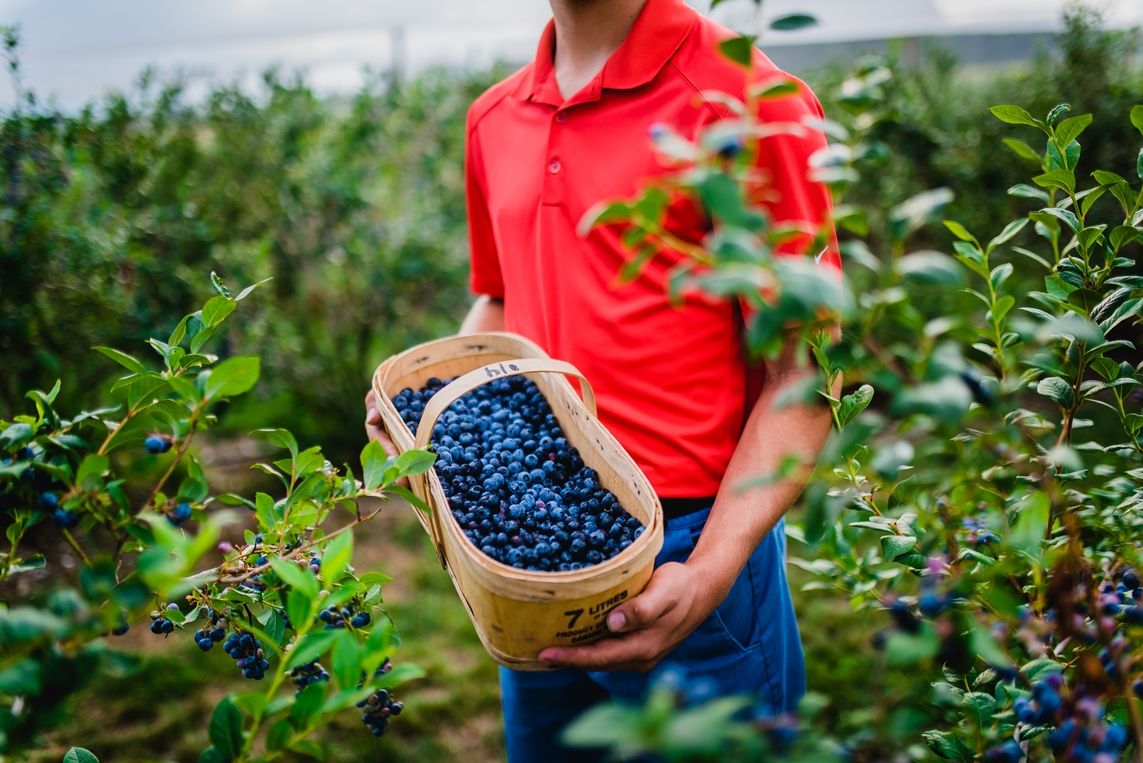 Call ahead to confirm you'll be able to pick! Patch conditions change quickly.
While there are generally picking seasons here in Ontario, it's always best to call ahead.
Weather conditions and on-farm supply can change quickly. To ensure you'll be able to pick when you want, calling ahead is a great idea.
3. Prepare for the Sun & Hydrate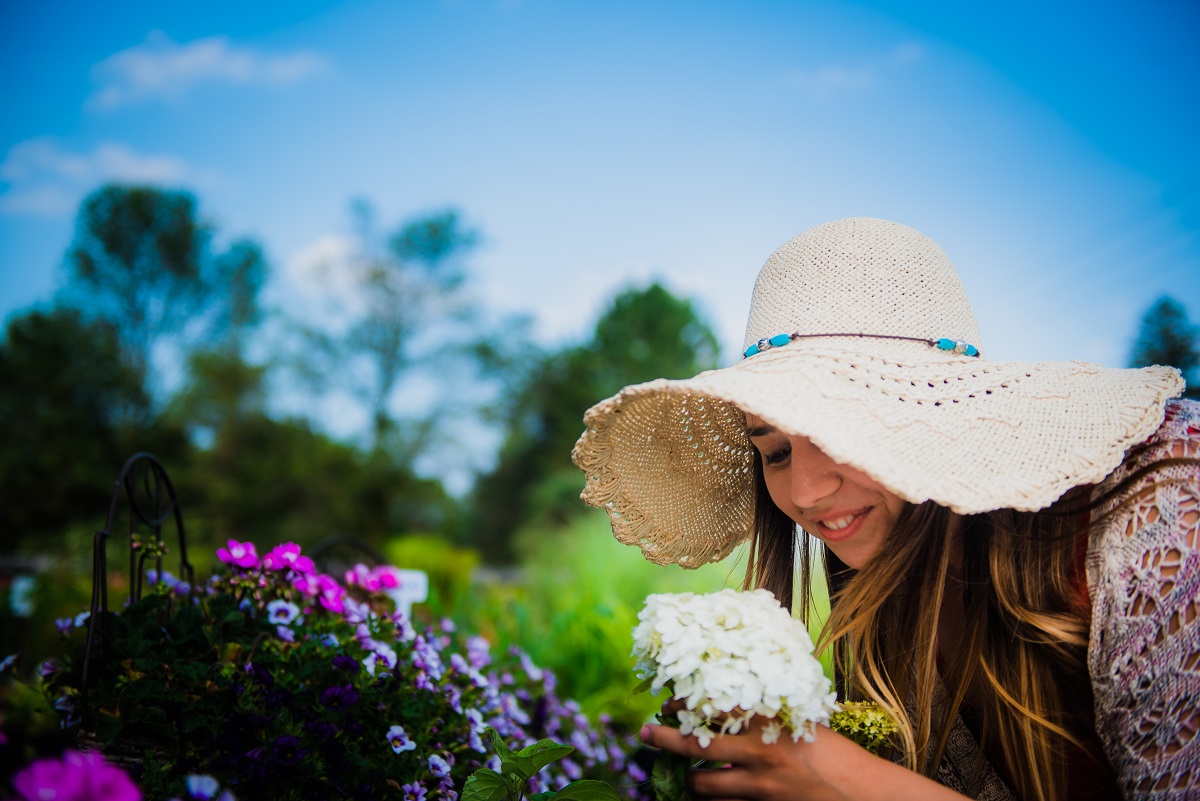 We didn't have any photos of someone berry picking in a big hat, but we did have this one of our former summer student. Hey Jacqueline!
Being outside in the patch is a lovely way to enjoy the weather but because berry patches are often planted in full exposure to the sun, it's important to protect yourself! That means sunscreen, wide-brimmed hats and sunglasses. Plus, don't forget to pack yourself some water in a reusable container.
4. Respect the Rows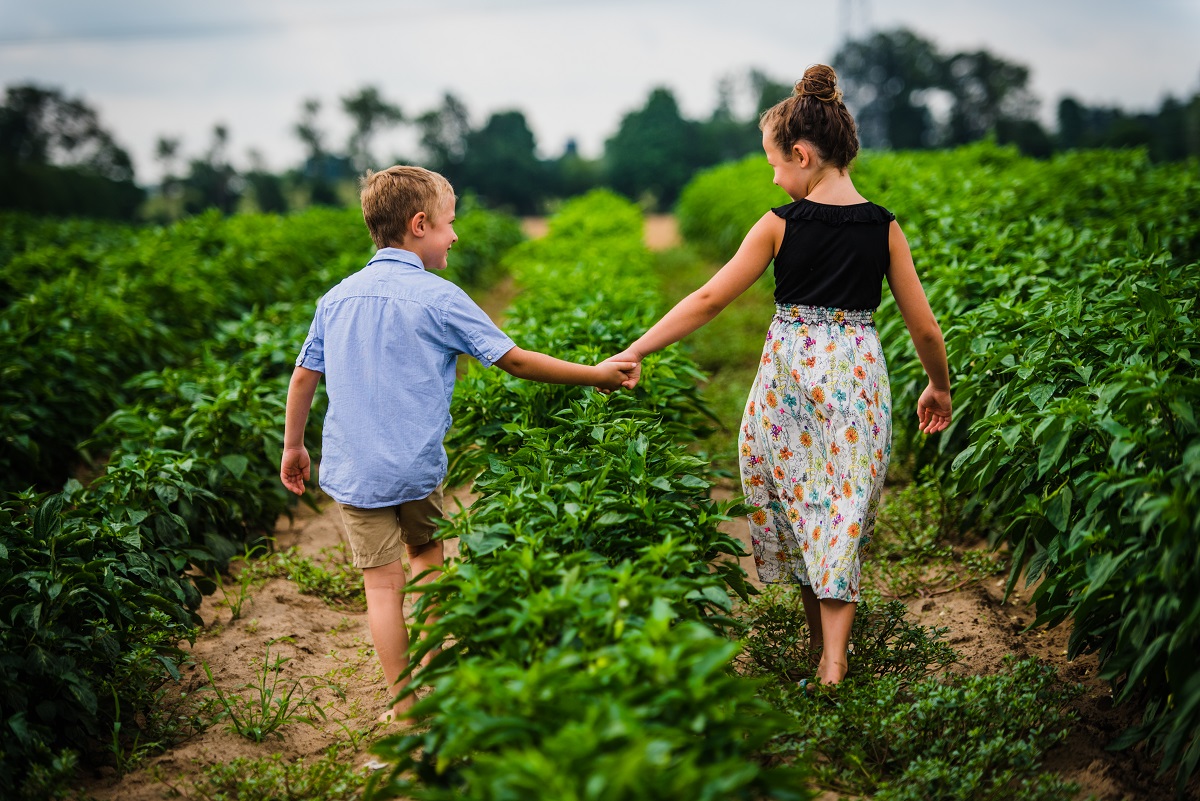 Aren't these kids holding hands over the rows adorable? Resist the urge to do this with your besties. Your Instagram followers will thank you.
This goes without saying but respecting the patches and where you should be walking is a must. Farmers work hard on their patches and opening them to the public is an act of goodwill!
Be sure your feet and knees are not damaging the plants and you're taking care to walk where you should be walking.
5. Don't Overfill or Pack Down Containers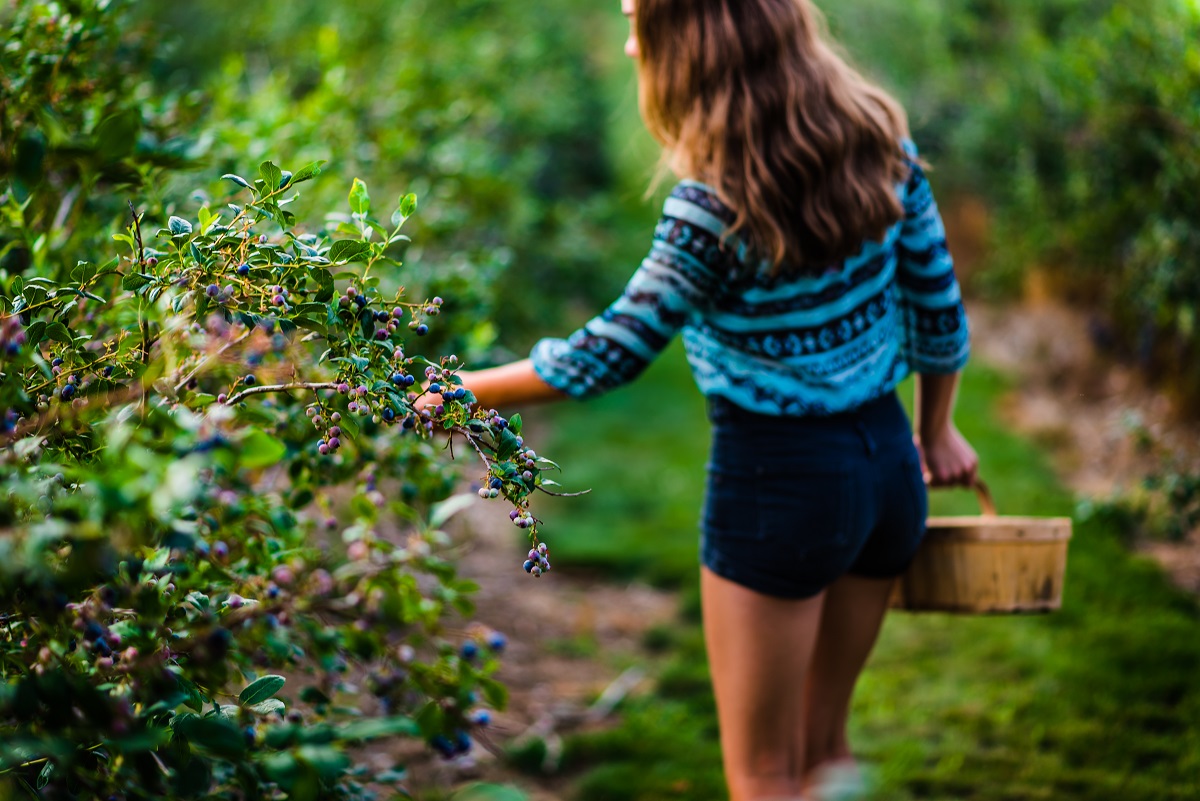 Nobody likes a mushy berry my friends.
While it can be tempting to pack your berries super tightly into your bucket or picking container, we don't recommend it.
There's nothing worse than getting home and realizing all that beautiful fruit you worked so hard for is bruised. Consider taking your own shallow containers and don't pack your berries down.
6. Go in the Morning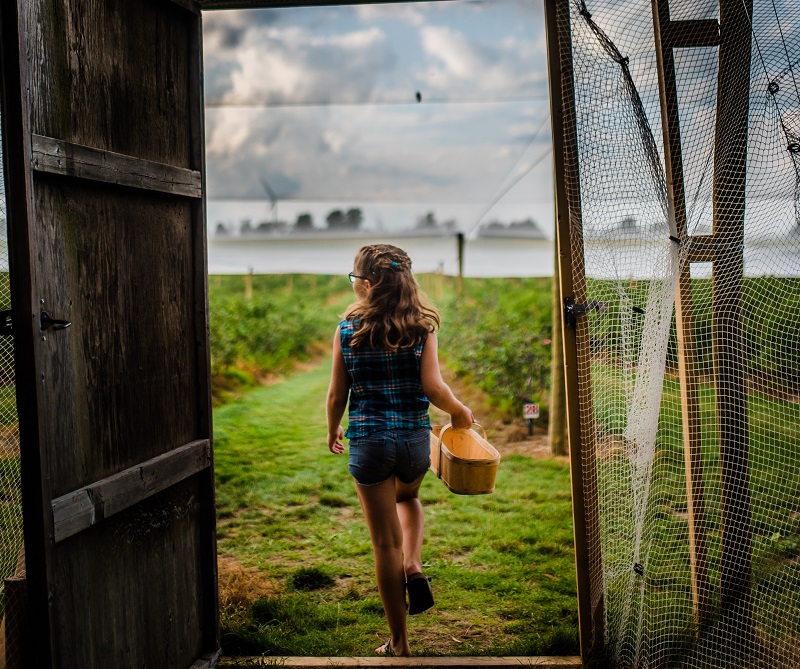 This photo was taken in the afternoon but that's because that's when the photographer was available, ok?
Not only will you beat the afternoon rush and the heat of the day, but you'll also get the best berries. When exposed to the afternoon sun, berries become somewhat softer. Going in the morning will help you avoid some of the mush.
7. Consider the Amount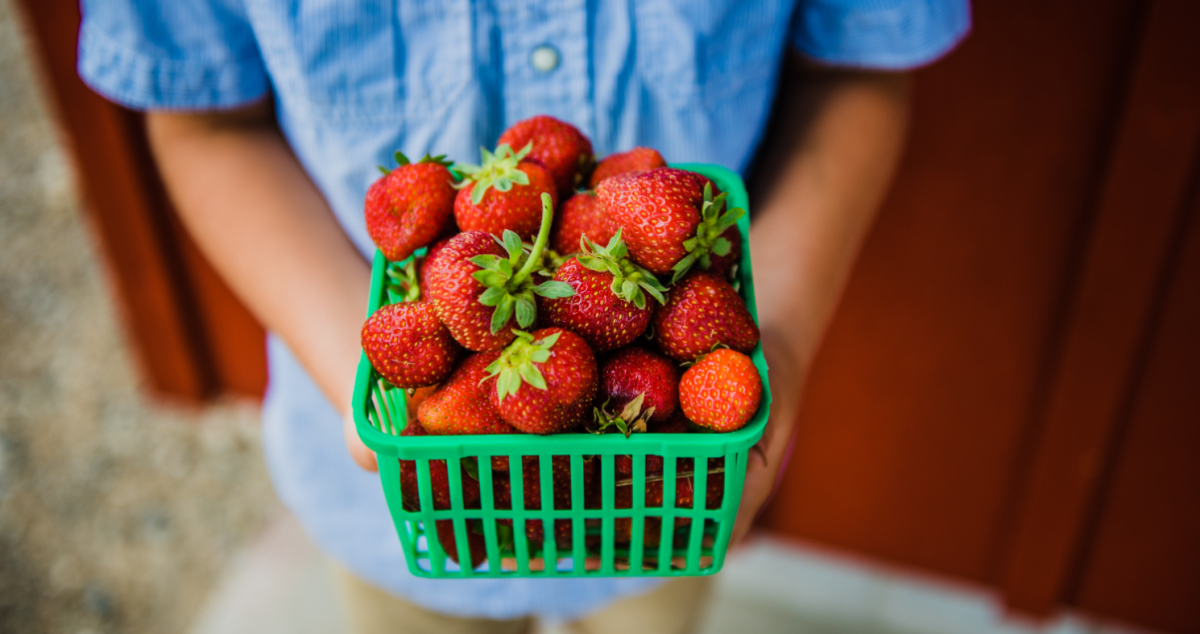 Nom. Nom. Nom.
Berries this good don't last long (not just because you're going to eat them super fast!). When picking, consider what you're going to use them for: pie, freezing, jam, eating right away. There are endless options that will affect how much you pick.
8. Talk to the Farmers & Staff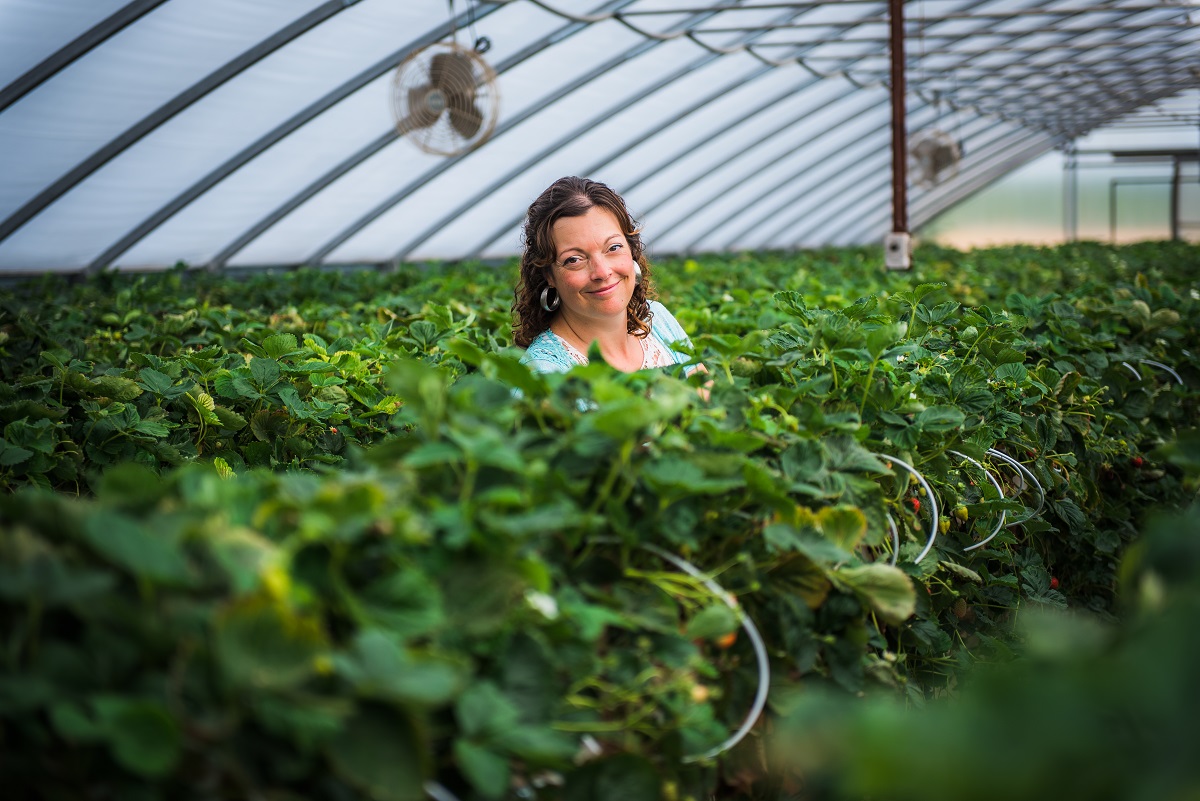 Seriously, the farmers know their stuff.
The best way to ensure you're hitting all the best picking techniques is to talk to the farmer or staff on-site! They'll be able to tell you the best way to pick, what the fruit should look like when picking, which rows have which varieties and what has been over/under picked.
They can pretty much tell you anything and everything about it.
Ready to go? Head over to our blog on the best spots to pick-your-own in Oxford County!
Don't miss out on any other Oxford Fresh happenings. Sign up for our newsletter!