Innerkip Highlands Golf Club
Welcome to Innerkip Highlands Golf Club the unique course layout and exciting feature holes provide one of the best public golf experiences in the region. The front nine features a true island hole (#5) and details that remind golfers of TPC Sawgrass while the back nine showcases a stunning waterfall and pond complex that will challenge and delight golfers of all skill levels.
The full-service clubhouse features a fully stocked Golf Shop including Callaway clothing and clubs while the spacious dining room and patio welcome both golfers and non-golfers alike to enjoy delicious food while enjoying the view.
The Innerkip Highlands Golf Club also offers day lockers, shower facilities and a boardroom facility if you're looking to plan a meeting around your golf game.
Already sold on Innerkip? Book a tee time down below.
Experience Innerkip Highlands Golf Club
Take a tour of the golf course and see what makes this facility so incredibly unique. The focus on exceptional golf course conditioning and playability mean that you'll enjoy the challenge and be rewarded for every great shot.
Course Difficulty and Core Info
The Innerkip Highlands offers five sets of tee decks ranging from 4834 yards up to 6432 yards to offer a suitable length of play for every caliber of golfer. Electric golf carts equipped with GPS ensure you're making the best decisions on the course. Enjoy a hole-by-hole tour of the facility and see what you have to look forward to during your next round at Innerkip Highlands.
Price
The My Club Card program at Innerkip offers the best value in golf. Learn more about how you can save on every round of golf and more! Green fee rates vary by day of week and time of day. See what is available and book your next tee time here.
Dress Code
Acceptable golf attire must be worn at all times on the golf course.
Preferred golf attire is a golf shirt of current fashion with Bermuda style shorts or golf slacks.
Soft spiked golf shoes are the only golf specific footwear permitted. Ceramic, steel, or any other sport spikes are not permitted. Soft soled athletic shoes, soft soled street shoes or sandals are permitted.
Casual attire is appropriate in the restaurant.
Inclement Weather
Innerkip has a very generous rain check policy. Should your round be interrupted by inclement weather, visit the Golf Shop for more details.
Location
The golf course is located in the village of Innerkip, close to the 401 and only a short drive from the Waterloo Region, Woodstock, Brantford, London and the surrounding townships.
London: 49 minutes and 60km
Kitchener: 41 minutes and 50km
Toronto: 1hr 30 minutes and 132km
The Restaurant at Innerkip Highlands
The spacious dining room and covered patio offer the perfect place for you to enjoy a meal or share a few cold drinks after your round. The facility is open to the public so you don't have to be a golfer to enjoy a great meal. Inquire about group reservations, boardroom facilities or small tournaments.
Other Things to Note
The golf course surrounds the "Thirst-Aid Station", the halfway house oasis, centrally located so you're passing it regularly throughout your round. Grab a round of drinks and a hot dog on your way by!
Simply Great Golf – Book your next visit today
Contact Information
519-469-3924 or 1-800-265-3924
805940 Oxford Rd 29, Innerkip, ON N0J 1M0
Trip Ideas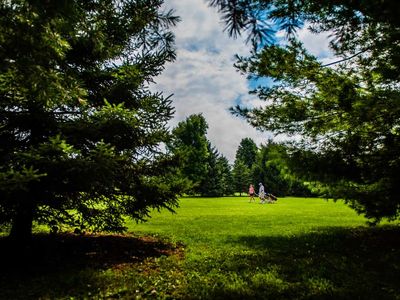 The grass is green, the beer is cold and an afternoon of golf awaits! As golf courses open up in Oxford,...