The Pines
These trails, through beautiful pine forest, are primarily maintained for people who like a challenging cycling experience, although easier trails are marked.
The property is owned by the Upper Thames River Conservation Authority and leased by the Woodstock Cycling Club (W.C.C.) who construct and maintain the trails. The area is partially fenced and access is through the main gate only. More information and a map are available at www.woodstockcyclingclub.ca and the parking area.
Permitted Users:
1. - If you're a member of an O.C.A. affiliated club (carry your card with you when riding) and ride the Pines a couple of times a year you're OK.
2. - If the same as above but ride the Pines more frequently you need to join the W.C.C. and get the trail sticker for your bike/helmet (you will not pay for insurance portion twice).
3. - All other riders are taking their chances as the U.T.R.C.A. will be doing random checks at the parking area and throughout the trails just as they do at Fanshawe Lake in London. Riders found in the Pines without proper membership card or W.C.C. sticker may be subject of a fine of under the "trespass to property act".
Length: Red Trail - approx.10 km. Black Trail (technical add on loops) - approx.13 km.
Difficulty: Challenging, difficult
Facilities: Large parking area up the driveway. Washrooms available further up the driveway @ Flying Club.
Trail Uses: Mountain Biking
Location: Blandford-Blenheim Twp. Rd. 4 (north side), 1 Km east of Oxford Rd. 4
Contact: Woodstock Cycling Club: 519-539-3681 www.woodstockcyclingclub.ca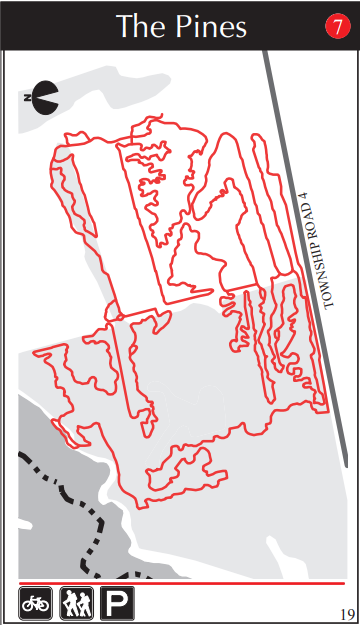 Contact Information
Blandford-Blenheim Twp. Rd. 4 (north side), 1 Km east of Oxford Rd. 4