The Oxford Drive-In: A Drive-In Theatre with Heart
This small, community-oriented drive-in theatre is all about creating a unique and intimate experience in the heart of rural Ontario that harkens back to days gone by.
Rediscover Your Love for the Movies at the Oxford Drive-In
In the spring of 1950, The Oxford Drive-In opened for the first time with the movie, Life with Father starring William Powell, Irene Dunne and Elizabeth Taylor.
That summer, families, couples and groups of friends piled onto the grassy lawn each weekend to watch movies and enjoy all that summer in rural Ontario has to offer in their car. Movies were watched and memories were made.
Fast forward over 70 years later and the Oxford Drive-In has not just been restored to its former glory, but things are being taken one step further.
Want to know more? Read on or skip ahead.
Creating a Safe Place for Entertainment
At the beginning of 2020, people were eagerly looking for ways to connect with others safely and find sources of entertainment beyond the four walls of their apartments and houses.
Enter Angila Peters, Adam Shaw and their kids!
After going for a drive in rural Oxford in March, Adam came home with the idea of re-opening the drive-in. The couple hit the ground running and by July, they were rolling!
The Oxford Drive-In was reopened with the main goal of creating a safe space for families to find entertainment during the pandemic. Even though it happened quickly, it was a hit.
Now going into their third season, the Oxford-Drive In has provided visiting and local families the option to safely social distance while enjoying a great movie under the stars. In fact, their slogan is "See the stars under the stars"!
Past movies have included current hits like Dear Evan Hansen and family favs like The Paw Patrol Movie to classics like Dirty Dancing and Ghostbusters, giving locals the chance to reconnect with the movies they loved in their youth.
"We love seeing the joy on people when they visit," says Angila Peters. "They remember coming here as a child or they are excited to be at their first drive-in experience."
The Oxford-Drive In reopens on June 1st, so be sure to check out their website for a show that suits you!
Creating a Destination in Oxford County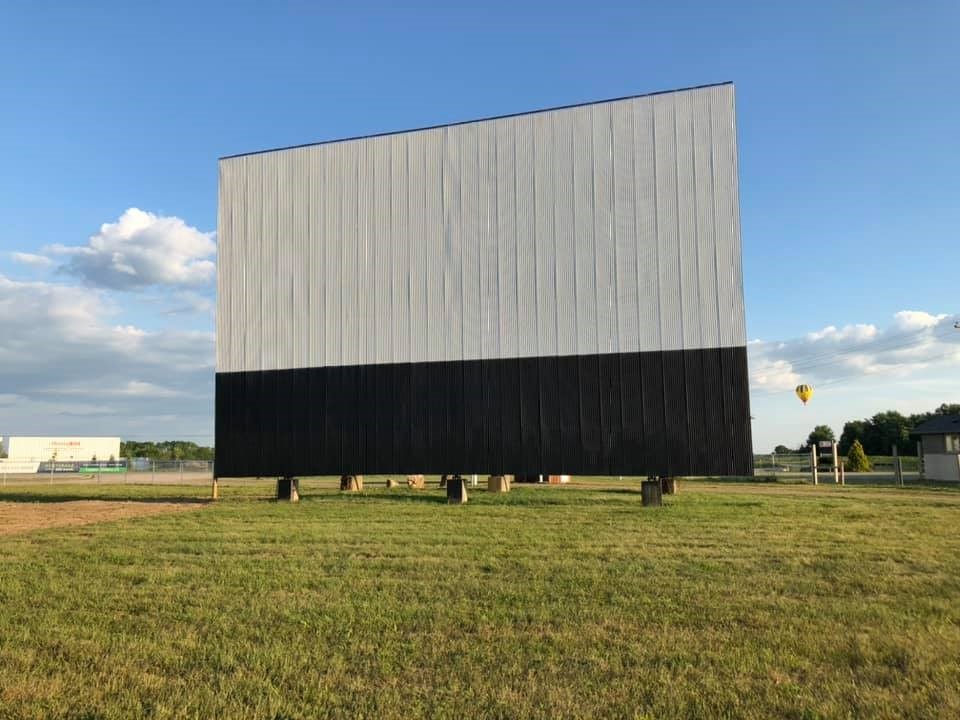 The goal for Angila and Adam isn't just a drive-in theatre although…that's pretty awesome in itself if you ask us!
Angila and Adam want to make the Oxford Drive-In a destination in Ontario for family-friendly entertainment so they'll be looking to host everything from markets and concerts to trivia nights and more.
This season, The Oxford Drive-In will host a trunk show flea market every Sunday morning from May 1st until October. Vendors will park their cars, pop their trunks full of goods and sell. Visitors can enjoy the beautiful summer along Oxford's back roads while shopping a variety of goods and socializing with one another.
On top of the market itself, there will also be food for sale and live entertainment, making the Oxford Drive-In one lively spot to spend your Sunday! Stay tuned on their Facebook event page for details.
Creating an Intimate Experience
Overall, the Oxford Drive-In is on the smaller side as far as drive-ins go. There's just one screen. However, what they lack in size is made up for in heart. This locally-based family has truly created an intimate viewing experience at the Drive-In.
You'll often see Adam and Angila out and about at the Drive-In, helping families and ensuring everyone is having a good time. You'll feel safe on this rural property which is big enough to still feel like you're relaxing in the wide-open air while small enough to feel cozy and community-oriented.
Angila and Adam have staffed the drive-in with a great group of young people from the area and aim to instill a bit of entrepreneurial spirit in them as well.
Overall, relaxing is easy here.
See You at the Movies
Thinking of heading to the movies this summer? Sounds great! See you there.
How can I hear the movie?
You'll turn your car radio on and tune into the drive-in's station.
Can I come for just one of the movies (first or second)?
Does the drive-in have food?
Yes! We have a full-service food truck plus popcorn, pop and candy. Can't get enough of the candy and popcorn? Be sure to check out our store in downtown Woodstock, Reel Treats!