Full Speed Ahead: The Ingersoll Safe Cycling Committee Makes Cycling in Oxford an Attractive Proposition
Gearing Up Cycle-Friendly Ingersoll with the Ingersoll Safe Cycling Committee
The Ingersoll Safe Cycling Committee truly is a reflection of the town's commitment to making Ingersoll an attractive, safe and enticing place for both local cyclists and visitors alike. Want to learn more about their work? Read on or skip ahead!
Under the umbrella of town council, this committee works to increase public awareness around cycling safety and the positive impact cyclists have on the community. Their award-winning efforts have made the town an appealing choice for both local and visiting cyclists. Local businesses are becoming aware of how cycle tourism has increased across the province and how they might best capture those cyclists' attention.
Additionally, the committee works to align with Oxford County's Cycling Master Plan. Not just tourism-focused however, the committee also works hard to help make it easier for families to get out on their two (or three or four!) wheels and cycle with events, bike drives and trail work.
Read on to learn about some of the exciting initiatives they've taken on as well as some that are to come in the future.
Helping Visiting Cyclists Choose Ingersoll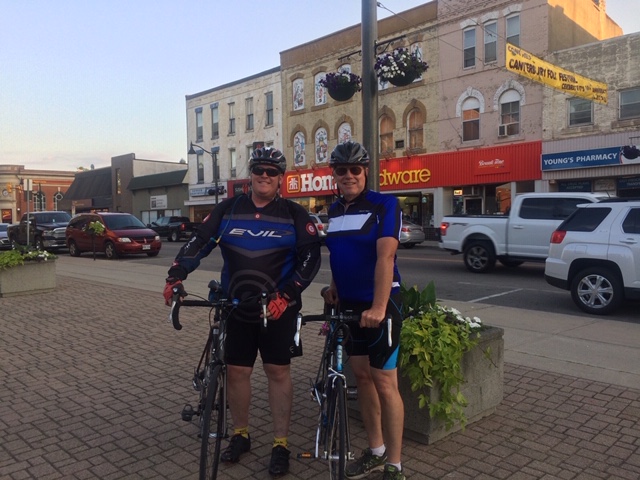 Members Jeremy Wilson and Sam Horton in downtown Ingersoll, 2019.
The Ingersoll Safe Cycling Committee is committed to making Ingersoll an easy choice when it comes time for people to decide on where their next cycling trip will be. By studying trends in cycle tourism and going to provincial conferences put on by Ontario by Bike, they've put much of what they've learned to good use.
The committee has worked hard to add several places to lock up your bike downtown so that cyclists can visit the local shops. Additionally, they've helped get several Ingersoll businesses certified as Bike Friendly destinations through Ontario by Bike.
This designation gets listed on the site and requires that the business offer several amenities to cyclists based on criteria specific to their industry. For example, restaurants are required to have healthy food options on the menu (locally-sourced ingredients wherever possible), secure bike lock-up and regional cycling info on hand.
In Ingersoll, several businesses have signed up and met the criteria including two accommodations, a museum, a community centre and several other stops.
The Ingersoll Cheese Museum is now designated as the cycling hub for Ingersoll, making it an attractive stop for both local and visiting cyclists. Here, cyclists can obtain cycling maps, info on other cycle-friendly businesses, do minor repairs and more.
Those interested in the history of Ingersoll's cycling can also pop into the museum to learn about some of Ingersoll's cycling heritage including the story of Douglas Carr.
At the Victoria Park Community Centre on Wellington Street, cyclists are welcome to access showers and exercise equipment geared towards cyclists.
Get a list of all of Oxford's Certified Bike Friendly Stops.
Beyond stops in the downtown, The Ingersoll Safe Cycling Committee is working on a full review of the town's cycling infrastructure including signage, trail attractiveness, cycling safety and cycling routes.
These findings are continually forwarded to the proper town department so that upgrades and maintenance can take place. That will include new cycling routes (find your next route on our website), cleaning up trails and having new signage done to make cycling easier, safer, informative and fun!
Improving Cycling for Locals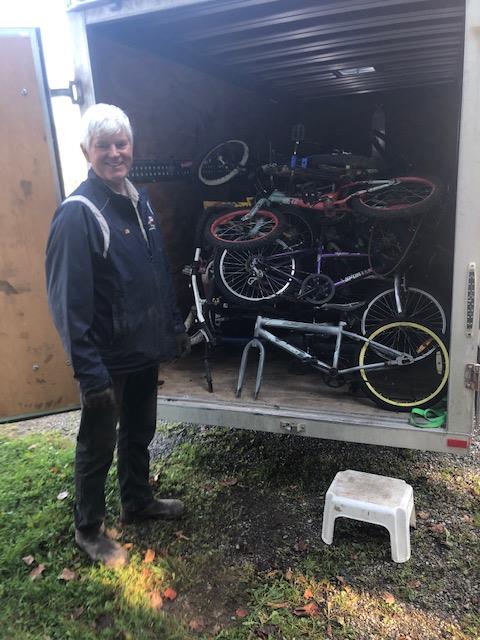 Member Jim Poel loading up excess bikes from the salvage program.
In addition to the work done for visiting cyclists (which ultimately will help locals too! Who doesn't like a tidy trail or great signage?), Ingersoll Safe Cycling Committee does a great deal of work to improve the community cycling scene.
A big part of that is accessibility. In the past, the committee has hosted a bicycle salvage program. Thanks to local generosity, people donate their old bikes and the committee fixes and refurbishes them, then provides them to other families in the community at no cost. That's an initiative we can get behind!
Additionally, they've held workshops on safe cycling and helmet safety as well as events that encourage local cyclists and families to get out with others and ride pre-set routes in town. It's a great way to get into riding if you're new to it or a little rusty.
Additionally, The Safe Cycling Committee has worked with CAMI, The Town of Ingersoll, the County of Oxford and the province to create The Douglas Carr Commuter Trail for locals working at CAMI, making it easier for them to cycle to work!
Proper signage and well-connected routes are what it's all about for locals and visitors alike, so it's a great endeavour.
A Welcoming Community
Oxford County witnessed a large influx of newcomers from Ukraine beginning in July of 2022. Sadly the folks from Ukraine were fleeing the conflict in their homeland and were forced to leave family, friends and all of their possessions behind due to circumstances beyond their control. These newcomers came with the intention of providing meaningful service to their communities here in Oxford County and beyond.
Many of the Ukrainians did not have adequate transportation to their places of employment and often were left with walking to their work which in some cases was well over 5 kms. The Ingersoll Safe Cycling Committee stepped in to help. The committee was fortunate to have a significant supply of both used and new bicycles that had been collected through the Ingersoll Bike Salvage Program and from donations from Kiwanis Club of Ingersoll.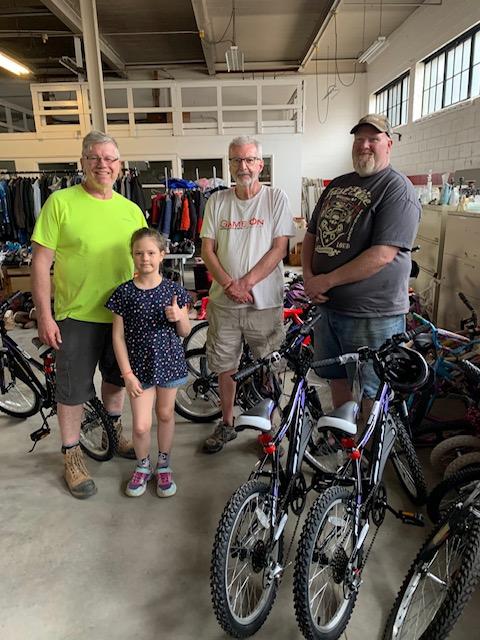 Sam Horton and Scott Naisbitt from Ingersoll Safe Cycling Committee and Mark Steffler from Ingersoll Kiwanis Club with the recipient of a new bike.
Through the efforts of the Ukrainian Storage Facility members ( a special thanks to Irena Turchak ) and such dedicated volunteers as David and Karen Murray, Ukrainians were identified in our community, most in need of bicycles. Over 70 bicycles were provided to adults, youth and children to provide for transportation for their employment, school, and recreation. Each new cyclist was provided with access to a helmet and high visibility vests for their safety on the roadways.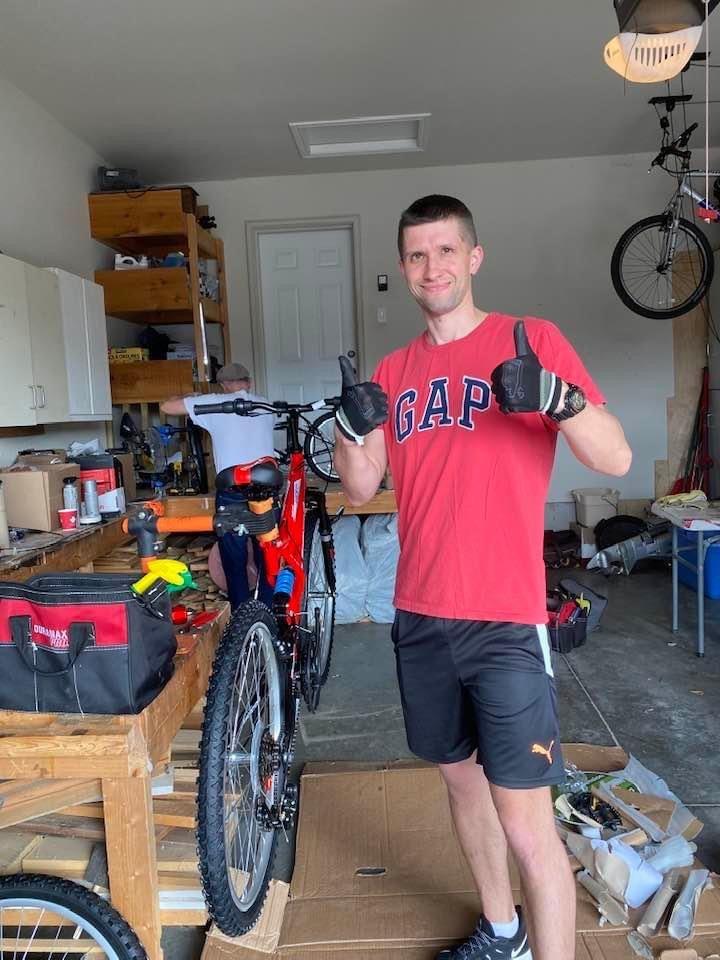 Dennis Fenko, Ukrainian newcomer, assisting in the assembly of a new bicycle for his fellow countrymen under the watchful eye of the Ingersoll Safe Cycling Committee members.
This program was highly successful and was received with great satisfaction from the Ukrainian community. None of this would have happened without the dedicated members of the Ingersoll Safe Cycling Committee and caring community volunteers.
What the Future Holds
At the end of the day, The Ingersoll Safe Cycling Committee, as its name implies, is about creating a safer community for cyclists. They will continue to provide education and safety tips, work to prevent injuries, advocate for safe cycling for children and make cycling more accessible for families.
Future projects will include an extension of the CAMI commuter trail, more bike salvage programs and exciting new projects yet to be announced! We can't wait to see what they have in store.
Where may I pick up a map of the town?
Cycling maps are located at the Cheese and Agricultural Museum located at 290 Harris St., Ingersoll. The museum is the designated cycling hub for the town.
What cycling services are available at the recreation centre?
The Victoria Park Community Centre is located at 355 Wellington St in Ingersoll. Their information may be located on the Town of Ingersoll website. Services include aquatics, a fitness room and showering facilities. Their hours of operation are posted on the website.
Where can I get my bike fixed in Ingersoll?
The town has three repair stations located at the Ingersoll Cheese and Agricultural Museum, the downtown gazebo and at the Fusion Youth Centre. The Canadian Tire located on Mutual Street has basic bicycle parts however more complex repairs need to be done at Pedal Power in the City of Woodstock.
Where can I get more information on cycling in Ingersoll?
The Ingersoll Cheese and Agricultural Museum is located on Harris Street at Canterbury St. The museum is the cycling hub for the town and the staff can assist with providing locations of cycling-friendly businesses, routes, and general information about the town.
Why is Ingersoll considered the cycling hub of Oxford County?
Ingersoll has been awarded the bronze designation by Share the Road - Ontario. In addition, the town is designated by Ontario by Bike as having a cycling-friendly downtown and cycling-friendly businesses, restaurants, services, and accommodations. Add to that, the major county cycling master plan has key routes entering and exiting the Town of Ingersoll.