Brickhouse Brewpub: Great beer, great food and great company
When the owners of Upper Thames Brewing Company decided to create a brewpub across town that would bring their love of food, local partnerships and of course beer together, we were pretty excited.
Located in Woodstock, The Brickhouse Brewpub is just steps away from Sally Creek Golf Club and offers up delicious Ontario craft beer, great vibes and of course, delicious food.
Discover this Cozy Brewpub
Located in Woodstock, The Brickhouse Brewpub is the perfect spot to cozy up with a pint, enjoy a patio meal in the summer and just kick back and relax. Want to skip ahead? No problem. Read about:
The Atmosphere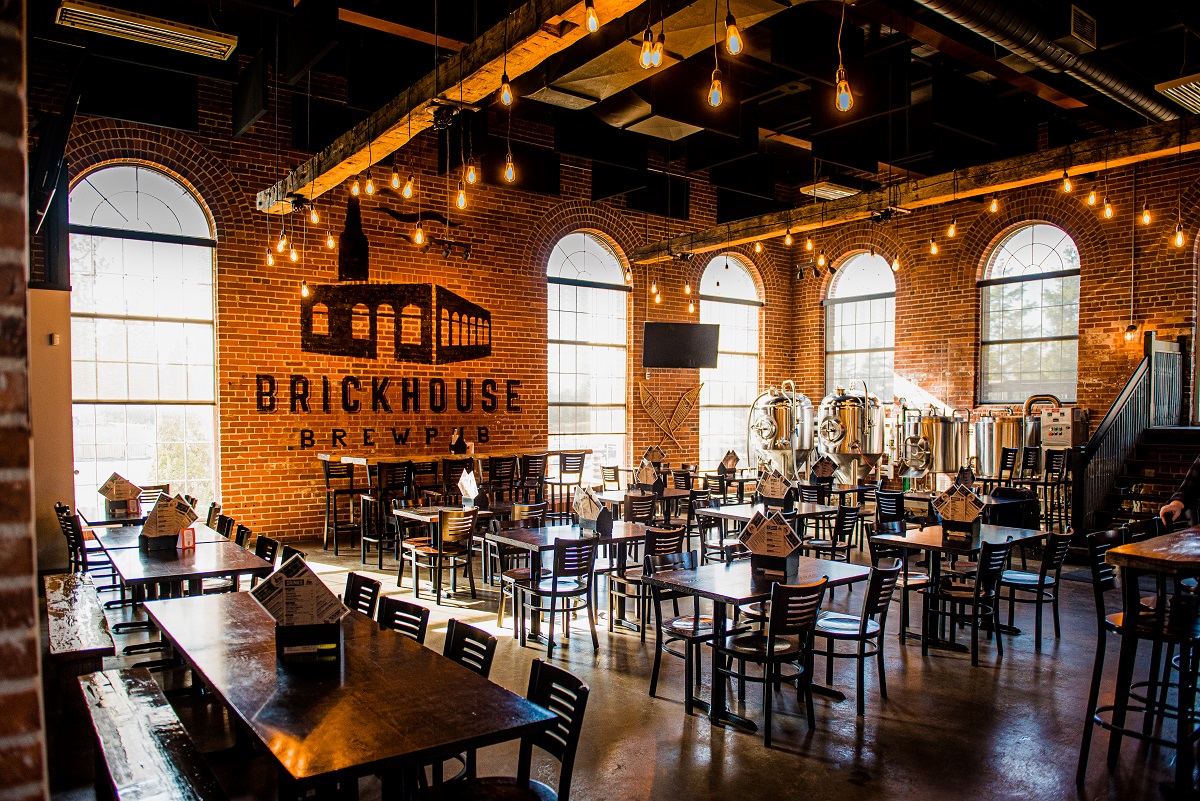 The atmosphere at Brickhouse Brewpub is (almost) the best thing about it! When you walk in, you're greeted by a very spacious taproom but despite its size, it's uber cozy. Think warm lighting, exposed brick, lots of wood and a full wall of growlers from all different breweries that have been collected by the owners!
Off to your right when you walk in the door, you'll see a small retail area packed with great swag from Brickhouse Brewpub including sweaters, hats, shirts and more plus, of course, cans and bottles of beer from Upper Thames Brewing Company to go!
Next, you'll reach the bar (you made it!) where you can place your order for both drinks and food. More on that next.
Once you've placed your order, grab a seat (or the host may show you here first) and cozy up for a wonderful meal. Anytime you need a refill, just pop back to the bar.
The Beer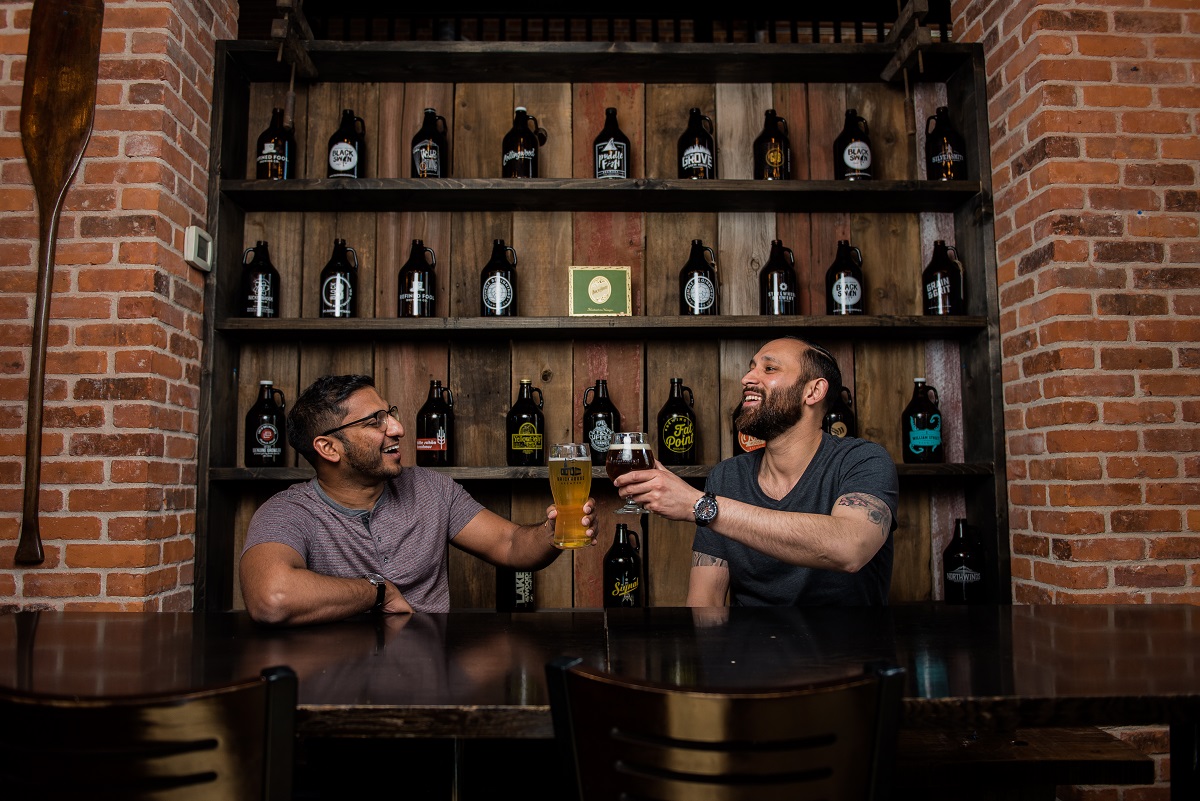 We'd be remiss if we went on and on about a great brewpub and didn't mention the star of the show (the beer, duh). The Brickhouse Brewpub has 25 beers on tap at all times and there is always something new and exciting to try.
On a dozen of the taps, you'll find Upper Thames Brewing Company's beers. That includes their flagships beers like the award-winning Darkside Chocolate Stout, their Timberbeast Brown Ale, Lazy Fox Amber Ale, Take-A-Hike DDH Pale Ale, and Dead Reckoning Ontario Pale Ale among others as well as some seasonal favs and rotating brews like their Making Wave Sours, Christmas Ale, Imperial Stout and so much more.
Keep an eye on the Upper Thames Brewing Company Facebook page for all the details when new brews are coming out.
Of course, that still leaves 13 more taps!
These taps are always changing and rotating but one thing remains the same. They are always filled with independent craft beer from Ontario. In the past, that has included brews from places like Bandit Brewery and Bellwoods to Collective Arts, Black Swan and so many more.
We love how this brewpub supports other independent brewers.
BUT WAIT! THERE'S MORE! If you have a growler, you can bring it to the brewpub and they'll fill it with any of the 24 brews on tap. How cool is that?
The Food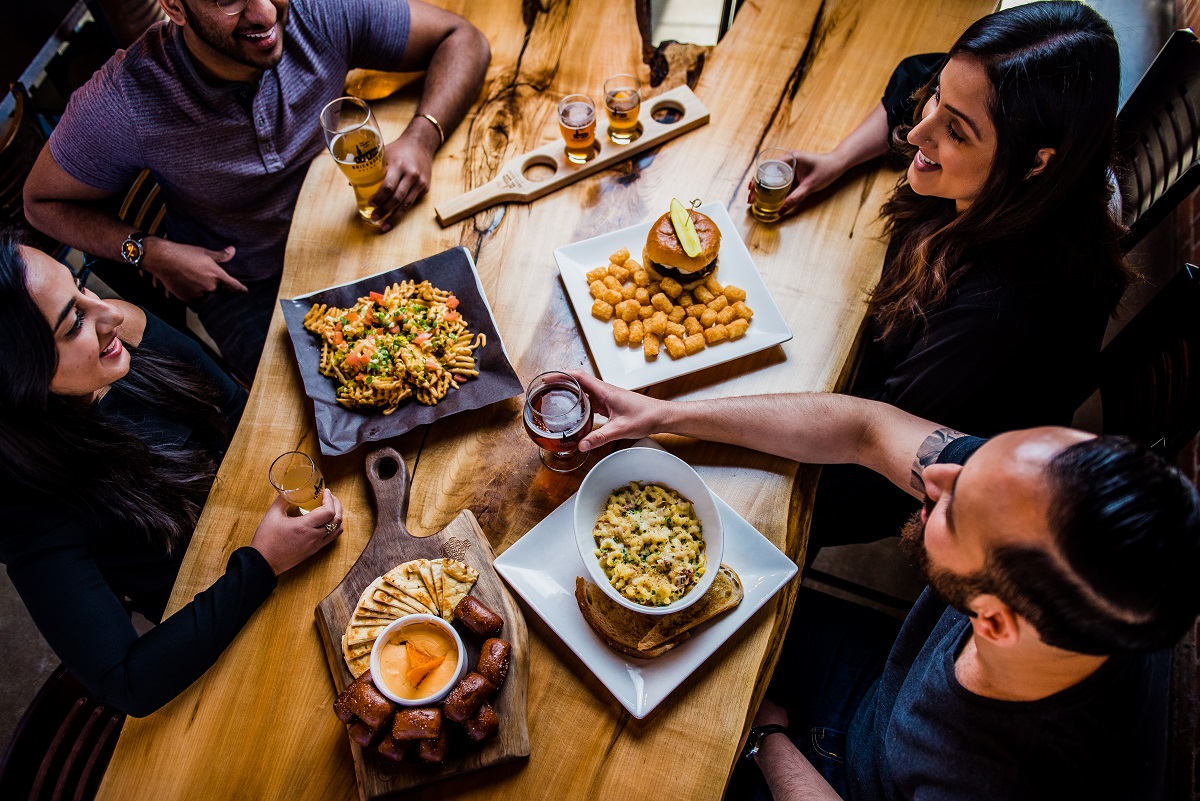 Last up? Let's talk food.
Brickhouse Brewpub has all those hit-the-spot eats that you crave with a cold pint of beer. They also incorporate a lot of their beer into the menu making for extra delicious eats.
That includes everything from their Brickhouse Burger which is topped with fresh curds from Gunn's Hill Artisan cheese and gravy made with their Timberbeast Brown Ale, to their soft pretzels served with beer and cheese dip.
Craving something comforting? We love their daily soup specials that are always changing. Their Beer Battered Fish & Chip and their signature Brickhouse Waffle Nachos. YUM.
Okay, we have to mention one last thing. When it comes to sides, Brickhouse does it up right. EVERYTHING can be served with tater tots. Grab some of their parmesan tots and a beer while spending time with friends. We can't think of a better (or more delicious) way to enjoy an afternoon.
Cheers!
Cheers to great beer, great food and great friends. We hope you have a great time at Brickhouse Brewpub and are able to explore some other great spots nearby during your visit.
Can I make a reservation at Brickhouse?
Reservations are available to members of their 'Voyageur Society' beer club, though they do consider reservation requests on a case-bycase basic of unique circumstances. Inquiries can be directed to
admin@upperthamesbrewing.ca
What is your most popular beer?
Backpaddle Blonde (our very first style brewed!). Followed closely by Take-A-Hike Dry Hopped Pale Ale and Logger Lager.