Annandale National Historic: A Wilde Home from the 1800s
Visitors to Annandale National Historic Site in Tillsonburg will be dazzled by its beauty and the stories that go along with its rich history.
Discover Annandale National Historic Site
Annandale National Historic Site is a wonder of its time and modern times. Discover its build process, the stories of the Tillson family and so much more all nestled into this stunning home. Want to skip ahead? No problem!
In the beginning
In 1882, the famous English poet and playwright Oscar Wilde paid a visit to The Opera House of the Woodstock Town Hall (now Woodstock Museum NHS) to give a speech called The House Beautiful. In it, he described how one's home should be a reflection of art and everywhere the eye looks, it should land on something of beauty.
It emphasized craftsmanship and detail over machine-made luxury and was a major principle of The Aesthetic Art Movement. As a major supporter of the movement, it was Oscar's plea with the crowd at each of these lectures, that they build their homes more beautiful.
While it was reported at the time that "the prominent people of the county were in attendance", we can only assume but never really know for sure, if two incredibly well-to-do people, E.D. and Maryanne Tillson, sat in the audience. E.D., the first mayor of Tillsonburg, was in the midst of building a retirement home for the two of them on the site of an innovative, never-before-seen model farm.
The home would be three floors of wealth on display with some incredibly modern features: indoor heating, plumbing and gaslighting for starters. Just as E.D. and Maryanne sat on the precipice of designing the interior of their home, Oscar Wilde came to Oxford County and well, we like to think he blew their minds.
While we can't confirm their attendance, we can tell you that a few years later, E.D. named a steamship after Oscar Wilde… so we're going with the likely theory.
Building a Masterpiece
And just as two people whose minds had recently been blown would do, E.D. and Mary Anne set about decorating their home in the exact type of detail that ol' Oscar had described. They inlaid hardwood floors using three different types of wood. Windows weren't just windows- they became masterpieces in stained glass, taking on themes for each room like birds on the dining room doors and the world's most notable poets going into the library.
Walls were lined with decorative paper and even door hinges and knobs were not forgotten, engraved with intricate patterns. The piece (or pieces rather) de resistance, however, were the ceilings.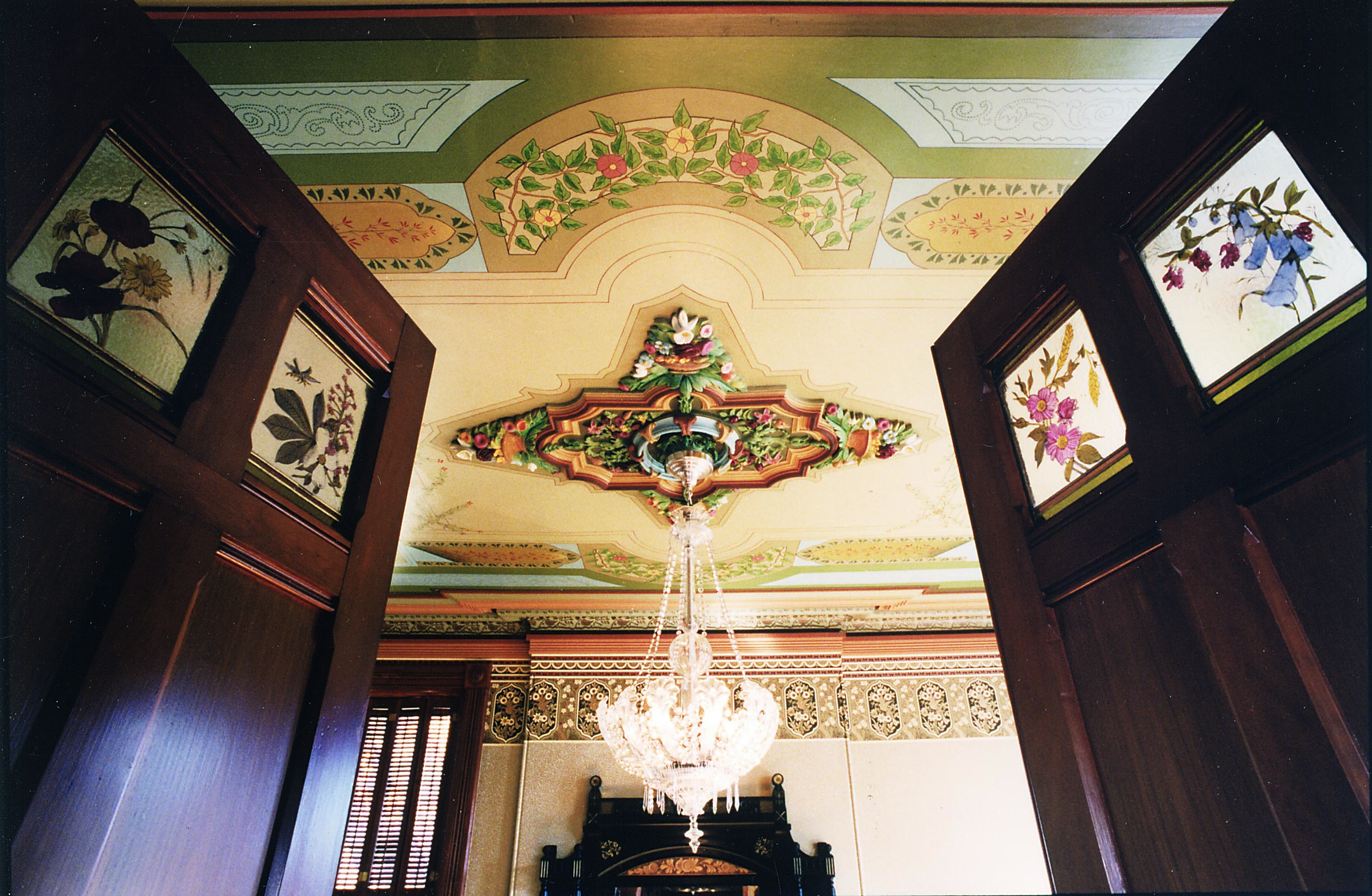 These ceilings were hand-painted with incredible attention and matched the themes of each room. The formal dining room was a colourful display of birds and geometric patterns. The parlour was puckered with light greens, blues, yellows and blushing pinks with a cornucopia of flowers in the center where a large gasolier hung.
Just as Wilde had intended, everywhere one's eye landed, there was a new sight to behold.
Moving up to the second and third floors of the house, things of course became a little less intricate where the family and long-term guests would exclusively be but still extravagant nonetheless. Ceilings were still painted and furniture was still ornate.
The Farm Property
Of course, we would be remiss to only talk about the house. The property itself was an agricultural feat and drew visitors from all over North America. With Lake Joseph surrounding the property at the time, Mr. Tillson's model farm was quite a sight. T
here was a three-story brick barn with heating and cooling systems in place for a registered herd of Holstein cows, a piggery, apiary, apple orchard and one of Ontario's first silos.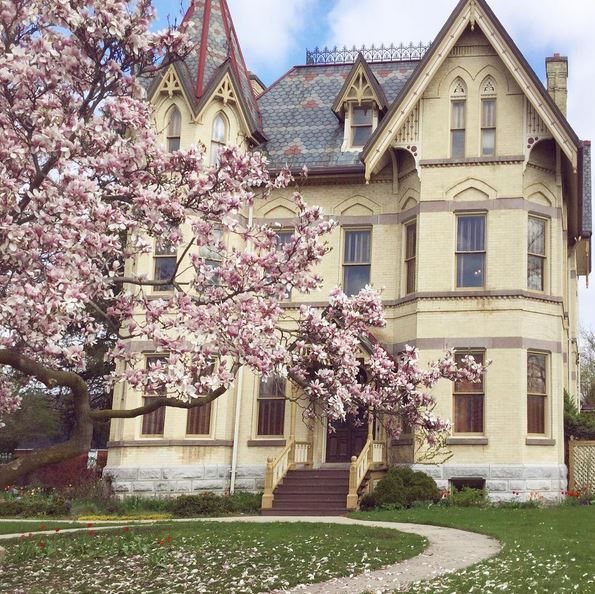 Modern Times
Flash forward to today, the beautiful historic home has been saved by a dedicated group of volunteers and now stands as a declared Municipal, Provincial and National Historic Site. Nationally designated as the country's best surviving example of a home decorated in the Aesthetic Arts Movement style, the house is a must-see in the county.
While the model farm and brick barn are gone, visitors can enjoy the home in all its glory with tours, special events and more. You'll discover the system through which help could be summoned and stories of the Tillsons' live-in maid, Myrtle.
Also on-site, enjoy the Pratt Gallery, a rotating exhibit space used to showcase some of the museum's other collection pieces and a program room where Lunch and Learns, teas and other events are hosted. Visitors can visit all three stunning floors (the first two being accessible by elevator) and learn about the entrepreneurial spirit of the Tillsons.
2023 marks the Museum's 50th Anniversary year. Join the museum volunteers and staff for cake and ice cream as they celebrate this milestone.
Plan Your Visit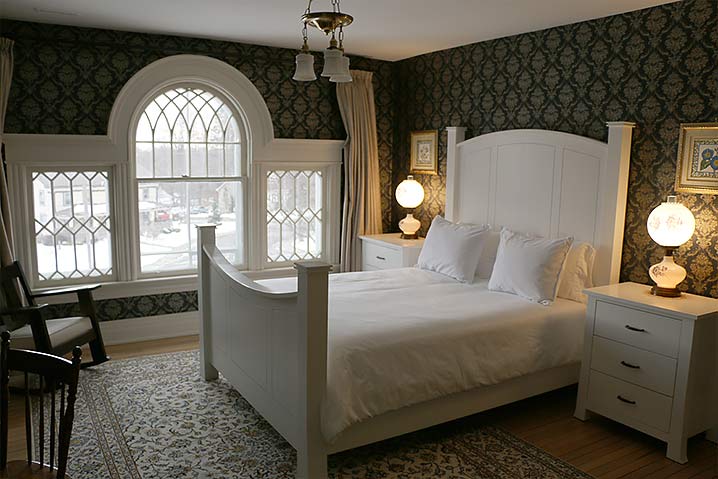 Bedroom at 7 gables, steps from Annandale NHS and a historic home once occupied by other members of the Tillson family.
If you're eager to visit Annandale National Historic Site for a visit, discover more wonderful spots nearby including accommodations, places to eat, small-town shopping and more.
How much did the house cost to build?
When finished in 1887 total cost was slightly over $30,000. This is considered a conservative figure, as E.D.'s construction company built the home and his various companies supplied the building materials. Basically, everything would have been at "wholesale" prices. Had someone else in the community built a similar home, without E.D. Tillson's business connection, construction cost would have been closer to $50,000 to $55,000
Where did the Tillsons come from?
George Tillson was born in Massachusetts and traces his ancestry in a direct line back to Edmond Tillson, the first Tillson to come to "the new world" in 1638 from England. This means that Tillson family members can be part of the 'Mayflower Society' in the U.S. which is an important status for many Americans, like being a United Empire Loyalist (UEL) is for many Canadians.
As a young man, George moved to Maine, where he met and married Nancy Barker. They then moved to New York State and from there in 1822 to the site that would become Normandale, Norfolk County and then in 1825 to the site that would become Tillsonburg.
How long did it take to restore the house?
Restoration of the house was completed through fundraising efforts, so it was a slow but steady process. The first work was started in 1988 and all major restoration was completed by 2000 – so short answer 12 years.
Where does the name Annandale come from?
Although not written down anywhere in the Tillson papers in the museum's collection, it is logically assumed that Annandale Farm (and the farmhouse) was named after E.D.'s mother-in-law, Margaret McCleish VanNorman's family place of origin. Margaret was born in Canada, but her family came from Annandale, Scotland.