Back Country Camping at Wildwood & Pittock Conservation Areas
Picture yourself in a canoe, your paddle hitting the water gently with each stroke as towering pines gather around you. As you approach the water's edge, there's a picnic table and some firewood to access as well as a camp site with a relaxing view and absolute quiet- just you and Mother Nature. Sounds like a scene straight out of Northern Ontario. That is, until now. Wildwood Conservation Area in Southwestern Ontario has launched three back country camping sites that give you the experience of camping somewhere in somewhere like Algonquin right in Oxford County. Even better? Pittock Conservation Area has also followed suit!
These sites were the brain child of Paul Switzer, Superintendent at Wildwood Conservation Area. 'These sites are about as remote as you can get in Southwestern Ontario.' Paul wanted to provide the Northern Ontario experience to those who wanted it but didn't have the time to travel too far away or who were worried about being that remote as first-time back country campers.
The three sites offer by Wildwood are all unique in their own right: one sits in a hardwood forest, one in a pine plantation and one on a grassy point. All three are in close proximity to the Lake Front Trail on site which is great for hiking or cycling along. At the campsite you'll find a picnic table as well as a locked firewood box (pre-arrange the purchase of firewood so you don't have to lug it in your canoe). Getting to the site is about a half hour canoe or kayak from Wildwood's boat launch so while you'll have a space completely to yourself, you're not too far from civilization either should you need it.
Trip Ideas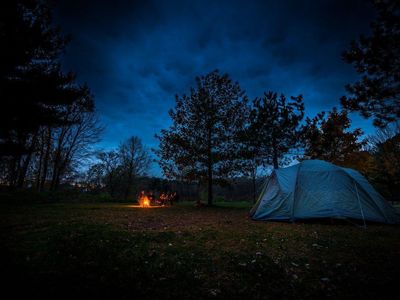 Ah, the pie iron. Is there any better way to cook while camping? From ooey gooey grilled cheese sandwiches to...