A Family Fun Itinerary for Big Cheese Days
Big Cheese Days are BACK on Saturdays in May and if you're looking to plan an Ontario getawhey with your kids, we have grate news (or moOoOos?).
This Big Cheese Days, our Cheese Trail stops have created some really fun experiences, kid-friendly meals and more to make your Big Cheese Days fun for you and your wee ones.
Have Fun with Your Kids for Big Cheese Days
Read on for your go-to guide for a gouda, family-friendly trip along the Oxford County Cheese Trail this May. Want to find something particular? Skip ahead by stop!
Stop 1: Experience Farm Life at Udderly Ridiculous
Where: Udderly Ridiculous Farm Life, 906200 Township Rd 12, Bright, ON. (View Map)
Hours: Open 10:00 am -7 pm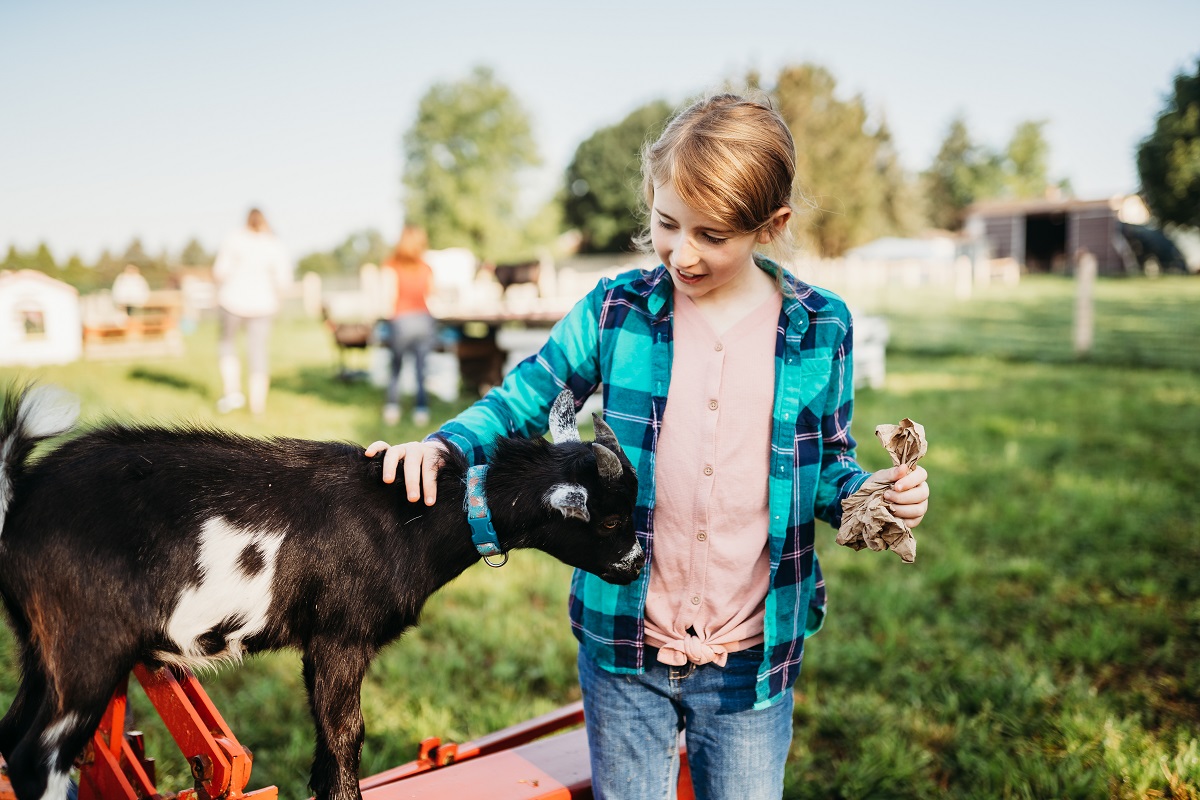 Kick-off your day with a visit to Udderly Ridiculous Farm Life for one of their Experiences. Cuddle with goats or get zen with goat yoga. Walk the alpacas or have a picnic lunch with them. Enjoy samples of some of Udderly Ridiculous's award-winning gourmet ice cream. Yum! Shop the Farm Market Store for their ice cream and other Canada-made fare.
Interested in learning more about their experiences? No problem! You can check out Udderly Ridiculous Farm Life's wide range of experiences starting as low as $15 on their website.
Drive Time to Next Stop: 24 mins
Stop 2: A Delicious Pub Lunch
Where: Charles Dickens Pub, 505 Dundas St. Woodstock, ON. (View Map)
Suggested Time: 11:00 pm
Hours: 11:30 am - 12:30 pm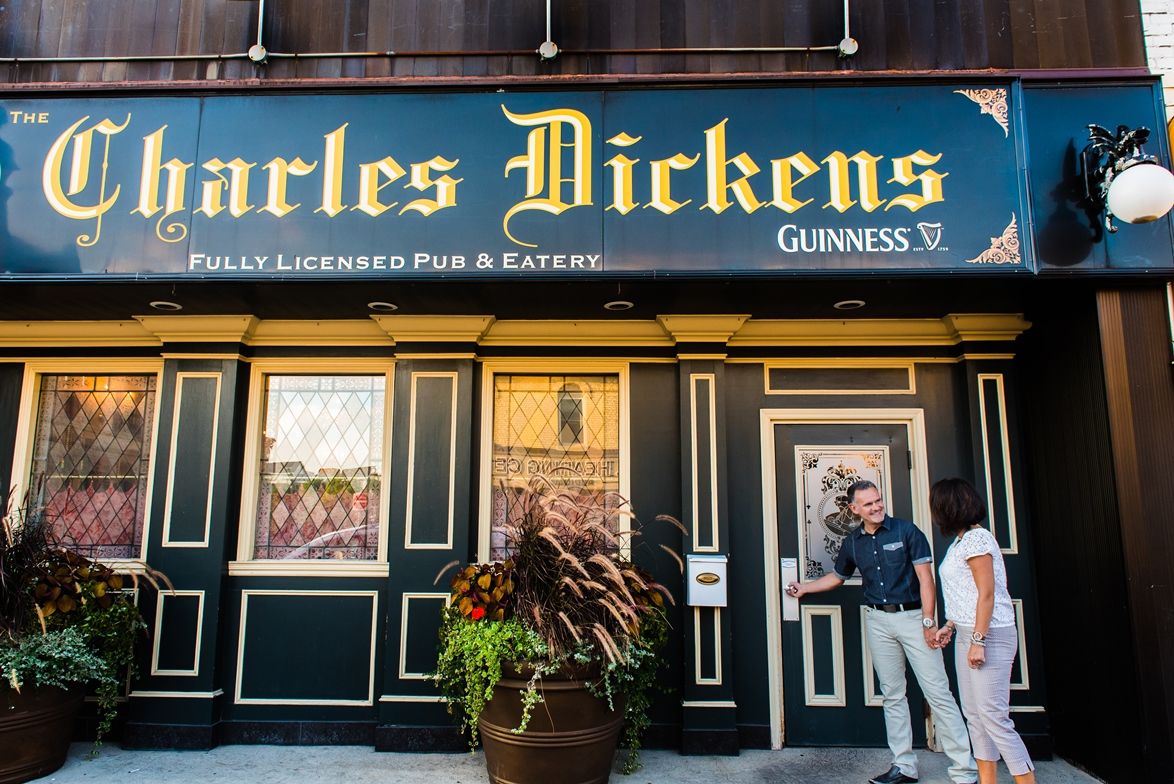 For a meal everyone will love, head to Charles Dickens Pub in downtown Woodstock.
Adults will love their Big Cheese Days special, the 100 Mile Wine and Cheese Board. This special comes with a cheeseboard perfect for sharing featuring several Oxford-County-made kinds of cheese and a bottle of red or white Ontario wine. Yum!
Kids will love the pub-style food too! With a menu that changes fairly regularly, past kid-friendly items have included everything from grilled cheese sandwiches made with Gunn's Hill Artisan Cheese and cottage pie among others.
Note: If you opt for a shorter lunch and skip the next stop, you can also squeeze in at the 1 pm cheese factory tour at Gunn's Hill Artisan Cheese!
Drive Time to Next Stop: 1 min
Walk Time to Next Stop: 5 min
Stop 3: Brie Ice Cream for Dessert
Where: Habitual Chocolate, 389 Dundas St. Woodstock, ON. (View Map)
Note: Brie ice cream is available in a small container for $2.50
Hours: 10 am - 5 pm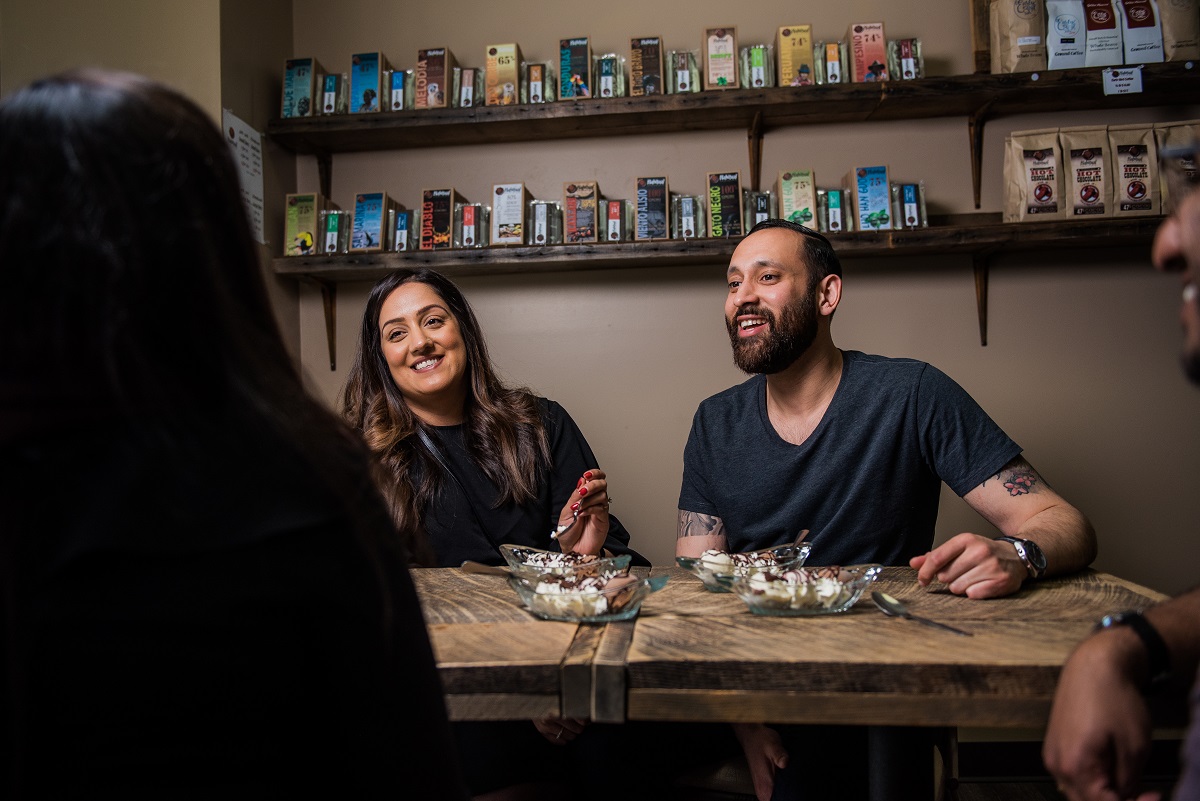 Gotta finish a meal on a sweet note? We get it! Head just down the street to Habitual Chocolate where you'll find Canada's largest selection of bean to bar chocolate, all expertly crafted in-house.
For Big Cheese Days, Habitual Chocolate is rolling out their ever-so-popular brie ice cream. The combo of salty and sweet will absolutely knock your socks off. Get a little taster for $2.50 and add a berry compote to take it to the next level. Enjoy it on your way to the next stop or at the table in front of the store. Either way, enjoy!
Drive Time to Next Stop: 15 mins
Stop 4: Gunn's Hill Artisan Cheese Tour
Where: Gunn's Hill Artisan Cheese, 445172 Gunn's Hill Rd. Woodstock, ON. (View Map)
Hours: Open 9 am - 5 pm, tours at 10 am and 1 pm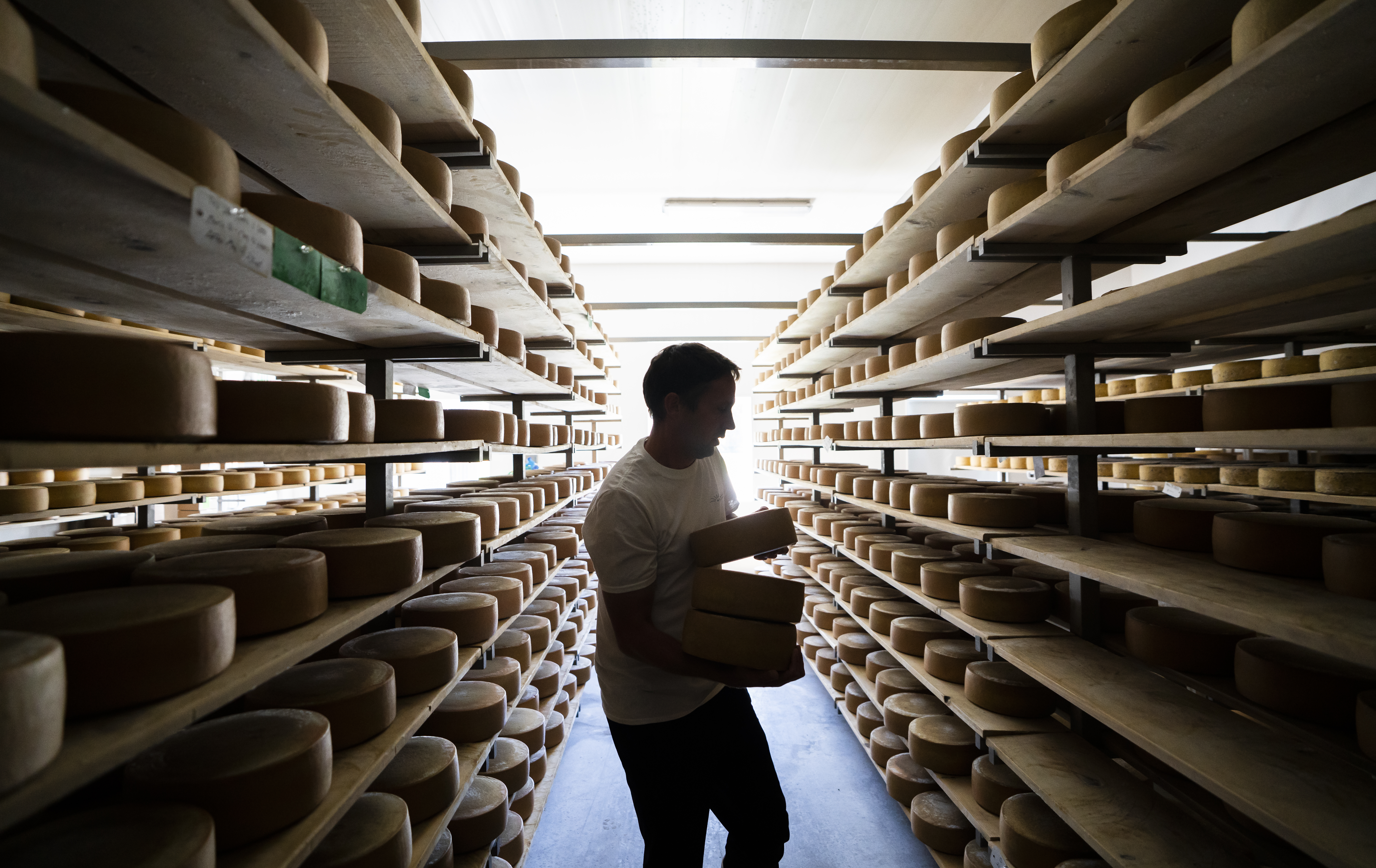 Heading out of Woodstock and down beautiful Gunn's Hill Road, you'll come to Gunn's Hill Artisan Cheese. This award-winning cheese factory specializes in delicious appenzeller-style cheeses inspired by the cheesemaker's time spent learning in the Swiss Alps. Tour the factory and learn about the cheesemaking process at 10 am and 1 pm. (Must prebook at gunnshillcheese.ca)
Head into their farm store to shop a variety of their cheeses as well as some other local goodies to fill your charcuterie board. Try their Squeeky Fresh Curd Poutine available 11 am - 1 pm on Saturdays in May.
Don't forget to snap your photo with their cheesy photo opps and use the hashtag #TryTheTrail so we can see!
Note: Continue your explorations into the Tillsonburg area of the Cheese Trail for more Big Cheese Days offers.
Drive Time to Next Stop: 9 mins
Stop 5: Farm Tour Hay Ride
Where: Greener Pastures Eco Farm, 744766 Oxford Rd. 14, Woodstock, ON. (View Map)
Note: The tour costs $10 and must be booked in advance online. Tour is at 2:30 pm.
Hours: 12 pm - 4 pm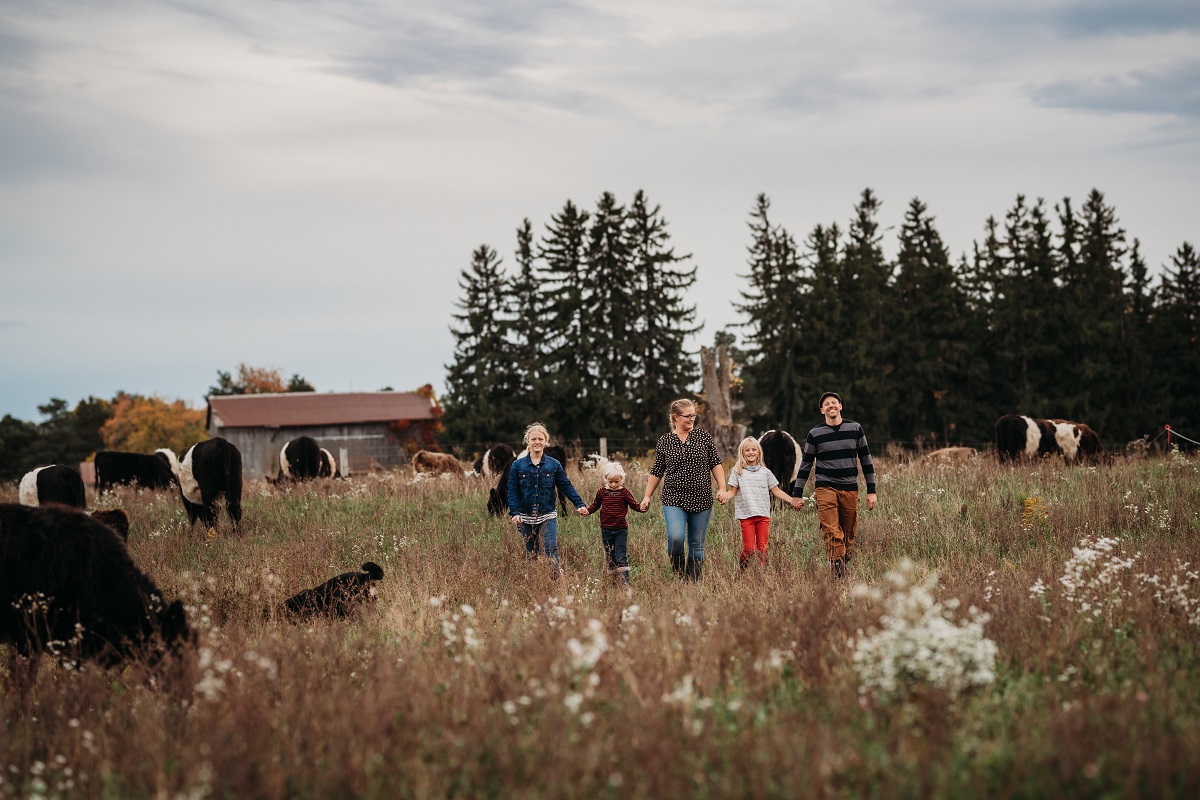 End your day as a fam at Greener Pastures Eco Farm. This fam-run farm is the perfect way to experience authentic Oxford County on a beautiful rural property.
For $10 you'll enjoy a hayride through the fields at Greener Pastures Eco Farm, learning about their philosophy on farming in an engaging way. Learn why they use rotational grazing, see their beautiful (and adorable) belted galloway cows reminiscent of a big, furry Oreo cookie and check out other farm animals like Tamworth pigs and chickens.
When you finish up, consider grabbing some snacks from their farm store and enjoying them on a picnic table on the farm or keeping them for your ride home.
See You Soon
We can't wait to see you for Big Cheese Days! Please feel free to reach out to us with any questions and have so much fun.
We want to stay the night. Where should we stay?
I'd like to check out another cheese factory. Are there any other tours happening?
You bet! Mountainoak Cheese is offering them for $15 all day between 10 am - 4 pm (no need to book) with samples included.
We want MORE cheese. Where should we go for dinner?
Look at you! That's amazing. Brickhouse Brewpub has some wonderful cheesy dishes including the Braised Beef Poutine. In Ingersoll, Louie's Pizza and Pasta is really stepping up their game with Gunn's Hill Poutine, Cacio e Pepe, The Big Louie, Garlic Pizza, and free deep-fried cheese curd dish with the purchase of two entrees when you check in through the Great Taste of Ontario app. The Mill Eatery in Tillsonburg is kickin' up a classic with the Red Dragon Spinach Dip.
I'm still overwhelmed by the info. Can you help me plan my trip?
Absolutely! We're in the office Monday-Friday between 8 am and 4 pm.
Send us an email
and try to give us a week's notice before your trip if possible.