7 Best Ways to Explore the Oxford County Cheese Trail this Fall
Fall has arrived and we're rounding up the best ways to explore the Oxford County Cheese Trail. Take in fall colours, get outdoors on our back roads and of course, eat hand-crafted, award-winning cheese.
How to Explore the Oxford County Cheese Trail
We recommend picking one or two activities on this list that naturally pair delicious local cheese and outdoor activities. We've also made recommendations for Cheese Trail stops nearby to round out your day, weekend or week!
Ready to go? Skip ahead by your interest:
1. A Round of Golf and a Great Meal
Where: The Oxford Hills Golf Course, 324183 Mount Elgin Rd. Mount Elgin, ON. (View Map)
When: Tuesday-Sunday 10 am-10 pm, cold food also available Mondays starting at 7 am
Also nearby: Coyle's Country Store, The Urban Wheel at Sundown Farms (closed Sundays), Red Dragon Dairy (closed Monday)
This trip is best enjoyed: Tuesday-Saturday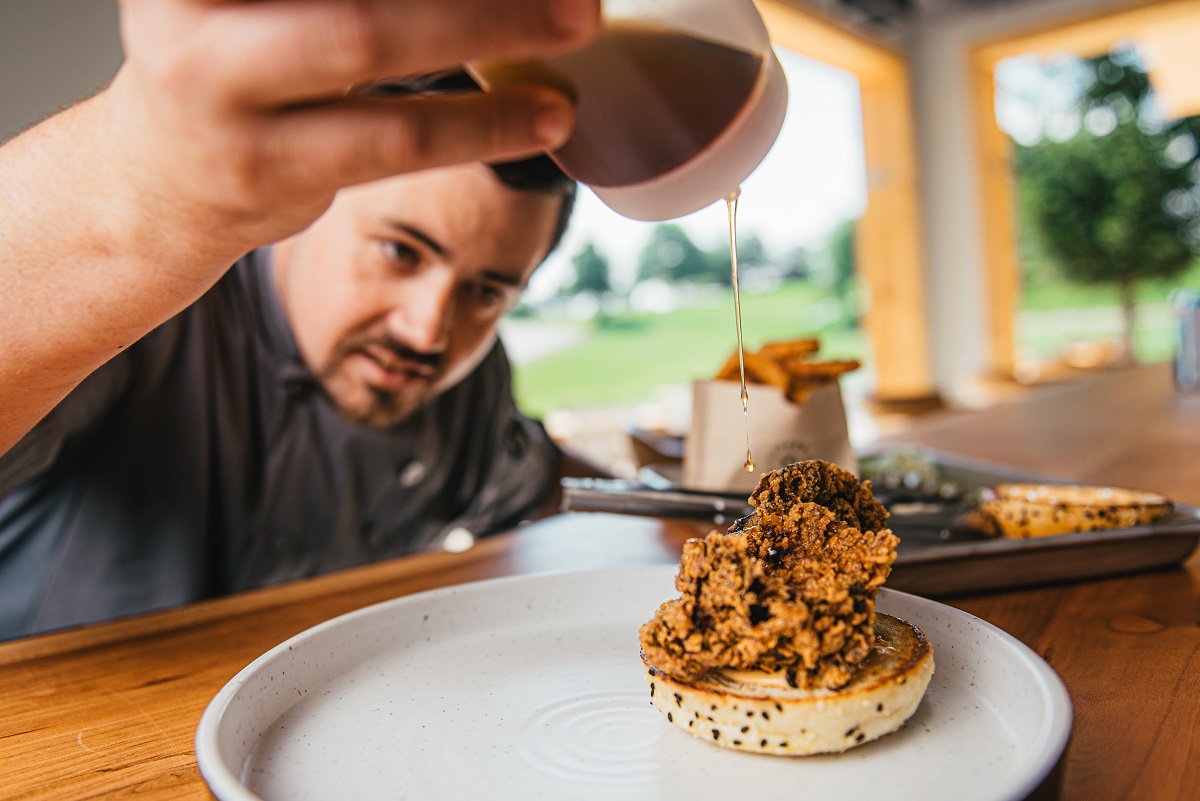 Squeeze every ounce out of what's left of your golf season! The Oxford Hills is a brand new, park-style public golf course perfect for a few rounds.
When you're finished pop into Theo's, a restaurant on-site headed up by Chef Eric Boyar for delicious, feel-good eats with a great view. Sit out on the patio and enjoy a cold beverage as you overlook the pond.
This fall, you can also look forward to the opening of the on-site clubhouse which will have a full restaurant and event space! Stay tuned to the Oxford Hills on Facebook for details on that.
Want to check out some other grate Cheese Trail stops nearby? Point your wheels towards two of our rural stops just outside of Tillsonburg.
Coyle's Country Store has been a landmark in Oxford for several decades. Pop in to shop a selection of freshly made fudge, their delicious house-roasted nuts, confectionery items, homeware and of course, their signature Cheese Trail Trail Mix.
Right around the corner, The Urban Wheel at Sundown Farms is a farm and artisan market. Enjoy a cone of freshly scooped, locally-made ice cream. Shop for an amazing array of Oxford-made cheeses, check out their charcuterie sampler plate and find an array of other locally-made goodies as well as Dutch specialty items!
Alternatively, heading up Highway 19 from Mount Elgin to Salford, you can check out the trail's newest cheesemaker- Red Dragon Dairy. Specializing in sheep's milk cheese you'll find everything from fresh curds, fetas and cream cheese to British grocery items and delicious locally sourced chocolate, preserves and coffee.
2. A Taste of Farm Life Experience
Where: Udderly Ridiculous, 906200 Township Road 12, Bright, ON. (View Map)
When: Pre-book your spot online, different experiences are available on different days of the week, usually each day except Monday and Tuesday
Also nearby: Mountainoak Cheese, Thames River Melons
This trip is best enjoyed: Saturdays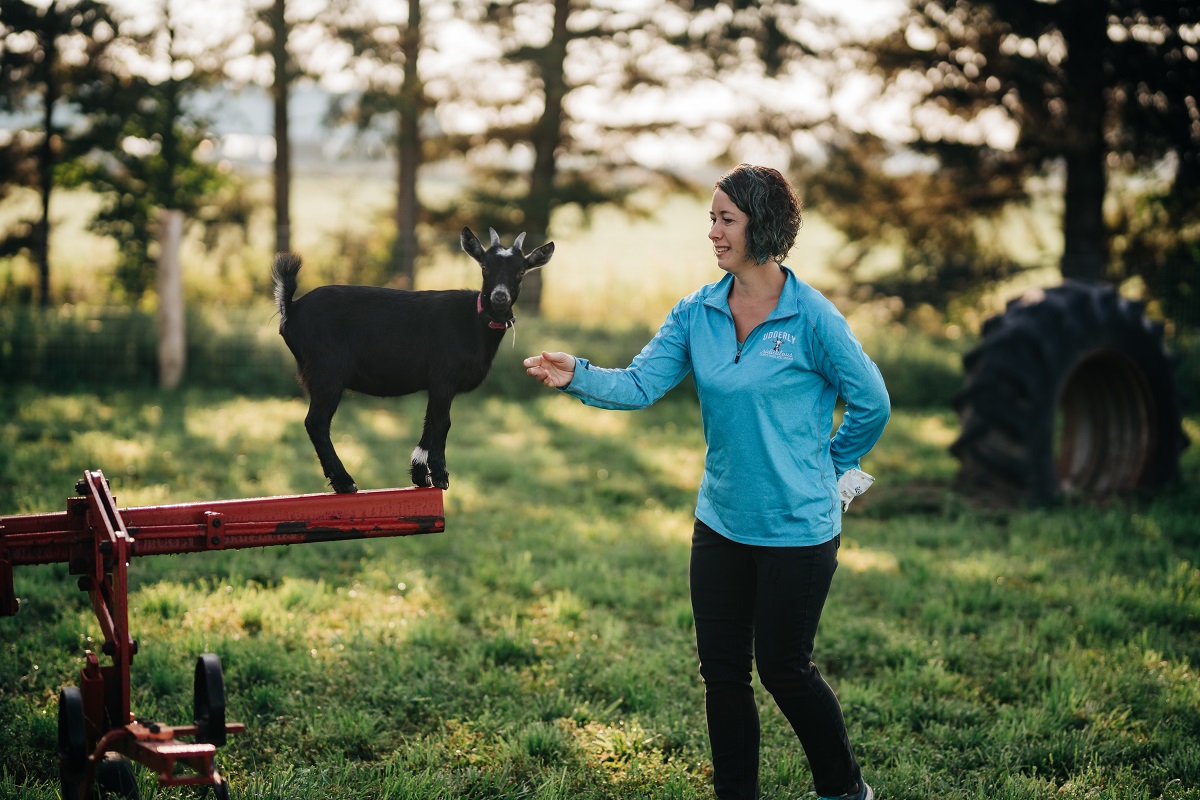 Discover what farm life is all about in this zany, hands-on experience with the owner of Udderly Ridiculous Ice Cream, Cheryl Haskett. You'll make new friends on the farm as you see it all through Cheryl's eyes and with her sense of humour.
We recommend booking yourself in for a 2 pm time slot on a Saturday and visiting Mountainoak Cheese beforehand as they offer tours at 10 am and 3 pm on Saturdays and are just a short 8-minute drive away. After Mountainoak, you'll have plenty of time to go to Thames River Melons as well! Pick your own fall veggies, check out the farm store to pick up freshly baked pies and when in season, pick your own pumpkin in the patch!
Feed the chickens, enjoy recess with the goats, walk an alpaca and take in two delicious tastings. This 3-in-1 experience will have you feeling relaxed and reconnected in no time.
When you're finished, be sure to check out the farm shop on-site full of their own ice cream as well as handcrafted goat milk cheese, local soap, drinks, goodies and more!
Just can't get enough? No worries! Udderly Ridiculous is home to all kinds of crazy experiences including goat yoga, alpaca picnics, goat recess and more!
3. A Fall Picnic on a Farm
Where: Greener Pastures Eco Farm, 774766 Oxford Rd. 14 Woodstock, ON. (View Map)
When: During a pre-booked time slot on Wednesdays- Saturdays in the afternoon
Also nearby: Wild Comfort Body Care (open 10 am-4 pm Wednesday-Friday, 1-4 pm Saturday and by appointment Sunday-Tuesday), Gunn's Hill Artisan Cheese (closed Sundays), Berrylicious Fruit farm (closed Sundays)
This trip is best enjoyed: Wednesday-Saturday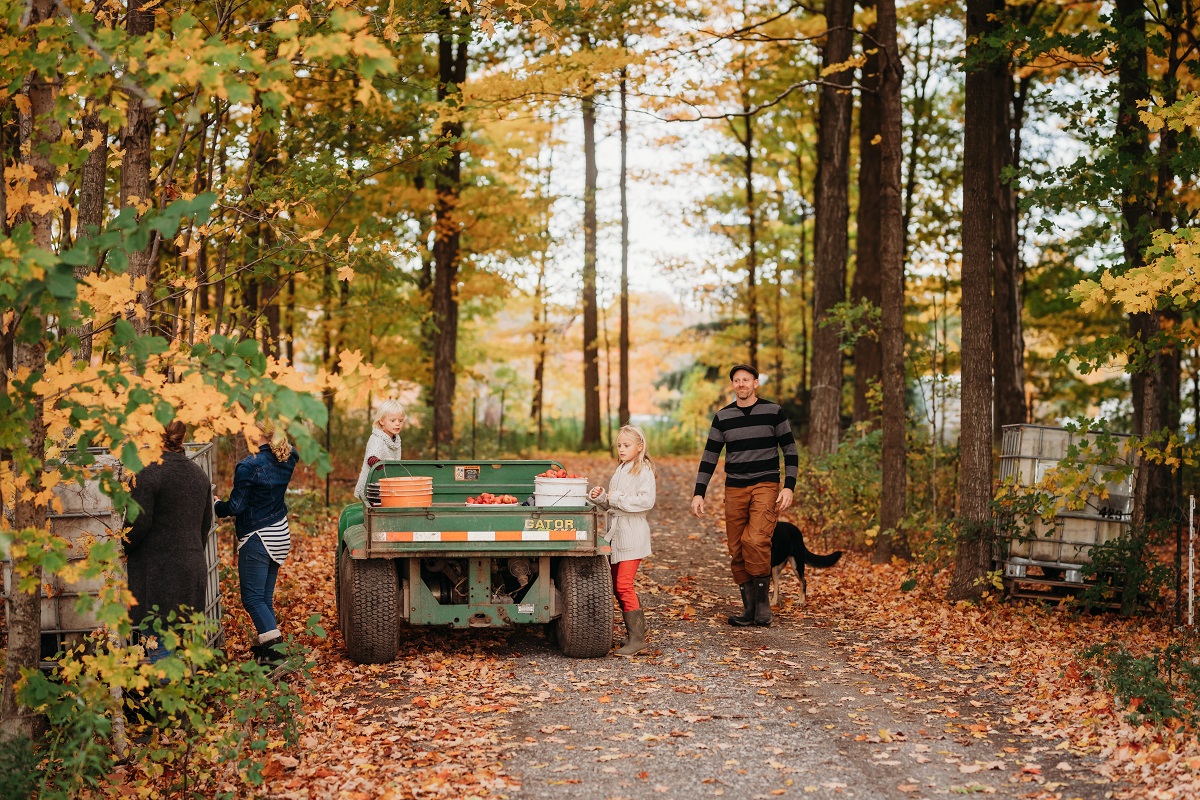 We can't think of anything better than a picnic on a crisp fall day. Wrap up in a cozy sweater and shoes that can get dirty and head out to Greener Pastures Eco Farm.
You can call ahead and book an on-site picnic with one of three different baskets to be enjoyed on the farm. Visit the pigs, look at cows grazing in the pasture and enjoy a selection of locally sourced goodies.
If you're really interested in the farming process, you can also book a tour in advance to meet some animals and learn about how an eco-farm works.
Before or after, check out a few of these nearby stops. Wild Comfort Body Care crafts artisan soap in-house using natural ingredients. Just a two-minute drive down the road, Gunn's Hill Artisan Cheese is an award-winning cheese factory specializing in Swiss-inspired cheeses. Pop in and pick up a few to go! Finally, Berrylicious Fruit Farm is not on the Cheese Trail but is very close and has pumpkins for those looking to get a jump on fall decor! You can also pick up homemade pies, jam, jellies and more!
4. A Maple Farm and Maple Bush
Where: Jakeman's Maple Farm, 454414 Trillium Line, Beachville, ON. (View Map) and Trillium Woods
When: Open Monday-Friday 8:30am-4:30pm, Saturday 10am-4pm, closed Sunday
Also nearby: Downtown Woodstock stops: Upper Thames Brewing Company (open daily), Habitual Chocolate (closed Sunday-Monday), Your Farm Market (open daily), SixThirtyNine (Open Thursday-Saturday dinner only), Charles Dickens Pub (closed Sunday-Monday) and Brickhouse Brewpub (open daily)
This trip is best enjoyed: Tuesday-Saturday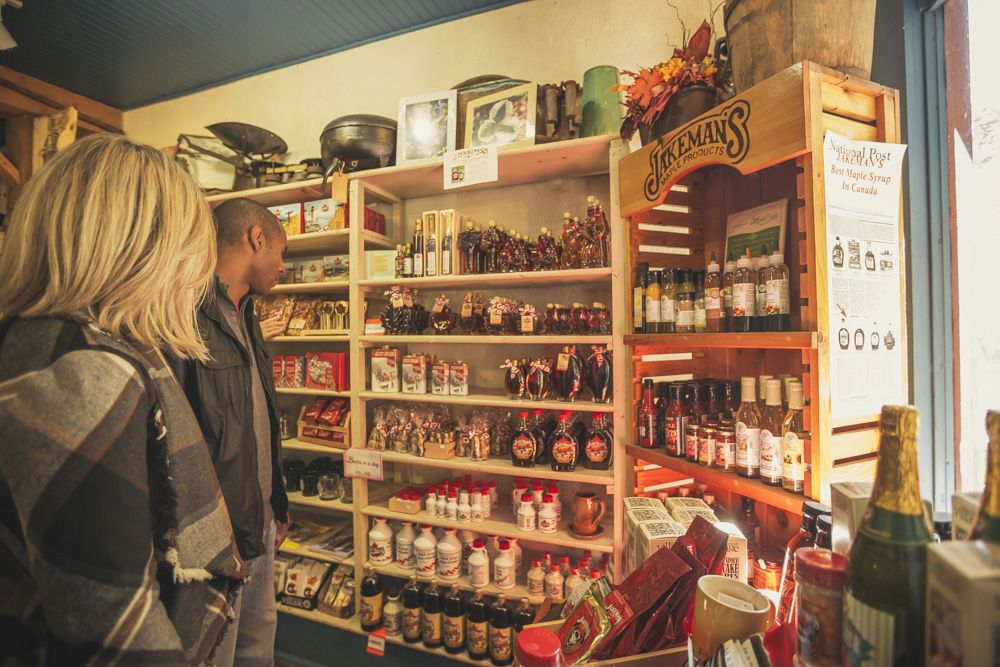 This one screams fall! Pullover onto Trillium Road where you'll find Jakeman's Maple Farm. This farm shop is home to award-winning maple syrup as well as just about any other mapley treat you can think of: coffee, popcorn…even cotton candy!
Stop into the store to pick up some maple treats and snap a photo of the old general store. Afterwards, head right across the street to Trillium Woods. This 1km loop runs through a mature maple sugar bush and is a beautiful spot to catch the changing fall foliage.
Finally, from Jakeman's, you're just minutes from downtown Woodstock. Whether you'd like to visit a brewery, chocolatier, museum or art gallery, you'll find it here! Grab a bite to eat at one of the excellent Cheese Trail restaurants (SixThirtyNine, Brickhouse Brewpub or Charles Dickens Pub) before discovering an artisan chocolatier and more.
5. Fine Dining, a Lovely Stroll & Downtown Ingersoll
Where: The Elm Hurst Inn, 415 Harris St. Ingersoll, ON. (View Map)
When: Whenever fits into your schedule! Book your Cheese Trail package online.
Also nearby: The Ingersoll Cheese Museum (closed Saturday and Sunday), The Wine Cellar and Cheese Shop (closed Sunday and Monday), Louie's Pizza and Pasta (Open daily), The Olde Bakery Cafe (closed Sunday), Patina's Gifts of Art & Craft (closed Sunday)
This trip is best enjoyed: Tuesday-Friday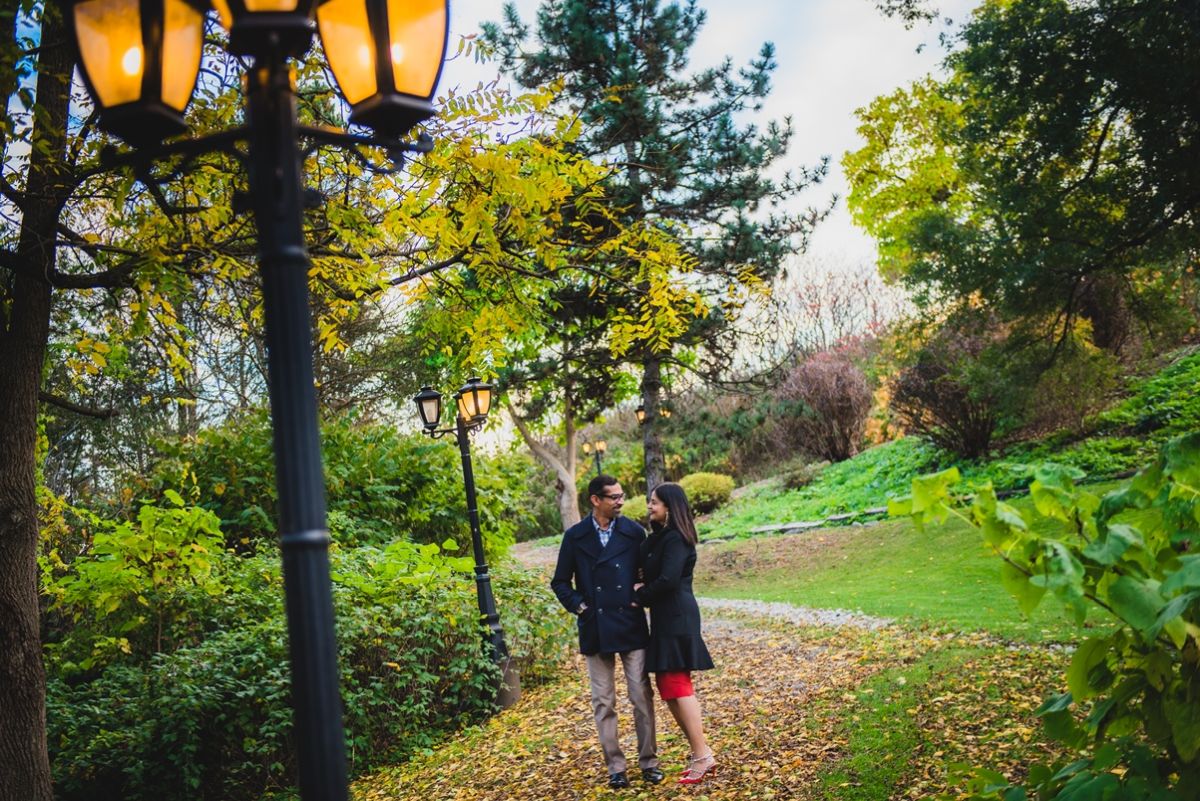 One of our favourite spots to enjoy delicious food, beautiful fall foliage and a little luxury along the way is The Elm Hurst Inn and Spa in Ingersoll. This stately boutique inn is built in the former home of James Harris, a historic cheese maker famous for his part in creating The Mammoth Cheese, a 7300lb wheel of cheese made right in Ingersoll and showcased around the world.
Whether you decide to book yourself in for the night (may we recommend The Oxford County Cheese Trail package?) or just for dinner, you'll be pleased. The Mansion Restaurant on-site offers a lovely menu of fine dining options and of course, no shortage of cheese. We recommend checking out the Oxford County Cheese Trail board which is filled with local cheese!
Next, take a stroll around the grounds in the crisp air. Sit out by the fountains with a glass of wine or a coffee, wander the forested area behind the inn and take in what fall is all about.
From here, you're just a short five-minute drive into downtown Ingersoll where you'll find more cheese trail stops listed above, places to eat and things to do! Consider starting your day with a stop at the Ingersoll Cheese Museum before heading to The Wine Cellar and Cheese Shop for some cheese board goodies and Patina's Gifts of Arts and Craft for beautiful handcrafted pottery, brie bakers and more. Finally, grab a coffee from The Olde Bakery Cafe and consider strolling downtown and taking in some of the other boutiques and shops.
6. Pair Up Heritage and Small Town Ontario
Where: Walk from the Cheese Museum through Harris Park and into downtown Ingersoll (1.5km walk or bike)
When: Monday to Friday, weekends by appointment
Also nearby: Louie's Pizza and Pasta
This trip is best enjoyed: Tuesday-Friday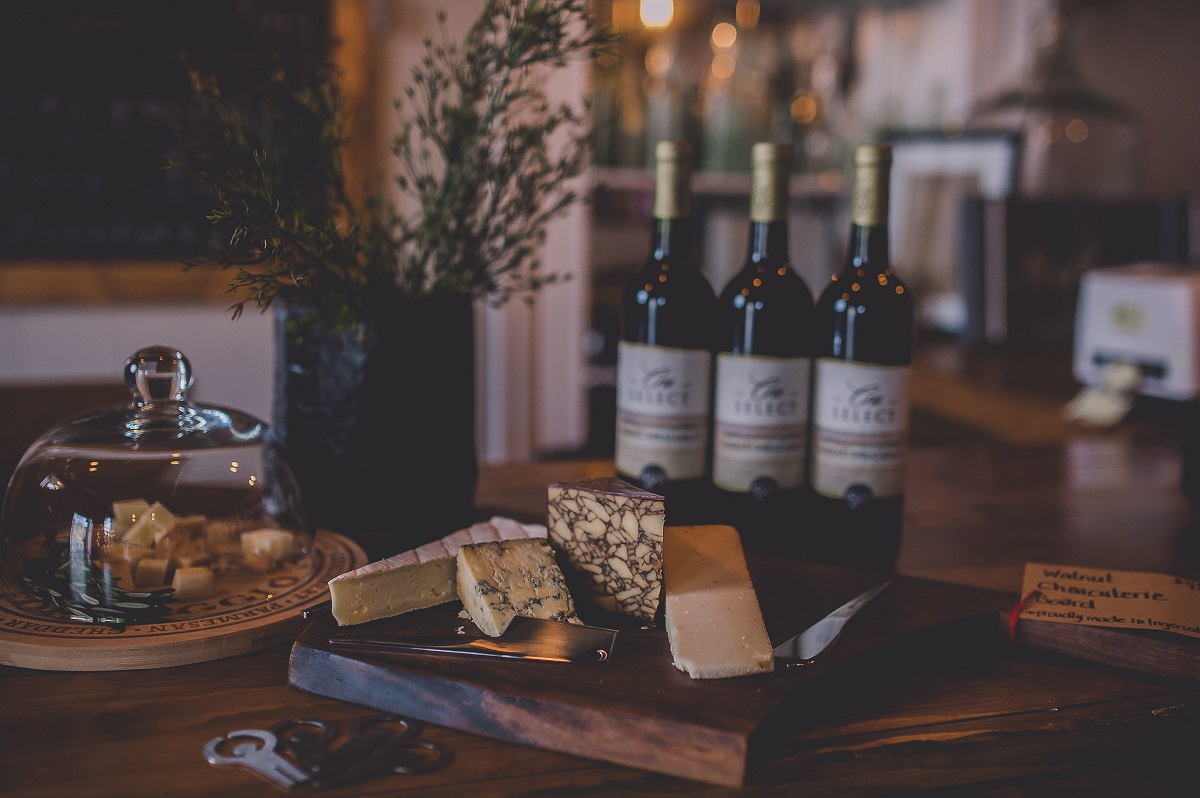 There's no better way to start your Cheese Trail adventure than diving into our cheesy heritage. Start your day at The Ingersoll Cheese Museum where you'll learn all about our rich history of dairy and cheesemaking. Discover a time when Oxford was home to 90 cheese factories and how that tradition has continued into modern times.
Also on-site, go for a tour of a cheese factory replica and learn how cheese making has and hasn't changed since its inception. While you're in there, don't forget to snap a photo with the Mammoth Cheese- a replica of the infamous 7300lb wheel made in Oxford County in the 1800s.
After you're done touring the museum, make your way into Centennial Park behind the museum. Families with kids will love the cheese-themed playground out back and if you're feeling adventurous, grab a scavenger hunt sheet in the museum and see if you can find all the different cheese and dairy items hidden around the park on signs!
From there, hop on the Thomas Ingersoll Trail and walk or bike 1.5km into downtown Ingersoll. Along the way, you can take in a splash pad or an art museum if either of those strikes your fancy!
Once in downtown Ingersoll, you're within walking distance from three legendairy Cheese Trail stops that include: Patina's Gifts of Art and Craft (home to a beautiful selection of handcrafted pottery, jewellery and more), The Olde Bakery Cafe (perfect for a light lunch and superior cup of coffee) and The Ingersoll Wine Cellar and Cheese Shop (a one-stop boutique for all your cheese needs, condiments, charcuterie and wine brewing).
Looking for a hearty meal? After your walk, hop in your car and head out to Louie's Pizza and Pasta to share a mammoth panzerotti or grab a pizza or weekend special! Their menu is filled with deliciously cheesy options.
7. Curds & Fall Harvest
Where: Mountainoak Cheese and Thames River Melons (about 25 minutes apart)
When: Mountainoak tours are available Saturdays at 10 am and 3 pm (must call ahead) and the farm store is open Monday-Saturday, Thames River Melons is open daily
Also nearby: Bright Cheese & Butter (curbside pickup only)
This trip is best enjoyed: Saturdays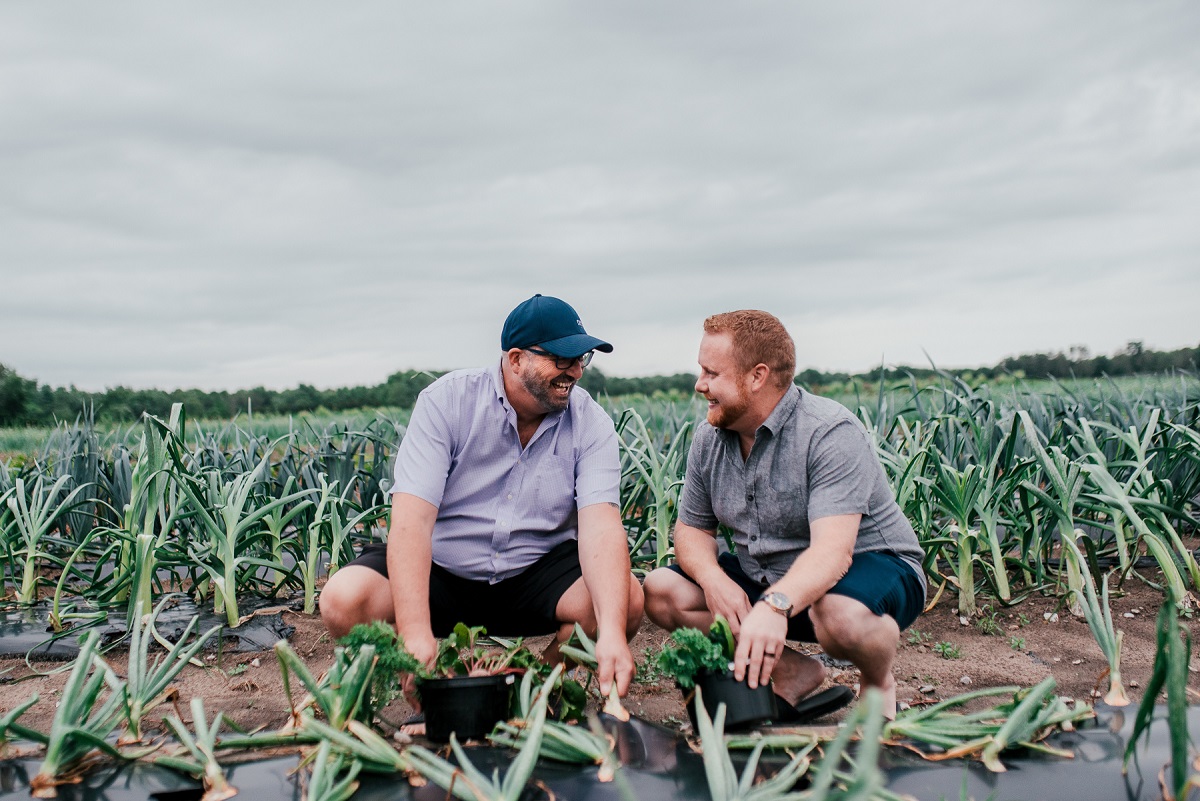 Start your day with a tour at Mountainoak Cheese! Offering tours on Saturdays at 10 am and 3 pm, you need to call ahead to book your spot. Then join the staff as they take you through their beautiful ageing room and state-of-the-art cheesemaking facility where they make almost 20 different flavours of Gouda plus quark (it's similar to yogurt) and fresh curds.
When you're done, visit the farm store to shop your favs and snap a photo outside.
After Mountainoak, drive to Thames River Melons' pick-your-own patch and farm market. Unlike other pick-your-own patches, Thames River Melons allows visitors to pick all their vegetables including squash, pumpkins and even dig-your-own potatoes! Don't forget to pop into the farm store afterwards for baked goods, fresh produce, preserves and more.
Plus stay tuned for a very exciting Harvest Brunch experience dropping this fall at Thames River Melons!
A Few Tips
With so many wheys to explore the Oxford County Cheese Trail, we recommend planning your itinerary.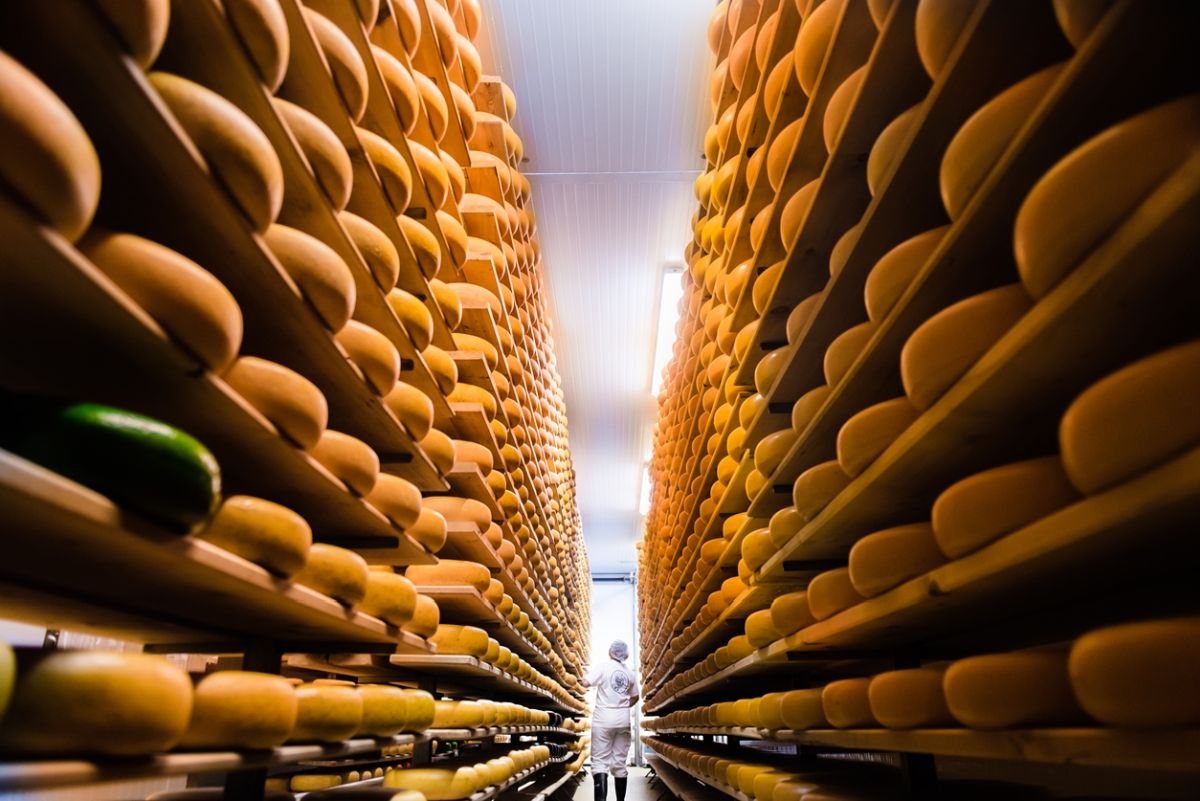 Build an Itinerary
If you are trip-planning over a week in advance, feel free to shoot us an email and we'll help you plan a custom itinerary or you can check out some of our pre-planned ones.
Travel by Hub
There are almost thirty stops along the Cheese Trail so visiting them all in one day just isn't possible! Consider picking a hub (Woodstock, Ingersoll or rural stops) and checking out the stops close by.
When to Come
The best days to visit the Cheese Trail are Wednesday-Saturday as most businesses are open and ready to serve you! That being said, if you'd like help planning for other days of the week, just let us know.
The Cheese Trail & COVID-19
Hours and openings/closures are changing rapidly along the trail! We try to keep this page as up-to-date as possible to show what everyone is up to but it's always best to call ahead to the stops you'd like to visit before heading out to ensure they can accommodate you.
We are also getting a lot of questions about cheese factory tours! We're happy to say that Mountainoak Cheese in New Hamburg is once again offering tours of their Gouda factories on Saturdays. You must call ahead to book your spot at 519-662-4967.
Where to Stay
Want to make your visit an overnight? Book a historic and cheesy stay when you check out the Cheese Trail Package at the Elm Hurst Inn!
There you have it! A list of fun ideas to enjoy the Cheese Trail and the great outdoors this fall. Want more Cheese Trail getaway inspiration? Be sure to sign up for our Trail Tips Newsletter.