Thomas Ingersoll Scenic Trail, Ingersoll
This beautiful walk brings you from the Ingersoll Cheese Museum into downtown Ingersoll.
Discover the Thomas Ingersoll Scenic Trail
This trail extends from the Cheese Museum on Plank Line to the Gazebo in downtown Ingersoll. Trail users will go through Centennial Park, walk by the Creative Arts Centre and Victoria Park Community Centre, enjoy the beauty of Smiths Pond, enter Memorial Park and be able to relax in the Gazebo at the end of the trail.
Trail maps are posted in the Gazebo and at the Canterbury St. entrance to Smith's Pond Park.
Length: 2.5 km
Difficulty and Trail Surface: Easy, family, wheelchair
This trail is paved and fairly flat with a couple of small hills heading up and down from Canterbury Street.
Facilities: Parking
Trail Uses: Walking, dog-walking, cycling, cross-country skiing
Access Locations:
1. Ingersoll Cheese Museum, Plank Line
2. Wellington St (west side), north of Victoria Community Centre
Contact: Ingersoll Recreation Trail Committee: (519) 425-1181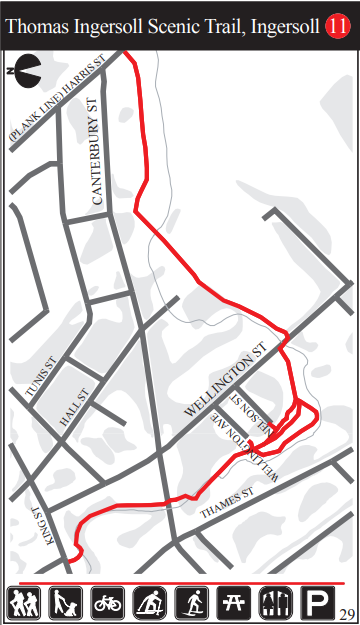 Contact Information
Ingersoll Recreation Trail Committee
125 Centennial Ln, Ingersoll, ON
Map