Roth Park, City of Woodstock
Roth Park is on the south side of Pittock Lake. There are picnic facilities and is home to the Woodstock Rotary Dragon Boat.
The trail is wide with hard-packed dirt and granular and provides a lovely view over the lake. There are also side trails, which branch through a pine plantation and go up and down some gentle inclines. These side trails link back to the main trail. At Lansdowne Ave.
The trail going west from Huron Street goes by the dam and then along the Thames River. A new section of trail has been completed that allows the hiker to go under the railway bridge and Hwy # 59 and arrive at Tecumseh St. Across the street is the entrance to the Millennium Trail System.
Length: 6.75 km approx
Difficulty: Easy, family
Facilities: Parking, picnic tables, washrooms (summer seasonal)
Trail Uses: Walking, bicycle, cross-country skiing, snow shoeing, dog walking
Location: South side of Pittock Lake; take Huron St. N. to the end, turn right and drive to the parking lot
Contact: City of Woodstock: (519) 539-2382 Ext 4101 Upper Thames River Conservation Authority (519) 539-5088 ext 21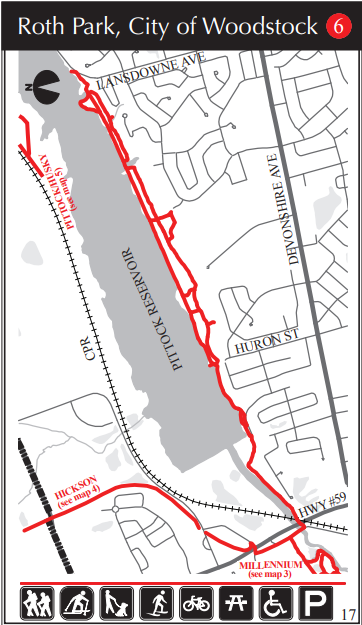 How can I help keep Oxford County beautiful and healthy?
On trails, please remember to clean up after yourself. Provide adequate space for flora and fauna. Even if animals do not run away from you, they may be protecting young. Finally, take only photos and leave only footprints. If you'd like to give back, you can consider
purchasing a tree
.
What other trails are nearby? What other trails are over 5km?
What is the parking situation?
There is a large lot on Highland Drive at the trailhead with loads of spots as well as a picnic shelter and washroom that are available seasonally. At the opposite end of the trail, there are also a couple of spots available off of Township Road 4.
Where can I grab a bite nearby?