Pedal to Petals: Cycle The Great Trail and pick-your-own flowers
During the late summer and early fall, The Great Trail (aka The Trans-Canada Trail) comes to life with stunning deep greens into burnt orange and healthy foliage.
In Tillsonburg, the newly-extended Great Trail links the town to thousands of communities across the country and is a beautiful site to behold. Even better, you'll get the opportunity to hop off your bike and check out a beautiful, small flower farm on the outskirts of town.
Starting in Tillsonburg just off Tillson Avenue, ride The Great Trail all the way down to just south of Otterville.
If small villages strike your fancy, a stroll into Otterville is a great way to kick start your day. Check out the Old Mill, a small waterfall or grab a coffee from The Market Cafe before continuing back towards Tillsonburg. On your way back, you'll see signs for Makkink's Flower Farm where owner Hilde Makkink offers the opportunity to pick-your-own posies. With no unnecessary detours, you can just hop right off the trail and onto the farm.
From zinnias and peonies to beautiful sunflower and even dill, your bouquet awaits and it's up to you to decide what goes in it! You'll select from an array of beautiful blooms based on what's in season.
Staff will be happy to provide you with some tips on cutting before sending you into the field with a bucket and clippers. After that, it's just you, the chirping birds and the buzzing bees in between rows of flowers. Talk about zen! If you really want to step up your game, be sure to check the workshop schedule and sign up for an arrangement workshop where you'll learn how to make a beautiful piece out of your newly-picked bouquet.
From here, you're just a short ride back into downtown Tillsonburg where you can grab a bite and rest your head for the night!
Want more great cycling trip ideas? Sign up for our Ride Oxford newsletter.
Trip Ideas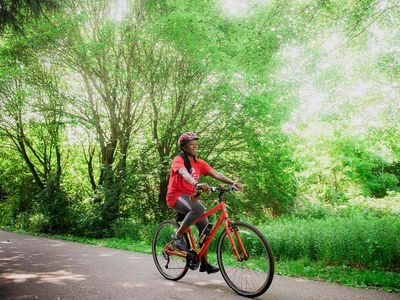 Discover the best cycling rides in Ontario when you point your two wheels towards Oxford County. There's...