A Heritage of Quality at Bright Cheese and Butter

Bright Cheese and Butter is working hard to ensure the proud tradition of great Ontario cheese and dairy continues. As one of the only heritage cheese-makers left in Ontario, Bright Cheese and Butter have been around since 1874. While a 140 year old company they are progressive and always looking forward.
General manager Stefan Cartmale feels "the community is the essential part our success. Most of our employees reside in or around Bright. Our cheesemaker Spenser Haskett grew up on the neighbouring farm. Community support has always been there 100% and together we are raising awareness of the heritage, tradition and high quality of Ontario cheese and dairy."

With the full support of their Board of Directors investment in infrastructure, equipment and product development saw significant changes over the past two years to build a vision for the future and increase brand visibility.
"Changes to our processes, including food safety, redeveloping cultures through research & development allows us to offer a better quality cheese," said Cartmale. "We provide quality Blue Cow Milk Products that are all natural from local farmers' dairy and we do not use modified milk products."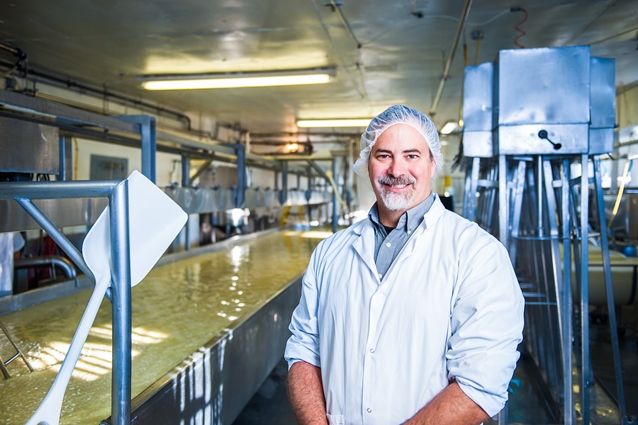 Bright Cheese & Butter's Asiago and Aged Cheddar both became finalists at the Great Canadian Cheese Grand Prix 2015.They also worked with ADW/Acostca to provide local Costco with Bright Brand Havarti. The dedication to quality, food safety and tradition has recently garnered the company a Premier's Award.
Integral to the ongoing achievement of Bright Cheese & Butter are partnerships established with local small dairies to develop and promote new cultures made by heritage cheesemakers. Their partnership with Monforte Dairy in Stratford has produced a Providence cheese which is like a mountain cheese from Switzerland.

Bright Cheese & Butter and Monforte are also working with St Brigid Dairy in Burgessville to launch an organic cheddar in May 2016. Organic cheddar is a rare find in Ontario and Cartmale suggests pre-ordering.

Recently Bright Cheese and Butter has paired up with local artist Cathy Groulx to develop a new logo to refresh their branding while recognizing their heritage. Cathy visited an area farm to find the right bovine model. Having local farms represented in the brand was important as it reflects the premium product made with local milk.

Check out their new products, award winning cheeses and new packaging. Visit Bright Cheese & Butter at their original location at 816503 County Rd 22, Bright ON. Plan a trip to Bright on the Oxford County Cheese Trail and taste cheese made at its finest with old fashioned customer service at its best!
816503 22, Bright, ON N0J 1B0, Canada