The 2021 Cheese Trail Gift Guide
Is it the holiday season without cheese? We have to think not. Along the Oxford County Cheese Trail, you'll find all sorts of grate gifts from the cheese-centric to trendy finds, other gourmet goods and so much more!
Some of our Favourite Gifts to Find Along the Oxford County Cheese Trail
Discover unique finds this holiday season along the Oxford County Cheese Trail. Read on for our roundup.
Gifts That Are All About the Cheese
Believe it or not, not all of the gifts on this list are centred around cheese (gasp!). That being said, the ones in this section of the list most certainly are.
A Cheesy Gift Basket
Where to get it: Your Farm Market, 39 Young St. Woodstock, ON. (View Map); Mountainoak Cheese, 3165 Huron Rd. New Hamburg, ON. (View Map); Gunn's Hill Artisan Cheese, 445172 Gunn's Hill Rd. Woodstock, ON. (View Map); Bright Cheese & Butter, 816503 Oxford Rd. 22 Bright, ON. (View Map); Red Dragon Dairy, 383723 Salford Rd. RR#1 Salford, ON. (View Map)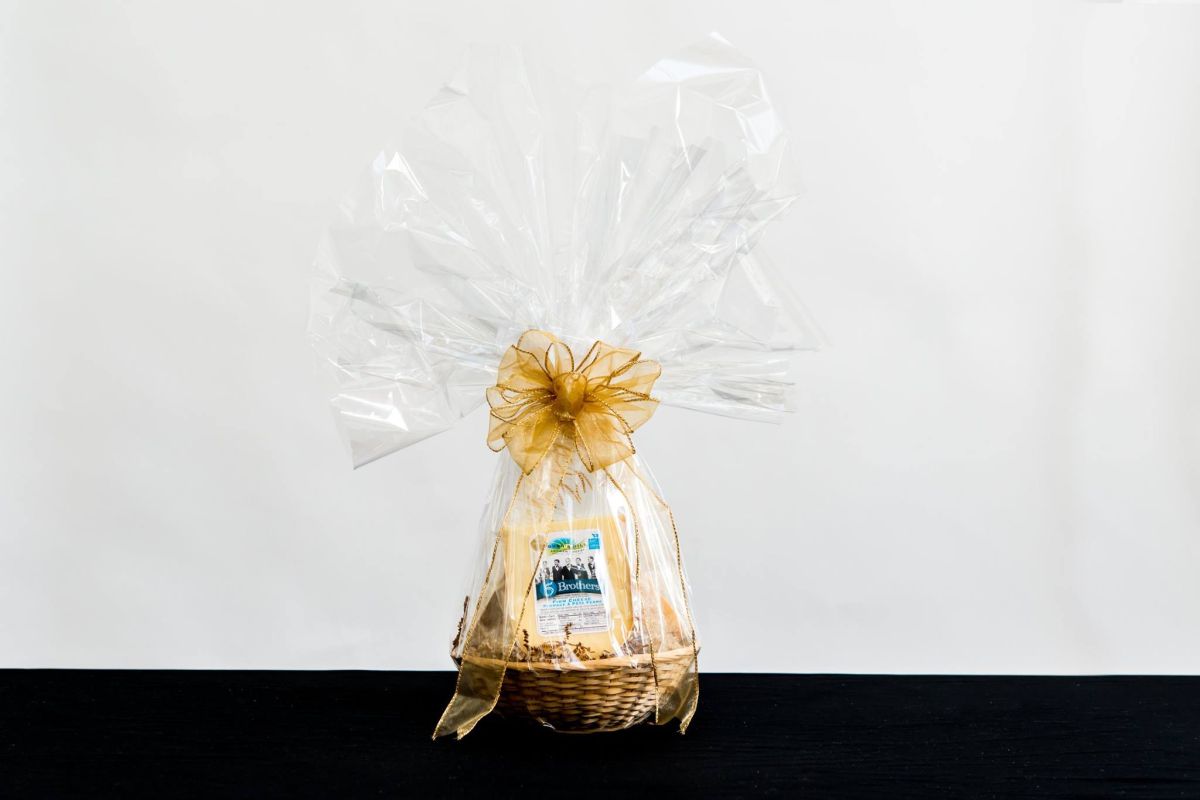 What's better than a basket full of cheese? Almost nothing. All of the cheesemakers along the trail create gorgeous, mouth-watering gift baskets this time of year that is sure to please. Usually paired up with some artisan crackers or condiments, you're sure to find one (or two! or three!) to please the cheese lover on your list.
Can't decide which cheesemaker to use? You don't have to! YFM in Woodstock makes cheese baskets featuring all the cheesemakers.
Portable Raclette Set
Where to get it: The Ingersoll Wine Cellar and Cheese Shop, 188 Thames St. S. Ingersoll, ON. (View Map)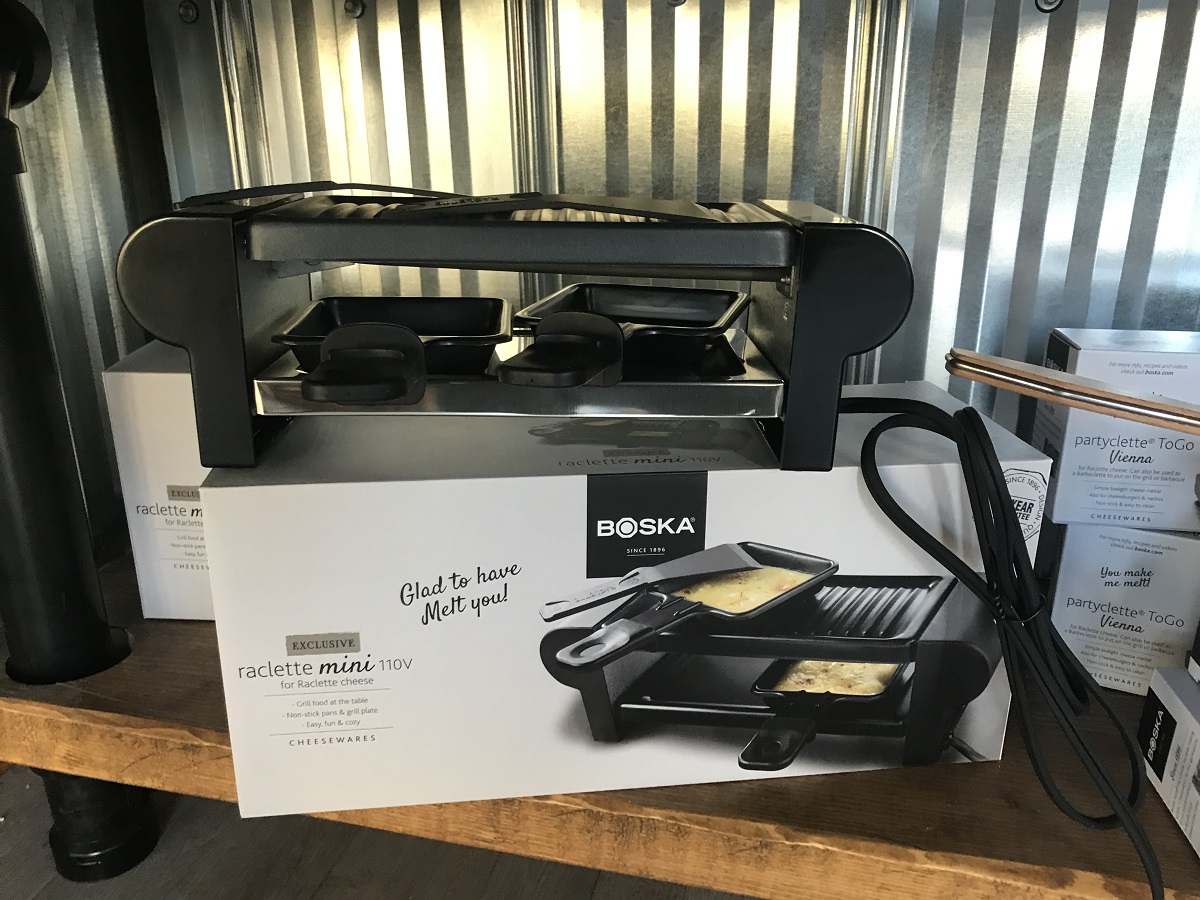 Mmm, how does hot, melty cheese sound overtop of a fresh baguette...or pasta...or directly into your mouth? Okay maybe don't do that last one. The Wine Cellar & Cheese Shop in Ingersoll has the cutest little portable raclette sets that are perfect for patio nights, kitchen parties and all the holiday soirees your little heart desires.
Pair it up with some of the peppercorn raclette cheese they bring in from Quebec and you've got a match made in cheese heaven!
Cheese n' Charcuterie Box
Where: Udderly Ridiculous Farm Life, 906200 Township Rd. 12, Bright, ON. (View Map), shop in-store or online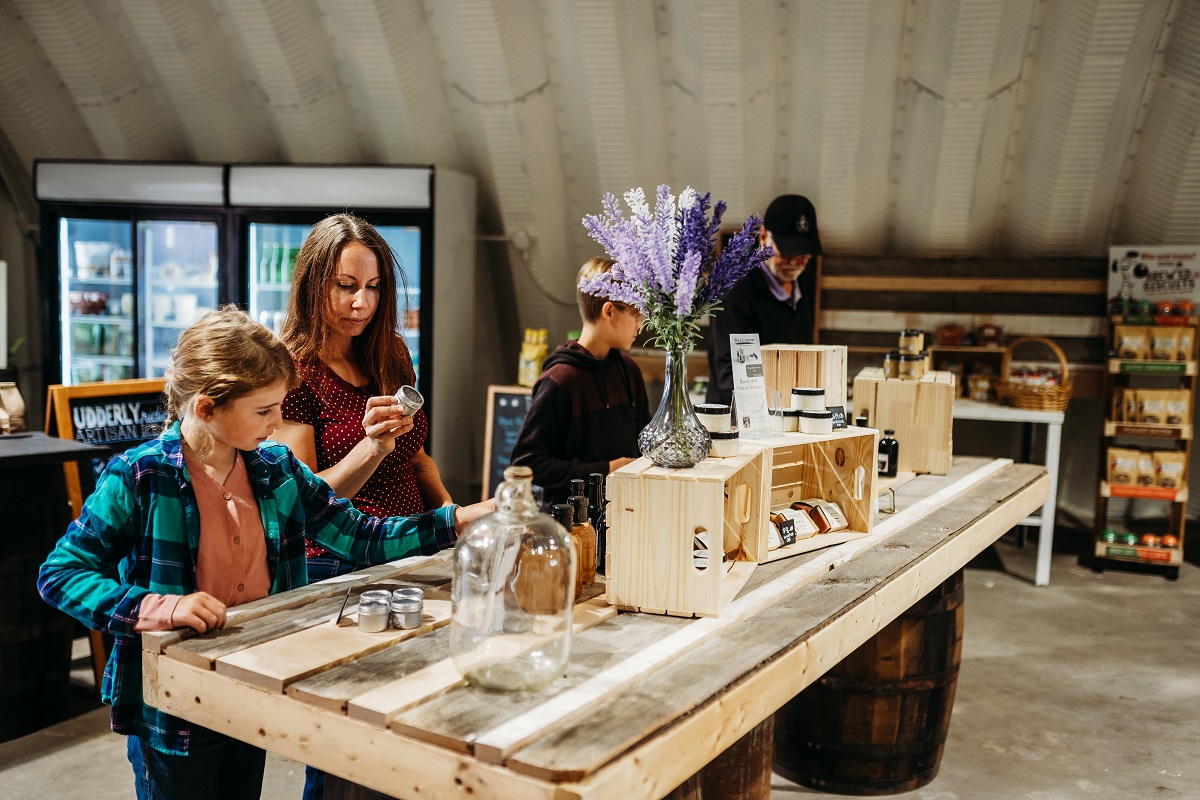 Make this the tastiest holiday yet when you order a holiday cheese and charcuterie box from Udderly Ridiculous Farm Life. Each box includes four Ontario-made kinds of goat cheese, 1 charcuterie meat and a few accompaniments to go along with it. Whether it's a gift or something you're bringing to a holiday party, it's sure to please.
A Handcrafted Charcuterie Board
Where to get it: Online from Ottercreek Woodworks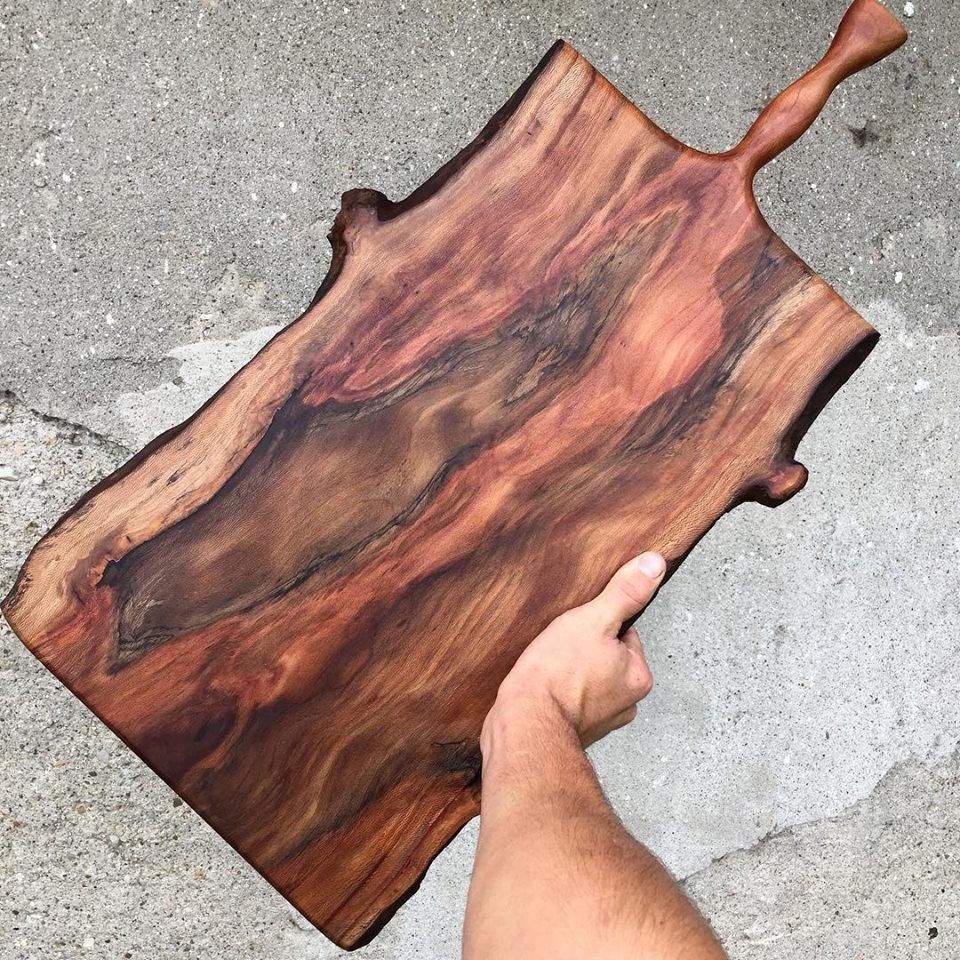 Of course, all that beautiful artisan cheese deserves a worthy backdrop! Head over to the online store at Ottercreek Woodworks to find a gorgeous selection of handcrafted charcuterie boards (and feasting boards) made from locally sourced and sustainably harvested lumber. Want to help them make their own? Be sure to check out the experiences section!
Other Gourmet Goodies
Have a foodie on your list? We have you covered! Check out these delicious treats to place under the tree this year.
Hot Chocolate Kit + Mug
Where: Habitual Chocolate, 389 Dundas St. Woodstock, ON. (View Map)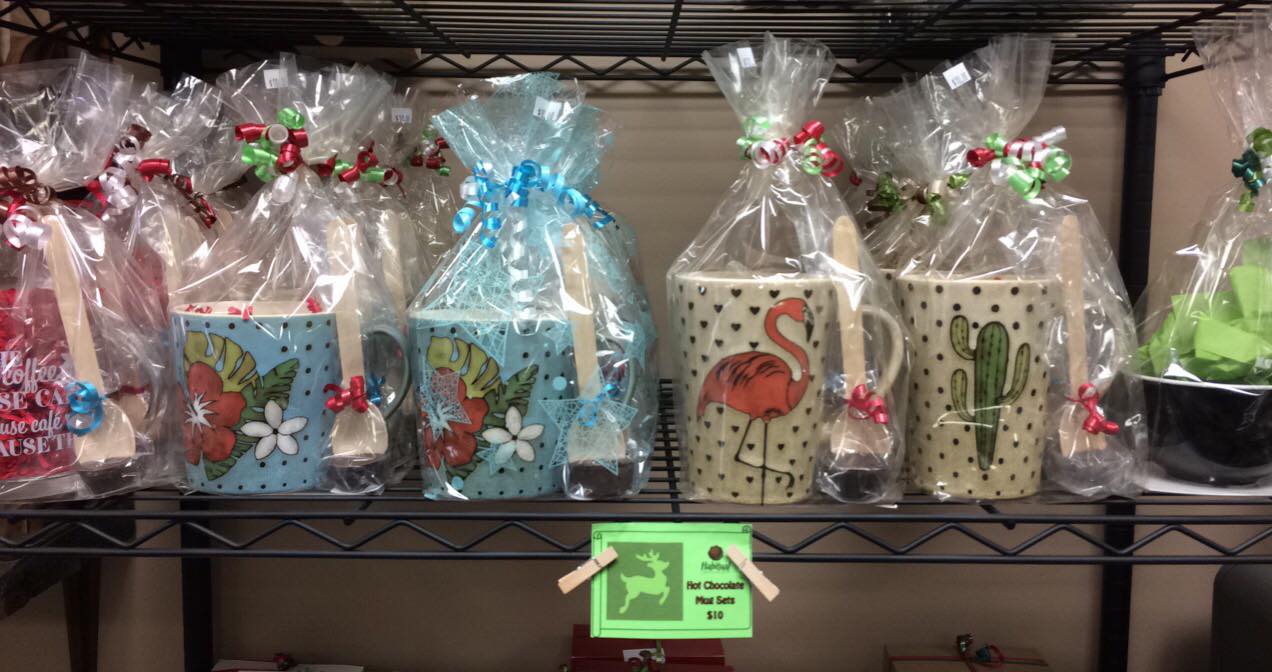 Perfect for teachers, coaches, coworkers and friends alike, these single-serving hot chocolate kits from Habitual Chocolate are absolutely delicious. Made using chocolate that chocolatier Philipe Lehner crafts in-house from bean to bar, you just melt the spoon into hot milk and voila! The perfect cup of hot chocolate.
Winter Warmup Beef Kit
Where: Online or call ahead for in person at Greener Pastures Eco Farm, 774766 Oxford Rd. 14, Woodstock, ON. (View Map)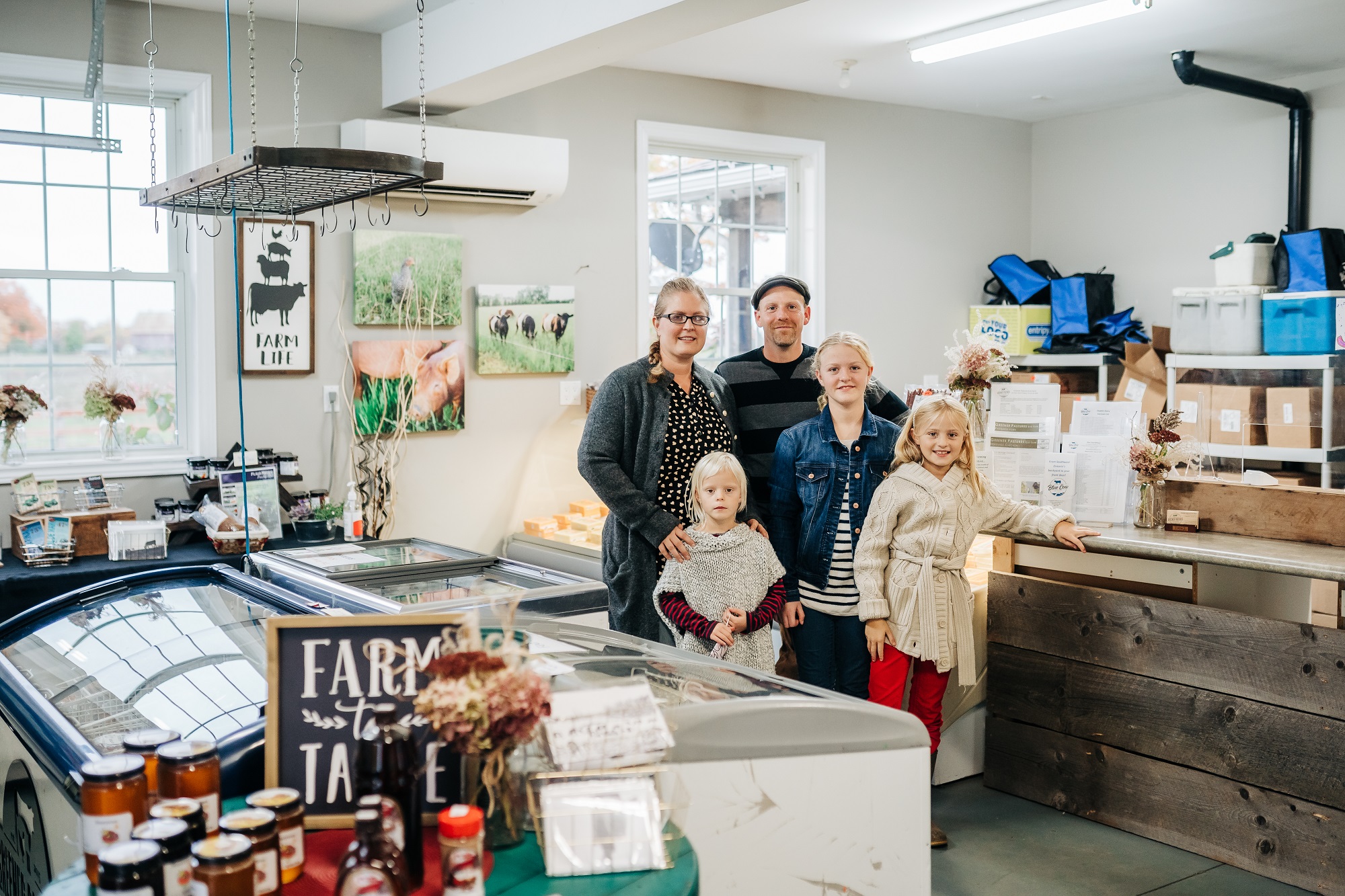 We're big on local meat and Greener Pastures Eco Farm makes it easy to eat it year-round. Their winter warm-up beef box will keep the meat-eater on your list full all year round. It includes several different cuts ranging everything from rump roasts to beef braising ribs and so much more. This kit is perfect for hearty winter stews, being served up simply with mashed potatoes and much more.
Gift Card to a Cheese Trail Restaurant
Where: The Elm Hurst Inn Mansion Restaurant, 415 Harris St. Ingersoll, ON. (View Map); Louie's Pizza & Pasta, 440 Bell St. Ingersoll, ON. (View Map); SixThirtyNine, 639 Peel St. Woodstock, ON. (View Map); The Olde Bakery Cafe, 120 Thames St. S. Ingersoll, ON. (View Map); Charles Dickens Pub, 505 Dundas St. Woodstock, ON. (View Map); Brickhouse Brewpub, 190 Fairway Rd. Woodstock, ON. (View Map)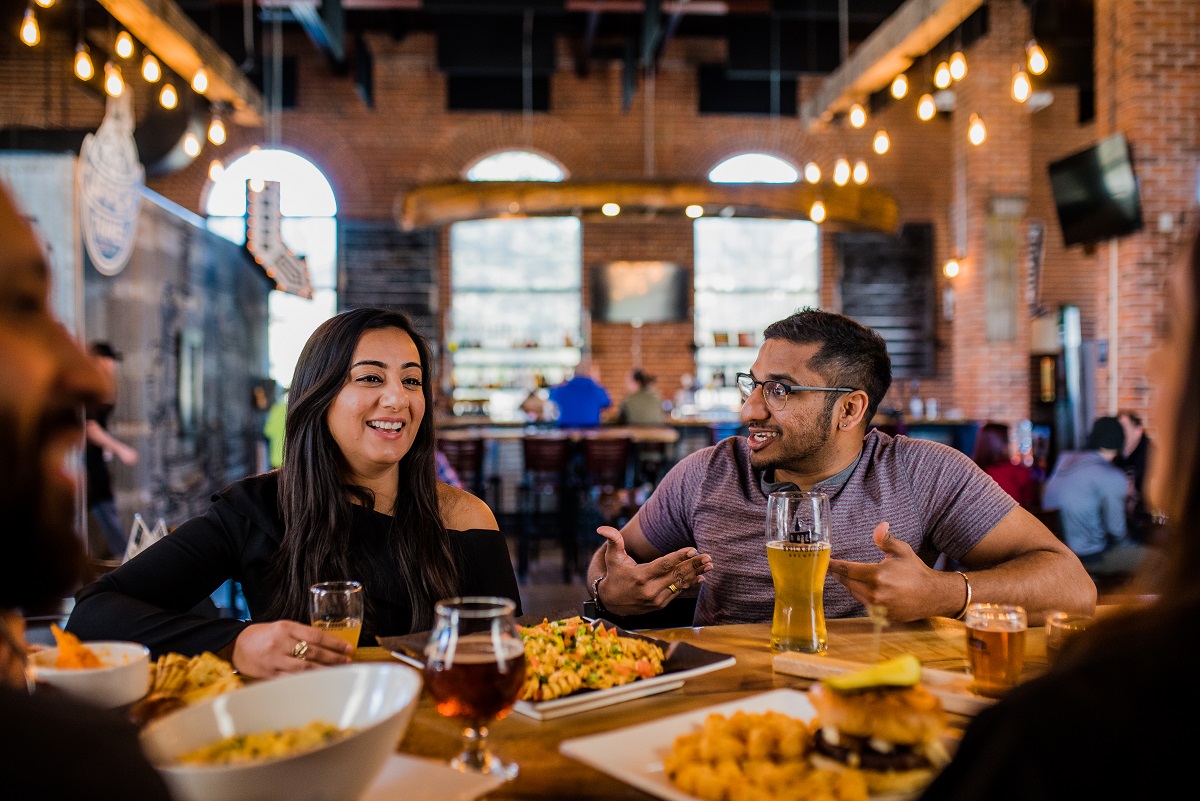 Of course, we could never forget all our awesome Cheese Trail restaurants!
In Woodstock, you can go for casual and hearty pub food at Charles Dickens Pub or the Brickhouse Brewpub. Not far away, SixThirtyNine offers up casual fine dining with a menu that changes about 4-5 times a year with the seasons.
In Ingersoll, your gift cardee (is that a word?) can spend their gift on great coffee and delicious sandwiches and baked goods from The Olde Bakery Cafe or sit down to satisfying meals like smoked mac n' cheese and giant panzerotti at Louie's Pizza and Pasta. In for something a little more formal? The Elm Hurst Inn & Spa's Mansion Restaurant is a lovely place for an upscale dinner or lunch.
Freshly-Made Fudge
Where: Coyle's Country Store, 244282 Airport Rd., Tillsonburg, ON. (View Map)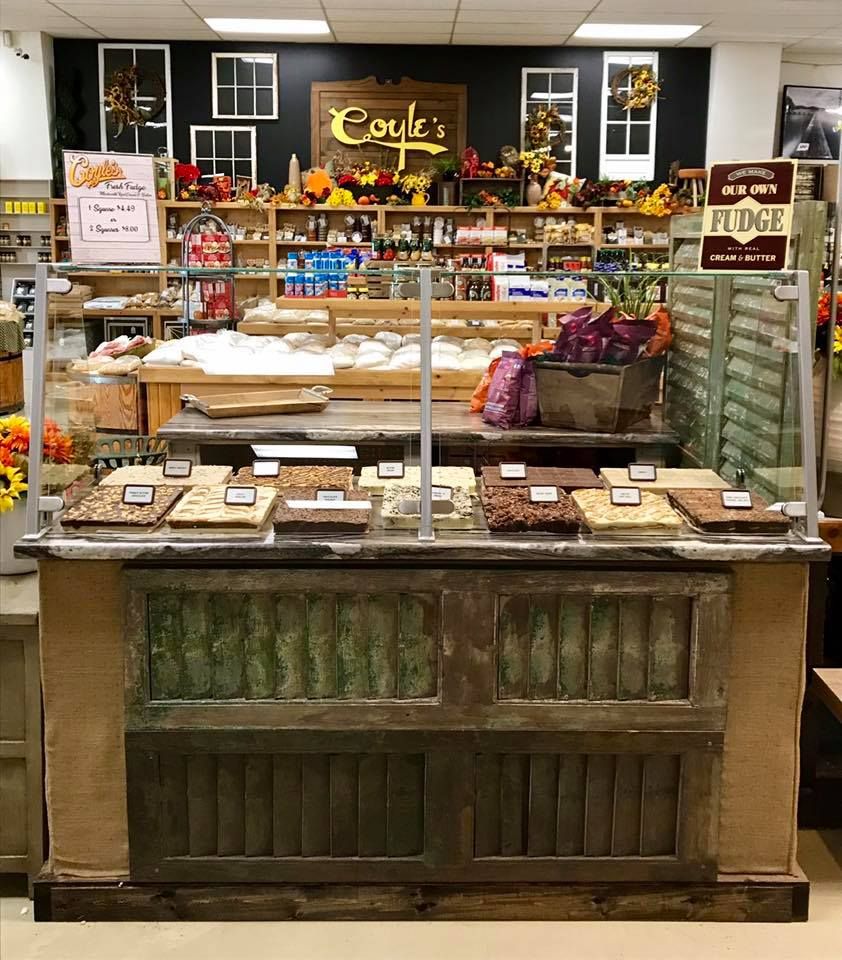 Step right up to grab some freshly made fudge! Coyle's Country Store has been a destination in Oxford County for a long time and their addition of housemade fudge a couple of years ago really sealed the deal. Shop a wonderful array of flavours for that sweet tooth sweetie on your list.
Mapley Goodness
Where: Jakeman's Maple Farm, 454414 Trillium Line, Sweaburg, ON. (View Map), shop in-store or online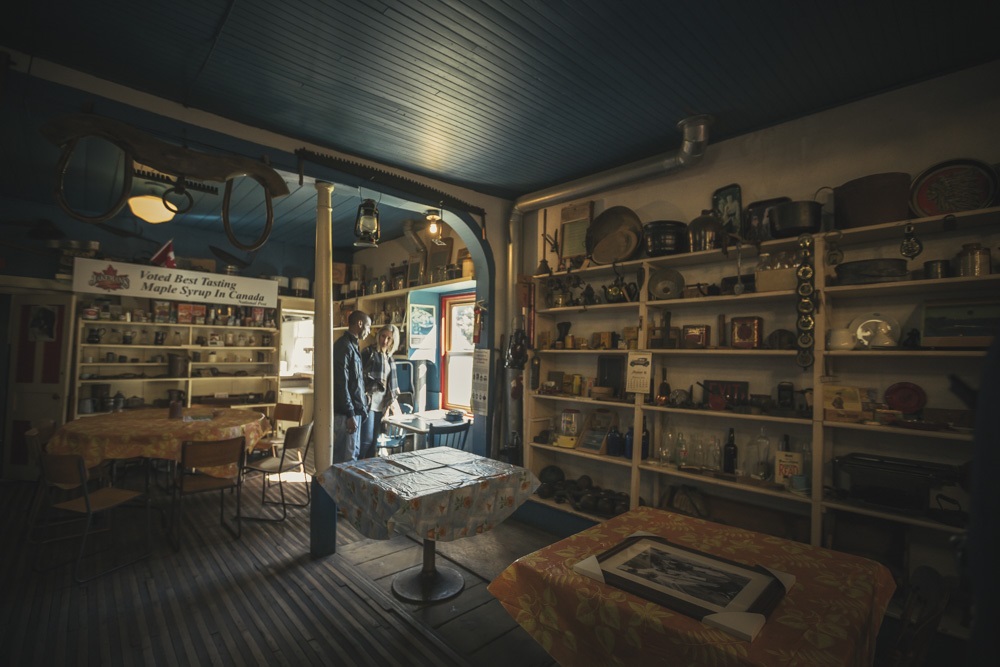 Honestly, there is so much mapley goodness to be found in the store at Jakeman's Maple Farm that we could never choose just one. Consider grabbing a pre-made basket or craft your own by picking up some of their fav maple goods: syrup, popcorn, coffee and even cotton candy! Hint: we also love their maple cranberry brie topper this time of year.
Other Unique Finds
Then, of course, there are just some really great gifts to find along the Oxford County Cheese Trail that aren't food-related! From cozy clothes to getaways and more, you'll find it here.
A Vintage-Inspired Crew Neck Sweater
Where: Thames River Melons, 775530 Blandford Rd. Innerkip, ON. (View Map)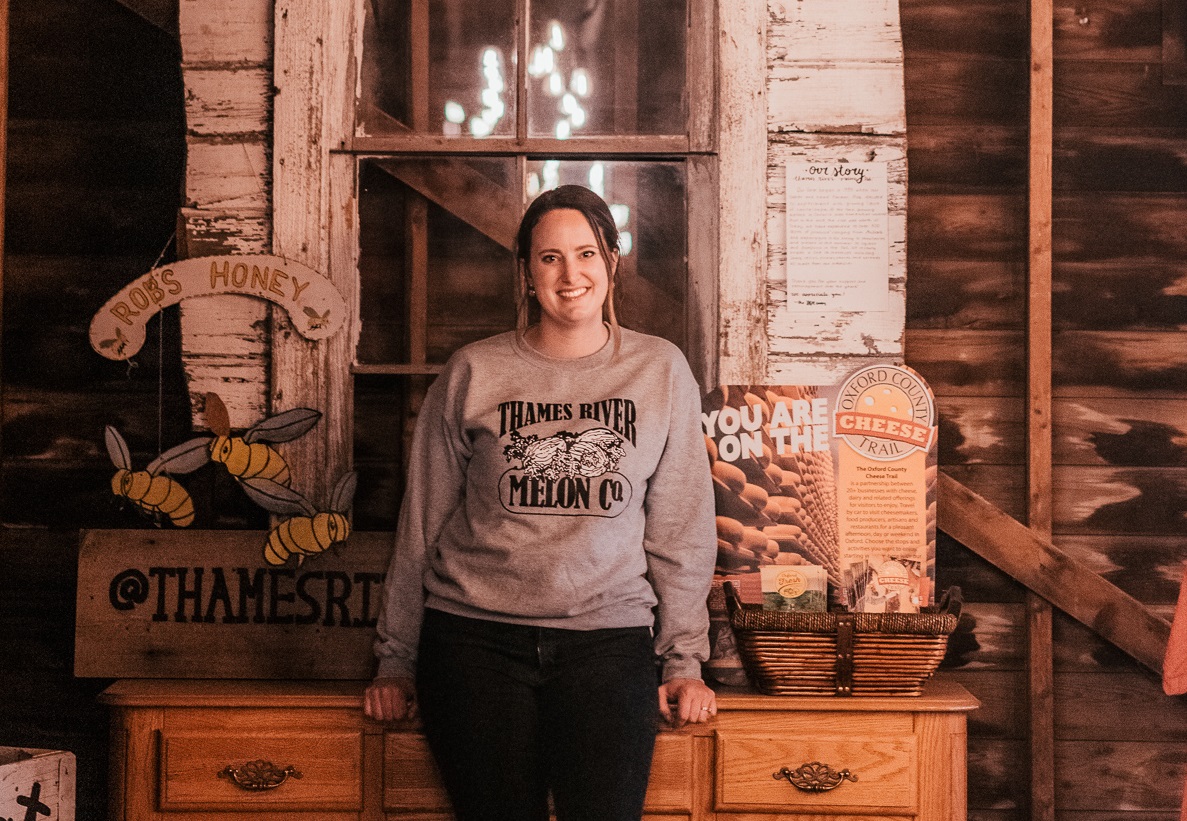 You can help the person on your list stay cozy all year long with these crewneck sweaters that give us all the vintage vibes of the 90s (if we can call the 90s vintage). Help them rep their love for local in this super stylish gear. While you're there, consider picking up some delicious holiday baking including hand pies, regular pies, focaccia bread and more all made in the farm kitchen on site.
A Cozy Flannel-Toque Combo
Where: Upper Thames Brewing Company, 225 Bysham Park Drive #9, Woodstock, ON. (View Map)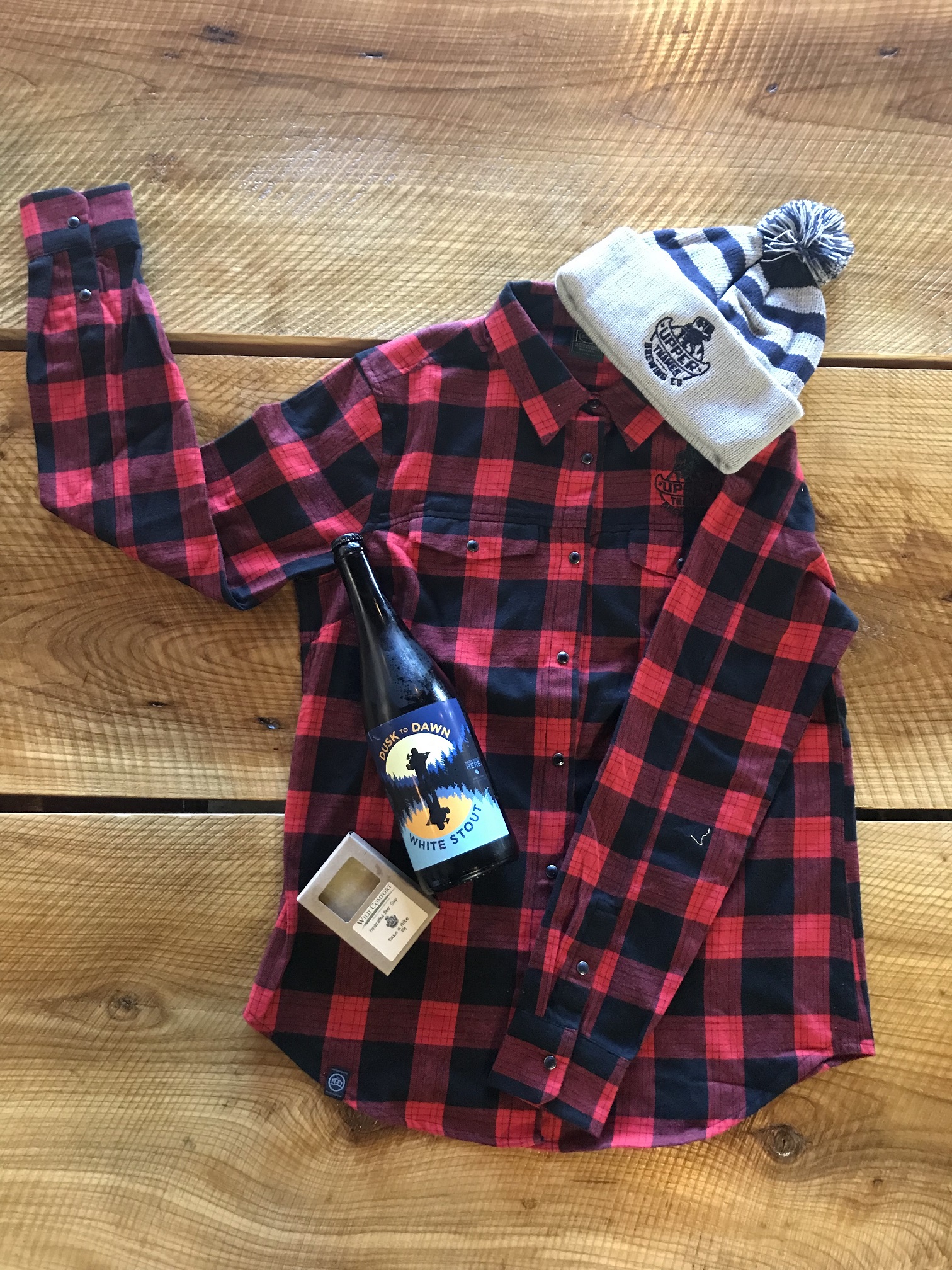 Here's a gift that has made it onto our list more than once! The hop head on your list will love that you're thinking of them this holiday season when you show up with this cozy toque and flannel combo (bonus points if you bring some craft brew too). Help them stay warm, trendy and thirst-quenched all winter long.
An Overnight Getaway
Where: The Elm Hurst Inn, 415 Harris St. Ingersoll, ON. (View Map)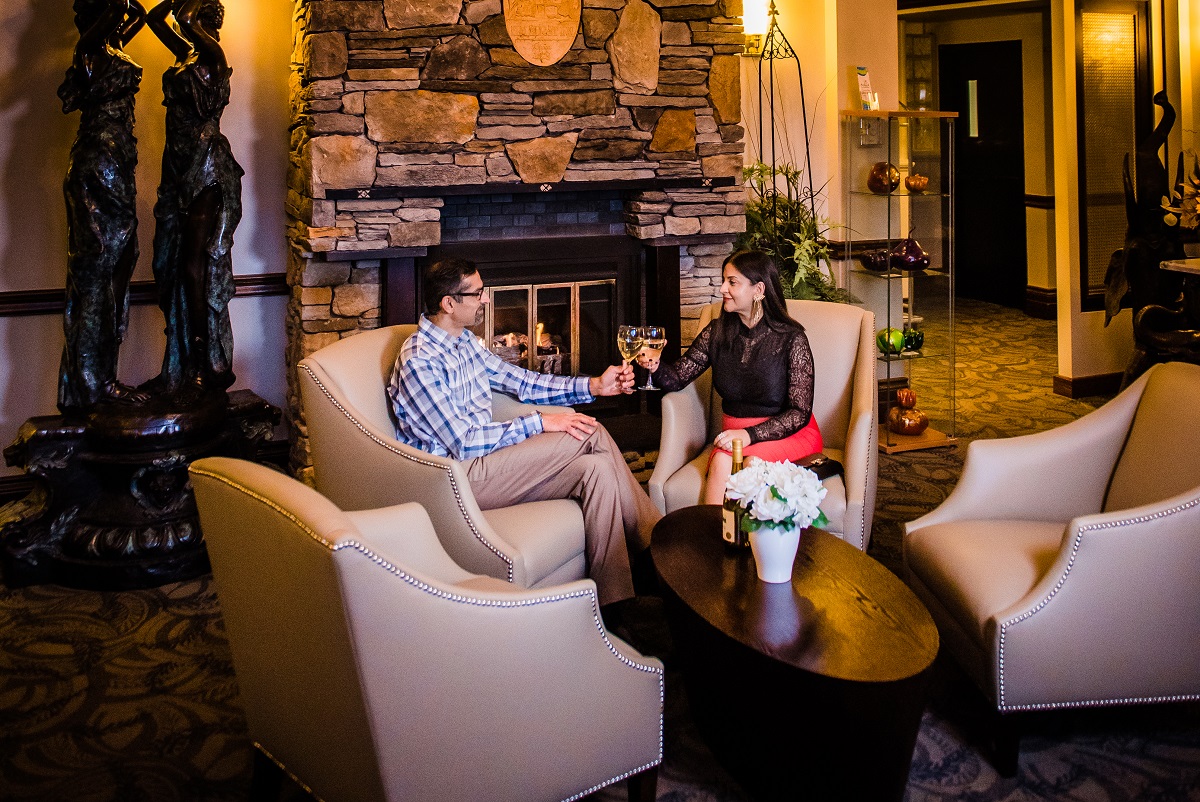 Have somebody who could use a break? Then a getaway along the Oxford County Cheese Trail is just the ticket!
At the Elm Hurst Inn, their Cheese Trail Package includes a cheeseboard brought right to the room, some sparkling wine, an overnight stay and breakfast the next day. If somebody on your list really needs spoiling, you could book their Savour and Refresh package which offers up a mix of gourmet food and time in the on-site spa.
A Cozy Alpaca Skarf
Where: Patina's Gifts of Art & Craft, 112 Thames St. S. Ingersoll, ON. (View Map), shop in person or online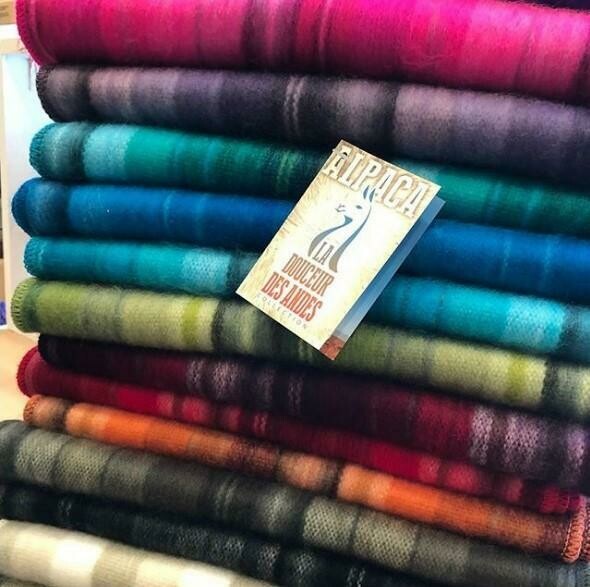 How does cozying up by the fire, wrapped in one of these cozy alpaca scarves sound? Downright festive to us! These scarves made from alpaca wool can be found at Patina's Gifts of Art and Craft and are the perfect gift this holiday season. Not your thing? No worries. Patina's has loads of gifts that you can shop online and in person.
From beautiful Egyptian glass Christmas tree ornaments to upcycled socks and handcrafted jewelry, there's something for everyone. You'll even find a great selection for the wee ones on your list in Patina's gifts, stuffed animals, puppets, toys and books.
A Travel Gift Package
Where: Wild Comfort Body Care, 445300 Gunn's Hill Rd. Woodstock, ON. (View Map) shop in-store or online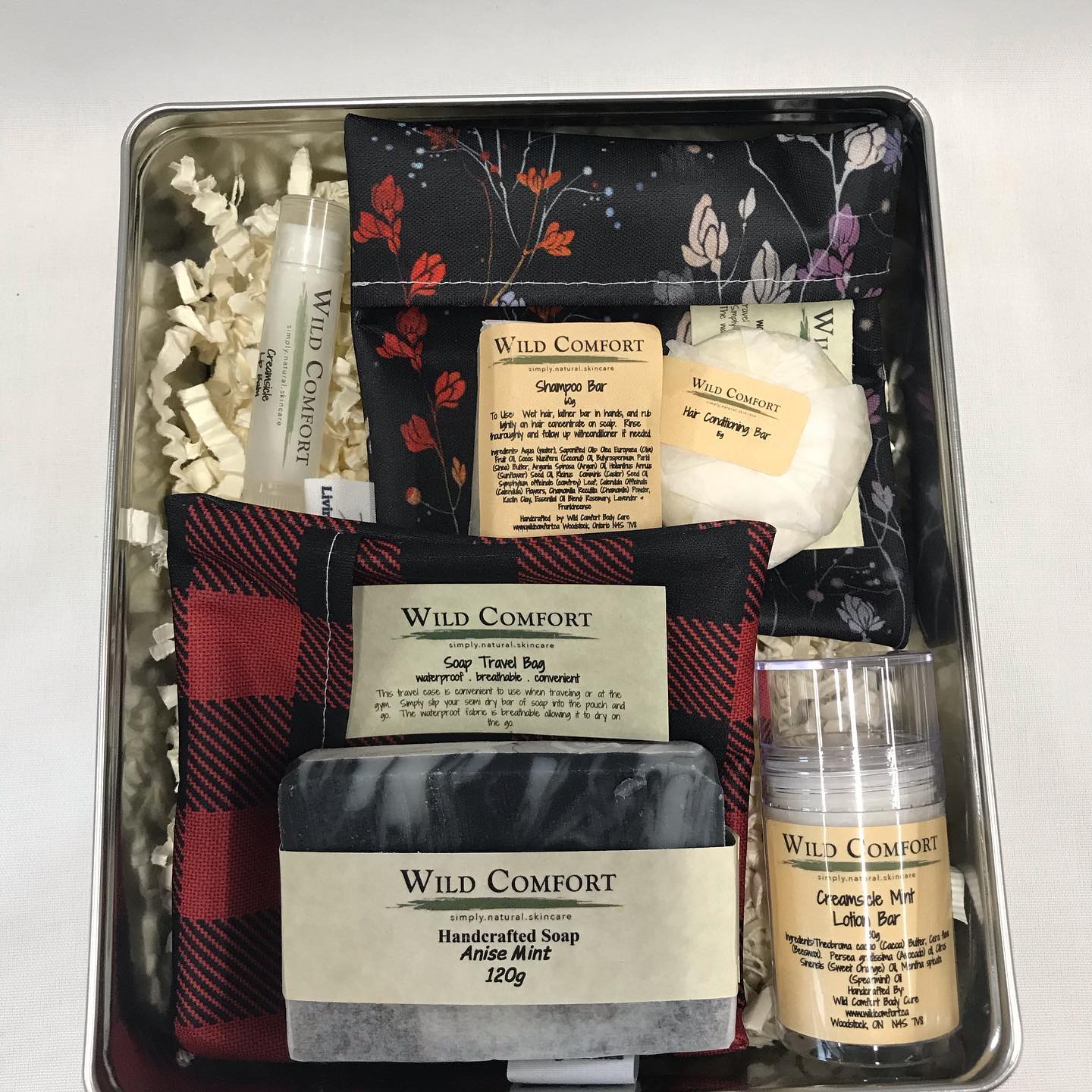 Perfect for the traveller on your list, this waste-free travel kit from Wild Comfort Body Care will help them travel more sustainably...and stylishly. The kit includes one of their handcrafted bars of soap made in-house, shampoo bar, conditioner bar, lip balm, lotion bar and two waste-free bags to keep the soapy items in! Now maybe it's time to book a little travel to the Cheese Trail...
A Cheese Trail Experience
Where: Ottercreek Woodworks, Thames River Melons, Udderly Ridiculous Farm Life, Wild Comfort Body Care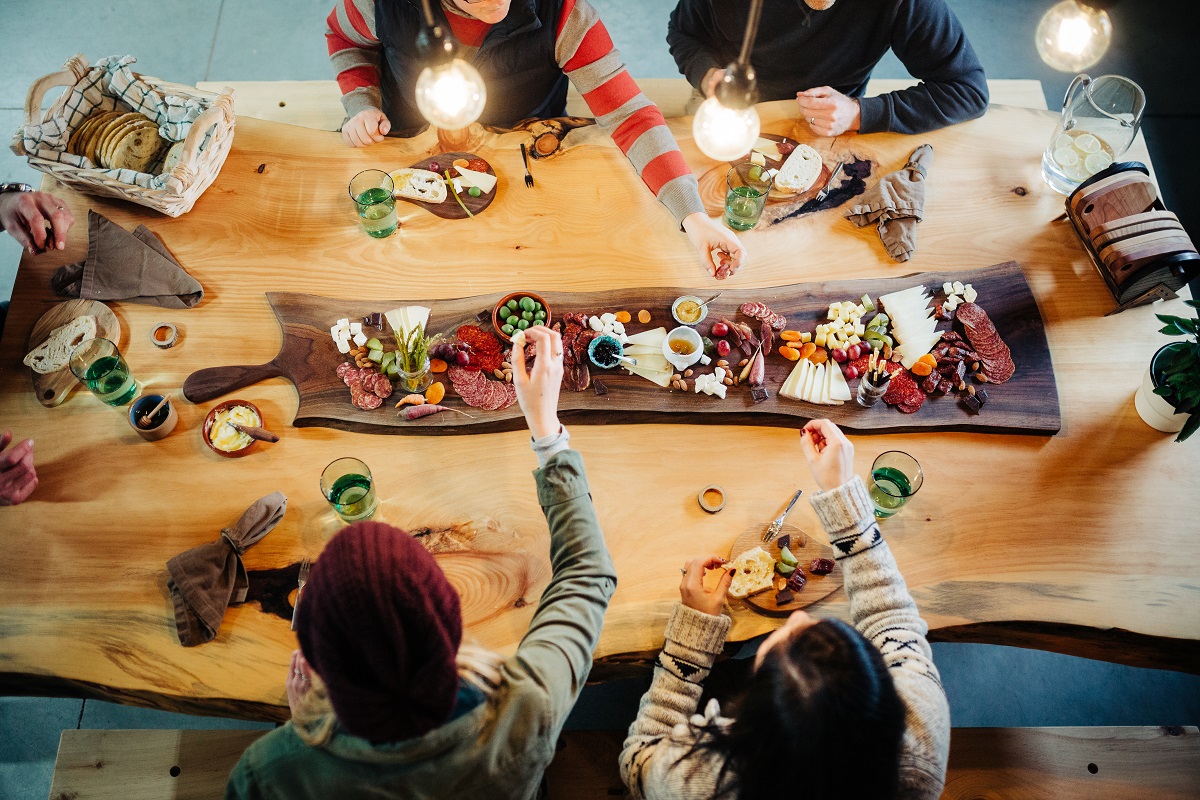 One of our favourite ways to enjoy a visit to Oxford County is by checking out one of our unique, one-of-a-kind experiences and there is no shortage of them along the Cheese Trail. Why not book one or grab a gift certificate this holiday season for the hard-to-buy-for person on your list.
In Tillsonburg, Ottercreek Woodworks' Tree to Table Experience brings visitors into the heart of the Carolinian forest as they explore with woodworker David Schonberger. After an invigorating guided forest walk, head into the woodshop to craft your artisan charcuterie board and top it all off with a feast of local fare.
In Innerkip, Thames River Melons hosts a Harvest Brunch Experience where visitors head out into the field to harvest a bunch of ingredients from Thames River Melons' large pick-your-own veggie patch. Then, head back to the farm kitchen with Registered Dietician Alex Chesney to make a beautiful brunch together with what you harvested and enjoy it all out at a long table out on the farm field or if the weather is in-climate, in their new event space.
Udderly Ridiculous Farm Life has an entire suite of experiences to check out! From alpaca walks and goat cuddle time to their signature Taste of Farm Life experience, there are so many ways to take in rural life with a bit of humour, award-winning ice cream and farm animals.
Last (but certainly not least), Wild Comfort Body Care in Woodstock offers up their Soap and Solace Experience. You'll learn to make soap with owner and soapmaker Danielle Paluska as you choose your unique blends of scents and colours. It's amazing what a little creativity can do for your outlook!
Have a Legendairy Holiday Season!
Jingle to the Oxford County Cheese Trail this holiday season! We hope you have a grate time.