Oxford County Stocking Stuffers 2021
Ready to stuff those stockings? Oxford retailers and artisans have sooo many ways for you to fill those stockings.
Our Round-Up of Oxford Stocking Stuffers
From card games to tasty treats and more, you'll find all of these things right in Oxford County. We hope you enjoy these tiny treasures! Want to skip ahead by interest? No problem!
1. Decades Trivia Game Cards
Where: Patina's Gifts of Art & Craft, 112 Thames St. S. Ingersoll, ON. (View Map)
Online at patinas.ca or in-store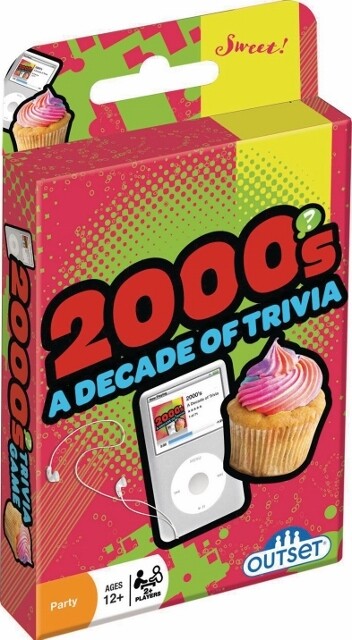 Stoke a little competition with the one on your list! Get the party started this holiday season with these fun decade trivia card games from Patina's Gifts of Art & Craft. With trivia cards for the 80s, 90s and 2000s, you can pick the perfect one based on the stocking your stuffing and help bring a little cheer to their holiday season! The question is, how many can you answer?
2. Chip Nuts
Where: Picards Peanuts, 876 Dundas St. Woodstock (View Map)
Online at picardpeanuts.com or in-store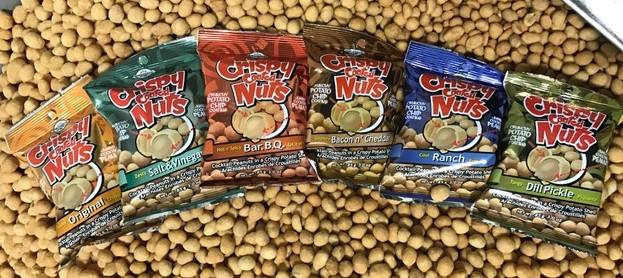 These classic Oxford treats are the perfect crossover between a peanut and chip snack. Why choose when you don't have to? Available in a variety of flavours from dill pickle to bacon n' cheddar, these are perfect for school lunches, picnics or just for snacking on!
3. Trendy Hair Accessories
Where: On Trend, 43 Main St. W. Norwich, ON. (View Map)
Online at shopontrend.ca or in-store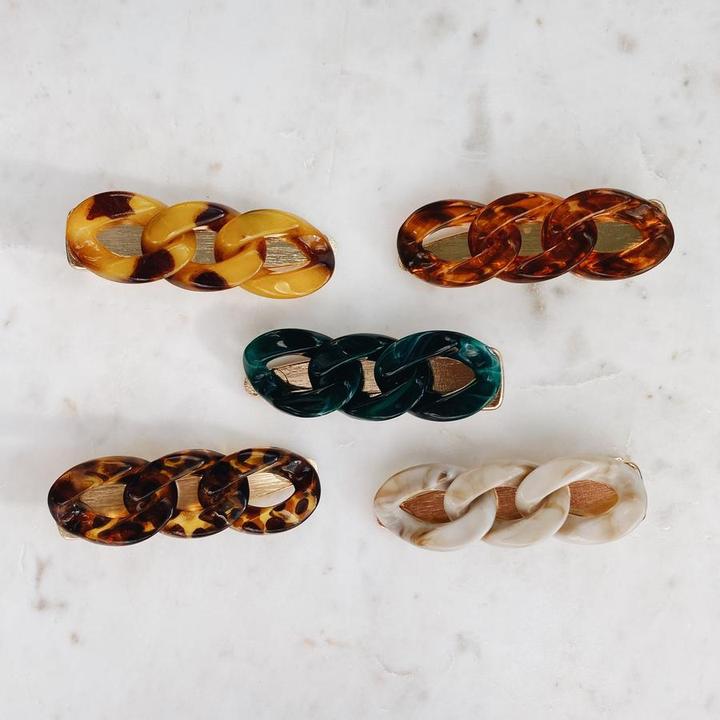 Have a fashionista whose stocking you're stuffing this year? On Trend in Norwich is a great spot to find all kinds of trendy-chic goods from chunky knit sweaters and pretty dresses to boots and more. Their hair accessories section is full of hair clips, bandannas, scrunchies and more to help them up their holiday hair game this year.
4. Cheese Trail Trail Mix
Where: Coyle's Country Store, 244282 Airport Rd. Tillsonburg, ON. (View Map)
Can you really go wrong with trail mix? This one that Coyle's created for the Oxford County Cheese Trail is packed full of delicious goodness including their house-roasted nuts, banana chips, chocolates and raisins. Grab one for the stocking and one for you! Trust us.
5. Therapeutic Shower Steamers
Where: Dwell Urban Boutique, 147 Thames St. S. Ingersoll, ON. (View Map)
Online at dwellboutique.ca or in-store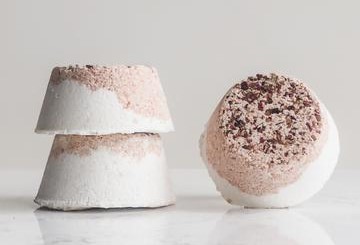 Stuff a stocking with these beauties from Dwell Urban Boutique in Ingersoll and you'll be gifting the one on your list with a little bit of peace and relaxation during a very hectic time of year. Available in four scents, you can choose from Get Shit Done (hints of bergamot, lemon, peppermint, ginger and more), Happy Happy Yeah Yeah (hints of tangerine, grapefruit, vanilla and more), Relax Already (jasmine, vanilla, rosewood and more) and finally, Be Love (ylang-ylang, bergamot and patchouli).
6. Egg Shakers
Where: The Ingersoll Music Academy, 40 King St. E. Ingersoll, ON. (View Map)
In-store or online at ingersollmusicacademy.ca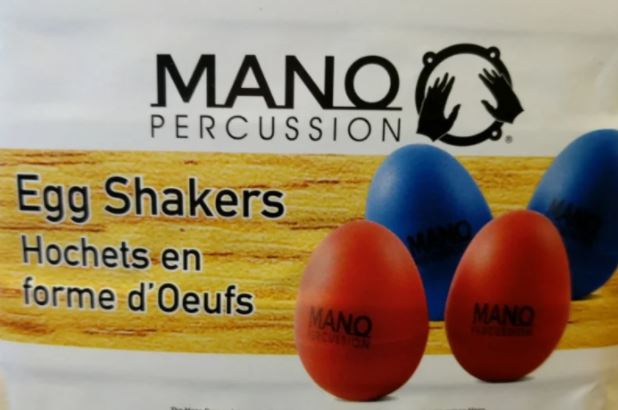 Stoke the fires of the musician in your life this holiday season no matter their age! These little egg shakers are perfect for kiddos just looking to play or the aspiring musician in your life just trying to add a little percussion to their jam sessions. Easy to slide in a stocking (or two!) and very affordable, these are hard to top.
7. A Hot Chocolate Cube
Where: Fair/Square, 475 Dundas St. Woodstock, ON. (View Map)
Online at or in-store at fair-square.ca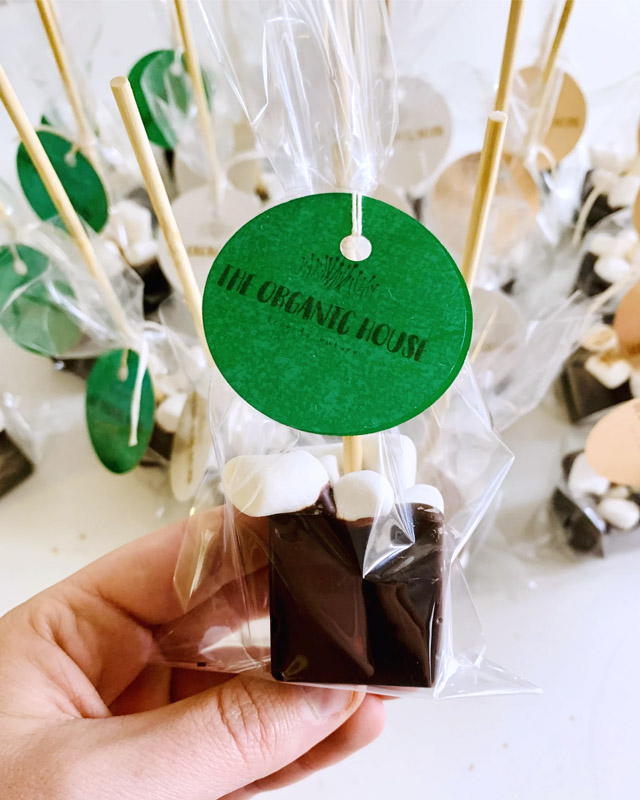 Fair/Square is a new business in downtown Woodstock and is full of vegan goodies from gourmet pantry items to handbags, makeup, condiments, cookbooks and more. These little cubes go right into hot water and with a few stirs, you're on your way to a delicious, decadent mug of warm hot chocolate.
8. Anise Mint Bar of Soap
Where: Wild Comfort Body Care, 445300 Gunn's Hill Rd. Woodstock, ON. (View Map)
In-store or online at wildcomfort.ca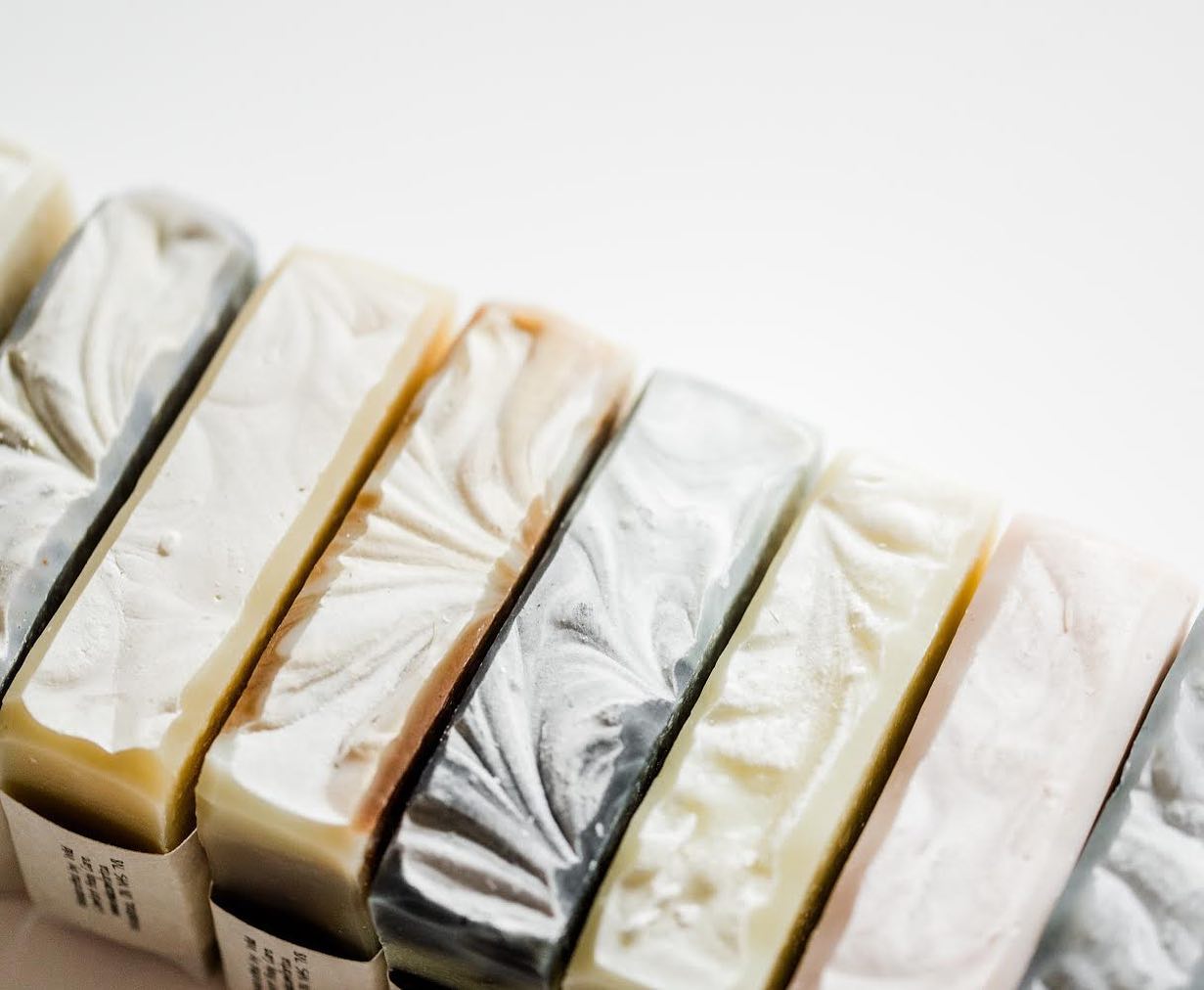 We love the simple, amazingly-scented bars of soap made in-house at Wild Comfort Body Care by soapmaker Danielle Paluska. Danielle makes not just soap but also lotions, deodorants and other skincare items. One of our favourite scents of bars is the anise mint which is refreshing but still comforting but there are lots of different scents so you can enjoy a new one each time!
9. An Artisan Bean to Bar Chocolate Bar
Where: Habitual Chocolate, 389 Dundas St. Woodstock, ON. (View Map)
In-store or online at habitualchocolate.com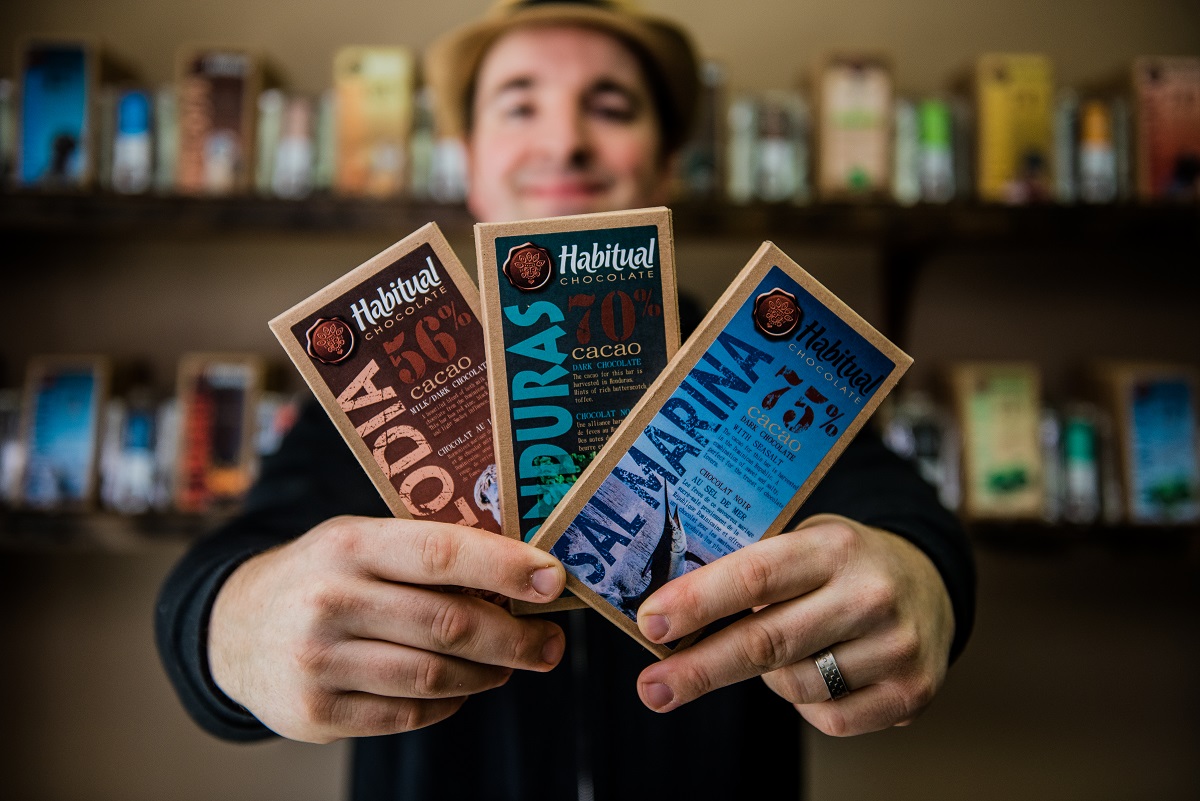 Discover Canada's largest selection of bean to bar chocolate at Habitual Chocolate in Woodstock. Swiss chocolatier Philippe Lehner creates single-varietal bars in-house and lets the flavours of the beans shine through. Each bean is impacted by the region it was grown in and you'll be able to taste it just like in a bottle of wine.
Grab one or two (or seven!) to stuff in all the stockings you're in charge of and they'll be sure to please. Don't forget to grab one for yourself too!
10. Maple Syrup Gnome
Where: Jakeman's Maple Farm, 454414 Trillium Line, Sweaburg, ON. (View Map) *use Beachville in your GPS if Sweaburg does not work
In-store or online at jakemansmaplesyrup.com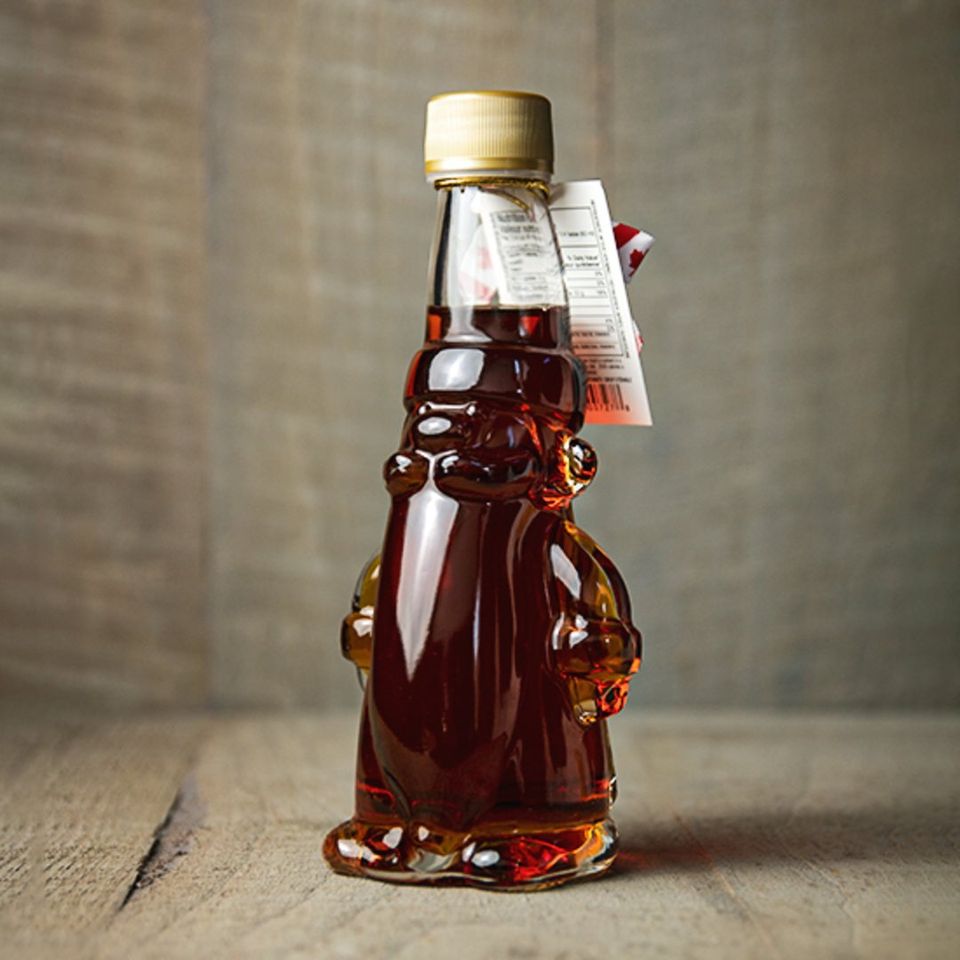 We love these lil' gnomes from Jakeman's Maple Farm filled with delicious maple syrup. An easy way to stock those stuffings, these gnomes give each stocking a little winter cheer and pair perfectly with Christmas morning waffles or pancakes.
11. Beef Jerky and Pepperettes
Where: Grassland Meats at Y U Ranch, 460 Plowman's Line, Tillsonburg, ON. (View Map)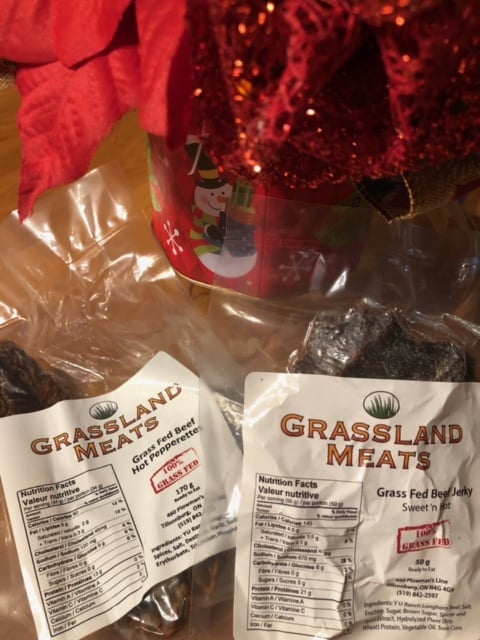 Grassland Meats is a business run by the children of Bryan and Cathy Gilvesy of Y U Ranch. They make awesome jerky and pepperettes out of the Y U Ranch beef that you don't want to miss out on and they make great stocking stuffers (of course).
12. Reusable Facial Rounds
Rounds by Living Stitches are available at Wild Comfort Body Care or Jarful Refillery in Woodstock or online at livingstitches.ca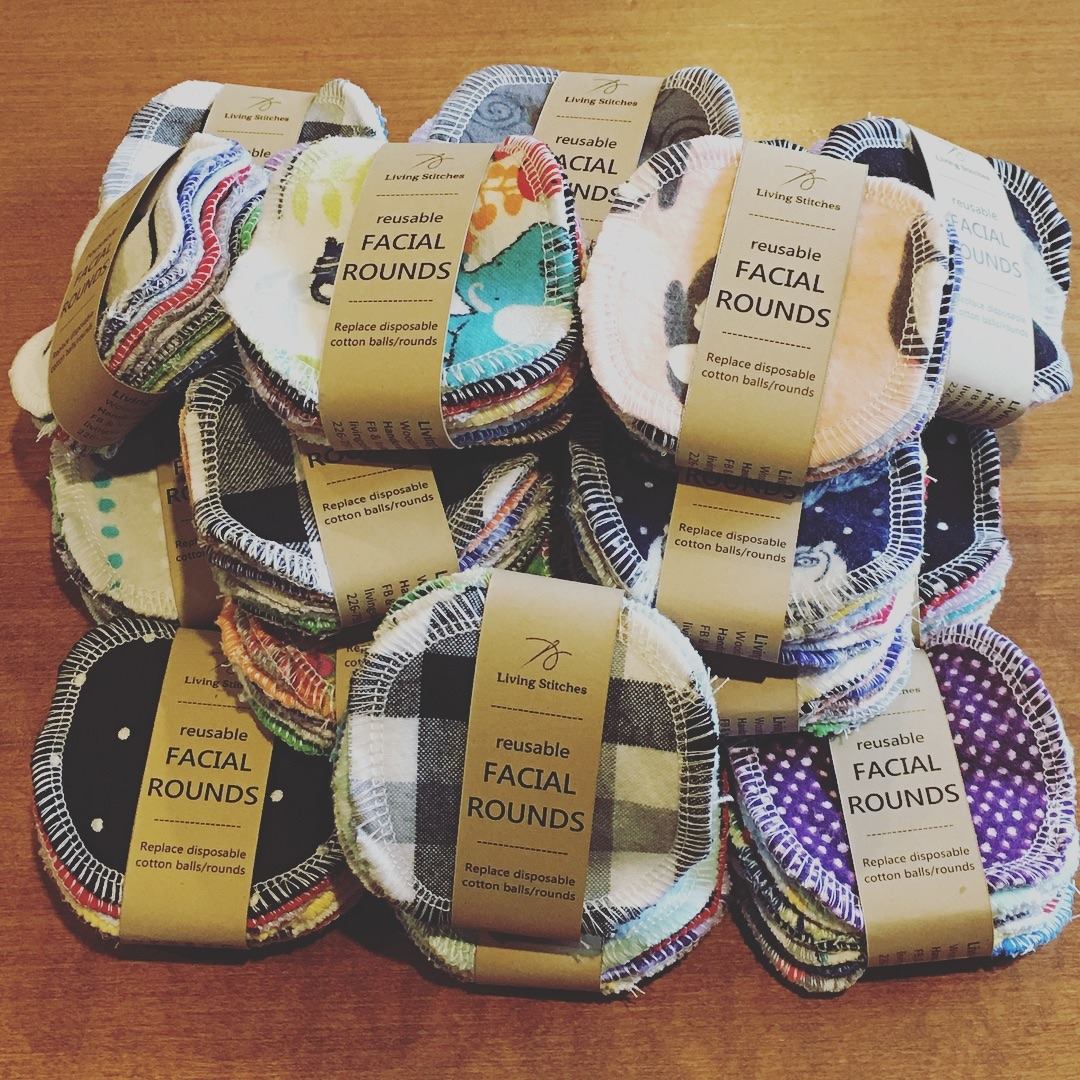 An easy swap for cotton pads, these facial rounds from Living Stitches aren't just eco-conscious, they're a nice break for your skin. These soft little rounds are easy to stick in your overnight bag or a drawer. Then when you're done, wash them and reuse them!
13. A Can of Cold Brew
Where: Kintore Coffee, 117 Huron St. Embro, ON. (View Map)
In-store or online at kintorecoffee.com
For the coffee-lovers on your list, you can't go wrong with these cans of cold brew from Kintore Coffee. The perfect kick in the pants with a great, rounded flavour, these cold brews are definitely worth writing home about. Plus the shape makes them perfect for sliding right down into the toe of the stocking! Want to really show them something new? Throw a little can of lemonade in their stocking too so they can make a delicious cold brew shandy.

14. Alcohol-Free Cocktails
Where: 2 Girls and a Cheese Shop, 20 Brock St. W. Tillsonburg, ON. (View Map)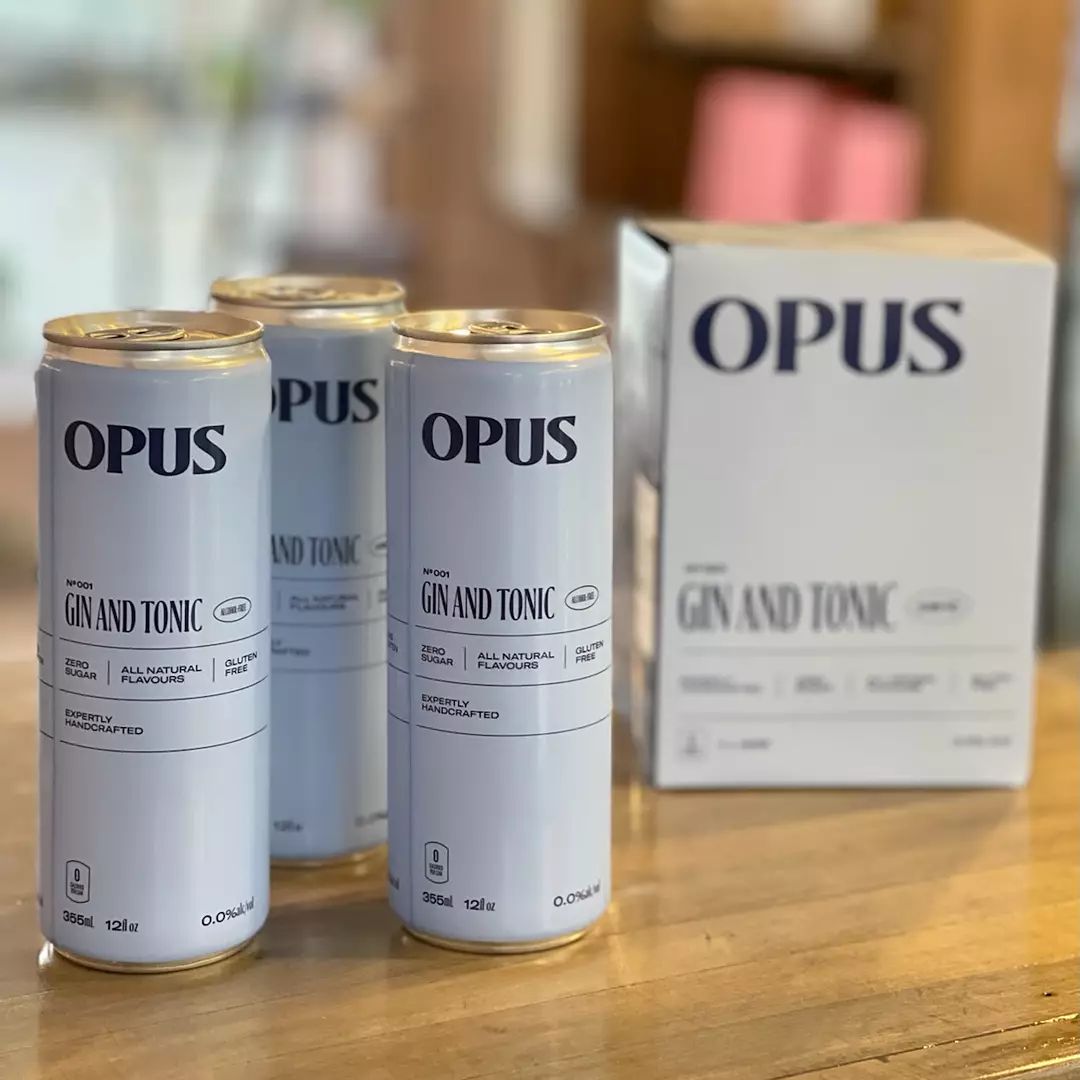 We love the sounds of the alcohol-free gin and tonics from OPUS that 2 Girls and a Cheese Shop sells. Grab them by the can or by the carton if you have multiple stockings to stuff. The perfect alcohol-free alternative, they're sure to be enjoyed throughout the festive season.
15. Stained Glass Window Hangers
Where: The Tillsonburg Station Arts Centre's, Baggage Room Gift Shop, 41 Bridge St. Tillsonburg, ON. (View Map)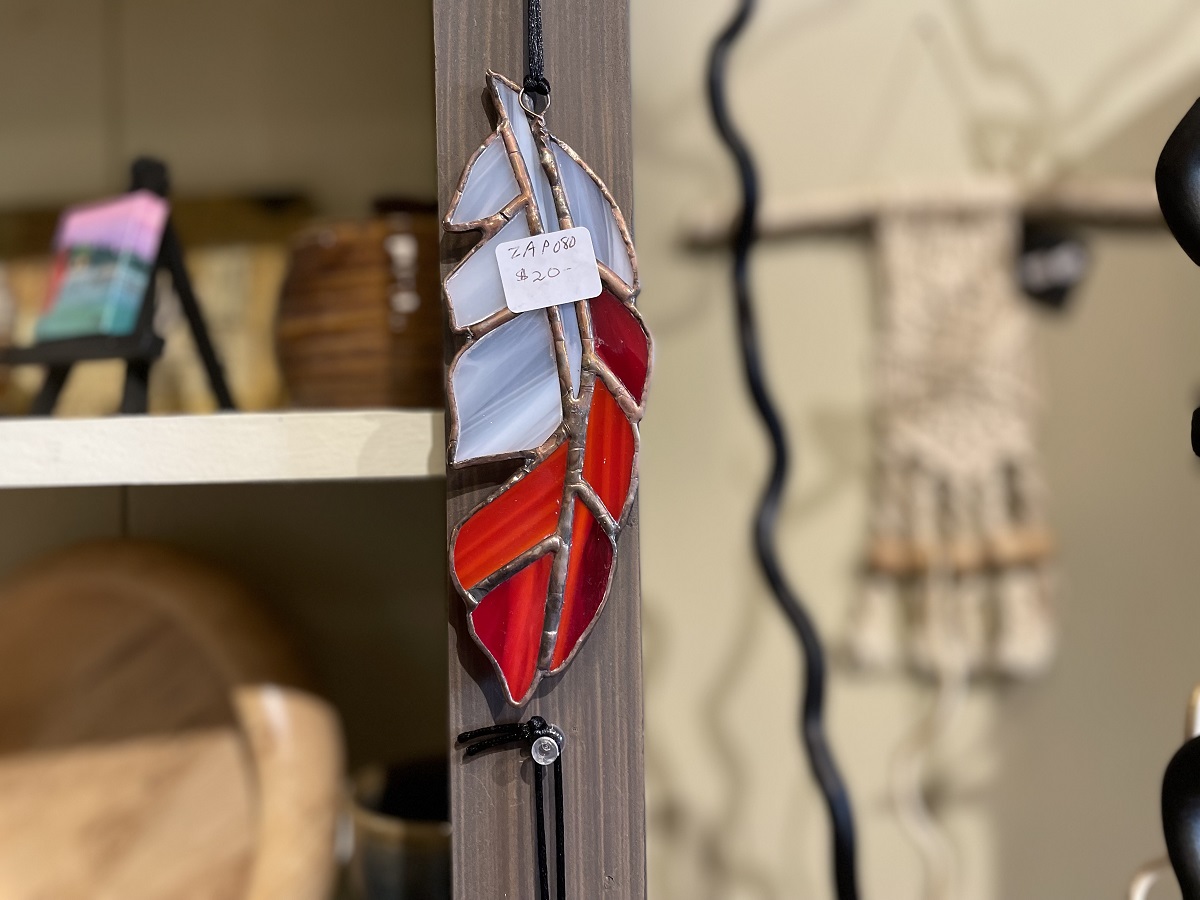 For the creative soul on your list, we love these stained glass pieces by a local artist, Phillys Zapadinsky that you can find in the baggage room gift shop at the Tillsonburg Station Arts Centre. This spot is full of handmade gifts and these stained glass hangers are no exception!
Looking for something a little more seasonal or festive? The Station Arts Centre also has stained glass Santas from another local artist, Barbara Lowik, who brings them in each holiday season.
16. Cheeky Wooden Spoons
Where: Betty's Marketplace, 87 Broadway St. Tillsonburg, ON. (View Map)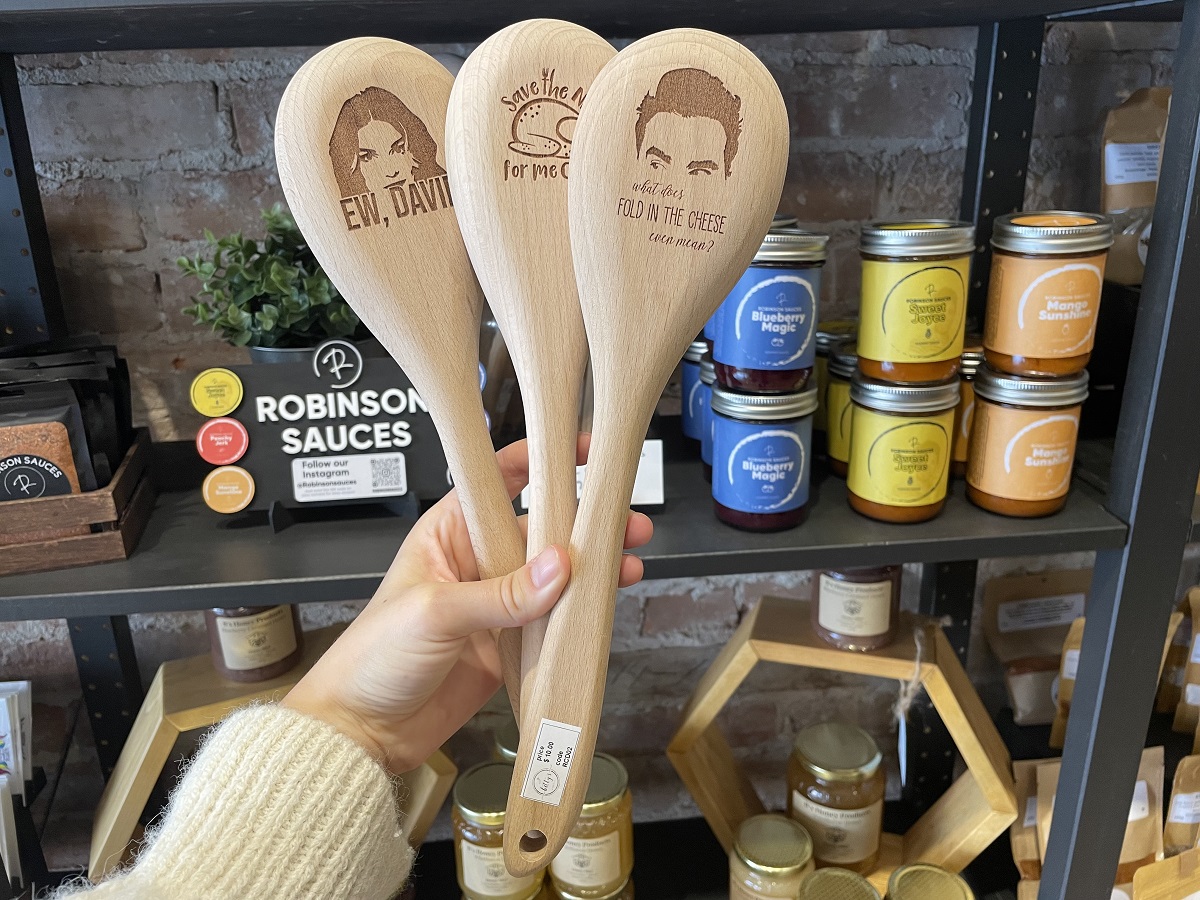 Okay, we love these cheeky, pop-culture wooden spoons being sold at Betty's Marketplace in Woodstock. Shop from spoons that have quotes from some of your fav shows and movies and stick this bad boy on in that stocking! For bakers and chefs both amateur and pro, it's the perfect fit.
17. Handcrafted Ornaments
Where: Online from aggiearmstrong.com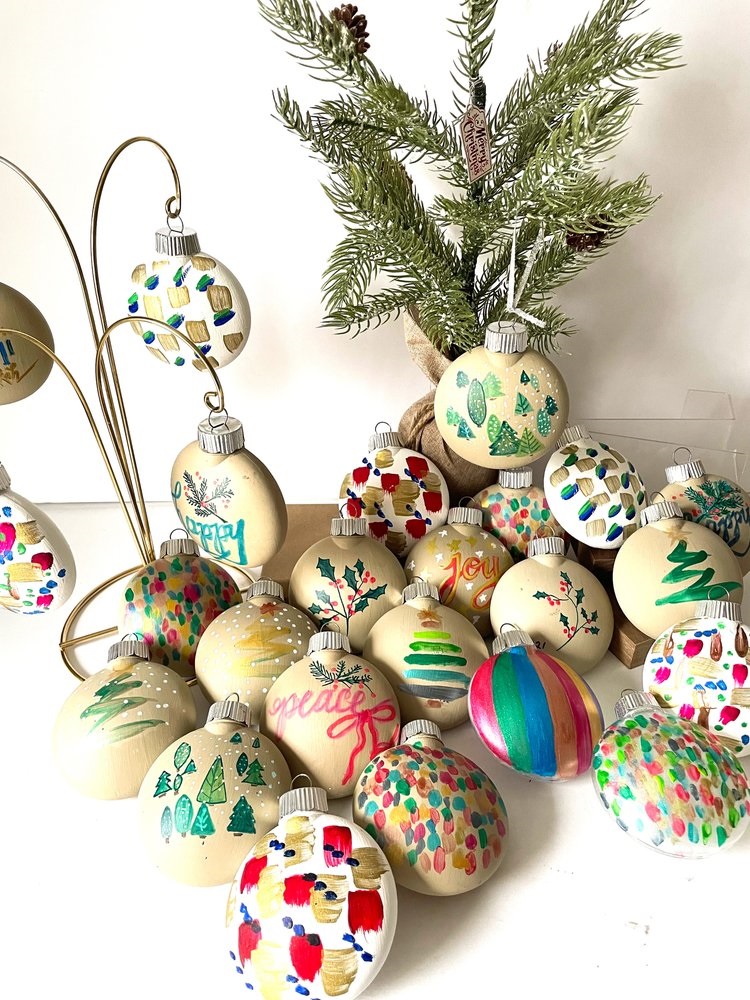 We're sort of obsessing over these handpainted ornaments from local artist, Aggie Armstrong. With fun, whimsical colours and Aggie's classic, vibrant style, these are sure to liven up any tree!
Discover the Perfect Stocking Stuffer
We love helping people find the perfect gift, getaway or stocking stuffer! We hope your holiday season is full of good cheer this year.