13 Ontario Gift Experiences to Discover
An Ontario gift experience is the perfect way to help that special someone on your list discover the most unique parts of and people in the province. Check out this list of 13 unique Ontario Gift Experiences to buy for the person on your list who already has it all.
Top 13 Ontario Gift Experiences
Find the perfect Ontario Gift Experience to show a little love to someone special. Whether they love to get their hands dirty, enjoy fine dining or do something different altogether, you'll find it here. Enjoy our rundown of the thirteen best Ontario gift experiences.
Want to skip ahead? No worries!
1. Tree to Table
Where: Ottercreek Woodworks, Tillsonburg, Ontario
When: Seasonal bookings (they sell out quickly!) so book early or give a gift card anytime
Perfect for: The nature enthusiast or foodie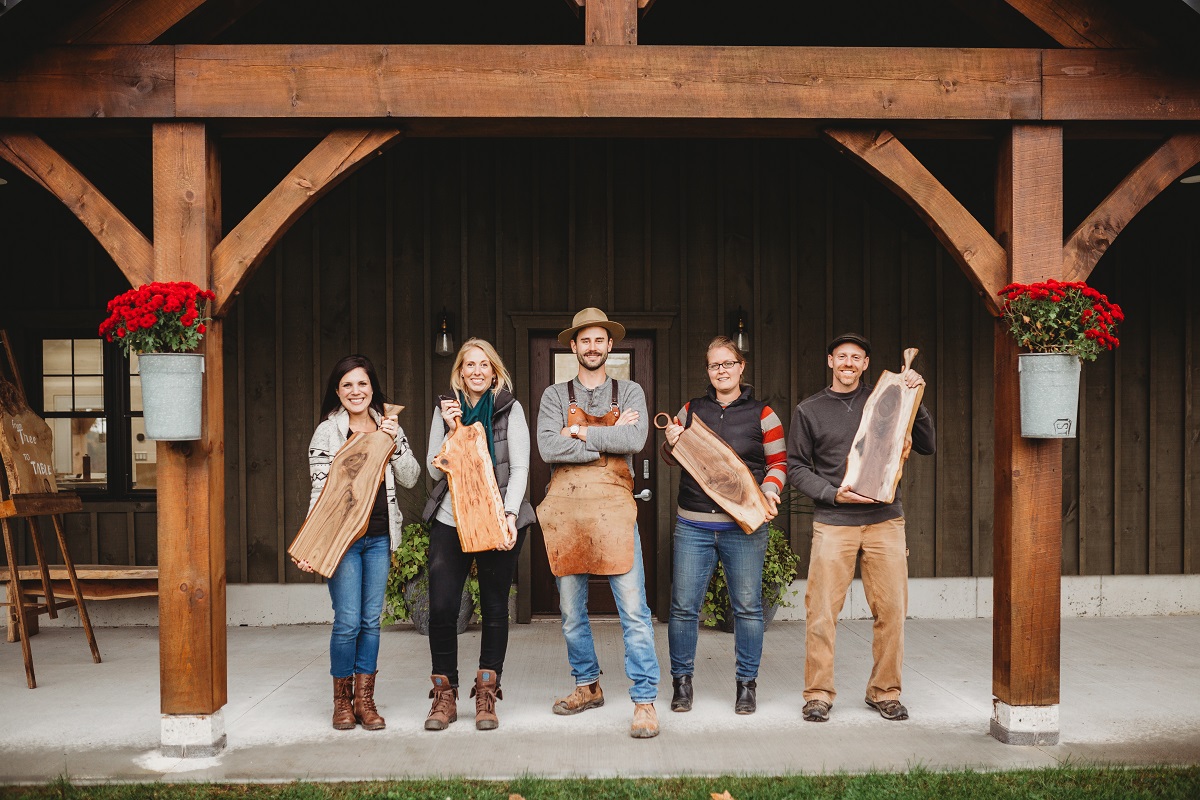 You'll leave with an entirely new appreciation for the forest when you're finished with this one-of-a-kind experience. The perfect gift for nature lovers, creative DIYers and anyone looking to engage with the places they travel, the giftee will enjoy time in the woodshop with an artisan woodworker and time among the trees.
Start your day around a warm fire before heading into the forest to enjoy a warm mug of tea made with foraged ingredients and a local treat. Woodworker and owner David Schonberger will point out his favourite parts of the forest and what assets of a tree make his boards special.
Next, you'll head back into the woodshop where David will guide you through the crafting of your charcuterie board made with sustainably harvested lumber. Delightful surprises abound throughout the day, as you work with new tools (including a few special ones that belonged to David's grandfather) and when you sit down as a group to a beautiful feast of local fare.
Finally, this gift experience is perfect for those looking to give back to the communities they visit. Ottercreek Woodworks partners with Carolinian Canada Coalition to help regenerate Carolinian forests. You'll learn more about how your gift helps our Southwestern Ontario ecosystems while you're there!
2. Roasting Lab
Where: Early Bird Coffee, Woodstock, Ontario
When: Year-round, Thursdays, Saturdays and Sundays, email info@earlybirdcoffee.ca or call 519-532-3127 to book your spot or purchase a gift card.
Perfect for: date night, co-workers, coffee lovers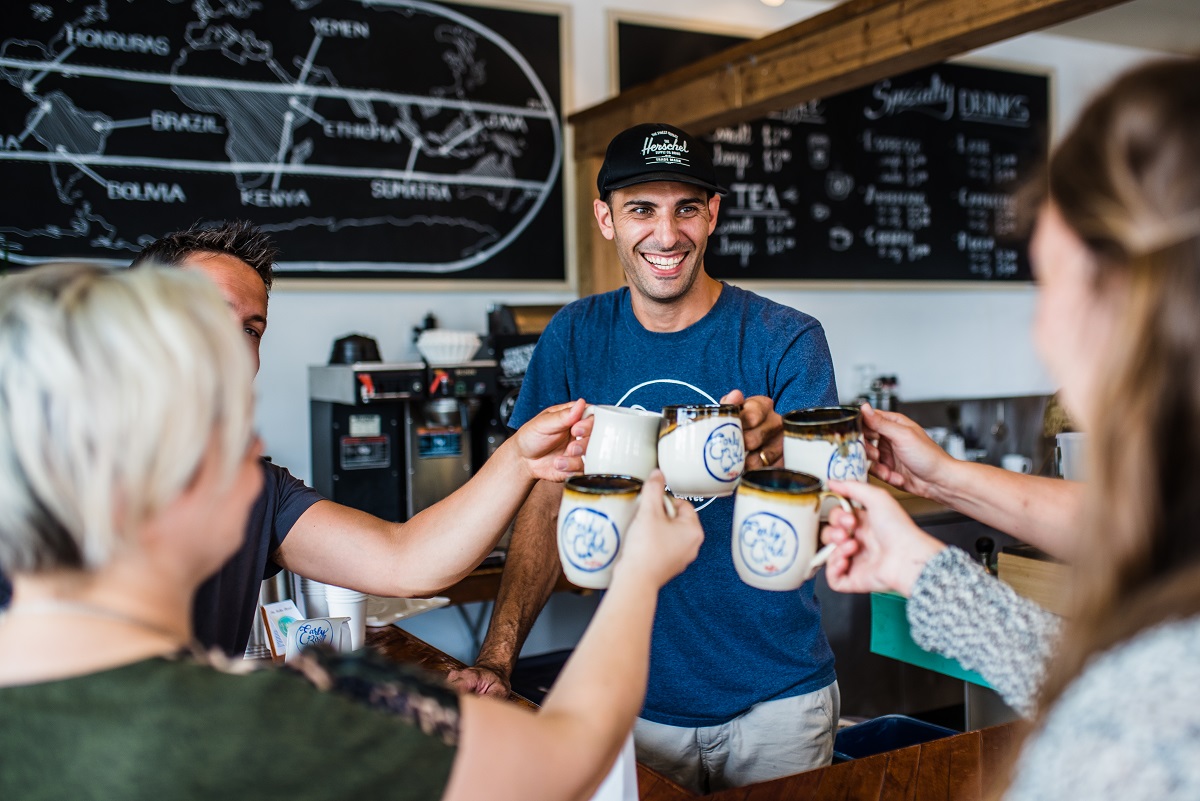 Discover the science behind roasting a superior batch of coffee with roaster Elio Caporicci of Early Bird Coffee. Elio shares his passion and love for coffee in this 1.5-hour experience at the cafe.
Pull up a stool and enjoy sampling various roasts alongside a selection of delicious local baked goods as Elio takes you to different regions of the world and talks about how their specific climate, elevation and more impact the flavour of the bean and ultimately, your cup of coffee.
Next, the person you gift this experience to will get the chance to see a roast of their choice being created before their eyes before being bagged up for them to take home! How special is that?
We love this gift experience for any coffee lover in your life but it also makes for a wonderful date or friends' hang in a relaxed and cozy atmosphere.
3. A Cut-Your-Own Bouquet Experience
Where: Makkink's Flower Farm, Tillsonburg, Ontario
When: Late summer-early fall, book your spot online or purchase a gift certificate
Perfect for: parent-child duos, groups of friends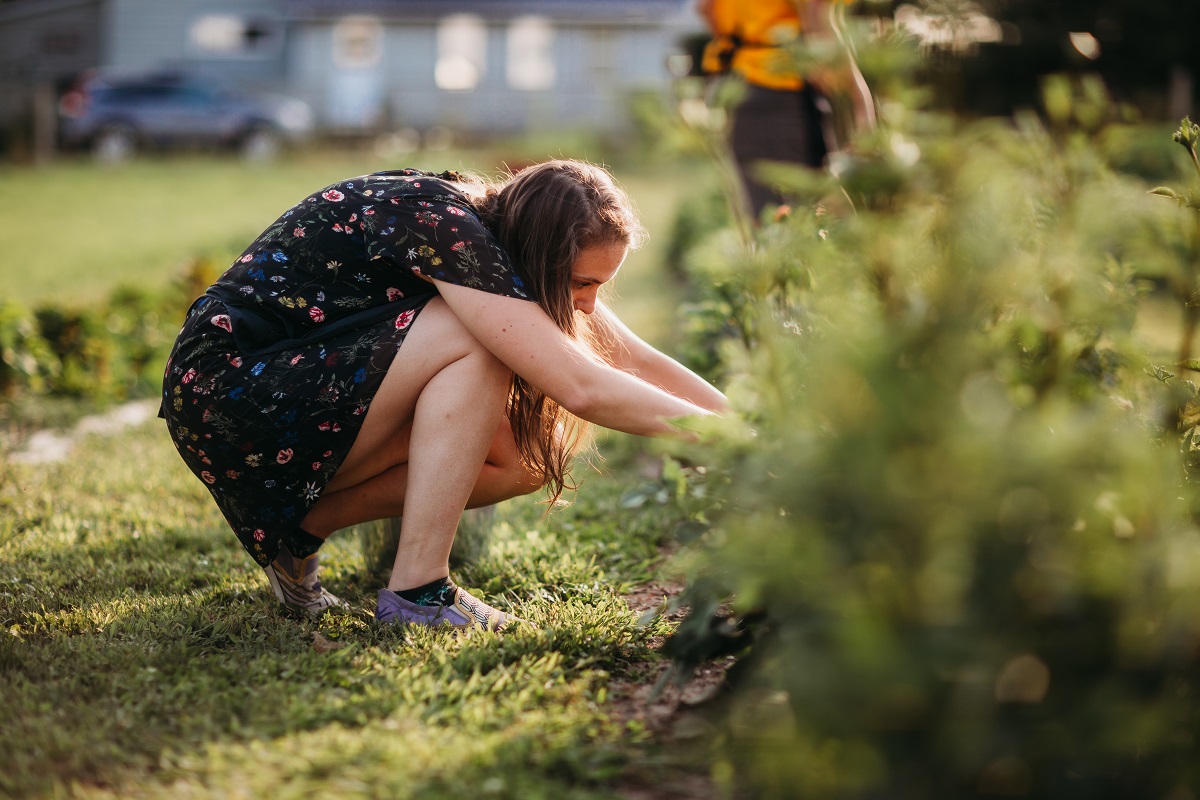 Help the one on your list reconnect with Mother Nature in this experience at Makkink's Flower Farm. You'll be set up with a bucket, apron and scissors before heading out into the flower fields on-site.
Take time to engage your senses as you wander rows of fragrant, beautiful flowers that range everything from zinnias and dahlias to bells of Ireland and sunflowers. Next, using the instructions that the staff provided, begin to clip the blooms that stand out to you most! Once you're finished filling your bucket, head back to the farm store.
The staff at Makkink's will take the blooms you've cut and craft them into a beautiful arrangement for you. Select and purchase a vase or shabby-chic container from their farm store if you'd like and shop for a variety of other goods like locally-crafted baked goods, soap and more.
Want a little more help to learn to craft your arrangement? Sign up for a cut-your-own workshop where owner Hilde Makkink will walk you through the steps of arranging flowers and share some of her signature tips and tricks.
4. Picnics in the Patch
Where: Berrylicious Fruit Farm, Woodstock, Ontario
When: Late summer-early fall, book your spot online when in season or purchase a gift certificate
Perfect for: Grandparents and grandchildren, small families, groups of friends and couples (there's a different basket for every group)!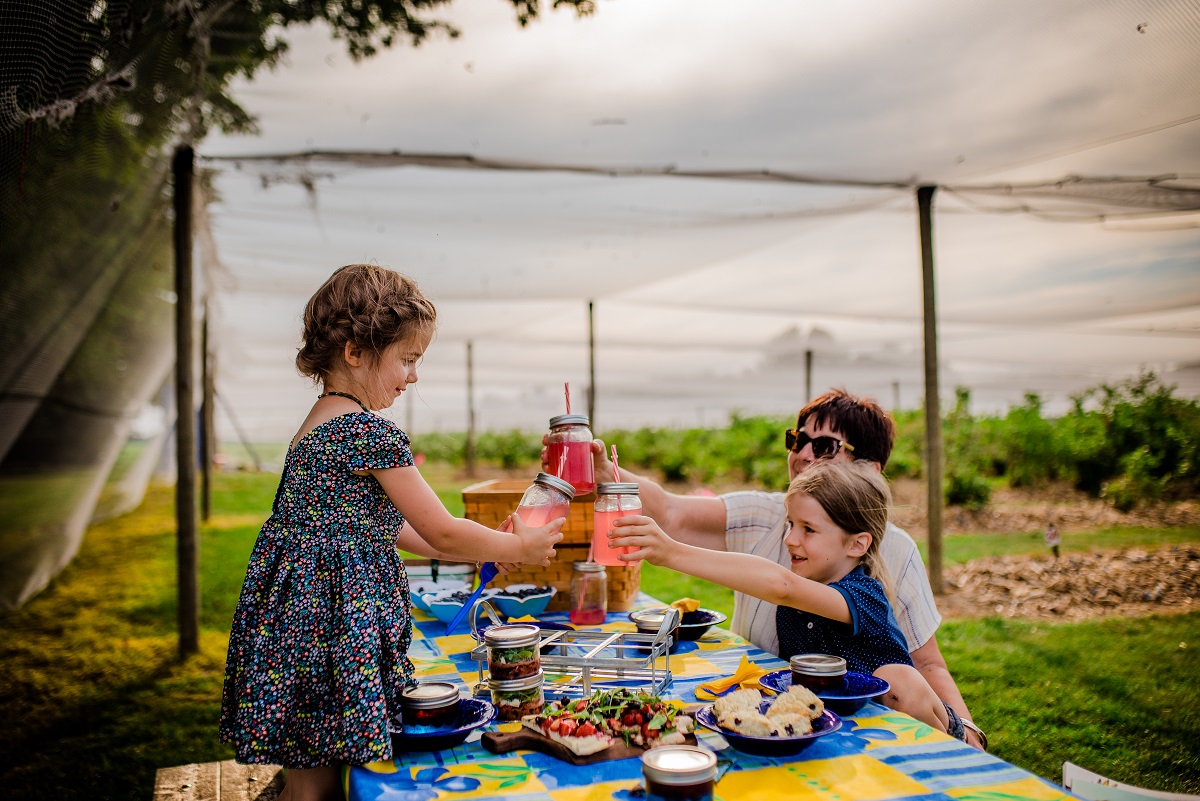 The ultimate gift experience for anyone in your life, Berrylicious Fruit Farm's Picnics in the Patch is a lovely way to enjoy the blueberry season.
Start by picking a bucket of your blueberries as farmer Wendy Colcuc walks you through the patch and leads you through a tasting of different varieties of blueberries. They grow seven!
Next, you'll settle on a blanket to enjoy the basket of your choosing. Picnics range from couples' or buddies' baskets to ones for the whole family and even a dessert basket featuring the farm's signature jelly roll. Spoiler alert: it's delicious!
Also in your basket, you'll find some unplugged games and activities to enjoy so that you can just kick back in the peacefulness of the patch and enjoy time well spent together.
5. Sunset Campfires
Where: Snyder's Family Farm, Blandford-Blenheim, Ontario
When: Summer and fall, book your spot online
Perfect for: Families and friends looking to reconnect over good food, city dwellers in need of a little outdoor space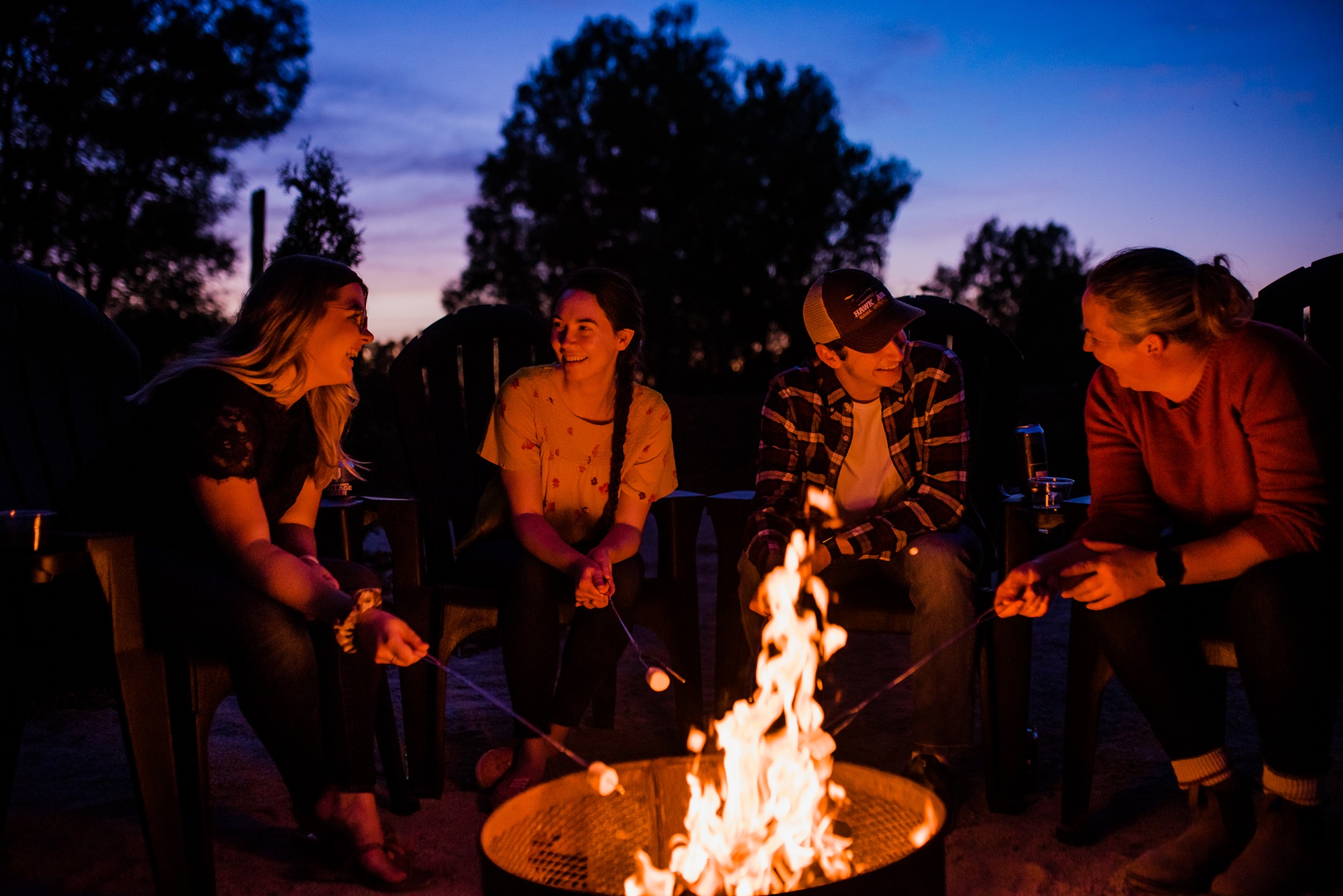 The person receiving this gift experience will LOVE the Q.T. (that's quality time) they get to spend with their people around the campfire. Each campfire experience comes with a pre-lit campfire, s'more roasting kit and your own private campfire site that is set up with a table for food and Adirondack chairs gathered around the fire.
While you're there, pull up the Snyder's website on your phone to have food and drinks brought right to your site. Think everything from delicious baked goods and honestly amazing pizza with gooey cheese to nachos, artisanal s'more kits (you need to try their handmade marshmallows), local craft beer, Ontario wine and more.
Watch as the sun goes down on this beautiful farm property, try your hand at the on-site petal cars, enjoy a game of giant Jenga or wander through their Christmas tree lot or pumpkin patch in season. This experience is all about slowing down and reconnecting with one another.
6. Soap & Solace
Where: Wild Comfort Body Care, Woodstock, Ontario
When: Year-round, get more info and contact the soapmaker
Perfect for: The one with a hectic schedule, multi-generation families, groups of friends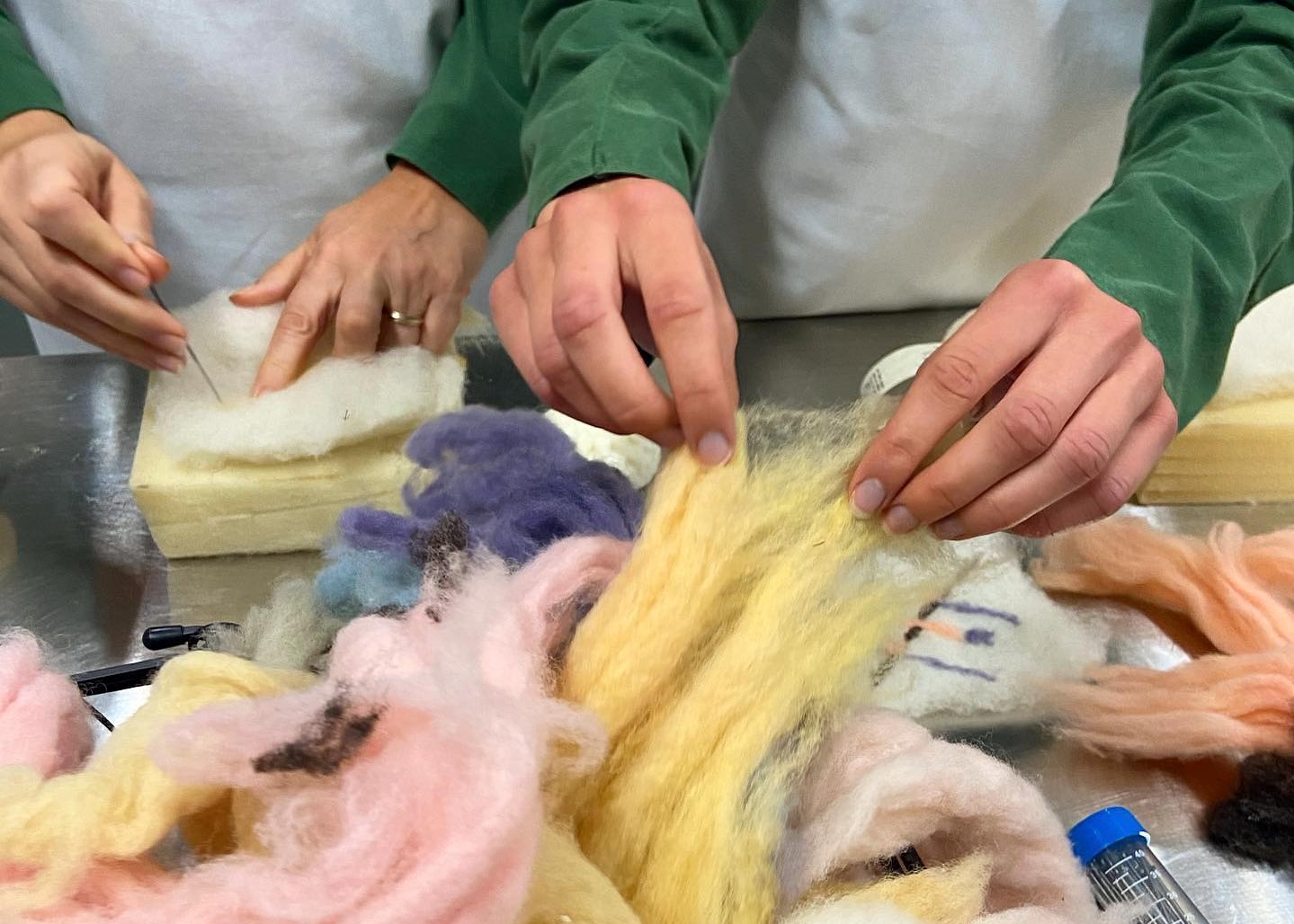 You and your giftee will feel relaxed the moment you drive into Wild Comfort Body Care. Located along a beautiful back road, Wild Comfort is a small farm shop where soapmaker Danielle Paluska crafts natural, beautiful skincare products.
Step inside to be wrapped in comforting scents and a pleasing aesthetic where Danielle will greet you. You'll step behind the counter where Danielle works and learn how to craft your own batch of soap bars. Using plant-based ingredients, you'll watch to see how colour and scent are affected and get hands-on throughout the entire process.
Finally, cut your soap and enjoy one more relaxing activity before heading on your way with your soap to age. This experience is perfect for the giftee with a hectic schedule as it provides them with a little downtime to just relax.
7. Affinage 101
Where: Gunn's Hill Artisan Cheese, Woodstock, Ontario
When: These experiences are currently on hold due to COVID-19, but check their website for updates
Perfect for: Foodies, corporate gifts, groups of friends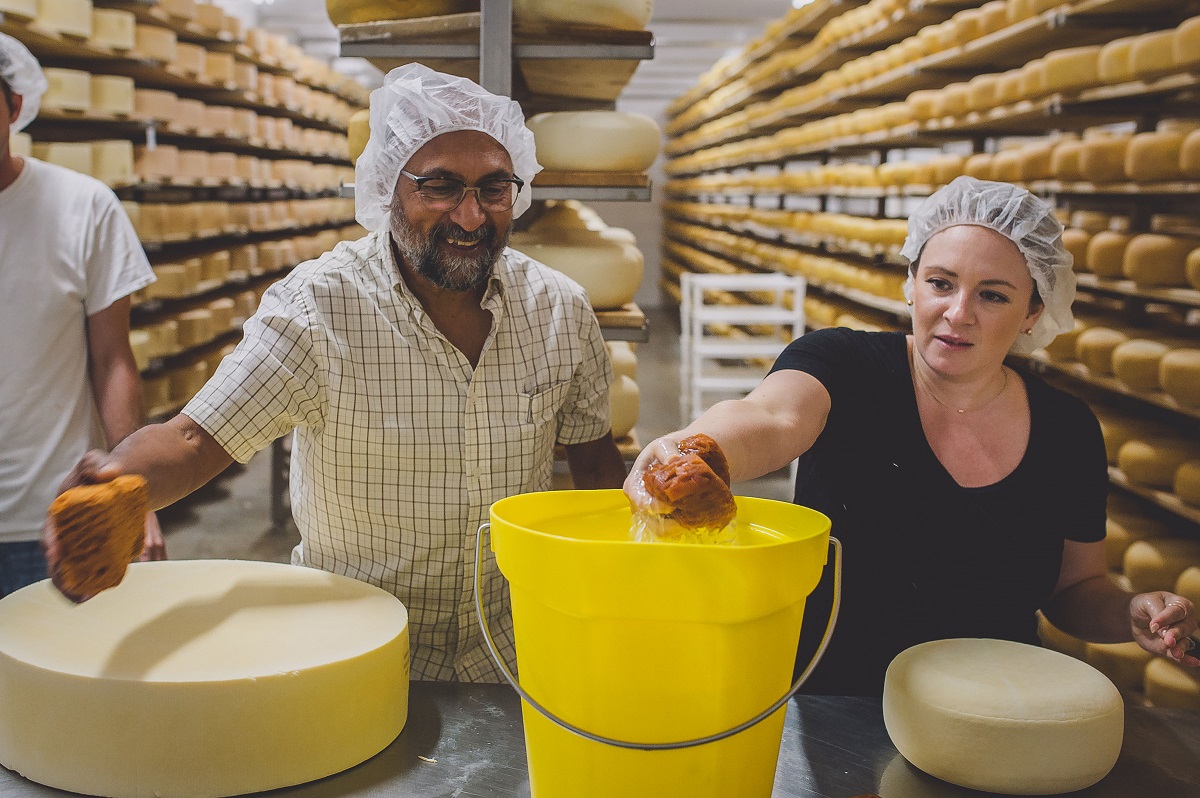 Join cheesemaker Shep Ysselstein of Gunn's Hill Artisan Cheese in this one-of-a-kind experience that teaches you about the art of ageing cheese.
You and your giftee(s) will head back into the ageing room to learn about flipping and washing wheels and learn about the length of time and process that Gunn's Hill uses to age their cheese to what we'd call perfection.
Next, head into their processing room to do a cheese tasting where you'll get to compare different batches and ages of cheese in a side-by-side comparison led by Shep. You'll be amazed what a difference a few months can make!
Finally, wind up your time at Gunn's Hill as you craft a few different fondues together as a group using Shep's cheeses. Using a few local ingredients along the way and dipping in some crusty bread into the mix, it's a delightful way to reminisce about the experience and spend some time together. After all, that's what experiences are all about.
8. Chef's Table
Where: SixThirtyNine, Woodstock, Ontario
When: Thursday-Saturday evening, call to book
Perfect for: foodies, date night, celebrations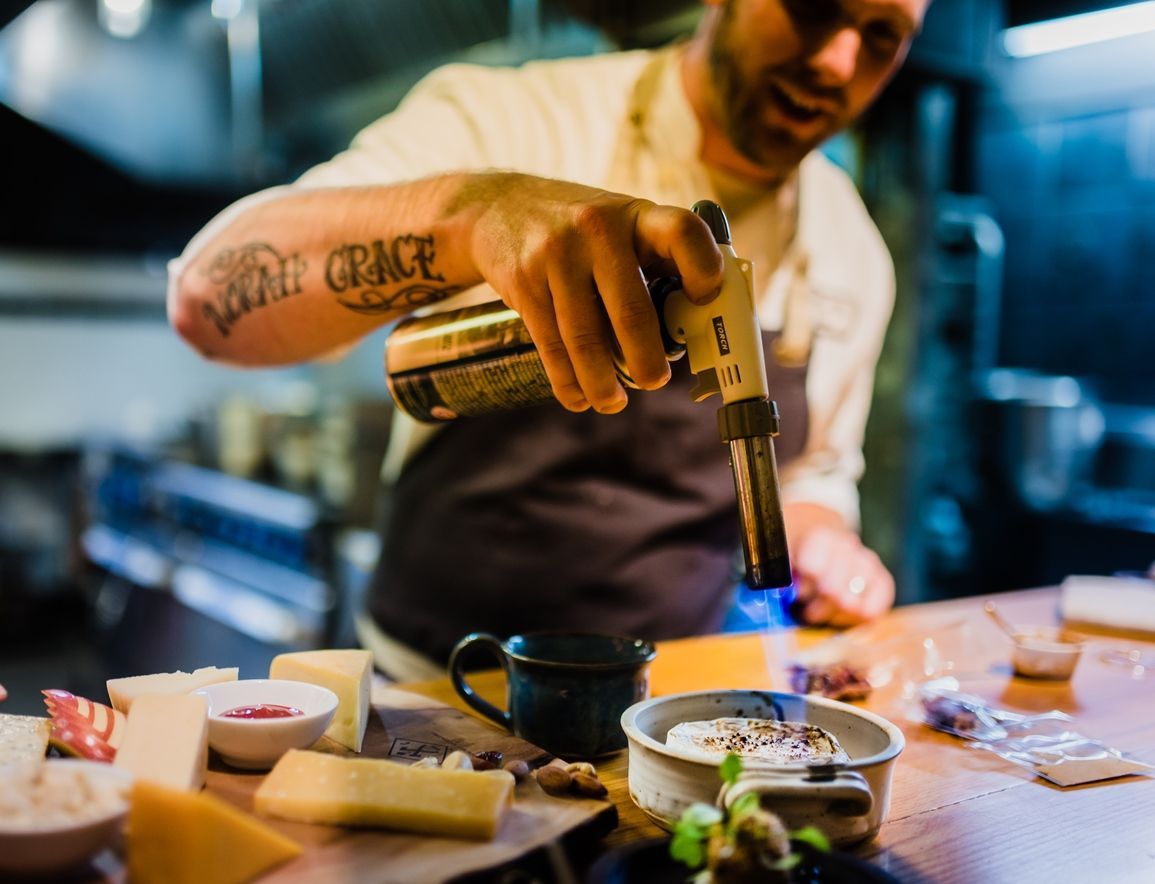 A tried and true experience, you can't go wrong with a gift card to SixThirtyNine and a reservation at their Chef's Table. You'll be seated right in the action of the kitchen as you eat your meal!
Dine on delicious modern twists on classic cuisine as Chef Eric Boyar chats and brings your plate together. With a menu that changes with the season, the folks at SixThirtyNine are always crafting creative new dishes that delight the palate with the season's freshest flavours.
Some of our favourites in the past have been their cavatelli pasta with walnut pesto, king oyster mushrooms, kale, carrot puree, carrot crumble and shaved handeck cheese from Gunn's Hill Artisan Cheese as well as their seared rainbow trout.
Not to be missed, their dessert menu also offers just the right combos of flavours to satisfy your sweet tooth.
9. Gravelocity Cycling Tours
Where: Regions across Ontario
When: As weather permits, check a full schedule of tours and book online
Perfect for: Gravel cycling enthusiasts and beginners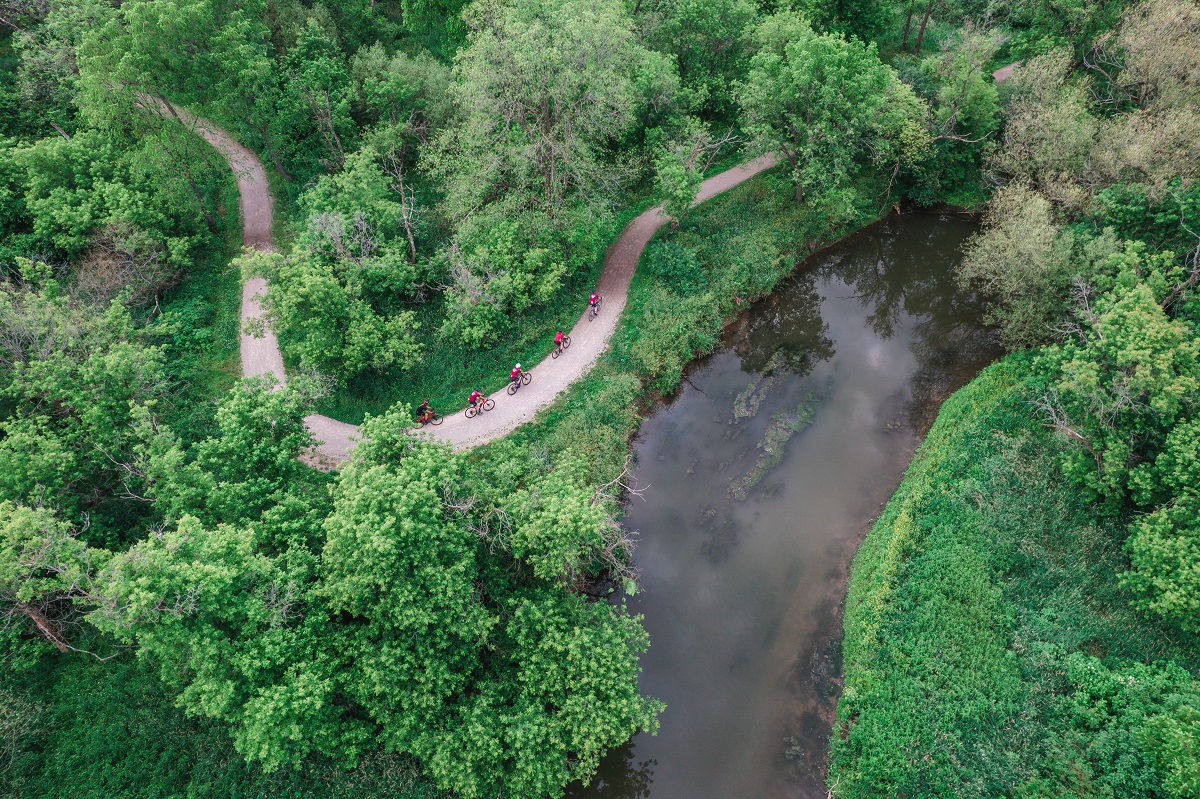 It's a boutique cycling experience with Gravelocity Cycling tours! Hop on your gravel bike with other riders for a guided tour of Oxford's beautiful backroads. Your adventure begins where the paved road ends. With their social rides ranging about 60-85km a day and lasting about three days, you'll get the perfect mix of beautiful views, a cycling challenge and lots of time to chat and learn from other riders.
If you're new to gravel cycling, no worries! Gravelocity also hosts beginner rides so stay tuned on their website for those!
Your guide will take you past a variety of scenic landscapes, rolling hills, babbling rivers and more. Afterwards, cozy up for the evening at beautiful Elm Hurst Inn & Spa, a member of Ontario's Finest Accommodations. Wander the grounds, grab a bite in the Mansion Restaurant on site and of course, enjoy a very luxurious stay as you hang out with other riders and enjoy the company.
10. Grand Experiences Outdoor Adventures
Where: Several routes throughout Brant County, Waterloo Region and Oxford County
When: Different tours are available throughout the year, check online to see what's available and book or grab a gift certificate
Perfect for: Adventure lovers, nature enthusiasts, anyone who loves to be outside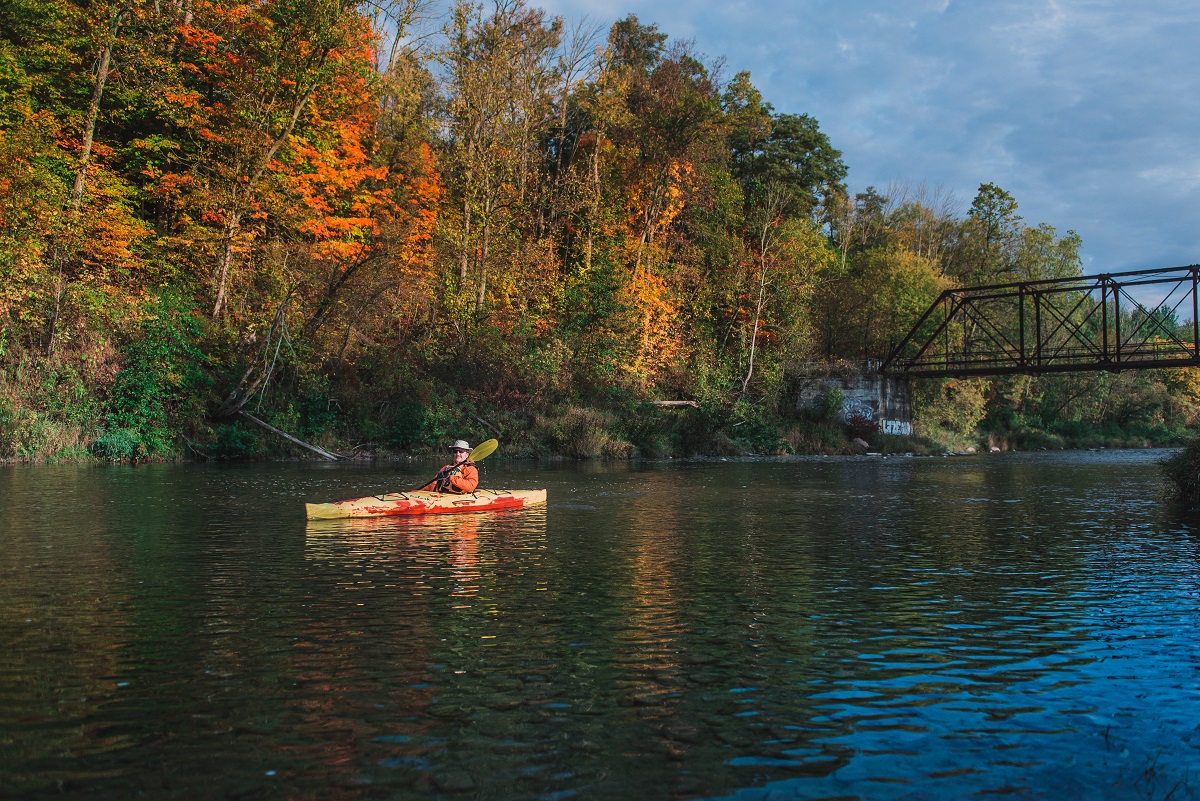 Your giftee will love being shown Southwestern Ontario from a different perspective. Grand Experience Outdoor Adventure Company offers a wide variety of nature-based experiences that involve hiking, paddling and cycling.
In Oxford County, you can choose from a wide array of options. Paddle along the mighty Nith River through forests and stunning landscape as your guide points out various heritage landmarks, natural features and perhaps even some wildlife along the way. If you prefer to explore even further south, the Otter Creek is an amazing and seldomly explored water system to behold.
Want a little adventure? Sign up for a white water rafting adventure! The folks at Grand Experiences can guide you through the basics of this fun paddling experience. Get your blood pumping safely and take in some great sights along the way.
Perhaps a hiking experience is more your thing? Awesome. Discover their Nith River Forest Experience where you'll learn about the different wildlife that calls Southwestern Ontario home, folklore of early Canadian settlements that once inhabited the forest and the Indigenous people of the region. This one is stunning in the winter when covered in a blanket of snow.
Honestly, these are just a few of the options! Grand Experiences offers a huge variety of trips that range from a few hours to a couple of days so there's always a new way to see Oxford and our neighbours.
11. Churn Back Time
Where: The Norwich and District Museum, Norwich, Ontario
When: This experience usually runs on summer Saturdays (stay tuned to their Facebook page or call (519) 863-3101 for a custom booking
Perfect for: Young families, grandparents and grandchildren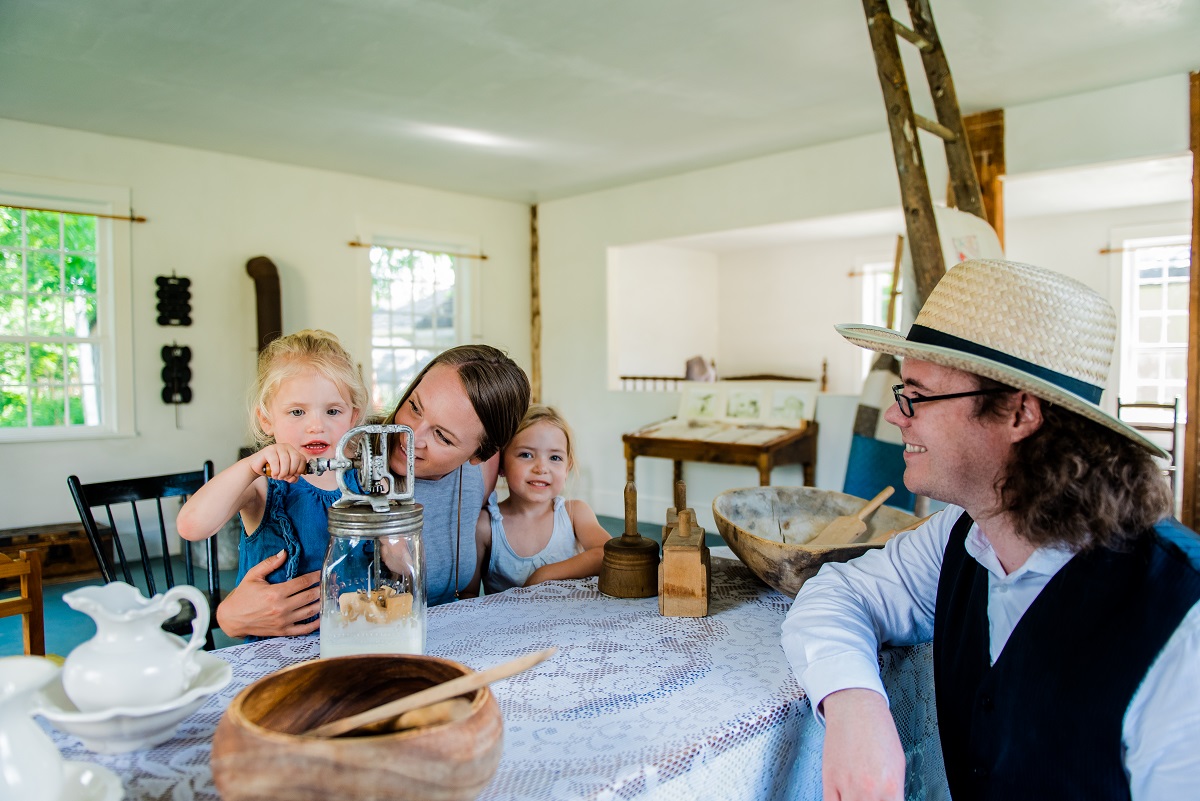 This butter churning gift experience is a perfect gift for the whole family to enjoy quality time, learn a little and enjoy a delicious treat.
You'll be greeted by one of the staff members of the Norwich Museum who will bring you into a traditional Quaker home (one of the first in Norwich Township) where you'll be warmly welcomed and given a place to sit.
Next, you'll learn to churn your butter straight from real cream. Kids will be amazed by how this change occurs (and maybe the adults too!) and gain a better understanding of how food is made and the work that is put into it.
Finally, add a few local ingredients into your butter and spread it on freshly baked bread from the local bakery down the road to enjoy your spoils. Perhaps with a little jam as well? Yum!
12. Harvest Brunch
Where: Thames River Melons, Innerkip, Ontario
When: This experience runs Monday-Saturday in the fall, book online or grab a gift certificate
Perfect for: Groups of friends reconnecting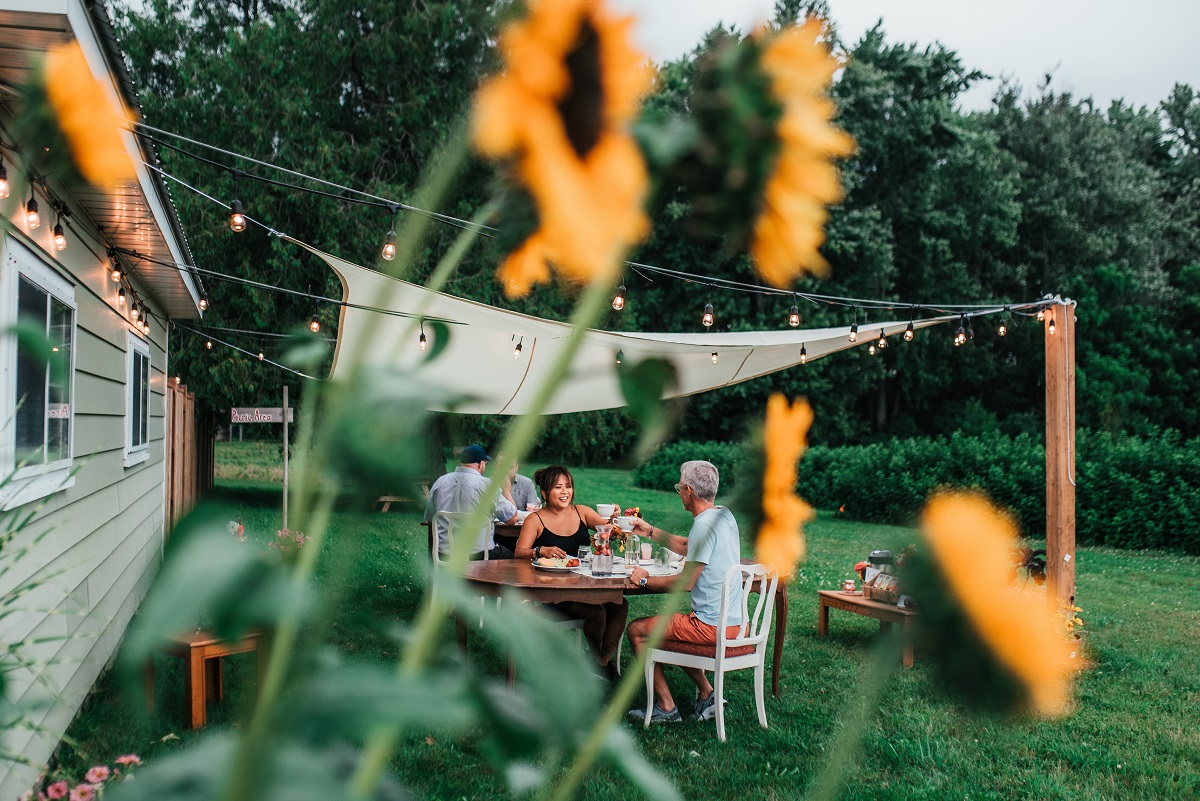 Discover the bounty of one of Canada's most prosperous agricultural regions in the fall. Alex Chesney, farmer and Registered Dietician will guide you through this one-of-a-kind on-farm experience.
First, you'll meet the chickens to collect some eggs before heading out into Thames River's expansive garden patch to harvest your veggies. Next, you'll bring that back to the farm kitchen where Alex will help you create a beautiful and simple brunch meal together. You'll make a savoury frittata with the fixings you picked freshly from the field.
Finally, sit down to a long table brunch with local coffee, baked goods made on-site, fresh fruit from the farm and of course, your beautiful frittata! If weather permits, you'll enjoy this outdoors with a beautiful view of the farm fields and if not, take in the brand new, cozy event space that Thames River Melosn has set up.
Before you head out, be sure to check out the farm market for tasty baked goods, amazing preserves made with Thames River Melons' crops and of course, loads of local produce.
13. Udderly Ridiculous Farm Life Experiences
Where: Udderly Ridiculous Farm Life, Bright, Ontario
When: Udderly Ridiculous has a huge suite of experiences to choose from, browse and book them online
Perfect for: Groups of friends reconnecting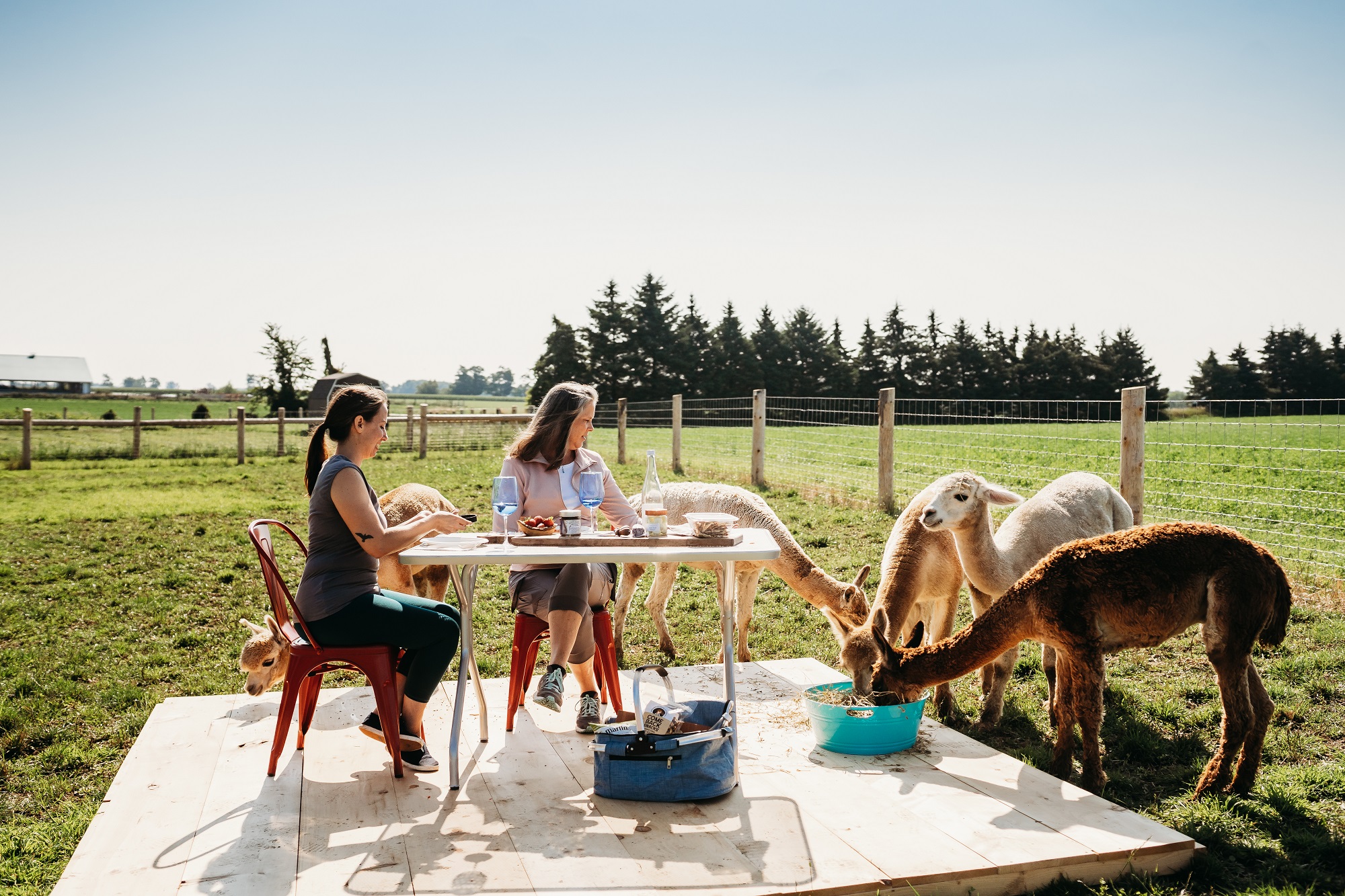 Really, this is many gift experiences in one because Udderly Ridiculous has a whole suite of experiences available to visitors.
Let's talk alpacas. This gang of delightful, nervous nellies are awesome companions to spend your day with. Udderly Ridiculous offers alpaca walks for those looking to get a sense of their true nature, alpaca encounters to meet these sweetie pies and alpaca picnics where you'll get your picnic site (sit on a blanket or at a table) and a basket full of delicious Ontario snacks and refreshments to enjoy in the alpaca enclosure.
Goats are another part of the colourful crew of animals at Udderly Ridiculous Farm Life we think you'll love. We're not kidding around! Why not take a goat yoga class where these little troublemakers will help you stretch and learn balance as they jump on your back, have a snack and test your focus a little. Just want to play? No worries! Harken back to your days in kindergarten when you join the goats for their recess.
Finally, Udderly Ridiculous Farm Life's signature experience, A Taste of Farm Life, combines the best of the farm. Guided by the owner and former city-dweller Cheryl Haskett, this experience gives you the best of the best with a huge side of Cheryl's humour.
Meet the chickens, help the goats enjoy recess and then harness up a lovable alpaca for a walk through this scenic, third-generation farm. Cheryl will guide you through a few delicious local food tastings on the farm (we'll keep those a secret!) before you head back to the farm shop to enjoy some of their delicious, award-winning goat milk ice creams.
Can I bring my kids?
That depends! Some experiences are perfect for kids and families but others do have a minimum age requirement. We recommend checking in with the experience provider before booking!
Do I have to sign up in advance?
Yes! All Oxford Experiences require registration in advance.
What's the difference between an experience and a workshop?
An experience takes things a step further to engage all of your senses and gives you hands-on time to create or do something exciting. The person running the experience usually weaves some of their stories into the experience as well to make things extra special.
Where should I stay?
We have a stay for everyone. From camping under the stars to being pampered at an inn with a spa, you find it all on our
accommodations page
.