About Oxford County
Oxford County is the traditional territory of the Anishnabek, Haudenosaunee (Iroquois) and Ojibway/Chippewa peoples. This territory is covered by the Upper Canada Treaties.
Where we are
Oxford County is conveniently located in Southwestern Ontario where two major highways (401 and 403) meet. It's just 90-minute drive from downtown Toronto and two hours from border crossings at Bu­ffalo, Detroit and Sarnia. Our largest communities include the City of Woodstock and the towns of Tillsonburg, Ingersoll, Norwich and Tavistock. Once you get off of the highway, follow our country roads to new adventures.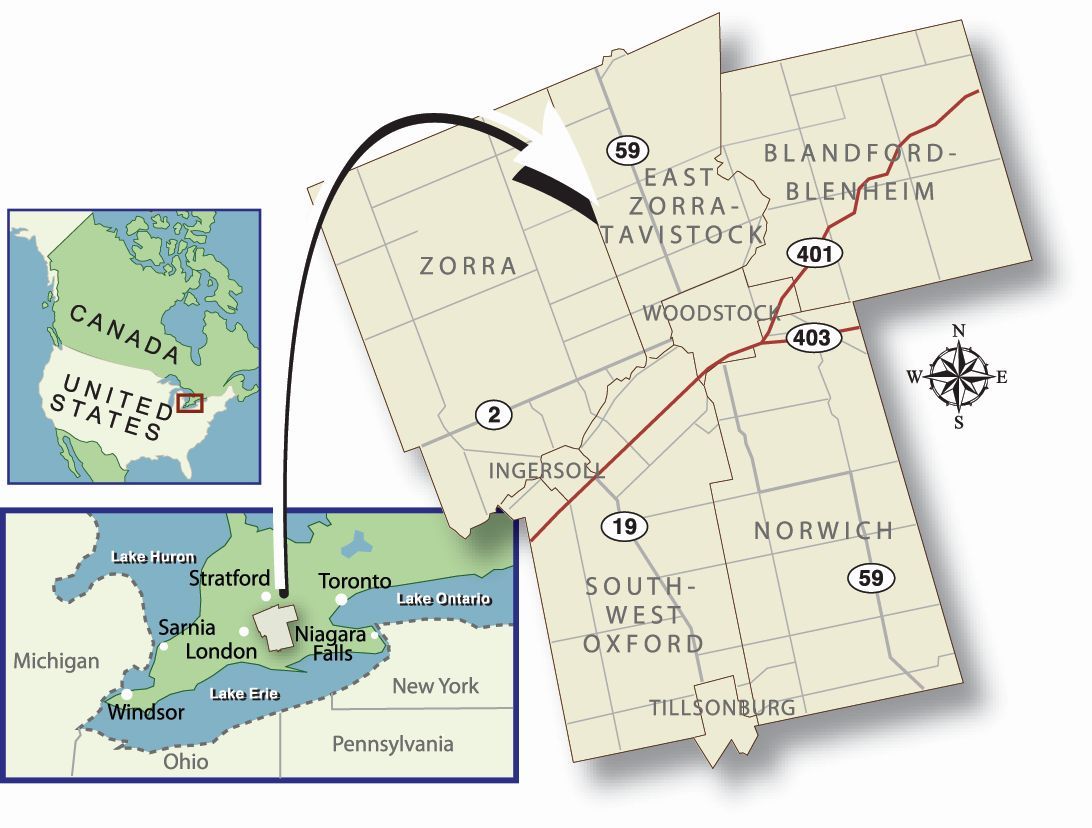 Reasons to Visit
Slow down for slow food. Explore the Oxford County Cheese Trail including cheesemakers making cheese the old fashioned way, museums celebrating our dairy history, and restaurants serving up plenty of cheesy options. You will also find plenty of farmers opening their gates to visitors, farm markets bustling with activity and restaurants cooking up local fare with traditional methods. Whether you are craving slow cooked brisket, hand dipped onion rings or fine dining, we have the table set for you.
Sensational Cycling Quiet country roads, stunning scenery and small town charm attracts cyclists to Oxford County every year. Visit RideOxford.ca for a list of recommended routes or to request a cycling map. If your ride also includes an engine, check out CruisetheCoast.ca to learn more about Ontario Southwest's stellar motorcycle routes.
Artistic Delights As home to the largest studio tour in Southwestern Ontario, two arts cooperatives and Woodstock Art Gallery Oxford County caters to creative tastes with an eclectic roster of events and exhibits.
Show Time With a barn theatre, folk concerts and ‑ five theatres, there is excitement to be found at performances all year round. Bravo!
Great Outdoors With two conservation authorities, over 100 kilometres of trails, 3 rivers and numerous campgrounds there are plenty of opportunities to explore the outdoors.
Being Green Tourism Oxford has received gold level certification from Green Tourism Canada for its environmental practices and efforts to encourage green travel in the region. When visiting we ask you to consider some of our walking/cycling itineraries, search out local food and explore our culture. Don't forget to pack a reusable bag and a travel mug too!
Getting Around
Coming to Oxford County is easy regardless of your transportation choice.
Via Rail provides service in Woodstock and Ingersoll
Air Tillsonburg Airport is located in Oxford. For commercial flights London, Waterloo and Hamilton are a short drive away. Toronto's Pearson Airport in Toronto is 80 minute drive. Billy Bishop Airport in downtown Toronto provides quick access to Via Rail service to reach Woodstock or Ingersoll
Electric Vehicle At the Quality Inn & Suites 580 Bruin Blvd Woodstock you will find a Tesla Supercharger station as well as level 2 & 3 chargers. Other public charging stations can be found in Ingersoll, Tillsonburg & Drumbo. Visit plugshare.com to search for EV chargers along your route including at numerous accommodations.
Public Transit Woodstock has a full bus service and Tillsonburg has a TGo service. Ingersoll, Tillsonburg, and Woodstock all have cab service available.
Bike If travelling by bike consider travelling on the Trans Canada Trail through the south of the County or taking one of our proposed cycling routes. Find details at RideOxford.ca
Download our list of public transportation options.
Stay A While
Oxford County is home to over 800 beds for weary travellers to rest their head-on. This means you have plenty of choices whether you are a loyalty program fan, boutique hotel fan, outdoors lover, or crave countryside charm.
Hotels & Inns: With 8 hotel chains and an Ontario's Finest Inn it doesn't matter which loyalty card is in your wallet. Meeting space, dining, spa, pools, value and central location provides you with plenty of choice. Explore our Hotels & Inns.
Bed & Breakfasts You will find historic stays and rural getaways in Thamesford, Tillsonburg, Otterville and Woodstock. If you like a destination with personality and a great story check out our Bed & Breakfasts.
Camping If you like fireflies and flashlights check out our camping options. No tent is no problem - Happy Hills and Willow Lake both offer cabin rentals. Explore our campgrounds.
Trip Ideas
Looking for a link? Find it here or DM us to get it sent to your...